Homemade Potato Gnocchi with Peas, Favas and Morels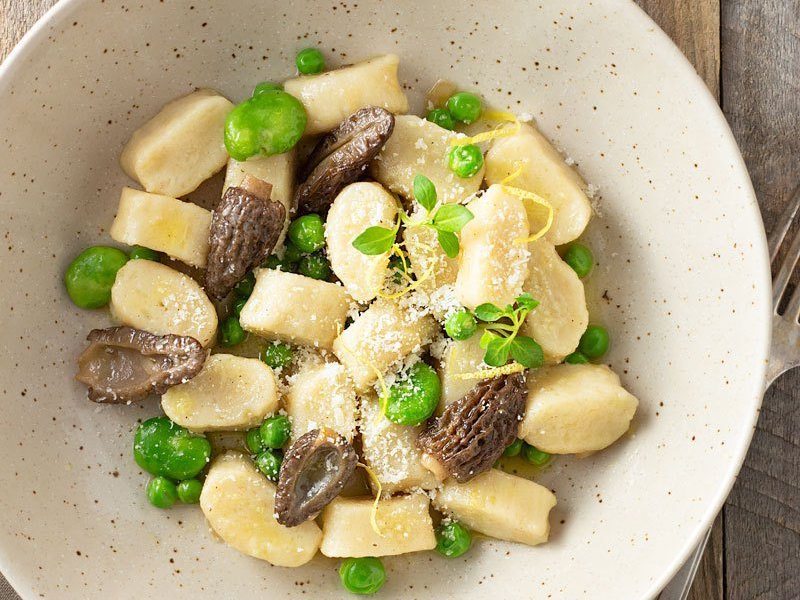 Gnocchi with peas, favas and morels is the perfect way to celebrate the spring.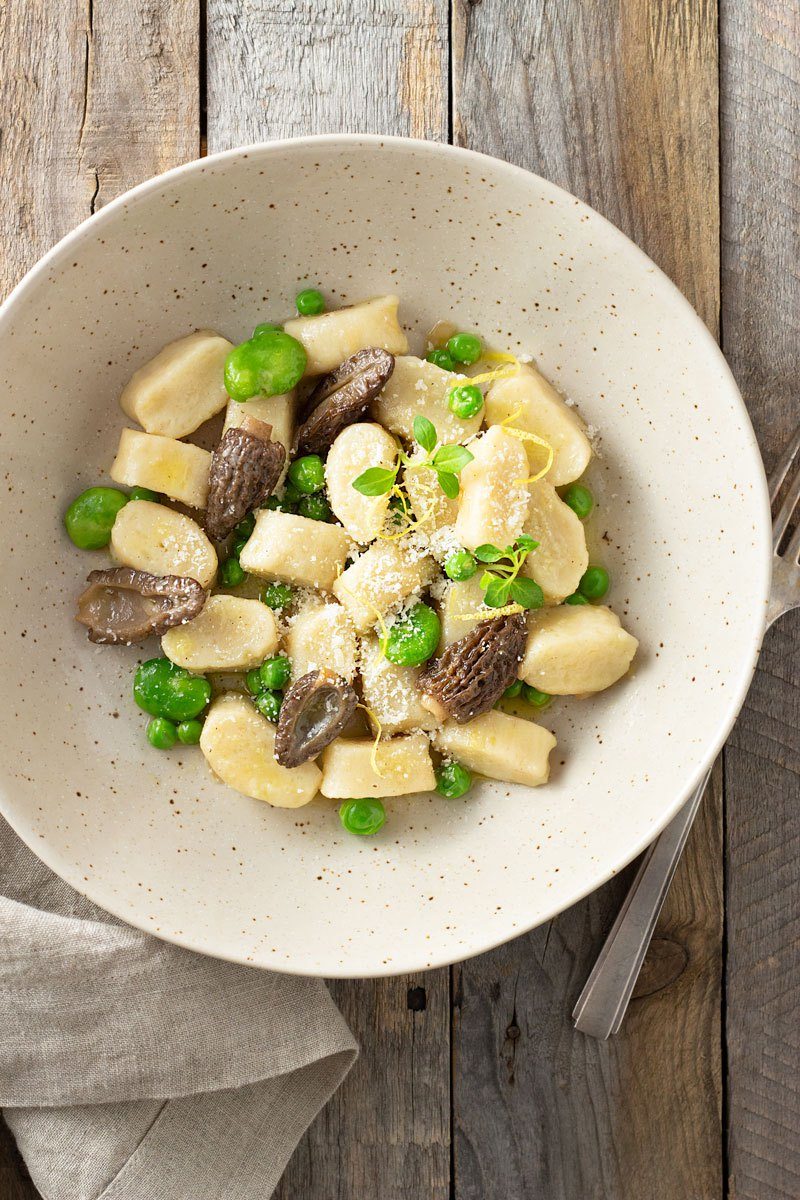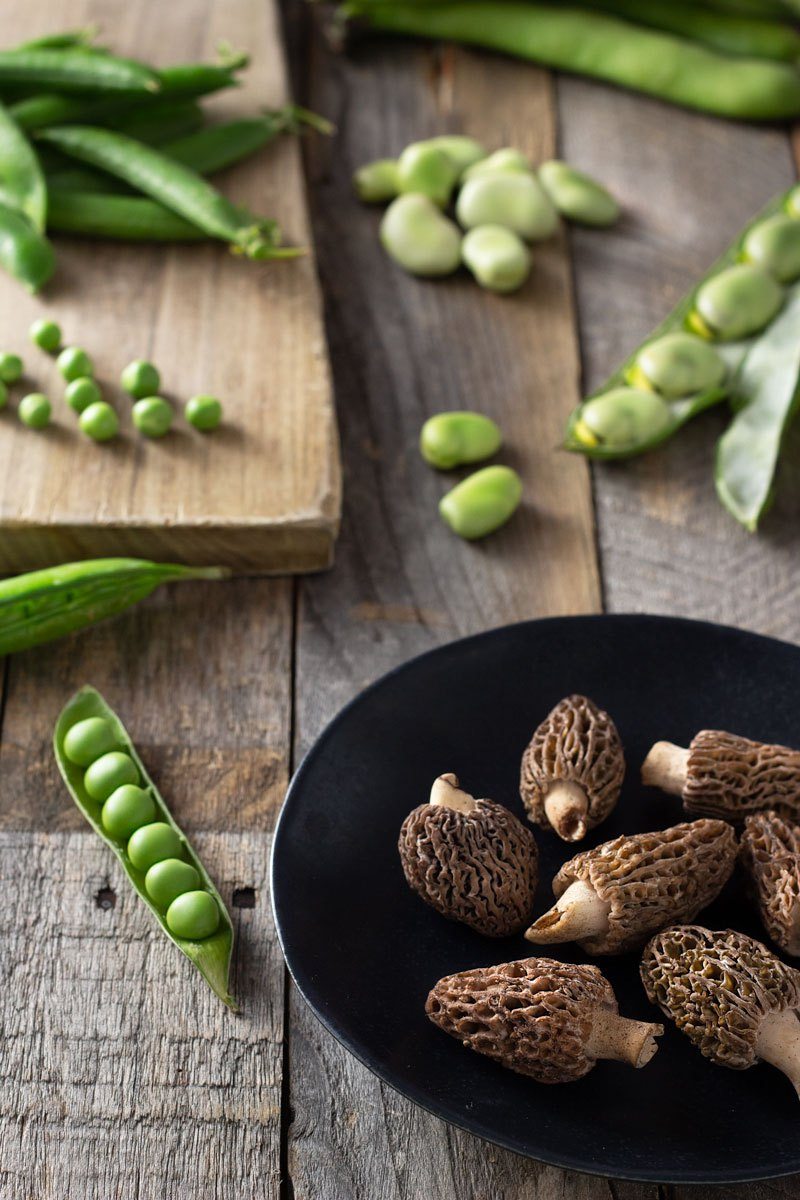 First let's chat about the gnocchi. Fluffy, pillowy potato dumplings…I mean what could be bad about that? I finally invested some time in potato gnocchi research and practice, and boy did it pay off. Here are some key tips I learned in the process:
Potato Gnocchi Tips
Bake don't boil. I've made gnocchi using boiled whole potatoes with the skin on and baked potatoes, and the baked potato gnocchi were clearly superior. Extra water in the dough creates the need for extra flour, which makes the gnocchi heavier and denser.
Spread out to cool. The best way to cool riced potatoes is spread out over a large flat surface. The first time I riced the potatoes, I placed them in a bowl, which trapped the steam and moisture and took forever to cool! Not good.
Don't overwork the dough. Overworked dough = gummy potatoes = not so nicely textured gnocchi.
Don't use too much flour. Use just enough flour to bring the dough together. Excess flour leads to heavy, dense dumplings.
Lay gnocchi out on a greased baking sheet after cooking. The first time I made these gnocchi, I added them directly to the warm pan with the vegetables as I continued to cook the remaining gnocchi in batches. This caused half of my gnocchi to become overcooked. The smarter tip is immediately laying out the gnocchi on a greased baking sheet until you're done cooking the remaining batches. Then add the gnocchi all at once to the pan with the sauce.
Invest in a ricer! An essential tool to making great gnocchi in my opinion is a ricer! I absolutely love my OXO ricer so I included a link below. It's not only great for gnocchi. I use my ricer to make extra creamy mashed potatoes, or other vegetable purees such as parsnip, celery root, cauliflower or even carrot. A ricer can also be used to squeeze water out of boiled spinach or to smash tomatoes while keeping the skins behind.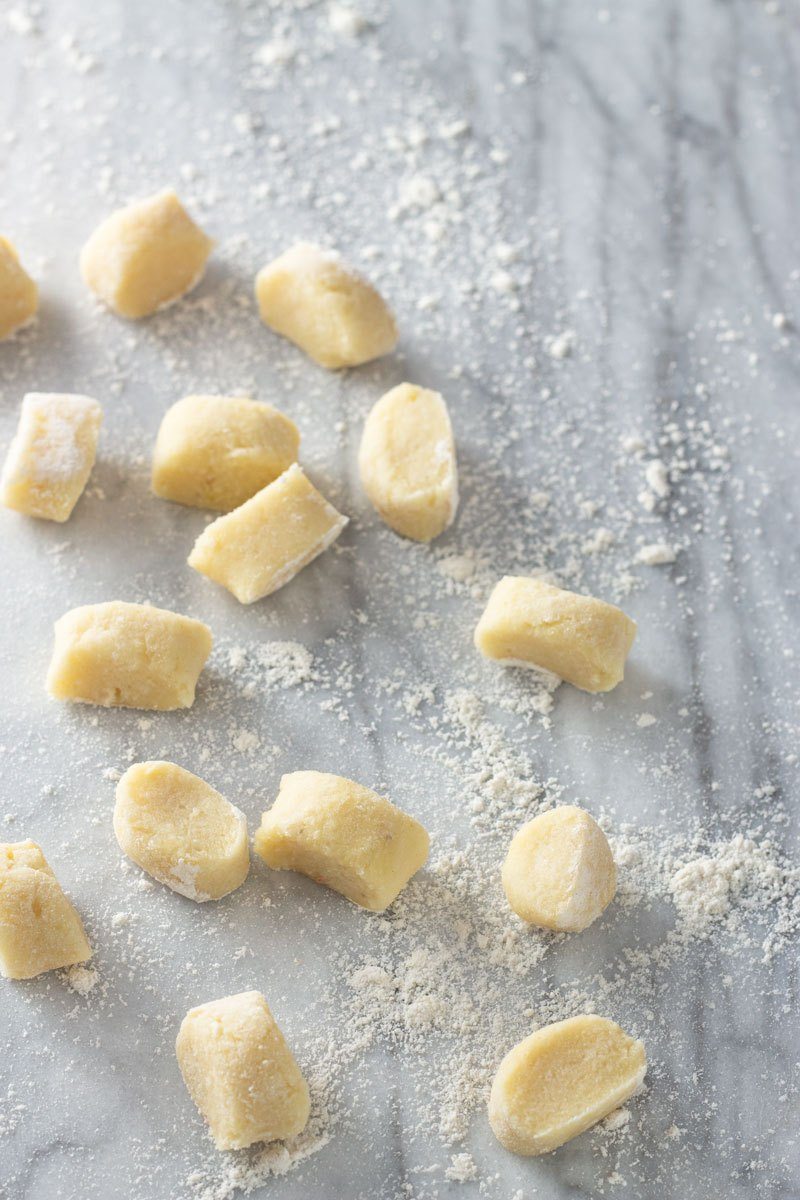 It might have taken a little trial and error, but I think I made some lovely little gnocchi here. I decided to go simple and straight up with the shape, but I experimented with some ridges here and there too. If you don't have a gnocchi board, simply roll the gnocchi down the tines of a fork, pushing in slightly to create a cup shaped, ridged dumpling.
The sauce is super simple in this recipe. Gnocchi with peas, favas and morels just about sums it up. I wanted the vegetables to shine. To start, I sauteed a little delicate spring onion, then I threw in the mushrooms. I gave the peas a quick cook and added the blanched favas last. Butter and pasta water are all you need to make a great sauce. Top it off with some parm, lemon zest and micro mint, and you're sure to impress.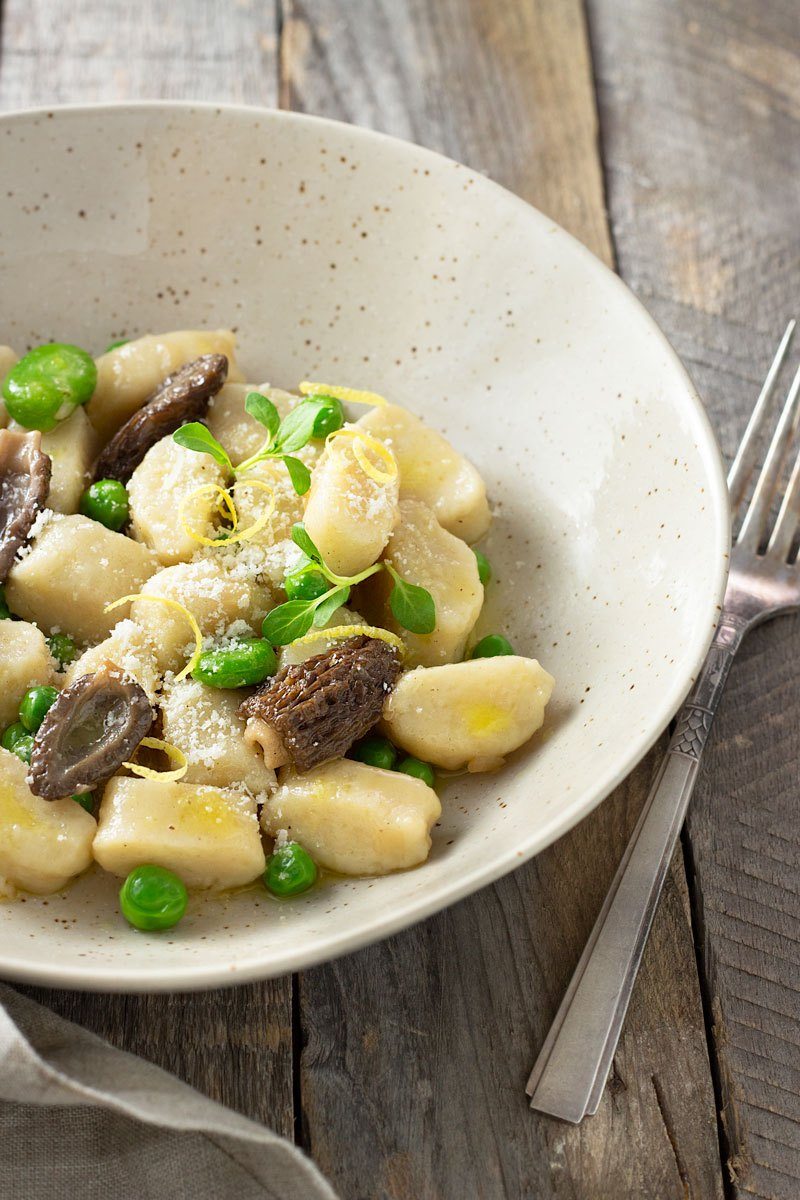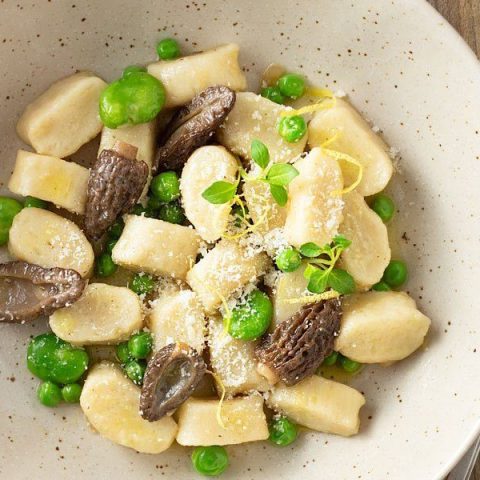 Homemade Potato Gnocchi with Peas, Favas & Morels
Sabrina Russo
My gnocchi with peas, favas and morels is the perfect spring time dish to impress your friends and family. Check out my tips for great homemade potato gnocchi!
Ingredients
2

lb

russet potatoes

about 4 medium, scrubbed

1

cup

all-purpose flour

divided, plus more if needed

1 ½

tsp

kosher salt

1

large egg

2

tbsp

extra virgin olive oil

1

spring onion or shallot

minced

1/4

lb

~2 cups, morel mushrooms, cleaned* & sliced in half lengthwise

½

cup

½ lb in pods fresh English peas, removed from pod, or frozen defrosted peas

½

cup

½ lb in pods fresh fava beans, removed from pod

4

tbsp

unsalted butter

Parmigianno reggiano cheese

finely grated, for serving

Lemon zest

for serving

Micro mint or small mint leaves

for garnish (optional)
Instructions
Bake the potatoes: Preheat oven to 350°F. Prick potatoes all over with a fork. Place on a baking sheet and bake in the center of the oven for about 1 ½ hours or until fork tender.

Rice potatoes: While still hot, peel the potatoes. Push through a ricer onto a counter top, spread out in a thin layer. You may also use a food mill or sturdy metal sieve. Cool completely.

Blanch & peel favas: While potatoes cool, bring a small pot of water to a boil. Add ice and water to a medium-sized bowl. Place fava beans in boiling water and cook 1 minute. Shock in ice water bath. When cool, remove from ice water and pat dry. Peel off and discard tough outer skin of each fava.

Make dough: When potatoes are cool, sift over ½ cup of flour and the salt. Beat egg in a bowl and pour over flour. Using a bench scraper or your hands, gently work ingredients together. Sift over the remaining ½ cup of flour, as needed, using just enough flour to form a smooth dough. Form into a ball.

Cut gnocchi: Cut dough into 4 pieces. On a lightly floured surface, roll out into a long rope, about 3/4 inch thick. Cut gnocchi into ½ inch thick pieces. Roll down tines of fork or gnocchi board to create ridges, if desired. Transfer to a floured baking sheet. They can sit for up to an hour before cooking.

Boil water & cook vegetables: Bring a large pot of water to a boil for the gnocchi. In a large sauté pan heated over medium, add olive oil followed by the onion. Season with salt. Sauté about 3-4 minutes or until translucent. Add mushrooms and sauté about 5 minutes or until tender. Season with salt. Add peas and a splash of gnocchi cooking water and cook one minute. Stir in favas. Season with salt. Add butter and an additional splash of water. Melt, while stirring, to emulsify and create a sauce. Turn off heat.

Cook gnocchi: Generously season boiling water. Using a spider or slotted spoon, add several large spoonfuls of gnocchi to pot. Cook two minutes or until they rise to the surface of the water. Remove with spider and transfer to a baking sheet lightly coated with olive oil. Repeat in batches until all gnocchi are cooked.

Serve: Add cooked gnocchi to pan of vegetables and sauce. Turn heat to medium and gently toss to combine. Add water or salt, as needed, to adjust the sauce. Serve gnocchi topped with grated parmesan, lemon zest and mint. Enjoy.

NOTE: To clean morels, place in cold water, swoosh around and let soak for several minutes. Scoop out the mushrooms and discard the dirty water. Repeat 2-3 times until water runs clear.
Sabrina Russo
My Three Seasons represents the 3 key factors that are most important to me in cooking. #1 Seasonal ingredients #2 Proper Seasoning (don't skimp on that salt!) #3 Cooking like a Seasoned chef (technique is everything). My name's Sabrina. I live in NYC. I'm a registered dietitian with professional cooking and food styling experience. Come cook with me.