Sponsored Post: We have partnered with Java House, the makers of pure cold brew coffee made using time-honored, craftsman techniques, to share 5 ways to spruce up your morning coffee. Their liquid cold brew coffee concentrates can be enjoyed hot or cold for the best coffee flavor.
Whip up a quick Cinnamon Bun Latte the next time you need an afternoon pick-me-up. Cinnamon and a hint of vanilla pair flawlessly with coffee and cream in this delightful drink with sweet and spicy and everything nice.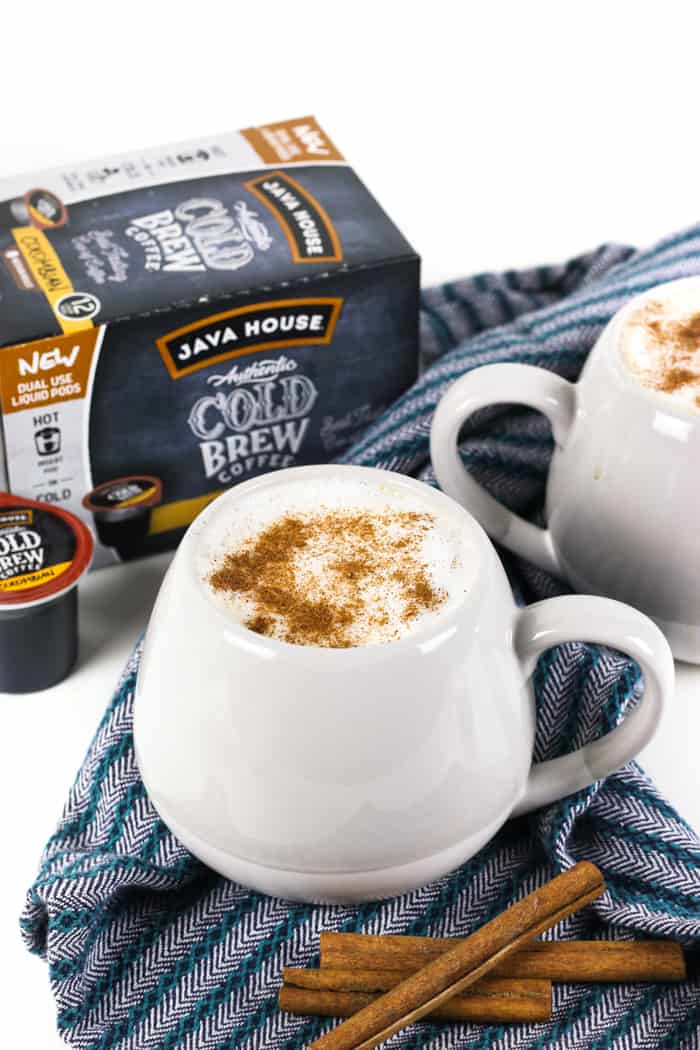 Right now I am on a tear to visit new places in town, from coffee shops to craft cocktail bars to cafes.
We've had pizza, Thai, Peruvian, tapas and sushi, and a couple weeks ago we went to our first new-to-us coffee shop.
I used to be crazy about trying new coffee shops, but not anymore. I am finding I just don't make it out to cafés as much as I used to, so there are a ton of coffee shops on our list.
Instead, we made coffee at home. Two cups each, every morning. At least.
Sometimes, I need an extra kick of caffeine and I whip up a quick latte or iced coffee. I like to keep cold brew on hand for just these occasions.
If you've ever made cold brew coffee from scratch at home, you know it can be both messy and time consuming. If you buy it at the store, it's so expensive. That's why I was really excited to discover Java House ® Dual-Use Liquid Coffee Pods.
These dual-use pods can be enjoyed either hot or cold at home. Totally game-changing!
What's also game-changing is you don't have to have a single-serve brewer. We don't have one, but we can still use these pods!
For hot cold brew coffee, you can either place the pod into a single-serve brewer and press the 8-ounce button, or you can empty it into a mug and top with 8 ounces of hot water for a rich, smooth cup of coffee.
For a cold version, you can peel open the pod, pour it over ice and add 8 ounces of water.
One thing I want to note is that cold brew coffee is not the same as iced coffee. The difference is in the brew, not how it's served.
Cold brew coffee is made by steeping coarsely ground coffee beans in cold water for at least half a day.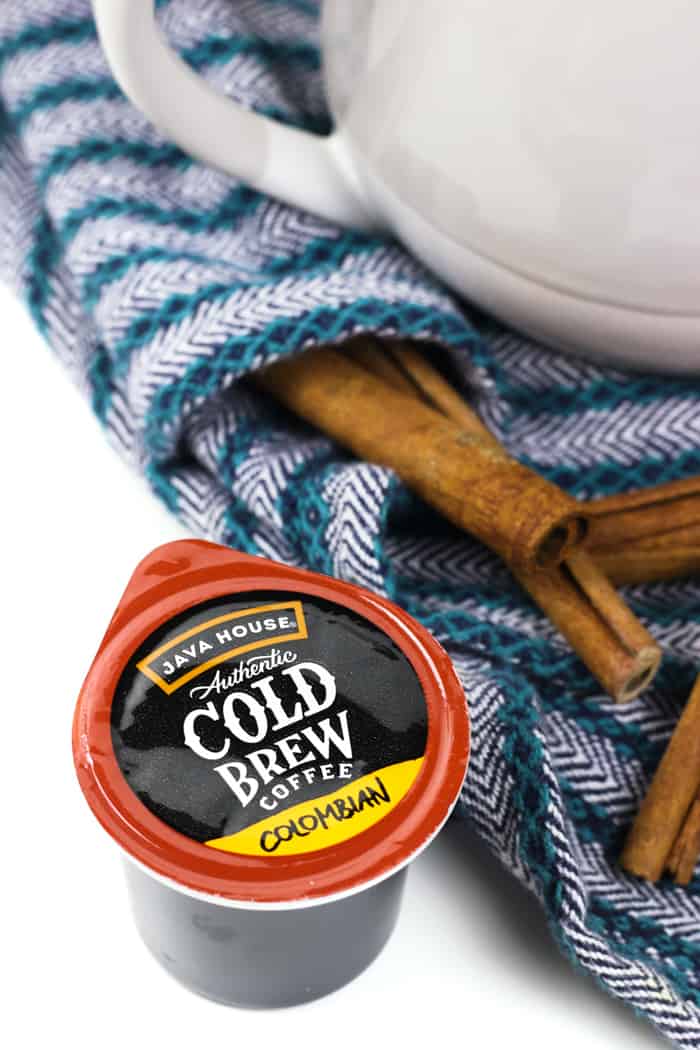 Yup, 12 hours or more. That's way longer than the usual cup of joe!
The taste is a lot different, too. Cold brew coffee is smoother and naturally sweeter, and the cold temperature of the brew pulls out rich chocolate and caramel notes.
Does it sound crazy to serve cold brew hot? It shouldn't.
It's actually a lot less bitter and less acidic. Overall it yields a naturally sweeter and smoother cup of hot coffee!
With Java House Dual-Use Liquid Coffee Pods, there are absolutely no preservatives, additives or coffee derivatives. Just pure coffee.
A 6-count box is around $6.99 or less and you can purchase online at Walmart.com, Target.com, Amazon.com and Javahouse.com or purchase in your local grocery store. Available at Walmart, Target and more. Visit javahouse.com for a complete list of retailers.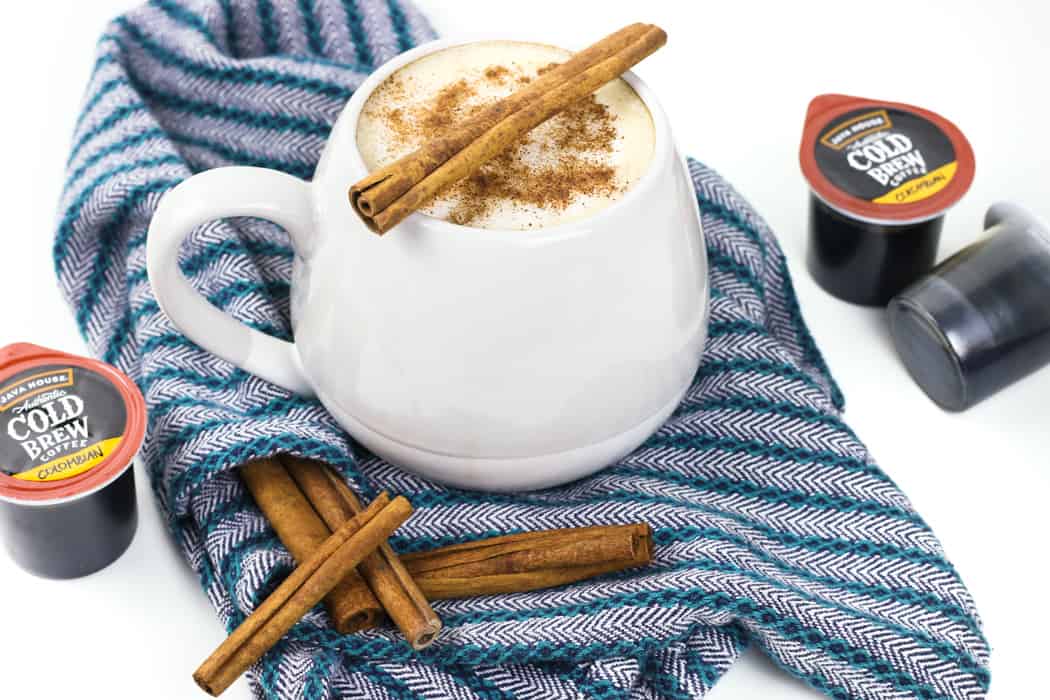 I used these liquid concentrate pods to create this Cinnamon Bun Latte for my next afternoon-pick-me up. While lattes typically call for espresso, these cold brew pods are strong enough and tasty in a latte.
The Java House ® pods come in four varieties: Ethiopian (light roast), Colombian (medium roast), Sumatran (dark roast) and Decaf (medium roast). I used the Colombian but you can use any of them!
For this Cinnamon Bun Latte, you start with a cinnamon vanilla simple syrup for sweetness and flavor. Top with two cold brew pods and warm, steamed milk. You can also use a handheld milk frother or an automatic milk frother.
I am not a latte foam artist by any means, but I am seriously obsessed with this drink. You can dress up the top with a sprinkle of cinnamon! Tastes just like a cinnamon roll.
Craving an iced latte? Just pour the Java House ® Dual-Use Liquid Coffee Pods over ice and top with the milk.
Coffee has been a big part of my daily routine since I discovered it in high school. Two cups, every morning.
I also won't turn down an afternoon latte. Sometimes an afternoon pick-me-up is just the thing I need, and right now that's this Cinnamon Bun Latte.
These pods from Java House ® are just so convenient and I am so glad I found them. They are so versatile because you can enjoy them warm or hot, black or with milk, whatever you like!

Homemade Cinnamon Bun Latte
Author:
Susannah Brinkley
Serves:
makes 1 latte and ½ cup of syrup
Ingredients
Vanilla Simply Syrup
½ cup sugar
½ cup water
1 cinnamon stick
½ teaspoon vanilla extract
Cinnamon Bun Latte
2 Java House ® Dual-Use Liquid Coffee Pods
3 ½ fluid ounces water
1 tablespoon cinnamon vanilla simple syrup
2¾ fluid ounces whole milk (or your choice of milk)
sprinkle of cinnamon
Instructions
Vanilla Simply Syrup
Combine sugar and water in a small saucepan. Stir together over medium heat until dissolved.
Add cinnamon stick and bring to a boil for 2 minutes, then remove from heat.
Let cool completely. Stir in vanilla extract.
Transfer to a glass jar and seal tightly with a lid. Store in the refrigerator for up to 1 month.
Cinnamon Bun Latte
Empty 2 Java House ® Dual-Use Liquid Coffee Pods into a wide, shallow mug. Add the water and simple syrup.
Warm milk in a medium saucepan or in the microwave. Use a whisk or a milk frother to froth the milk until it has doubled in volume.
Pour the milk into the coffee, using a spoon to hold back the milk foam. Pour as much milk as you'd like into the coffee, then spoon any foam onto the top. Sprinkle with cinnamon and sip immediately!