Holiday Cooking: Swapping Turkey For Caramelized Argentinian Beef
Looking for a less traditional and more adventurous Thanksgiving dinner, why not give a Churrasco with Creamy Papas Con Rajas a try ?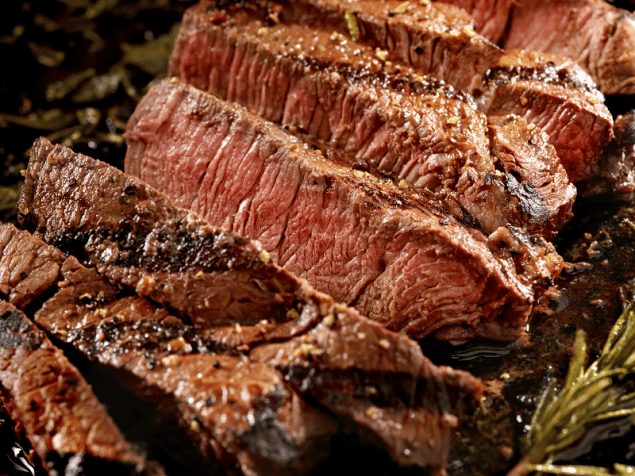 Prized for its rich flavor, beef is a great alternative to the turkeys you have been roasting year after year. This recipe "Churrasco with Creamy Papas Con Rajas" is courtesy of Terrazas de los Andes Brand Ambassador, Chef Aarón Sánchez and pairs with Terrazas de los Andes Reserva Malbec.  Chef  Sanchez is also the person you may have seen on Food Network's Chopped and his Emmy award winning show Taco Trip. Although unconventional, Chef Sanhez's Churrasco dish will be the star on your Thanksgiving spread. This spicy adobo rubbed beef tenderloin, or churrasco, meat requires you to fire up the grill, if the weather permits. If not an oven is recommended and is served with creamy papas made with crema mexicana and paired with Terrazas de los Andes Reserva Malbec.
Churrasco may be popular in Argentina and other Latin American countries but in 2016 it will be the most popular dish at your Thanksgiving Feast. See below for the recipe.
Aarón Sánchez
Course
Thanksgiving Dinner
Ingredients
Ingredients for Churrasco with Creamy Papas Con Rajas
6

tablespoons

olive oil

2

garlic cloves

thinly sliced

1

medium onion

halved and sliced

2

poblano peppers

2

potatoes

½

cup

crema mexicana

¼

cup

chihuahua cheese

shredded

Salt and freshly ground black pepper

4 8-

ounce

pieces beef tenderloin or

skirt steak

¼

cup

Aarón's Adobo*

2

tablespoons

thinly sliced fresh

cilantro leaves
Ingredients for Aarón's Adobo
¼

cup

cumin seeds

¼

cup

coriander seeds

¼

cup

fennel seeds

¼

cup

yellow mustard seeds

2

pasilla chiles

stemmed, seeded, deveined,

and torn into small pieces

2

ancho chiles

stemmed, seeded, deveined,

and torn into small pieces

½

cup

dried whole oregano

preferably Mexican

2

tablespoons

onion powder

2

tablespoons

garlic powder

¼

cup

Spanish paprika

pimento, preferably

sweet or hot
Instructions
Churrasco with Creamy Papas Con Rajas
Preheat the oven to 350°F. Wash the potatoes and

prick them all over with a fork, which will allow the

steam to escape while cooking. Place potatoes on a

baking sheet and bake for about an hour, until tender.

Remove the potatoes from oven and let cool at room temperature. Once cooled, using your hands or a fork, break potatoes into small bite-sized pieces and set aside.

Roast peppers on an open flame on the grill or stove top until skin gets black and charred, transfer chiles to a plastic bag and let the peppers steam in it so the skin gets loose for about 10 minutes.

Peel the skin off and remove most of the seeds. Slice the peppers and set aside.

Combine 3 tablespoons of olive oil, onions and garlic in a small skillet and set the pan over medium low heat. Cook, stirring often, until brown and caramelized, about 15 minutes.

Take the pan off the heat and put the garlic and onions in a bowl. Using the same pan, over high heat, heat the rest of the olive oil.

Once hot, carefully add the potatoes, cook until brown and crispy, turning only once. When

the potatoes are crispy add the garlic, onions, and poblano peppers to the pan and cook for 3 minutes then add the cheese, crema and combine until cheese is fully melted and becomes creamy.

Season to taste with salt and pepper and reserve warm.

Preheat a grill to high. Season each steak with salt and 1 tablespoon of Aarón's Adobo. Grill the meat for 4 to 5 minutes per side for medium-rare.

Transfer the steaks to a platter to rest. Slice the meat once rested, put the meat on a serving plate and spoon the potatoes on the side.

Sprinkle with the fresh cilantro and serve right away
Instructions for Aarón's Adobo
Heat a dry skillet over medium-low heat. Pour in the cumin, coriander, fennel, and mustard

seeds along with the pieces of pasilla and ancho

chiles.

Toast, stirring constantly, until it's very aromatic and just begins to smoke, about 3 minutes.

Dump the mixture onto a plate and let it cool to room temperature. Grind it to a

fine powder in a spice grinder or clean coffee

grinder.

Put the powder in a large bowl and add the oregano, onion powder, garlic powder, and paprika.

Stir them well to combine. Store the adobo in an airtight container or resealable plastic

bag in a cool, dark place for up to a month.
About the wine: Terrazas de los Andes Reserva Malbec
Made in small batches Terrazas de los Andes Reserva Malbec wines  are created  in the top quality districts of Mendoza, Argentina. This specific Malbec is aged 12 months in oak 80% French and 20% American, 30% new oak. Featuring a deep, dark purple red color with fruity scents of black cherries, prunes mixed with with vanilla, caramel and toasted notes.These wines are rooted in a truly local style: elegance, concentration and high intensity, with ripe, rich and long-lingering aromatic fruit.
Alyssa Holder
I enjoy listening to the stories of the people who devote their time to fill our stomachs with scrumptious food. And of course, experiencing and sharing my thoughts on the cuisines that span across the world.