Barcelona's Chef Pio presents a visually stunning preparation for fish served on truffled polenta.
Hilton Barcelona is a hotel perfectly located  to sightseeing, shopping and the business sector of Barcelona. The rooms are functional for business travelers but smart leisure travelers also stay here because of the proximity to the cruise terminal, the airport and public transportation. 
We liked the The Vibe Bar in the lobby, with its spectacular glass art installation, and lovely terrace where you can get a great coffee or some of Hilton's signature sandwiches and local dishes any time of the day. The menu enticed us with locally sourced ingredients and local preparations so we had to ask and found out about the   creative chef at the helm.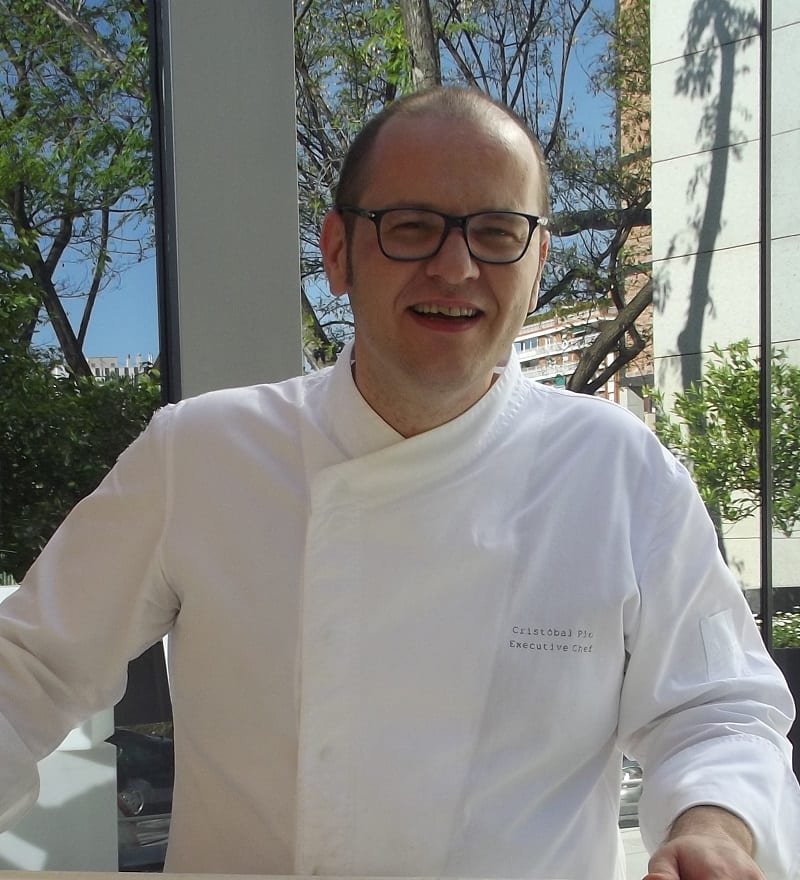 His name is Cristóbal Pío. He studied in Barcelona at Hofmann School Of Culinary Arts and then began a career in the hotel industry beginning with Hilton in Barcelona when Hilton Diagonal Mar opened. He gained a variety of experience with different hotel brands and was hired as Executive Chef with Doubletree by Hilton La Mola.  Traveling to other countries, working under and meeting other chefs increased his knowledge and inspiration. Fast forward to the renovation and re-opening of Hilton Barcelona and now he is the hotel's executive chef in charge of creating dishes and tapas for all of their outlets: Mosaic Restaurant, The Vibe Bar & Terrace, and meeting and event catering. Of the cuisine and Catalan dishes he adores and creates like this Mullet with Truffled Polenta, he says,"I cook to be sincere and honest (in Spanish: franca y sincera)." And we might add "with a touch of his own inspiration."
See Also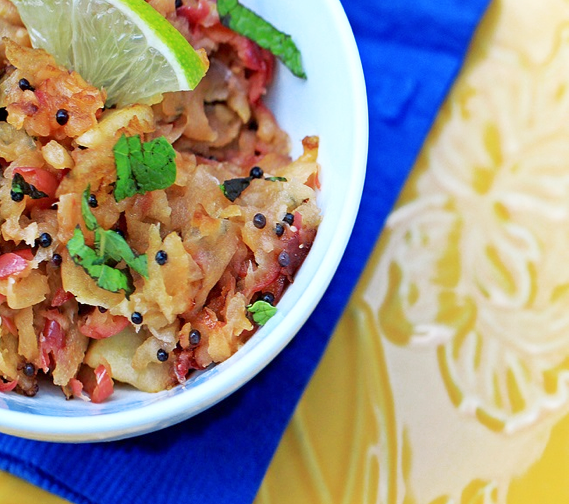 You'll notice on your read through that his recipe has fabulous handmade gelatin balls made to look like caviar. We are not so skilled; we made the "caviar" with quinoa, but you could try the chef's method as they are clear and ours are opaque. All starred items have an alternate ingredient and preparation. 
Print

---
Author:

Executive Chef Cristobal Pio

Yield:

1

1

x
Fish

2

red mullet fillets with scales (or any firm white flesh fish that can remain moist: we used cod.)
Polenta
polenta (prepare according to package or buy ready made polenta in a roll and spread with the Tartufata when cut into shape.)

1/8 cup

of truffle sauce- Tartufata
Garnish

½

sliced onion
"Caviar"
*one cup plus 1 tablespoon truffle juice
*5 gr of Agar-agar (a seaweed gelatin – we substituted quinoa cooked with mushroom stock for the "caviar"- so not needed)
*Cold sunflower oil (not needed using our recipe)
We skipped the agar-agar caviar and used ½ cup of quinoa cooked with mushroom based stock in place of water.
---
Instructions
PREPARATION
Fish
Clean the red mullet and gently and preserve the beautiful scales.
Note: we did not keep scales using cod
*Lift the scales, add salt and place the fillet in 45º over a strainer.
*Spray with boiling oil to lift the scales and make them soft, as many times.
Note: we were wary of boiling oil method so we sauteed the fish.
Polenta
Boil the polenta with milk, when stir in Tartufata and let cool flat in a rectangular glass dish.
Cut into rectangles when cool.
"Caviar"*
Boil the truffle juice and add agar-agar (seaweed gelatin).
Drip sunflower oil drops on the mixture using a 5 ml syringe.
You must form caviar-sized eggs.
Strain and keep cold.
We did not use these. We made quinoa "caviar" cooked in mushroom stock for the water.
Garnish
Sauté sliced onions in a pan with oil and salt, only for a few seconds until you get an "al dente" texture.
PRESENTATION
Place the red mullet fillets over a bed of polenta rectangles, layer on the onion and top with "caviar."
Note: Tartufata (Italian) is a mushroom sauce created with chopped summer truffles, garlic and onions sauteed in olive, then de-glazing with wine, and simmering until it is thick. It is kept in a jar in fridge.
Category:

Main

Cuisine:

Catalan
Michelle M. Winner
Michelle was born with a fork in her hand. As a culinary travel writer and confirmed foodophile she delights in the world-wide discovery of new flavor profiles, spices, salts and herbs. Based in one of the world's foodie meccas; Portland, Oregon, not far from "Pinot Noir Heaven" Michelle shares culinary travel and chef's recipes. Her photography has appeared in Saveur Magazine and she has contributed culinary travel articles to Forbes online, WSJ online, Business Insider, Condé Nast Digital Media, Islands magazine and many others. A confirmed globetrotter, she still keeps her bags packed and fork in hand (well . . . except through airport security.)