Denise Sakaki falls head over heals with wednesdays at Columbia Winery in Woodinville, Seattle. Welcome to one of the "Places We Love".
By Denise Sakaki


It's an understatement to say there's a few wineries and tasting rooms all around the city of Woodinville, east of Seattle — the city is just bursting with new places to have a sip of this or a glass of that, and they're all doing new things to entice visitors to drop by for a drink. If you find yourself in the neighborhood on Wednesday evenings from 5-7pm, take a trip to the Columbia Winery to take advantage of their half-priced wines by the glass and made-to-order flatbread pizzas. Columbia Winery has been an old soldier in the hills of Woodinville, producing distinctive Washington vintages since 1962, and their wines are nationally distributed, so you've probably seen their bottles on the shelves of wine shops or grocery stores. But don't let the big distributorship presence give the wrong impression; when you visit their tasting room, it's like settling down for an evening at a friend's living room — the friend that has a really great collection of wine and will cook up something delicious.
Columbia Winery's tasting room has undergone a bit of a facelift; where it was once a large tasting bar teeming with retail space, it's been transformed into a more sedate, relaxing space that invites visitors to come and sit for a spell. The tasting bar is still there, albeit with a few updates, but the room's centerpiece is their large gas fireplace and surrounding leather sofas and chairs. Washington isn't called the Evergreen State for nothing, so when you're looking for a way to shake off the rainy chill of the local "liquid sunshine," and curl up in with a nice glass of 2003 Syrah, this is about as perfect of a Pacific Northwest oasis as you can imagine. And yes, there's pizza! Columbia Winery installed a wood fire oven that blazes intense heat to bake their thin flatbreads to a nicely charred crispness. The toppings vary, with seasonal specials changing out every two to three weeks, but they keep perennial favorites available like their fresh basil and mozzarella Margherita-style flatbread, or an all-American pepperoni and cheese. On my last visit, I was lucky to try their Apple Pie Columbia Style, which was a savory sweet mix of roasted apples, pecans, blue cheese and caramelized onion – think apple pie, but as a pizza. They said it was only seasonal, but I hold out the hope that this makes regular returns to the menu, or even better, an all-year option. Their flatbreads are $12, serving about two people comfortably, but on the half-price Wednesdays, for $6 you can come in with an extra appetite and get two, telling yourself the thin crust barely counts for carbs.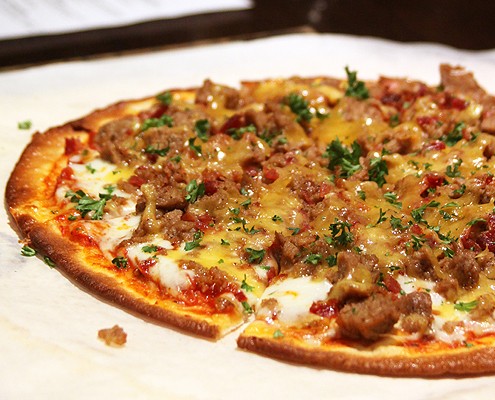 Their wine by the glass menu changes seasonally as well, with prices ranging from $8 to $10 a glass, but again, cut that in half on Wednesday evenings. I enjoyed the lighter-flavored "apple pie" pizza with their 2008 Unoaked Chardonnay from Yakima Valley, and for the heavier, meat-topped flatbreads, their 2007 Sangiovese from their Red Willow Vineyard paired nicely. As for wines to just sip, no flatbreads necessary, their 2003 Syrah from their Red Willow Vineyard was my personal favorite, having a rich flavor of blackberry that made me long for summer days.
The Columbia Winery tasting room is open Sunday through Thursday, 11am-6pm, and Wednesday through Saturday, 11am-7pm. The half-price wines by the glass and flatbreads are available on Wednesdays from 5-7pm.
The Columbia Winery is located at 14030 NE 145th Street, Woodinville, WA 98072 and their tasting room phone number is 425.482.7490
Denise Sakaki
Denise Sakaki is a freelance food writer and photographer who is always searching for the connections between food and personal experience. She is the creator of the food blog Wasabi Prime and contributor to Serious Eats, 425 Magazine and Drink Me Magazine.