The fifth edition of the Chelsea Music Festival is taking place this week in NYC. Be sure to stop by for a bite of Finnish and Hungarian cuisine and a sound of its musical history that will tickle all of your senses.
By Annelise McAuliffe
Matt Harrington
For the past six years, the orchestrators of the Chelsea Music Festival have brought top artist, musicians, composers, and chefs to the center stage for a week of stunning performances. This year has been no different. With a musical and culinary theme focusing on Finland and Hungary, the nine days of events center around Finnish music and gourmet creations by Finnish Chef Sami Tallberg and Danish Carl Kristian Frederiksen. During the span of the event, over 100 artists connect with the people of NYC in intimate settings that can be hard to come by otherwise. Not only are the performances housed in small, up-close settings, but the chefs and musicians mingle afterwards with the guests. What a treat!
Born and raised in Helsinki, Finland, Sami has chosen to take on the challenge of reconnecting eaters to the vast world of wild ingredients already flourishing in nature. Using all five senses, he creates powerful flavors without any use of meat, something that most chefs struggle with. While he admits that he is no classical music aficionado, Sami remembers listening to Sibelius when he was growing up and as a chef who enjoys cooking with music playing in the background, it was natural for him to pair dishes with the Finnish musician's work. Just like a composer, the work of Sami is never complete. He is always embarking on the next project to connect eaters around the globe with the many elements of nature that are just waiting to be featured. He describes it as being "woods to table" with a bit of "farm" sprinkled in there, too. And don't worry, Sami is not a chef that recklessly throws together bold flavors just for the sake of forcing you to taste an overbearing patch of Finnish nature. Instead, he finesses the products of his foraging to create delightful bites during the festival and beyond.
At the Chelsea Music Festival, be prepared to have all of your senses delightfully tickled. From delicious food concepts, to visual art, impressive musical performances, and even a signature scent that ties all of the events together, guests will be more than intellectually and emotionally inspired. One of the first events of this year's festival celebrated the 150th birthdays of Finnish musician Jean Sibelius and Danish Carl Nielsen. To pair with the musical offerings culinary Artists-in-Residence, Carl Kristian Frederiksen and Sami Tallberg, created six bites that went far beyond the usual birthday cake and champagne that would generally be found at a birthday celebration.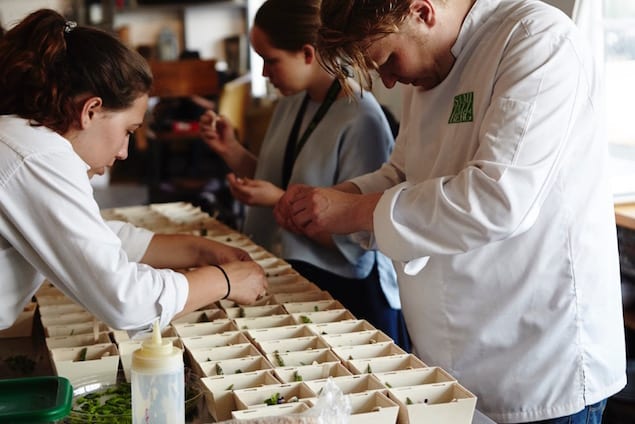 Matt Harrington
Chef Sami Tallberg concocted two dishes loaded with vegetables showcasing Finland's fertile lands teeming with wild game and herbs, fruits or vegetables waiting to be foraged. Composer Sibelius is said to have stated that the trees spoke to him and his light-hearted music was a perfect companion to Sami's fresh dishes that also showed his connection to nature as a chef. Beautiful dishes of asparagus with spruce shoots, wild violets, with a rich sauce and a red cabbage salad with fennels tops showed a playful side of Finland with bold flavor that can be seen in Sibelius's music too.
Denmark's Carl Nielsen's music displayed an even bolder or even bizarre sound that conveyed not only the lush Nordic lands, but also the humors of daily life. Chef Carl linked the two, seamlessly bringing together traditional Nordic ingredients such as sourdough bread, salmon, and dill, but adding a touch of his own Danish upbringing, too. Featuring a cold chicken dish that let eaters take a peek at Carl's childhood, where leftover chicken was served at the end of the week along with herbs from his father's garden, connections were made between the emotions of the music and the musicians performing to the memories and emotions evoked through the food.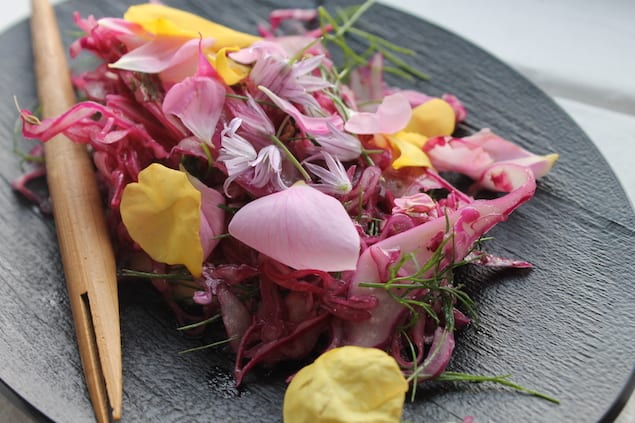 Running until June 20th, with events for families and children too, be sure to check out the remaining events, edible or not, and the remarkable performances by all of the talented creators. Chef Sami Tallberg promises that the food served at the finale will be "jazzy" including candy mushrooms, so don't miss out! Find their schedule of events here.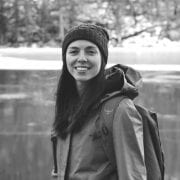 Annelise McAuliffe
Mandatory family outings to the Detroit farmers' market and nightly home-cooked meals cultivated Annelise's respect and curiosity for food. A graduate of The Culinary Institute of America, she spends her free time in New York City recipe testing, eating breakfast all day, and dreaming up international culinary adventures.