Sponsored Post: #EnjoyItsFromEurope This post is brought to you by Jambon de Bayonne aka Bayonne Ham, the melt-in-your-mouth charcuterie from Europe. You've probably tried cured ham before, but have you had French Bayonne ham? Be sure to enter for a chance to win Bayonne ham here.
Your favorite food, breakfast-style! I dare you to stop at one slice of this Bayonne ham, egg and cheese breakfast pizza topped off with a runny yolk. It's so good you'll want breakfast for dinner.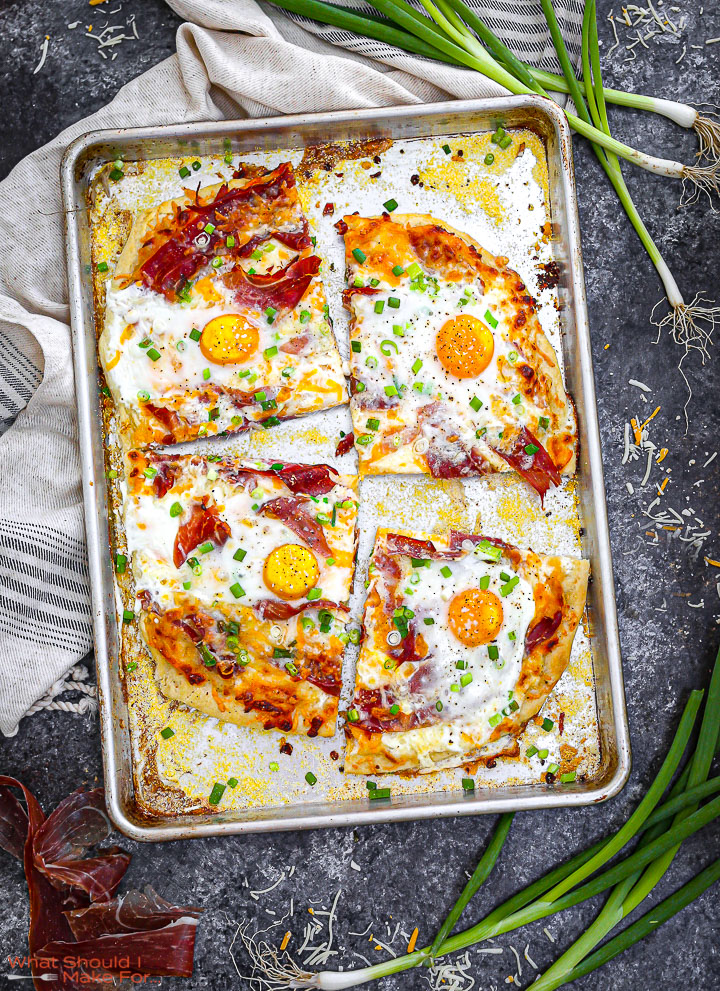 You've probably heard that breakfast is the most important meal of the day. Well now it's also the most fun and delicious. Because…pizza for breakfast!
And I don't mean last night's leftovers pulled out of the frig topped with cold, coagulated cheese. I'm talking a fresh homemade crust, ooey-gooey cheese, delicious melt-in-your-mouth Bayonne ham, and perfectly cooked eggs with golden, runny yolks.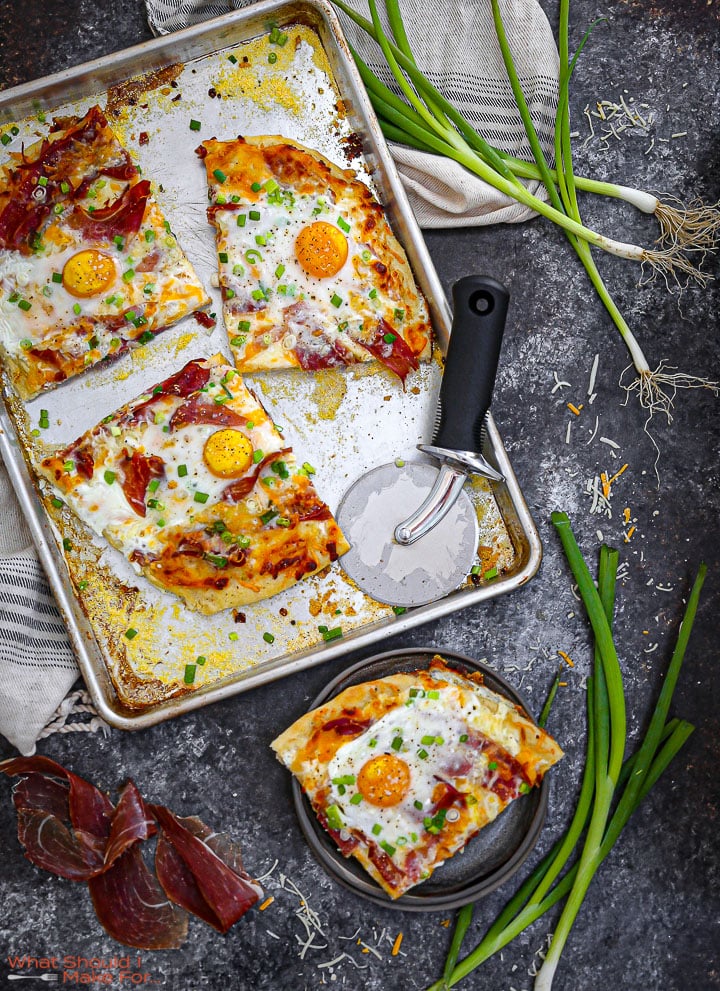 Because this breakfast pizza has just a few toppings, they need to be top-notch and full of flavor like French Bayonne Ham (Jambon de Bayonne). Bayonne ham is made with high-quality, whole, fresh hams rubbed with a thick layer of special rock salt from the Adour river basin. It takes an average of ten to twelve months to make a Bayonne ham, and the quality and care truly shows in each flavorful bite.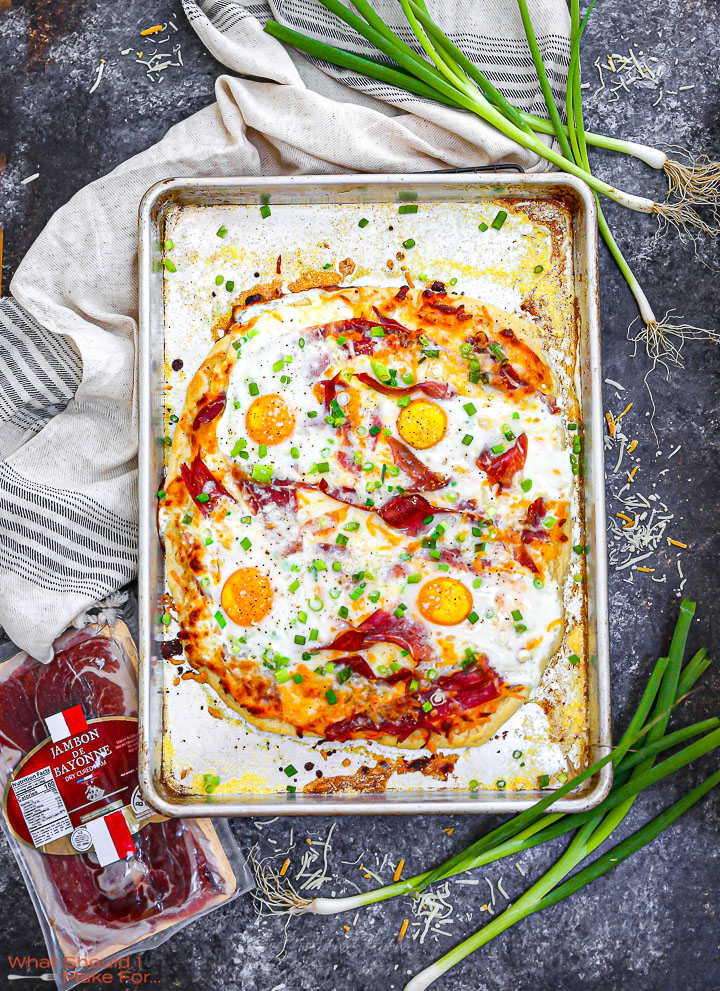 The savory, saltiness of the ham pairs beautifully with the creamy cheese and a sprinkle of green onion adds a bright, grassy pop. I've made my own dough for the pizza because I love the way it bakes up with nice crisp edges, but if you're pressed for time you can substitute store-bought pizza dough, or even naan or flatbread for the crust.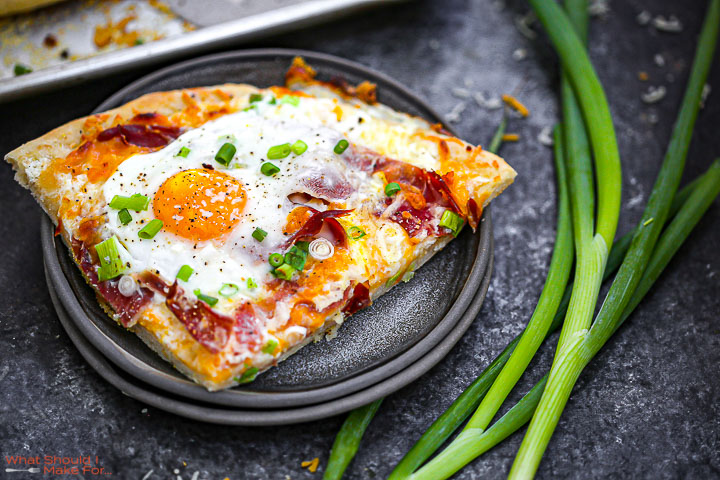 My pizza dough recipe yields two 12-inch pizzas, but if you have fewer hungry mouths to feed, wrap up half the dough tightly in plastic wrap and freeze it for a future use (simply defrost before rolling it out and follow the recipe from there). Trust me, once you taste this breakfast pizza, you'll be happy to have extra dough on hand for next time!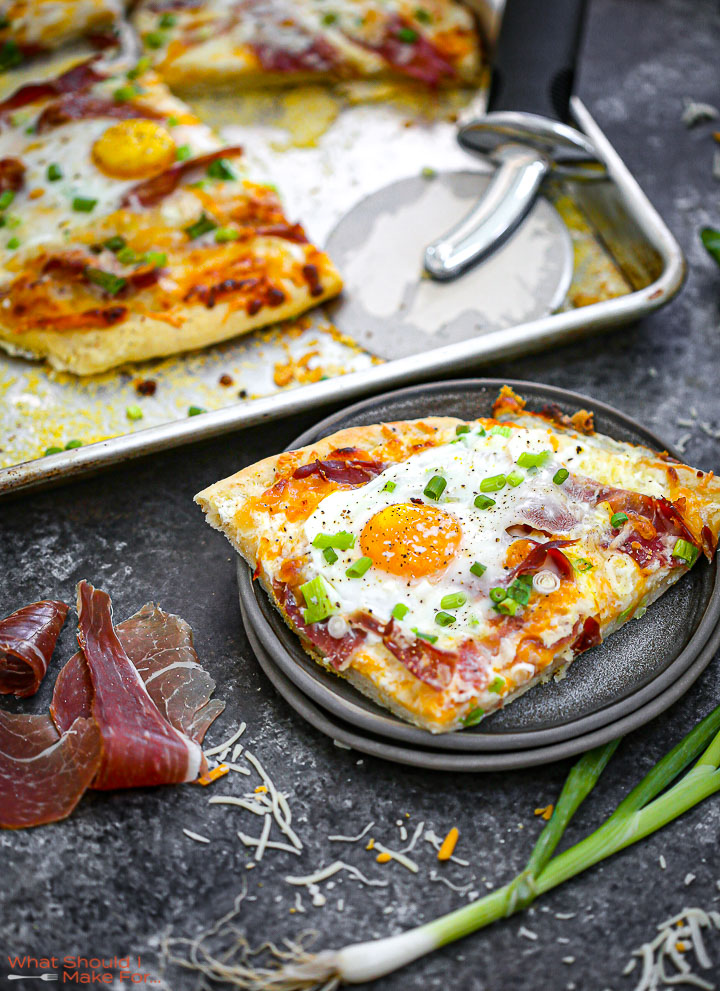 Be sure to enter for a chance to win Bayonne ham here.
Ham, Egg and Cheese Breakfast Pizza
Serves:
Yields: 2 - 12 inch pizzas
Ingredients
Pizza Dough
¼ oz active dry yeast (1 pkg)
1 cup warm water (100 degrees F)
pinch of sugar
3½ cups AP flour
1½ tsp kosher salt
¼ cup extra virgin olive oil, plus extra for the bowl
Ham, Egg and Cheese Breakfast Pizza
cornmeal, for dusting the baking sheets
2 Tbsp extra virgin olive oil
20 oz shredded cheese, (I like a mix of cheddar, mozzarella, and monterey jack)
4 oz Bayonne Ham, sliced
½ cup green onion, sliced
8 eggs, large
kosher salt and pepper (optional, to taste)
Instructions
Pizza Dough
Whisk the yeast and pinch of sugar into the water and let stand 5 - 10 mins until it begins to bubble or foam.
In the bowl of a stand mixer fitted with a dough hook, mix the flour and the salt. With the mixer set to low, add the water/yeast mixture and the olive oil.
Knead for about 5 mins, until the dough is smooth. If it's too dry, add an additional tbsp or two of water, mixing well before adding the next. (By hand: stir together all ingredients and knead on the counter for 8-10 mins.)
Turn out onto a lightly floured surface and knead for about 2-3 mins until the dough is very smooth and then shape it into a ball.
Place the dough in a well-oiled large bowl, turning the dough so it is coated on all sides and cover the bowl tightly with plastic wrap. Allow it to rise at room temperature until doubled in size, 1 - 1½ hrs. (Place the bowl in the warmest part of your kitchen.)
Lightly punch down the down and divide the dough into 2 pieces. Roughly shape the divided pieces into balls and cover with plastic wrap.
Ham, Egg and Cheese Breakfast Pizza
Preheat your oven to 500 degrees F or as high as your oven will go. Once the oven is hot, place two baking sheets or a pizza stone in the oven for about 5 minutes. While the baking sheets heat, stretch the dough.
Working with one piece and leaving the other covered, use a rolling pin or your hands to stretch the dough into a round or oblong shape (about 12 inches). If the dough springs back and loses its shape, cover it and set aside for a few mins before re-rolling (this allows the dough to relax). Repeat with the other dough.
Take the baking sheets out of the oven (careful! it will be crazy hot!), reduce the temperature to 450 F, and place the trays on a cooling rack or trivet. Sprinkle the bottom of the sheet pans with a handful of cornmeal. Place the stretched dough on the pan and stretch it evenly into a rounded or oblong shape. Repeat with the other dough.
Brush the rounds with 1 tbsp olive oil each. Place the baking sheets in the oven and bake for about 3-4 minutes, until the dough begins to bake and bubble.
Remove the baking sheets from the oven, divide the cheese evenly, and spread the cheese over the rounds, reserving about ¼ of the cheese. Bring the cheese close to the edges.
Tear the ham into pieces and divide it evenly over the cheese, and again, bring it close to the edges. Scatter the remaining cheese over the ham and spread the chopped green onions that, reserving a Tbsp or so for garnishing. Sprinkle with freshly ground black pepper and a little kosher salt (to taste).
Create four depressions in each pizza and carefully crack an egg into each.( I recommend cracking each egg into a small bowl first, then pouring it in.)
Place the pizzas in the oven and bake for 10-12 mins, or until the pizzas are golden brown and bubbling, the crust is cooked through, and the eggs are cooked with runny yolks. Slice and serve hot.
Notes
This pizza dough is very forgiving. You can roll it with a rolling pin or simply stretch it with your hands. The goal is a round of even thickness, about 12 inches or so. It doesn't need to be perfect, we're going for a rustic look here.
Heat your oven as high as it will go and pop the baking sheets in the oven for a few minutes before you place the dough on them. This will help the dough cook through and guarantee a nice, crisp crust.
A good sprinkle of cornmeal in the pan before the dough goes down helps to prevent sticking.
Crack your eggs one at a time into a small ramekin or bowl and slide it into the depression. This will guarantee that you don't have any shells in your pizza and your yolks are intact before baking.
Don't over-season your pizza with salt. Bayonne Ham is salt-cured and you may not need any additional salt depending on your taste.
This ham, egg and cheese breakfast pizza is best served hot, so serve this as soon as it's ready (not that you'd be able to hold out)!
Uncooked pizza dough can be frozen and defrosted before rolling.