SPONSORED POST: From Dijon Originale mustard to Cornichons, Maille has a rich heritage starting in 1747 that honors tradition. Check out these flavorful, fun recipes that are made with Maille and perfect for BBQ season. What can we say? Maille is BBQ's best friend. PLUS, be sure to enter for a chance to win an awesome grilling kit below.
This grilled fruit salad that is going to become your picnic going, outdoor hanging, potlucking must have for the next few months.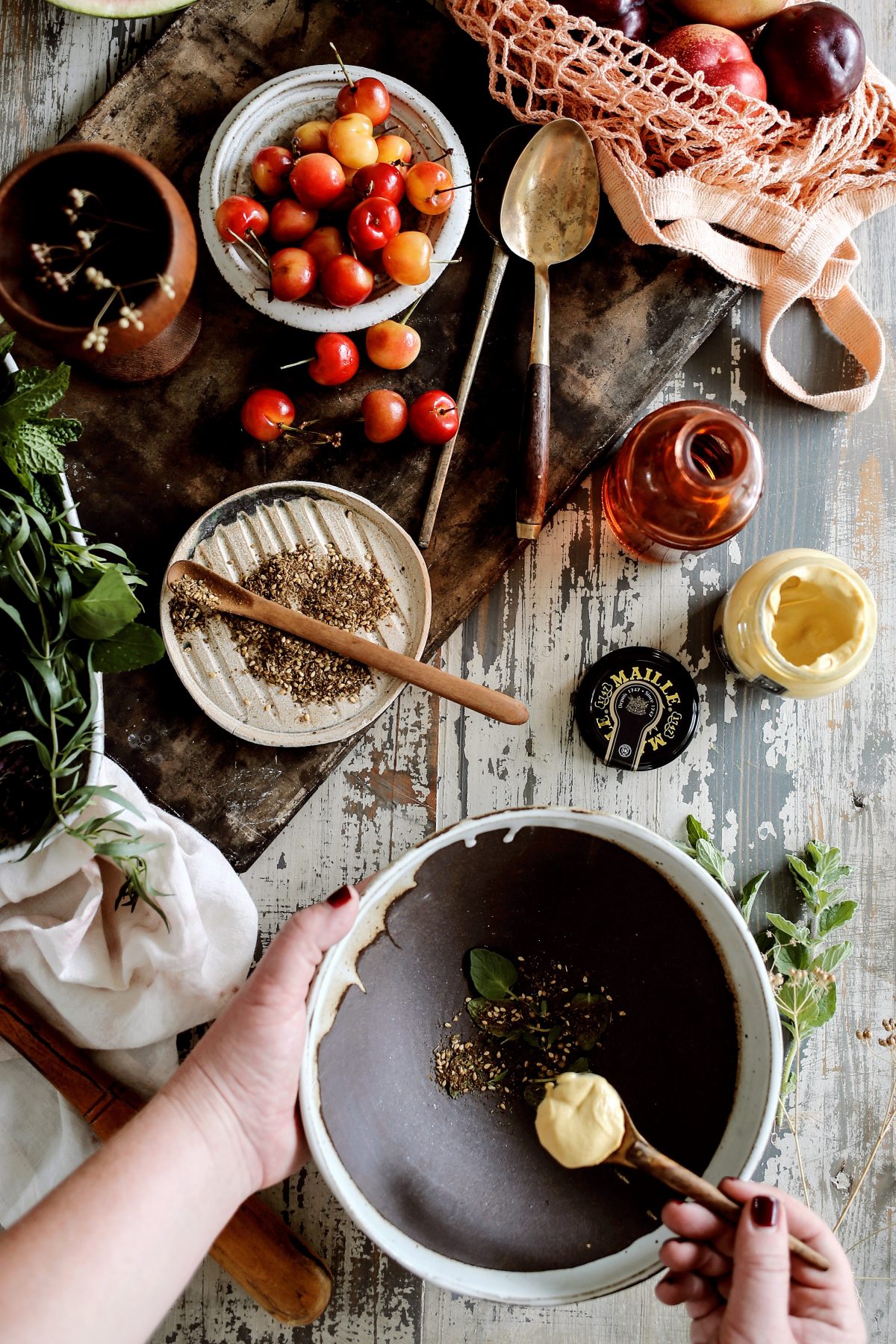 Suuuumer tiiiiime…and the grillin' is easy!
No really, it's officially grilling season and there should be absolutely nothing complicated about it. In fact, I want to give you permission to turn off that oven and just start making everything on the grill…I'm pretty sure we could make this a thing. Starting with a grilled fruit salad that is going to become your picnic going, outdoor hanging, potlucking must have for the next few months.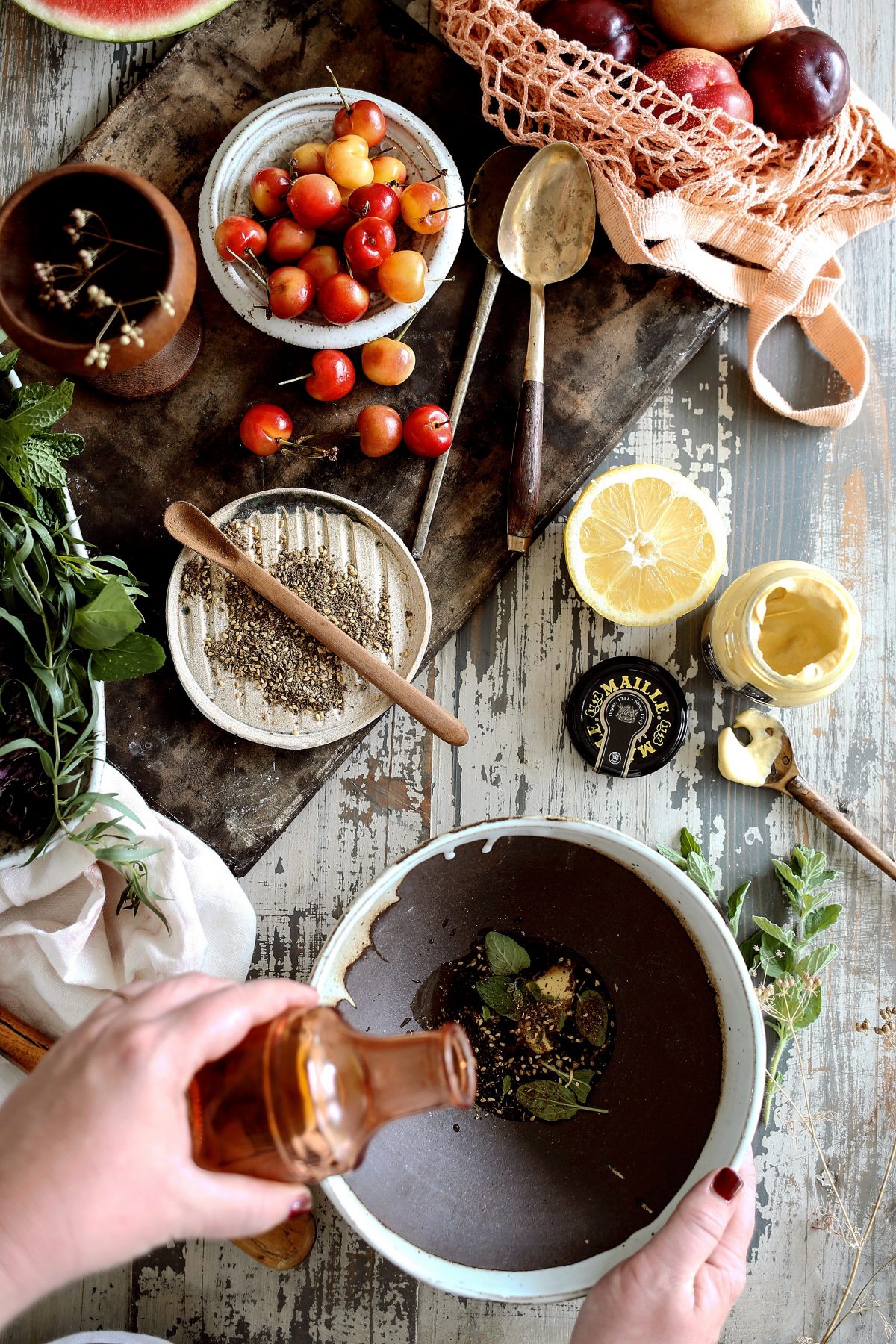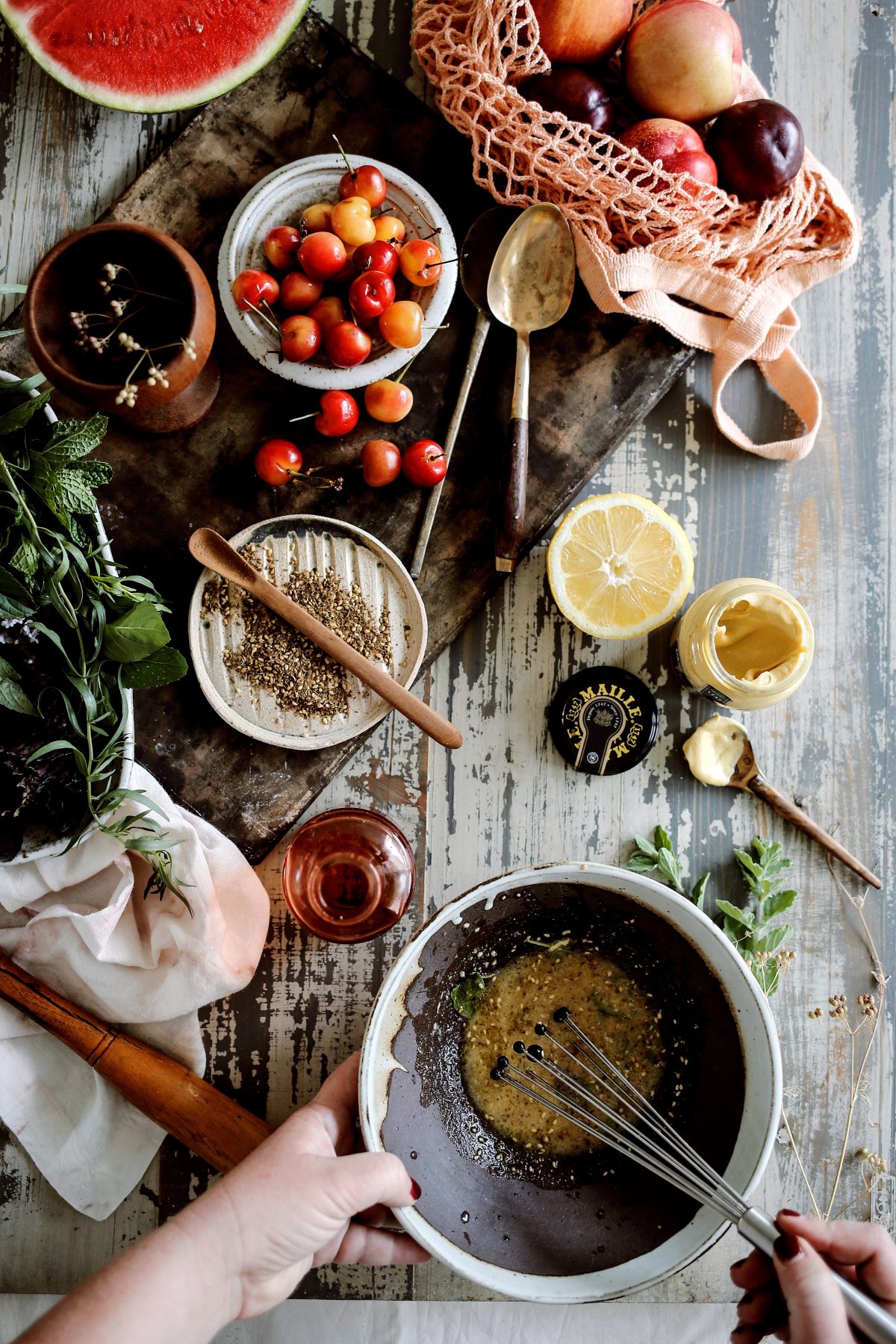 Stone fruit is in full swing right now and I can't play favorites…so they're all invited. Nectarines, plums, apricots and cherries – you name it, please gather round my little sweet treats because you're about to undergo one delicious transformation.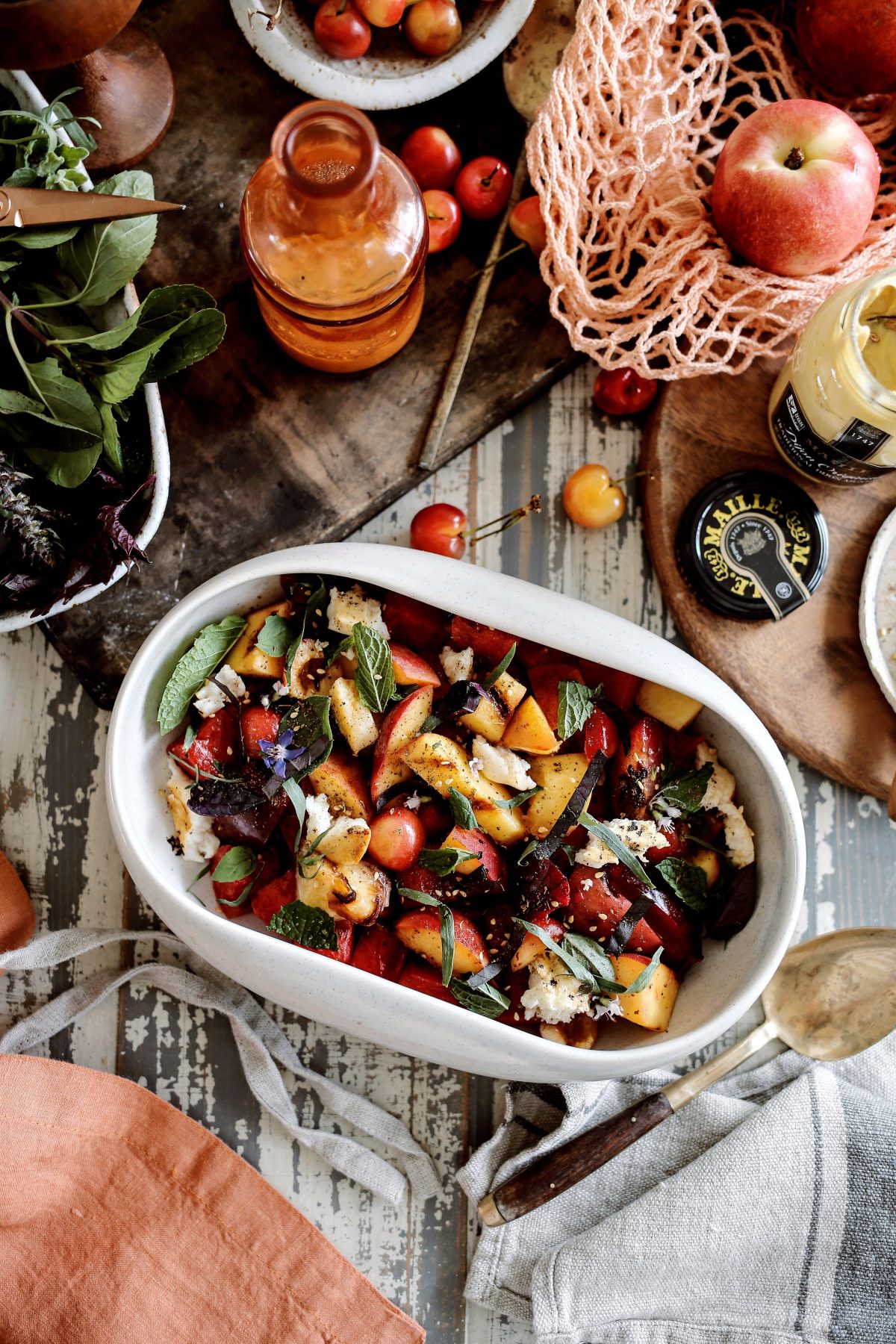 I know what you're thinking. Grilling…fruit?! Yes. In fact, we're not only grilling fruit for this one, but cheese too (Haloumi to be exact). I feel like we've been overlooking a very delightful way to prepare summer produce…you never second guess a zucchini on the grill, so why a peach? By slightly grilling fruit you're infusing a hint of smoke, bringing on the caramelization and intensifying their flavors without cooking them into mush. Have I won you over yet?!
Maybe more important to your summer salad is your salad's dressing. Having a work horse vinaigrette in your back pocket will set your sides apart on the picnic table…and I've got a stellar one to add into your rotation: Za'atar White Balsamic.
Za'atar is a magical combo of thyme, oregano, marjoram, toasted sesame seeds, and sumac – making for a unique savory element when added to a sweet dish like grilled fruit. And with every dressing I make, my secret ingredient is adding a quality dijon mustard…Maille Dijon Originale. This kicks up the flavors with a bit of creamy sharpness and plays beautifully with a light white balsamic vinegar without overpowering it. In a word, delightful!
Not only is this grilled stone fruit salad gorgeous, the flavors are on point. Sweet, savory, a little bit of salt from the cheese and a whole bunch of freshness from the torn herbs. It's so simple to assemble and would go brilliantly with a number of other summer sides and mains. A definite crowd pleaser and super easy to do in a pinch, making it my new favorite dish of the season.
So how are you feeling about throwing a few fruits on the barbie and whipping up a killer dressing for your next get together?! I'm hoping it's a yes! Here's to grilling new things this summer friends!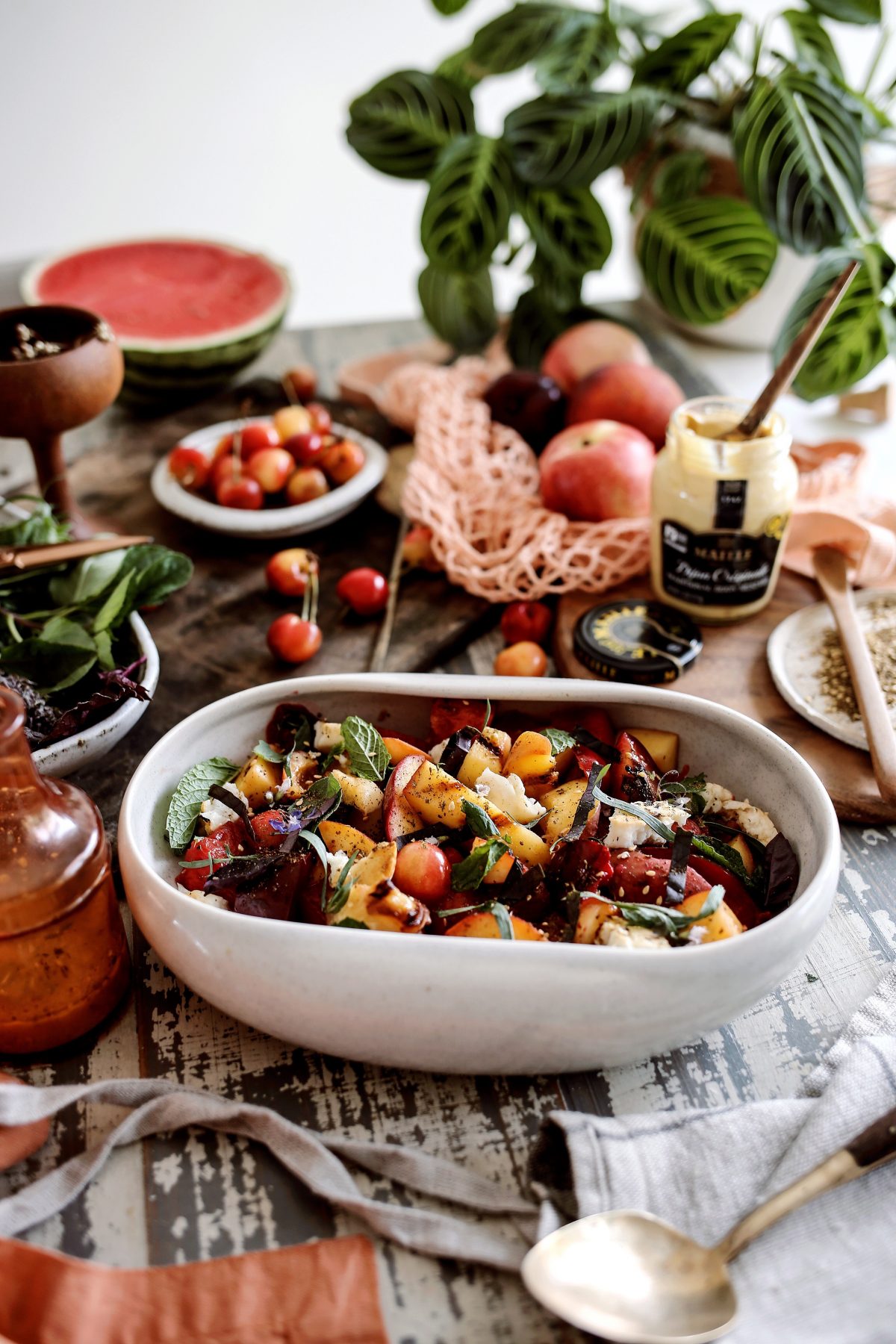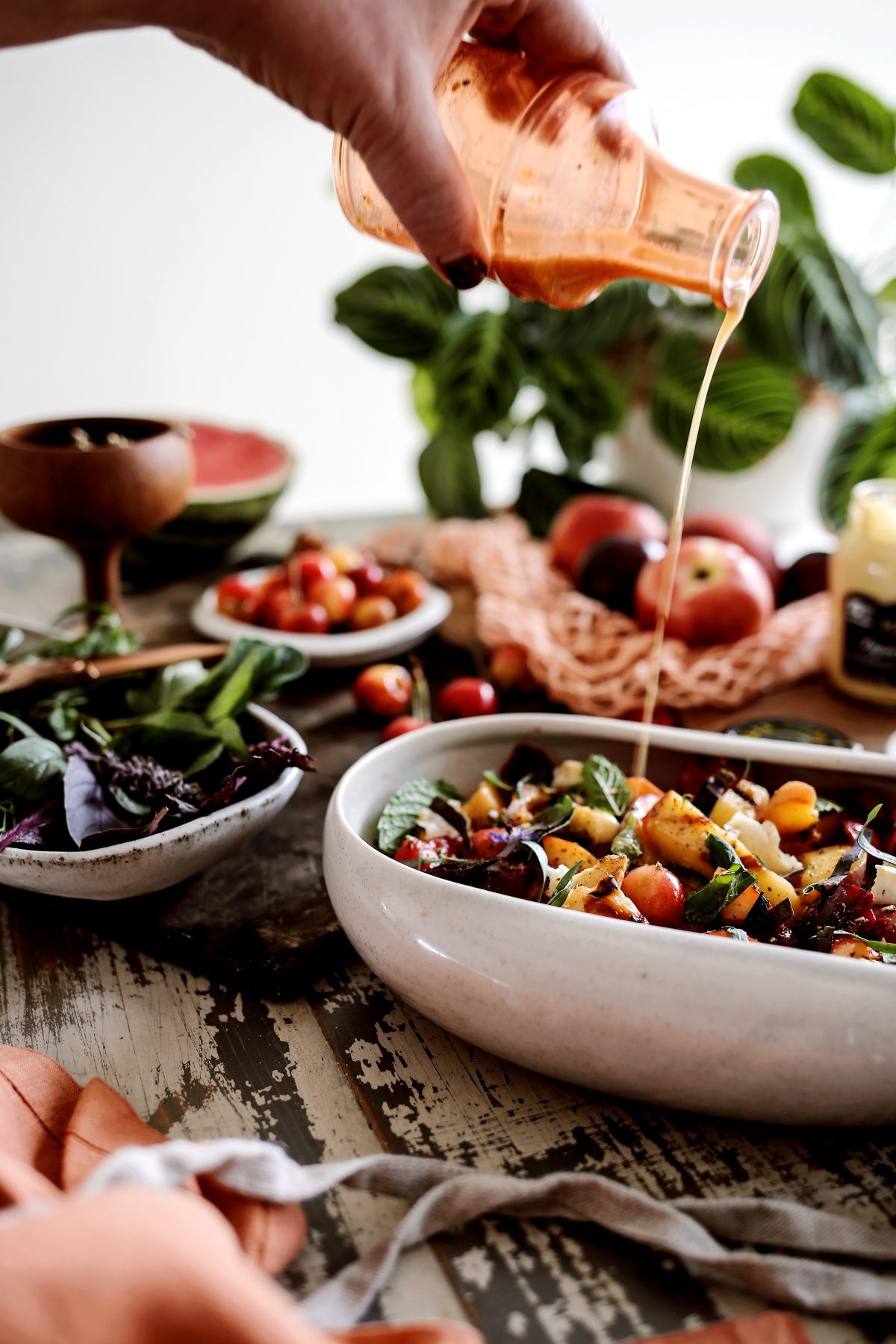 Be sure to enter the grilling giveaway below!
Grilled Stone Fruit and Haloumi Salad with Mustard and Za'atar Vinaigrette
Ingredients
A selection of seasonal stone fruit: watermelon, peaches, nectarines, plums & cherries
Roughly torn fresh herbs: Mint, Thai Basil, Tarragon
Haloumi or preferred grilling cheese
¼ cup White Balsamic Vinegar
2 heaping tsp Maille Dijon Originale
Juice ½ lemon
1-2 TBSP olive oil
1 TBSP za'atar spice blend
Instructions
Cut stone fruit and haloumi into large slices that won't easily fall through BBQ grates. Spray lightly with olive oil and grill on medium high for 5-8 minutes until grill marks appear and fruit is caramelized. Set aside and let cool before slicing into bite sized pieces
Add balsamic, lemon juice, Maille Dijon Originale, olive oil and za'atar into a small bowl and mix well. Drizzle over grilled stone fruit salad and toss well just before serving. Roughly tear fresh herbs and haloumi, adding on top of the salad. Served chilled with your favorite BBQ mains!