SPONSORED POST: From Dijon Originale mustard to Cornichons, Maille has a rich heritage starting in 1747 that honors tradition. Check out these flavorful, fun recipes that are made with Maille and perfect for BBQ season. What can we say? Maille is BBQ's best friend.
Say bye bye to basic potato salad. This Grilled Potato Salad combines smoky grilled potatoes with a delicious tangy mustard dressing that's loaded with fresh herbs and salty capers. It's delicious!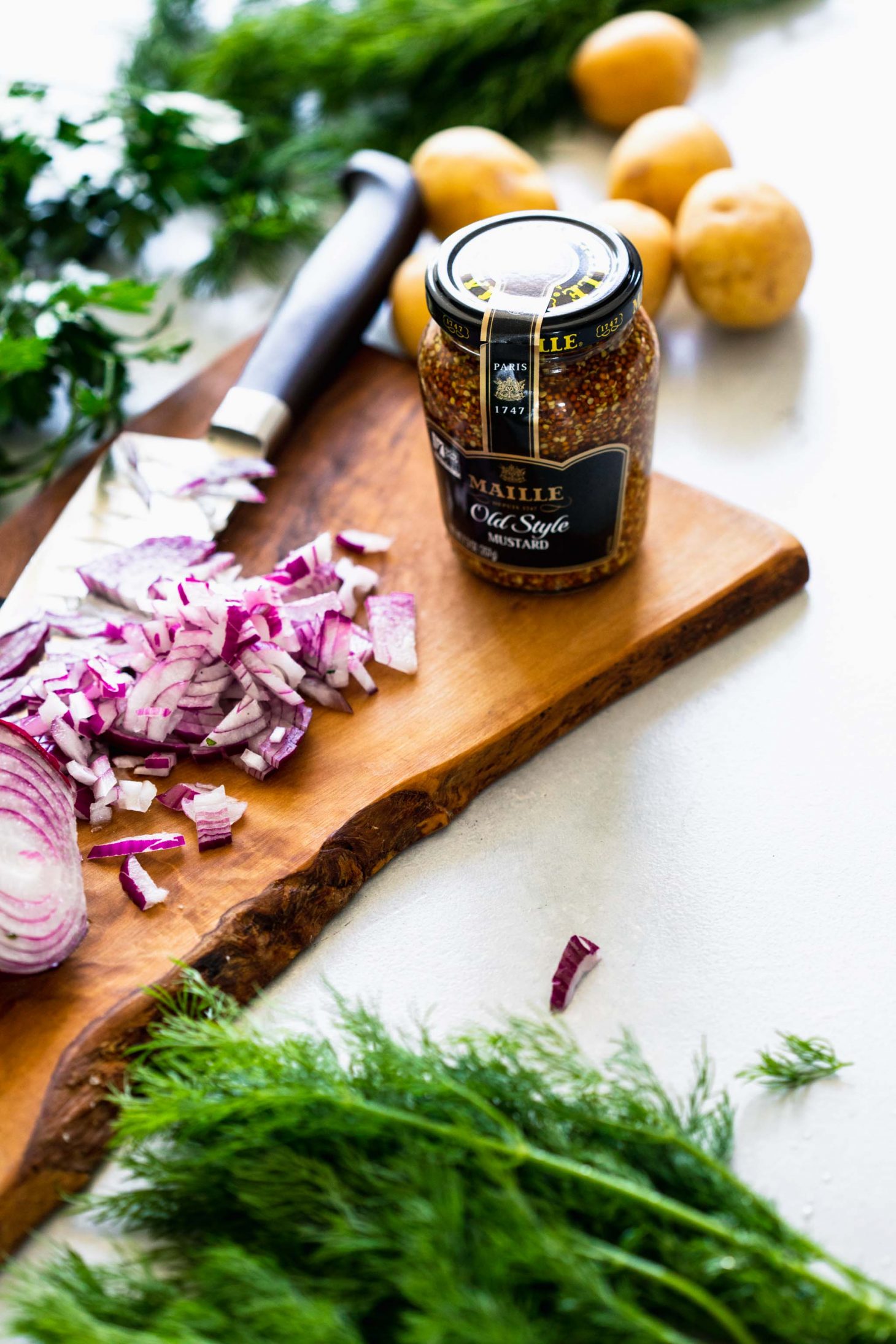 I've been absolutely obsessed with this Grilled Potato Salad this summer. Not only is the briny, tangy mustard dressing the most flavorful concoction ever. But those grilled potatoes just add a little something extra with their smoky flavor.
It's the best side dish to bring along to a summer BBQ if you want to impress all your friends.
It's also the perfect potato salad if you're looking for a no-mayo potato salad because it's dressed with a tangy mustard vinaigrette rather than the traditional mayonnaise.
What Potatoes are Best for Potato Salad?
I used baby yukon gold potatoes in this recipe because I love their buttery texture and yellow flesh. But you can use any potato that you love best! Fingerling potatoes, baby red potatoes and even sweet potatoes will work well for this grilled potato salad.
How To Make Grilled Potato Salad
Parboil the potatoes so they're just tender. Drain, cool slightly and cut in half.
Make the dressing by combining all the ingredients in a small bowl and whisking.
Grill the potatoes until slightly charred.
Toss with the potato salad vinaigrette.
Enjoy!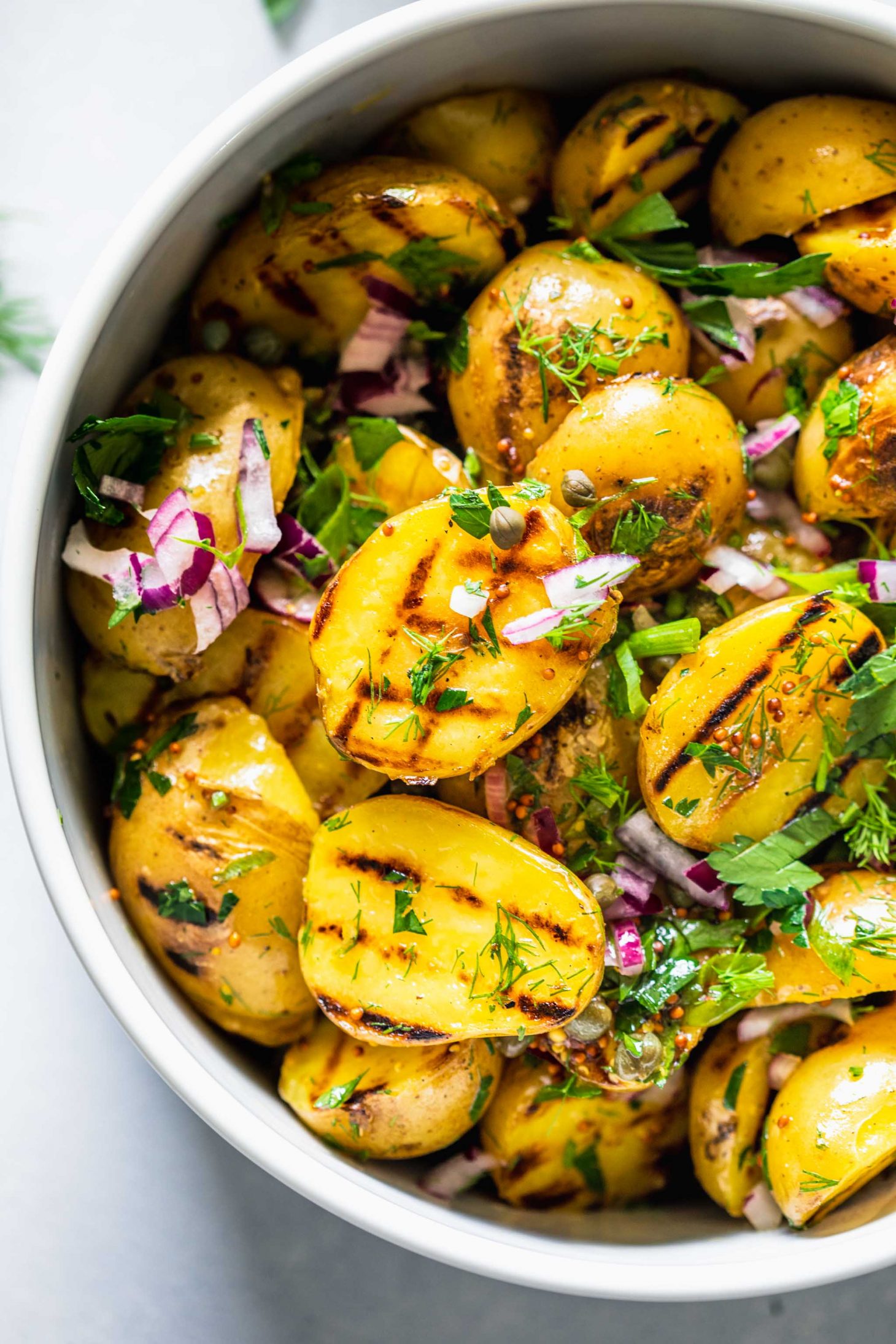 Potato Salad Vinaigrette
I'm using my favorite Maille Old Style Mustard in this vinaigrette. I love how the whole mustard seeds pop on your tongue when you bite into it, and it has the most amazing tang. Look for it in your favorite store, right alongside all the standard mustard varieties. 
By adding a couple spoonfuls of it to some olive oil and vinaigrette, you'll have the most amazing vinaigrette that's perfect tossed with the grilled potatoes and some scallions, red onions, parsley, dill and briny capers.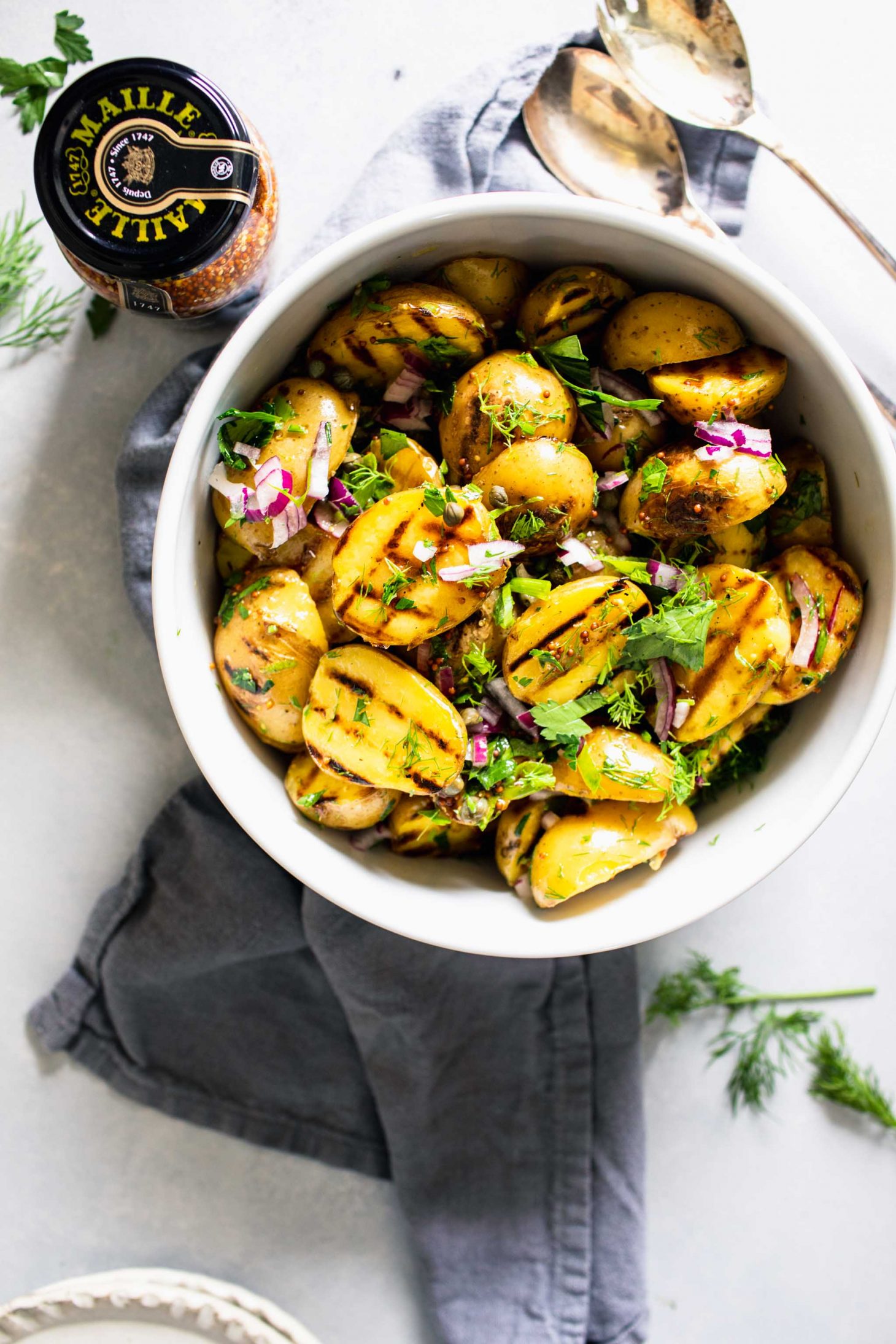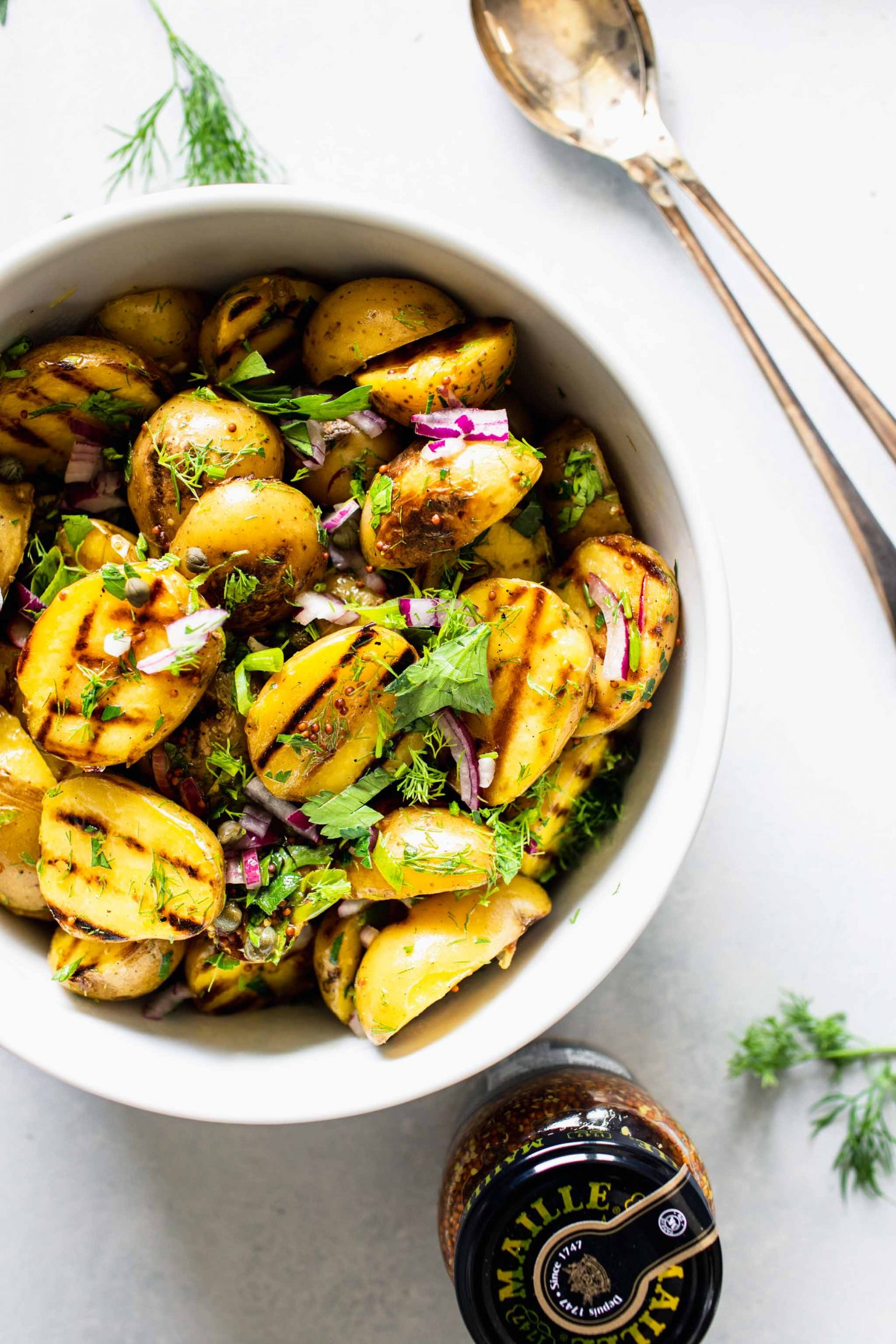 Can Potato Salad be Warmed Up?
I love to serve this potato salad when the potatoes are still slightly warm, but you can also serve it at room temperature. If you'd like to make this potato salad ahead of time and serve it warm later, you can reheat it in a hot skillet or in the microwave.
What to Serve with Potato Salad:
Grilled Potato Salad with Tangy Mustard Dressing
Ingredients
3 pounds baby yukon gold potatoes
½ cup olive oil + 2 Tablespoons olive oil (divided)
¼ cup red wine vinegar
3 Tablespoons Maille Old Style Mustard
½ bunch scallions chopped
½ small red onion chopped
½ cup chopped parsley
¼ cup chopped dill
2 Tablespoons drained capers
Salt and pepper
Instructions
Preheat the grill to high.
Add the potatoes to a large pot of salted boiling water and cook for 8 minutes, until just tender.
Drain the potatoes, and when cool enough to handle, cut in half lengthwise.
Toss with 2 Tablespoons olive oil. Place on the hot grill and allow to cook for 3-5 minutes, until slightly charred. Let cool slightly.