SPONSORED POST: From Dijon Originale mustard to Cornichons, Maille has a rich heritage starting in 1747 that honors tradition. Check out these flavorful, fun recipes that are made with Maille and perfect for BBQ season. What can we say? Maille is BBQ's best friend. PLUS, be sure to enter for a chance to win an awesome grilling kit below.
These Grilled Dijon Pork Sliders pack a serious punch of flavor thanks to a dijon mustard sauce. Top each slider with crunchy purple cabbage and serve it on a sweet Hawaiian roll.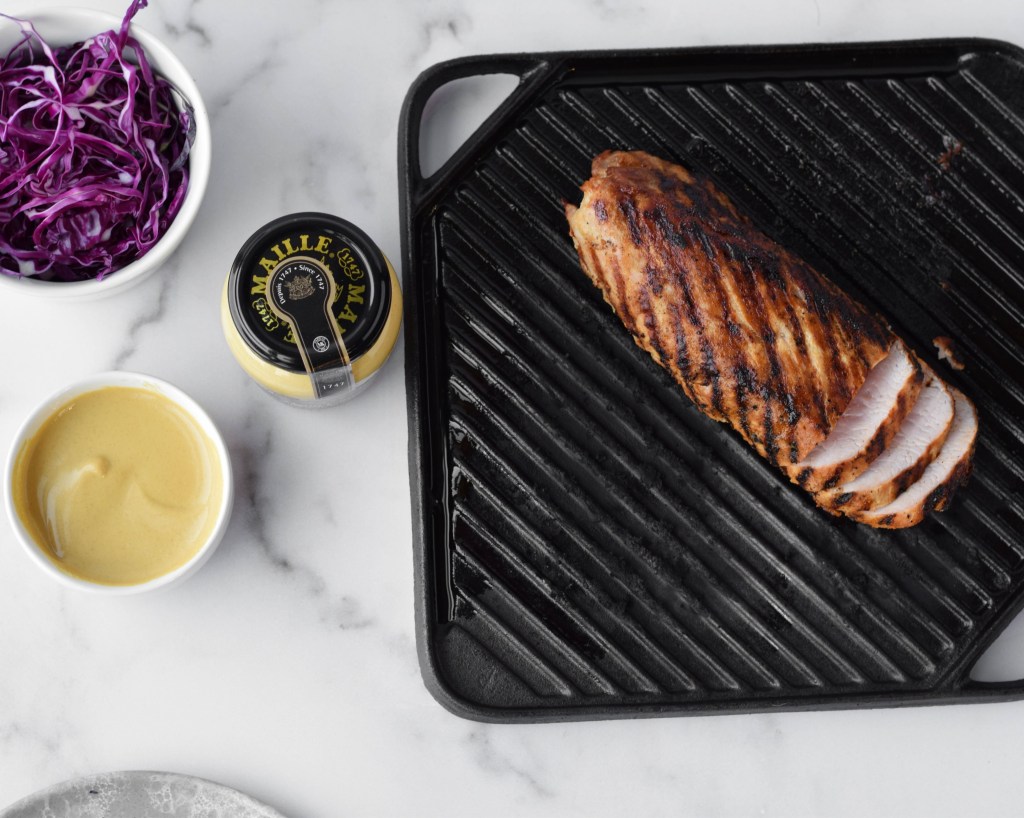 Grilling season is here, and I am all about creating recipes that are perfect for summer BBQ but do not require a ton of work. Grilled Dijon BBQ Pork Sliders are my latest creation that I am so excited to share with you, especially because I made it in partnership with Maille Dijon Originale Mustard.
Grilled Dijon BBQ Pork Sliders pack a serious punch of flavor because of the Maille Dijon Originale Mustard that I used as the main ingredient in the sauce. The dijon sauce is my take on a mustard and vinegar based BBQ sauce, which pairs perfectly with the pork. Topping these off with crunchy purple cabbage and the sweet Hawaiian roll may be my new favorite flavor combination.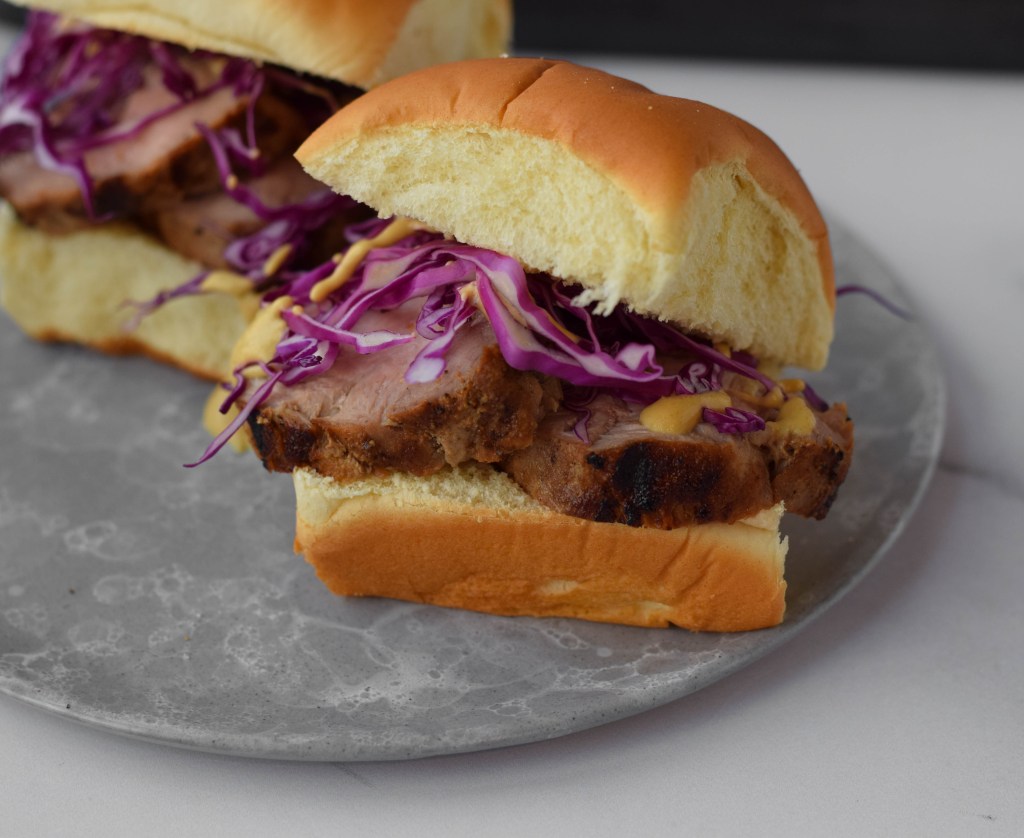 Grilling Tip! If you do not have a grill, you can use a cast iron grill pan on your gas stovetop, just like the one pictured. If cooking indoors, be sure to turn on your exhaust fan above your stove because things may get a little smoky.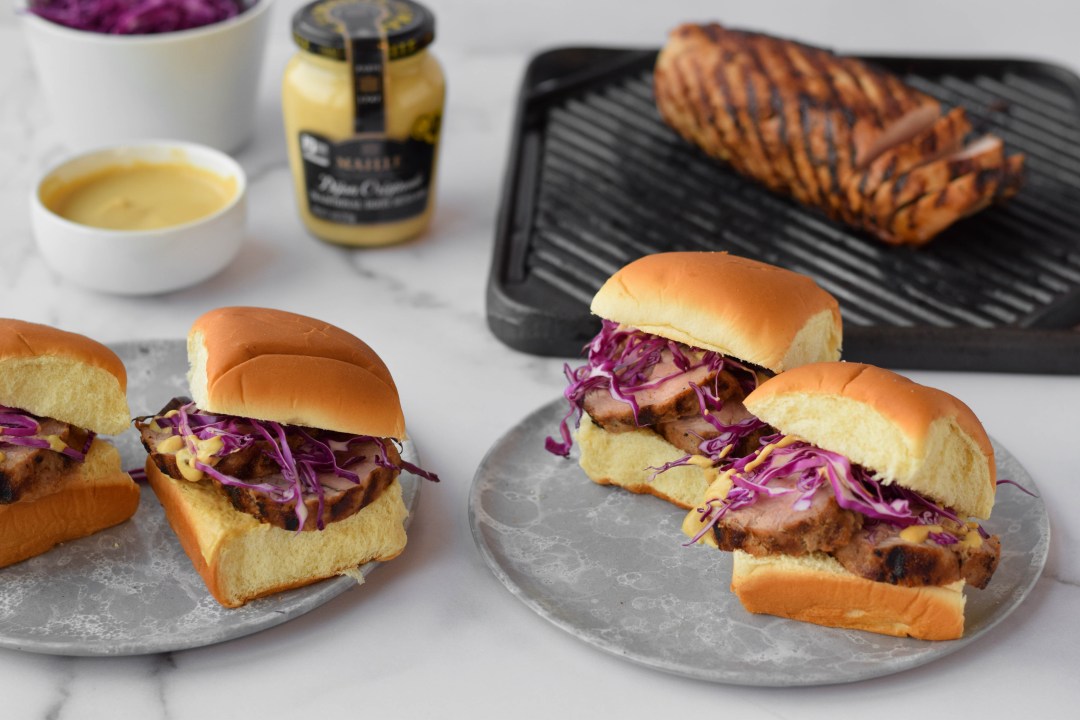 Bonus: Enter to win a grilling makeover with Maille! Win an Indoor Smokeless BBQ Grill, 4-Piece BBQ Tool set, BBQ Skewers, 12-piece tableware set + a Maille flavor collection and much more!
Grilled Dijon Pork Sliders
Ingredients
½ Cup Maille Dijon Originale Mustard
1 ½ Tablespoons Apple Cider Vinegar
1 Tablespoon Worcestershire Sauce
1 Teaspoon Garlic Powder
1 Pound Pork Loin
1 Tablespoon Salt
1 Tablespoon Ground Mustard
1 Tablespoon Garlic Powder
Red Cabbage, thinly sliced
Hawaiian Bread Rolls
Instructions
In a bowl, whisk together the Maille Dijon Originale Mustard, Apple Cider Vinegar, Worcestershire Sauce, and Garlic Powder. Whisk until the sauce is fully combined and refrigerate until ready to use. The longer you refrigerate, the more the flavors will blend together.
Preheat a BBQ grill or a grill pan to medium heat. Grill the pork loin for 6-8 minutes on each side, using metal tongs to flip the pork. Making sure to get great grill marks on the pork and cook until the pork has an internal temperature of 150-160 degrees. Once cooked, remove from the grill and let the pork rest for 10 minutes before slicing.
When you are ready to assemble the sliders, slice the pork into half inch slices. Spread the Maille Dijon Originale Mustard sauce onto both the top and bottom of the Hawaiian bread rolls, then place two pork slices onto the roll. Top with thee sliced red cabbage and add another dollop of the Maille Dijon Originale Mustard sauce on top.