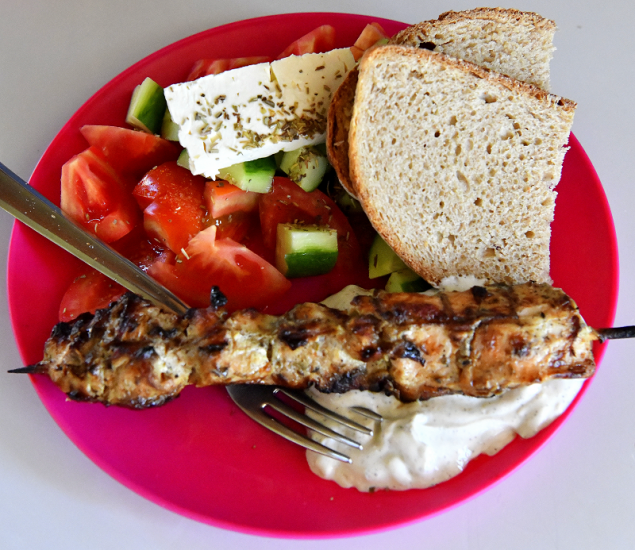 Looking for an uncrowded Greek Island that you can call your own? For many islands, popularity brings too many tourists and cruise ship day-trippers that can alienate some guests who are looking for peace and quiet and a slower pace of life.  We have found an as yet "undiscovered" Greek island for you called Karpathos. The people are friendly and still value and practice their traditions, the island is starkly beautiful, and it has wonderful traditional cuisine like this Grilled Chicken Souvlaki with Tzatziki Recipe from Karpathos, Greece.
"The Greek Americans"
One of the Dodecanese Islands in the southernmost segment of the Aegean Sea, between Crete and Rhodes, Karpathos is a small island with a population of about 7,000 year-round. But curiously each year "The Americans" come back to spend the summer. The residents use that name to identify those who have Karpathian roots but moved away or have been born in the USA and live there for most of the year. This migration was due to political and economic factors during several phases in the last century. The various U.S. cities these Greek Americans live in are also further used as an identifier on Karpathos as they tend to own homes in certain Karpathian villages. Many who return to the island to live permanently are second or third generation Americans who embrace their cultural roots. They set up shop as artists, carpenters, builders, and restaurateurs.  For an example, in Aperi and Volada, you'll find  people from Linden, Clifton, and Paramus in New Jersey. In Arkasa it's folks from Tampa, Florida. And in Olympos and Mesochori villages you'll find people from Baltimore, Maryland.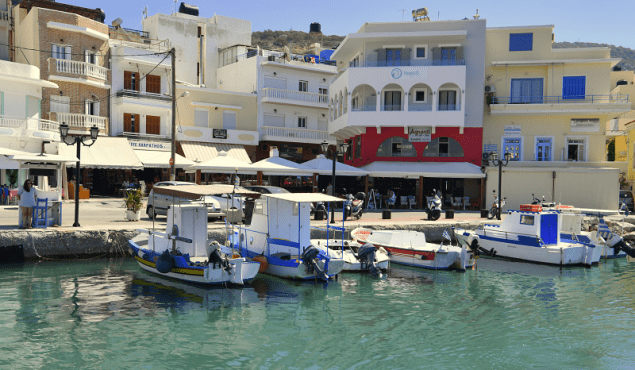 How To Get There
If you are worried about cruise ships disgorging hordes of passengers each day, you won't find that here. In fact, very rarely will even a small ship come to the main port of Pigadia with visitors. As for ferries? Only a scant number of them arrive once a week from Piraeus (Athens) on a rotating schedule to include several islands. And the trips can take from 19 hours to 24 hours.
Your best bet is to fly in. The modern airport offers daily flights. The flight from Athens is about an hour and only a couple of hundred bucks round trip on Olympic/Aegean Air. Many many visitors come directly from their homes in Europe via charters or direct flights for extended stays. It's a favorite of the Dutch, Danish, and the Italians.
Where To Stay, What To Do
Accommodations run the gamut of rooms to-let in a private home, apartments and small hotels, to larger hotels  with full service dining, bars, pools, and music in the evening.
Things to do range from boat trips up the coast to glorious beaches, private tours of the villages, guided hikes, biking, windsurfing, bird watching, fishing, cooking classes, museums, visiting historical ruins, glass bottom boat, diving, and perhaps attending a festival. My suggestion is to contact Holiday World Karpathos Travel and have them arrange an itinerary for you. From finding best flights from Athens, to activities for you in Karpathos, and interesting hotels; they are locals with years of experience.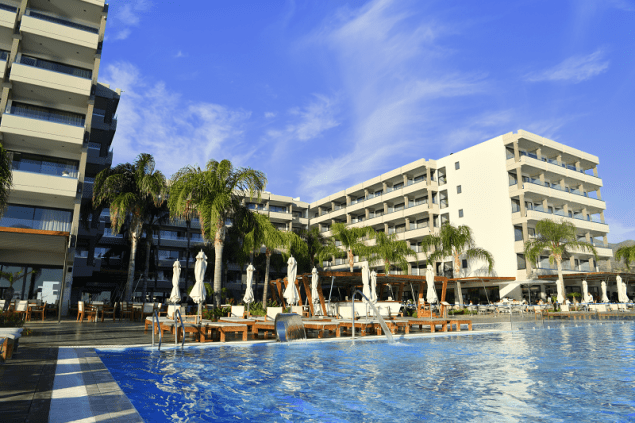 Local Cuisine Scene
And the food? If you stick to local cuisine, its plentiful, inexpensive, traditional, and delicious. A great taverna to try is right on the waterfront in Pigadia called Maxims. It's a family affair and momma's in the kitchen. They have been here for many years and it is fantastic. You can't go wrong with any of their food and carafe of their table wine- and they make their own olive oil.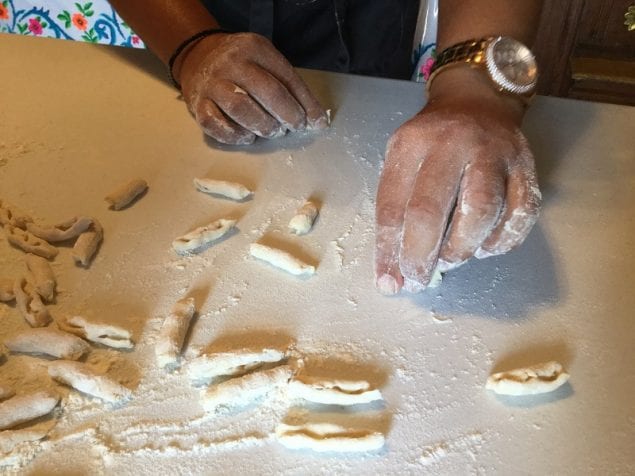 There are several traditional dishes that are made in a distinct Karpathos-style. You'll find the famous Makaroúnes (Ma-kah-roux-nays) handmade pasta, all over the island. But in the village of Olympos they make them using a roll, push, and indent made using their finger, all in one motion, which differentiates these Makaroúnes from the shapes made on rest of the island. The fresh pasta is then boiled, drained, mixed with goat butter and goat cheese, and topped with roasted onion. The type of cheese and butter used on Karpathos makes all of the difference in the flavor of the dish, and it's not available in the USA.
Discovering a Recipe By Boat
The Captain Nikolas excursion boat, operating out of the port at Pigadia, has a 4 hour trip that visits the deserted island of Saria, just off Karpathos. The captain and crew are family members and one of their claims to fame is the closely-guarded secret recipe for Souvlaki. After some cajoling, they did share the five ingredients, but nothing more.
See Also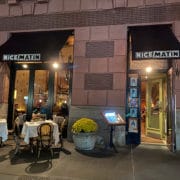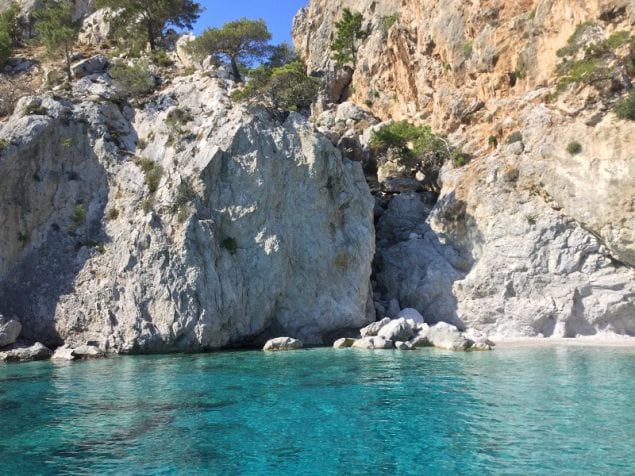 Maybe it tasted so great because of the magic of the boat trip itself as we motored along the rocky coast of Karpathos: those mountain cliffs reaching into the water, broken up once in a while by spectacular beaches and tiny coves, some only accessible by boat. We stopped to explore Saria Island anchoring in the shimmering turquoise water of Palatia beach for a swim, stopping to watch the goats trying to run off with a visitor's bag of snacks. The crew grilled the Souvlaki over the rocks and set up lunch onboard.  It was a day filled with the vivid blue color of the sea, great food, and much laughter. A memorable day that I recall now, and isn't that what a trip should be?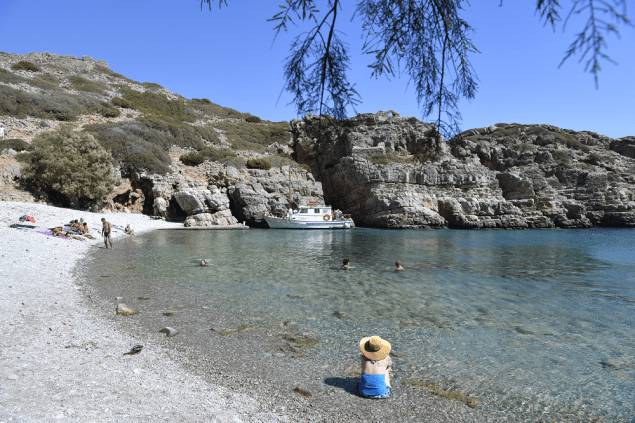 We have two recipes to share. After a couple of tries with the five ingredients that were told to us, we have a recipe for the grilled chicken skewers, and one for the cold cucumber sauce that accompanies it.  Serve with a simple crisp salad made of ripe tomatoes, chunks of cucumber, green pepper slices, some lettuce, olives that have been in a brine of wine vinegar and olive oil, a generous slice of feta cheese, and a sprinkle of Greek oregano. Drizzle generously with some vinegar and Greek olive oil.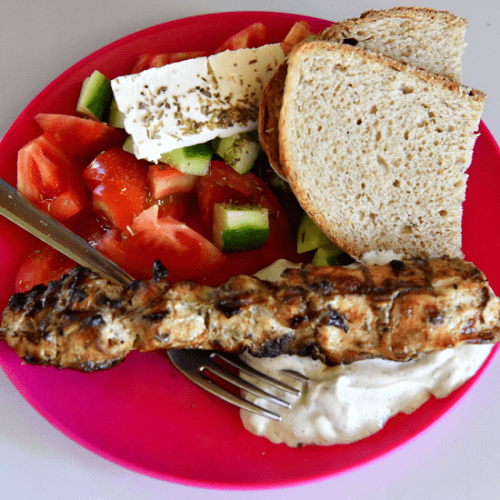 Grilled Chicken Souvlaki with Tzatziki Recipe from Karpathos, Greece
Kurt Winner
The recipe we loved on the Captain Nikolas excursion boat was a family secret. But they told us the five ingredients. We experimented and we think we are very close. On board it is served with a fresh salad, Greek Bread and Tzatziki sauce.
Ingredients
Chicken Souvlaki
Metal or bamboo skewers soaked in water. The number of skewers depends on their length- generally one skewer per person

2

lbs.

organic chicken breasts cut into 1 inch cubes

6

cloves

of garlic crushed or finely chopped

Juice of one Lemon

sea salt to taste

3

Tbs.

of Greek oregano crushed/rubbed between your hands

½

Cup

Greek extra virgin olive oil

½

Cup

dry white wine

optional

Chicken Souvlaki with Tzatziki dipping sauce
Tzatziki Dipping Sauce
4

cucumbers peeled and roughly grated

4

cloves

crushed or finely chopped Garlic

1

Tbs.

white vinegar

1-2

Cups

Greek or Greek style yogurt

quantity depends on how creamy you want the sauce.
Instructions
Chicken Souvlaki

Trim cube and salt the chicken, then place on the skewers set aside.

Next combine all ingredients for the marinade.

Pour a small amount of the marinade in a non reactive container and add the chicken.

Add remaining chicken alternating with the marinade.

Refrigerate for at least 2 hours or overnight.

Grill the chicken over high heat turning when it gets a slight char.

When done place in a clean container and cover until serving it.

Tzatziki Dipping sauce

Note: Greek yogurt is strained and is thicker and richer.

You can also do this at home using cheese cloth and draining it overnight.

Place grated Cucumbers in a cheese cloth and wring out all of the liquid, you can keep the liquid and drink it- juice is healthy and a refreshing drink.

Next mix all ingredients and blend well.

This sauce is best used the same day, as the Garlic intensifies over time and will get very strong and spicy.

You can also vary the amount depending on your taste.

Serve the sauce with the chicken, top with additional Oregano, sea salt and lemon wedges.
Michelle M. Winner
Michelle was born with a fork in her hand. As a culinary travel writer and confirmed foodophile she delights in the world-wide discovery of new flavor profiles, spices, salts and herbs. Based in one of the world's foodie meccas; Portland, Oregon, not far from "Pinot Noir Heaven" Michelle shares culinary travel and chef's recipes. Her photography has appeared in Saveur Magazine and she has contributed culinary travel articles to Forbes online, WSJ online, Business Insider, Condé Nast Digital Media, Islands magazine and many others. A confirmed globetrotter, she still keeps her bags packed and fork in hand (well . . . except through airport security.)