SPONSORED POST: From Dijon Originale mustard to Cornichons, Maille has a rich heritage starting in 1747 that honors tradition. Check out these flavorful, fun recipes that are made with Maille and perfect for BBQ season. What can we say? Maille is BBQ's best friend. PLUS, be sure to enter for a chance to win an awesome grilling kit below.
An easy, foolproof, delicious veggie burger recipe that you can throw on the grill.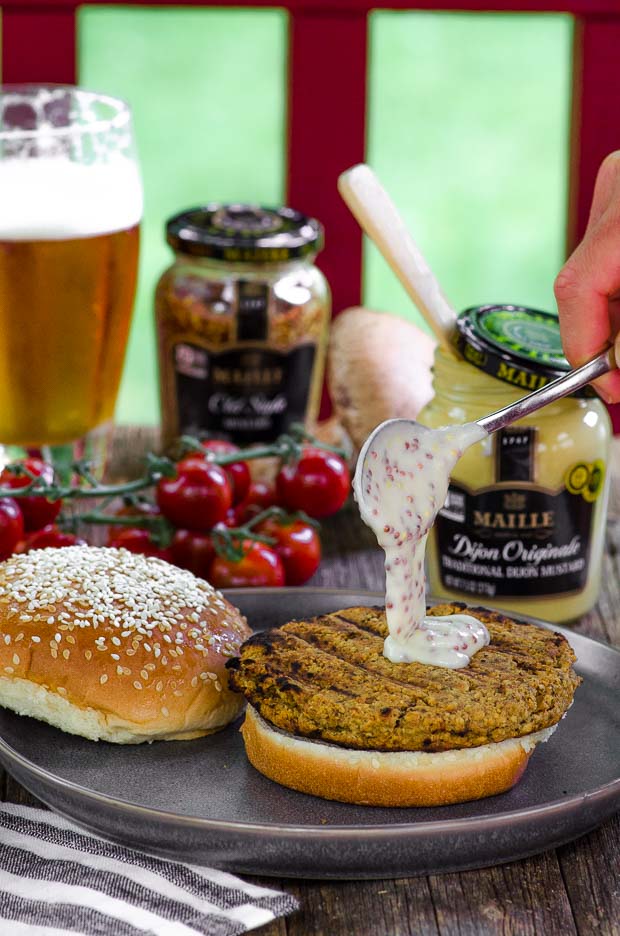 Over the years, we've created our fair share of veggie burgers. And each time, we think we've come up with the best, easiest, foolproof recipe… till the next one comes along.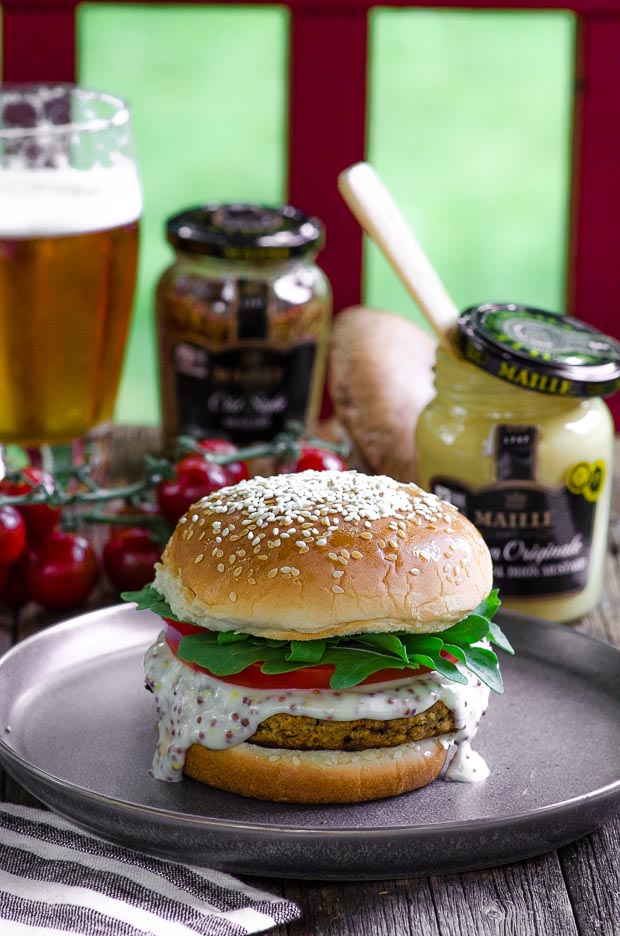 This time, we think we got it. For real. No chopping. No precooking anything. Basically just 4 ingredients (5, tops), a food processor, and done. I mean, doesn't get any easier than that! ( unless, of course, you buy the frozen…). And, wait for it… IT'S GRILLABLE!!! The base is super simple:
Oats, to hold it together
Portabella mushroom caps, for that "meaty" texture and flavor
Canned chickpeas, for extra protein and texture
Now, anytime you have a simple recipe, with fairly simple ingredients, the key to making it really tasty is to amp up the flavor using herbs, spices and condiments. When it comes to spices and herbs, use your favorite! And customize depending on which flavor profile you want to go with. Like, cumin and cilantro; smoked paprika, turmeric, allspice and parsley; ginger, garlic and a splash of soy sauce… Your choice!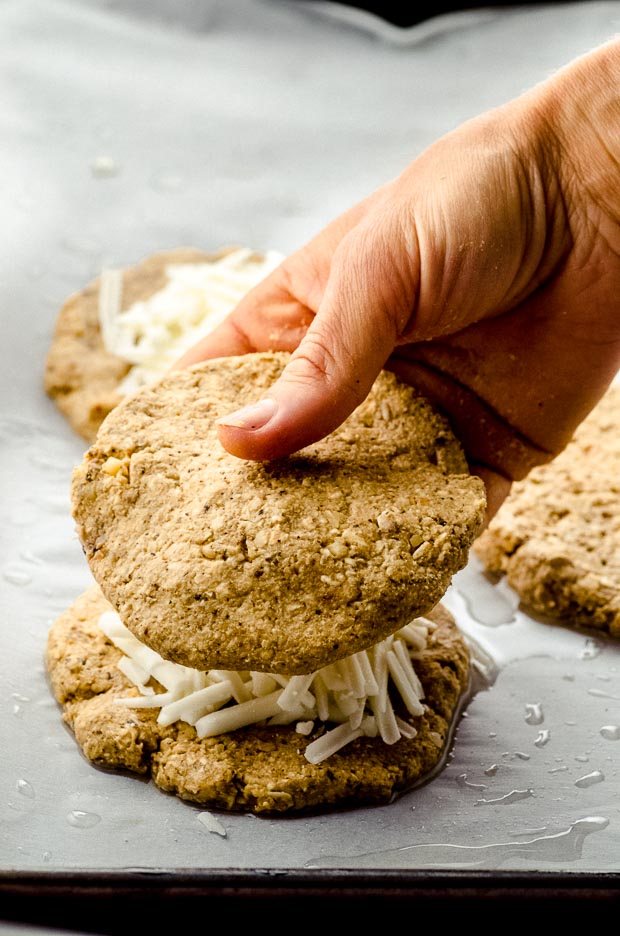 Since it's summertime and we're all about grilling, we're going with hamburger or grilling seasoning, chili powder and paprika here, for that savory, smoky kind of flavor. The condiment we love to use, mainly because it works with any flavor profile you choose ( and let's be honest, I've been seen eating with a spoon, straight out if the jar), is mustard.
A good quality, well-crafted mustard will elevate any dish, and in this case, add a serious punch of flavor. Our go-to brand, ever since we started cooking, has been Maille. With many varieties to choose from, whether it's Dijon Originale, Old Style, Honey Dijon, Horseradish or Rich Country, we guarantee, you cannot go wrong.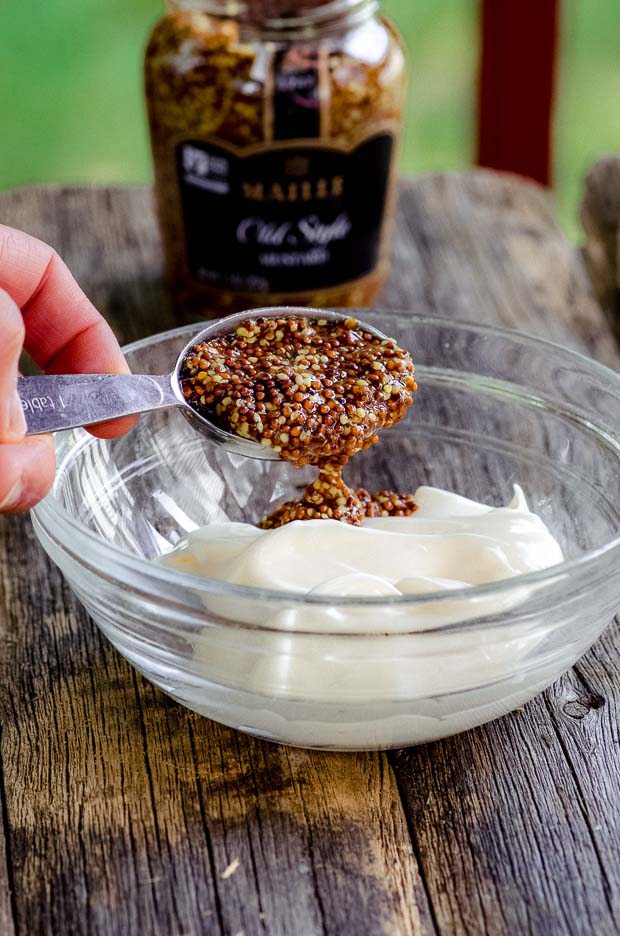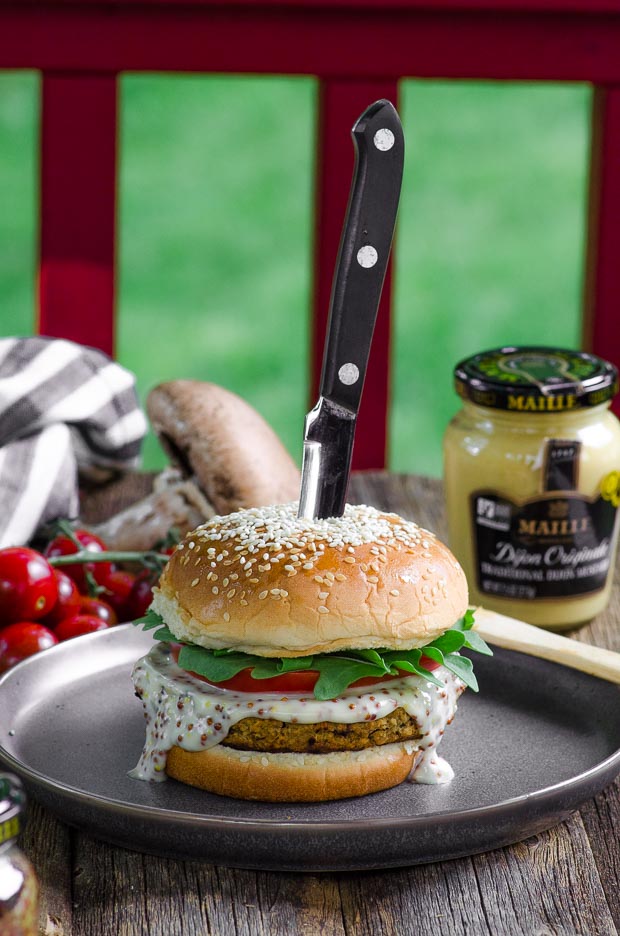 We personally enjoy it so much, we're using it inside and outside our burger! ( our super simple mustard spread is so good, you'll wanna use it everywhere!). Give them a try and let us know which one is your favorite! ( for me, it's Old Style, all the way. Just hand me a spoon, and I'm all set!!:))
Enter below for a chance to win an awesome gift from Maille.
Grillable Veggie Burgers
Author:
Vicky Cohen and Ruth Fox
Ingredients
1 large Portabello cap, roughly chopped
1 – 15.5oz can organic chickpeas, rinsed and drained
1 cup rolled oats
2 tbsp Maille Dijon Originale
1 tsp hamburger or grilling seasoning
1 tsp onion powder
1 tsp paprika
1 tsp chili powder
¼ tsp garlic powder
¼ to ½ tsp salt (to taste)
8 tbsp shredded cheese (vegan or dairy), divided (you'll need 2 tbsp per burger)
4 hamburger buns
For the mustard sauce:
½ cup vegan mayo (you can also use regular mayo)
2 tbsp Maille Old Style
1 tbsp fresh lemon juice
Fixings:
Tomato
Lettuce, arugula or your favorite greens
Pickles
Instructions
Line a large baking sheet with parchment paper, and grease it well
Combine all the veggie burger ingredients, except the shredded cheese, in the food processor, and pulse until all the ingredients come together. Transfer to a large bowl
Divide the mixture into 4 equal pieces. Using your hands, take one of the pieces and form 2 patties, about ¼ inch thick. Place one patty on the lined baking sheet and top it with 2 tbsp of shredded cheese (try to keep it in the center of the burger as much as possible). Place the other patty on top, pressing the edges well and flattening it sightly, so the cheese is sealed inside. Repeat the process with the remaining 3 pieces of burger mixture, for a total of 4 burgers. Place the baking sheet in the refrigerator while you heat up the grill and prepare the sauce and fixings
Fire up the grill to medium-high. To prepare the sauce, place mayo, mustard and lemon juice in a medium bowl and whisk well. Refrigerate until ready to use
Brush the burgers generously with oil, and place them on the grill for approximately 5 minutes per side (time may vary depending on your grill). Serve the burgers warm, topped with mustard sauce
Notes
Burgers can be prepared up to 2 days ahead, an refrigerated until ready to use