Ah, the weekday mornings. Sometimes, you just have to get in your car and go! This easy bacon, eggs, and cheese quesadilla can be put in the freezer and reheated for those mornings you are in a rush. There's even a vegetarian option!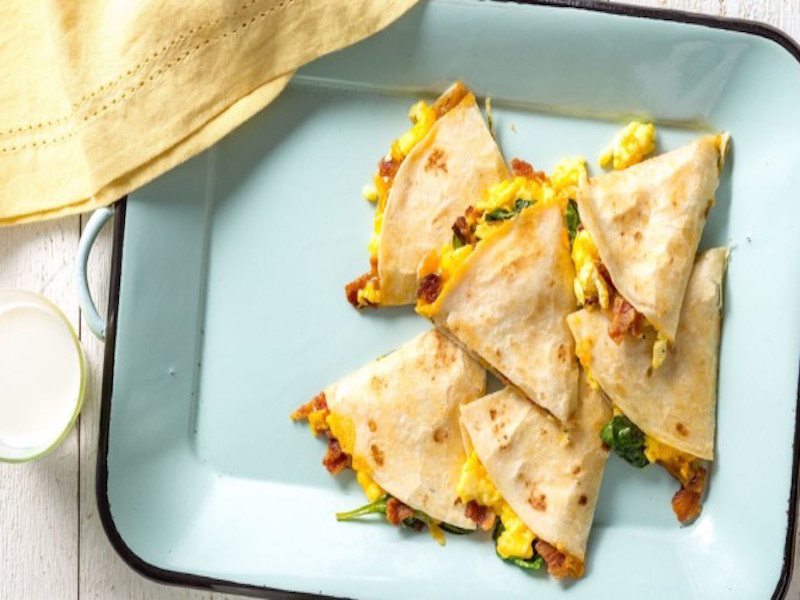 Mark Boughton Photography/ Styling by Teresa Blackburn
Hit your snooze button one too many times? You've got less than 30 minutes to get yourself ready and off to work! Still, in this little time you've got, you can have a great breakfast with this easy to make and quick to serve breakfast quesadilla!
This article was originally posted as, "Bacon, Egg and Cheese Breakfast Quesadilla" on Relish.

Grab-n-Go Breakfast Quesadilla
Ingredients
4 eggs
¼cup milk
¼teaspoon salt and pepper
2teaspoons butter
4 (8-inch) flour tortillas
½cup shredded cheddar cheese
4slices bacon, cooked crisp and crumbled
½cup baby spinach leaves
Instructions
Beat eggs, milk, salt and pepper with a fork in a bowl until blended.
Melt butter in a nonstick skillet and scramble eggs. Remove to a bowl.
In the same pan, heat one tortilla over low. Sprinkle 2 Tbsp cheese over tortilla.
Spoon half the eggs on top. Sprinkle half the bacon and spinach and 2 more Tbsp cheese over eggs.
Top with another tortilla. Cook 1 to 2 minutes on each side, until cheese melts and tortillas are toasted.
Repeat with remaining tortillas, eggs, cheese and bacon.
Freeze or cut into wedges to serve immediately.
TIP: Freeze for later! Place quesadillas on a waxed paper-lined baking sheet. Freeze 1 to 2 hours, then place in individual ziptop freezer bags. Reheat in a toaster oven or microwave.