Full Disclosure: I'm biased. I def have a thing going on with Greenville, and once you go, I suspect you might, too. On day one of my visit, I'm thinking that Greenville a great place to eat and play. By day three I'm thinking that it's even a greater place to live. No surprise that Greenville is having its long-overdue moment (with a capital M) as one of the fastest-growing cities in the country. New buildings are springing up all over this revitalized downtown, particularly a plethora of upscale hotels. Thankfully, they are also expanding their already abundant green areas, having recently broken ground on a new 60- acre city park, with 9 acres earmarked for affordable housing.
One big reason for its popularity is because it's just so dang pretty. Not only does a river run right through the middle of town, but so does a stunning natural 40-foot waterfall. Plus, their food scene is off the hook! Downtown is a melting pot of over 100 ethnic restaurants, many with a Southern farm to fork influence.
Best things to do: 
Hop on the beer van!
Join certified Cicerone (beer sommelier) Gary Glancy, for a fun, tasty, educational brewery experience. During this 3.5 hour tour, you'll stop at three craft breweries where you'll meet the brewers, hear how they got started, and taste their wares.
We started at the granddaddy of them all, Thomas Creek Brewery. It opened in 1998, and is run by a father, Bill Davis, the Taste Master, and son, Tom Davis, the Brew Master, who credit the pristine Blue Ridge Mountain water as their secret weapon. After I commented on how delicious their Deep Water Doppelbock Lager was, Bill recommended pouring it over some rich, vanilla ice-cream for a real taste treat!
Our next stop was at Yee-Haw Brewing Company, an offshoot of their main brewery in downtown Johnson City, TN. Yee-Haw brews both traditional beers as well as some far-out-there, creative flavors. For example, when I was talking to one of the cleaners at the brewery, he told me that he was also a home-brewer who was working on a new flavor for Yee-Haw based on dark chocolate and chipotle peppers.
Head out to the patio, where there's always a party going on, to pair your brews with some addictive beer cheese and homemade pretzel bites, and their 24-hour-brined char-grilled wings.
Lace-up your sneaks and join a walking tour.
To learn about the city's fascinating back-story, sign up for John Nolan's Greenville History Tour. We met him at Falls Park, the birthplace of Greenville, by the new, award-winning, 345 ft. long pedestrian Liberty Bridge, which amazingly, is supported by a single suspension cable.
As we strolled around the historic west end, John regaled us with historic tidbits such as: "Did you know that Greenville was once considered the "Textile Center of the World" and it was originally part of the Cherokee Nation?" At the same time, he'd be pointing out statues of famous Greenvillians, the ruins of an 1816 grist mill. He had some great old photos showing us the "before" pic of some picturesque spots such as the Wyche Pavillion that was once a carriage factory before it became the Dukes Mayonnaise plant. It was most interesting, and I recommend him highly.
Inside Tip:
I didn't find out until later that John also leads a handful of culinary tours. Next time I'm signing up for his "At the Chef's Table Culinary Tour," where he takes you to five of the city's best restaurants where you'll talk with the chefs over delicious food and drinks.
Wander Main Street downtown
You'll find great shopping at mostly indie-boutiques lining both sides of Main Street. Pop into Dress -Up, where everyday clothing basics are all under $39, or a new, trendy hybrid, Gizmo Bar, which is part tablet and smart phone repair shop and part lounge bar serving craft beer and specialty wines. Grab a seat at the bar to play on one of their state-of-the-art, Zytronic, 50-inch touch screen panels.
Keep your eyes peeled for some wonderful statues, plaques, and outdoor works of art, including the Rose Crystal Tower by glass sculptor Dale Chihuly, which is located near the entrance to Falls Park. On one street corner, where a vaudeville theater once stood, I discovered a plaque honoring Peg Leg Bates, who overcame a crippling injury to become a famous peg-leg tap dancer who used to perform here.
My curiosity piqued, I looked him up and found out that he danced on The Ed Sullivan Show over 20 times, and had two command performances before the King and Queen of England!
***Check him out on YouTube:  https://youtu.be/NXesFCMwys0
Inside Tip:
Kids of any age, including middle-aged, will have fun doing the Mice on Main scavenger hunt. Stop in at City Hall to get a postcard with clues to find nine adorable bronze mice sculptures (inspired by the book Goodnight Moon) hiding on Main Street.
Where to stay:
You know the old jingle, "Sometimes you feel like a nut, sometimes you don't?" I'm the same way about my accommodations. Sometimes I feel like staying right in the thick of things, where I can just dart out from my hotel and enjoy all the hustle-bustle.
See Also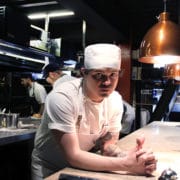 Other times, particularly when I'm there for a big event, such as this time for the "Fall for Greenville" culinary and music festival, I prefer to stay slightly out of town for some R & R, where I can grab some sun by the pool and get away from the crowds. This is why I chose to stay at the recently renovated Hilton Garden Inn Greenville, a short Uber ride from downtown.
It was my first time staying at a Hilton Garden Inn, but if the others are half as hospitable as this one, it won't be my last. I had the BEST three night's sleep in months, I later found out was due to their "Garden Sleep System" a revolutionary bed that conforms to you, providing pressure-free support, which is coupled with their crisp linens, cozy duvet covers and 100% New Zealand virgin wool mattress toppers. Or maybe it was due to the fragrant DIY lavender sachets that you bring up from the lobby. The spacious rooms with an oversized desk, ergonomic Mirra chair by Herman Miller and complimentary Wi-Fi, Keurig coffee maker, 24-hour business center, and Precor® equipped workout facility are perfect for the business traveler.
I wasn't expecting great food at their Garden Grill & Bar, but boy, was I mistaken. I found out that every one of the 840 Hilton Garden Inn hotels, spread over 45 different countries has the flexibility to feature locally and seasonally inspired food and beverage offerings. It seems that HGI feels that one best way to get a real "sense of place" is by trying the local specialties, and happy customers get to reap the rewards. I was blown away by the high caliber of their food starting with my complimentary cooked-to-order, egg-white veggie omelet; breakfast, where I couldn't get enough of their "Geechie Boy Mill Grits".
Surprisingly, I enjoyed one of the best dinners of my trip here, starting with craft cocktails and hyper-local charcuterie, followed by one of my all time fave salads, the Upstate Wedge, featuring artisanal Clemson Blue Cheese. The succulent, fallin'off the bone, slow roasted, Sticky Finger Ribs, basted with whiskey soy BBQ sauce, were sheer perfection. Save room for the Mason jar Chocolate Fudge, an intense combo of chocolate mousse and fudgy cake.
Inside tip:
The plethora of thoughtful freebies included in my stay was just more welcome icing on the cake. I'd suggest springing for the premium King room which includes drinks and snacks. My room was filled with complimentary water and soft drinks, sausage and cheese platters, fresh fruit, chips, crackers, candy, etc. If I ran out of anything, I could just replenish at their 24-hr Grab & Go shop.
*Since I had an early morning flight, I simply raided my fridge and put together a tasty, in-flight picnic!
Best Off-Campus Eats

O.M.G., I'm still dreaming about my "ode-to-the-swine-divine" dinner at the Bacon Bros Public House where they painstakingly craft house-made charcuterie from the best pigs, using traditional methods. Everything at this warm rustic eatery is locally sourced and made-from-scratch. While looking over the menu I sipped on a smoky Bacon Mule cocktail made with bacon vodka and pineapple-ginger beer as I crunched on handfuls of their decadent bacon/caramel/peanutty popcorn.
Everything at this warm rustic eatery is locally sourced and made-from-scratch. We decided to share a Fred Fintstone-sized platter of the finest Carolina BBQ, loaded with brisket, pulled pork, sausage and smoked turkey garnished with heaps of pork rinds, and house pickles. They didn't shirk their veggies here either, plying us with scrumptious porky collard greens, crispy bacon brussel sprouts, and some flavorful ham-hocky lima beans.
For more ideas of things to do: go to VisitGreenvilleSC
Be sure and check out their Event Page since Greenville hosts over 300 special events annually. Two top foodie events are the Fall for Greenville, the largest food and music festival in the Upstate and Euphoria, a four-day food, wine, and songwriter's music festival
Janice Nieder
Janice could be the love child of Indiana Jones and Julia Child. She was a specialty food consultant in NYC with a client list that included Tavern on the Green and Dean & Deluca. A culinary trendsetter, Janice has visited almost 100 countries searching out gastronomic adventures. She might be found sharing a smoked monkey dinner with Shuar Indians in the Amazon jungle or "running with the dogs" while truffle hunting in Marche, Italy. To keep things in balance, Janice also writes about her Girlfriend Getaways, including everything from luxurious city penthouses and Michelin starred meals to bespoke travel in remote destinations. You can follow her travels at www.janicenieder.com