A little sweet, a little spicy, this versatile rhubarb chutney is perfect with grilled meats or as an appetizer spread with goat cheese.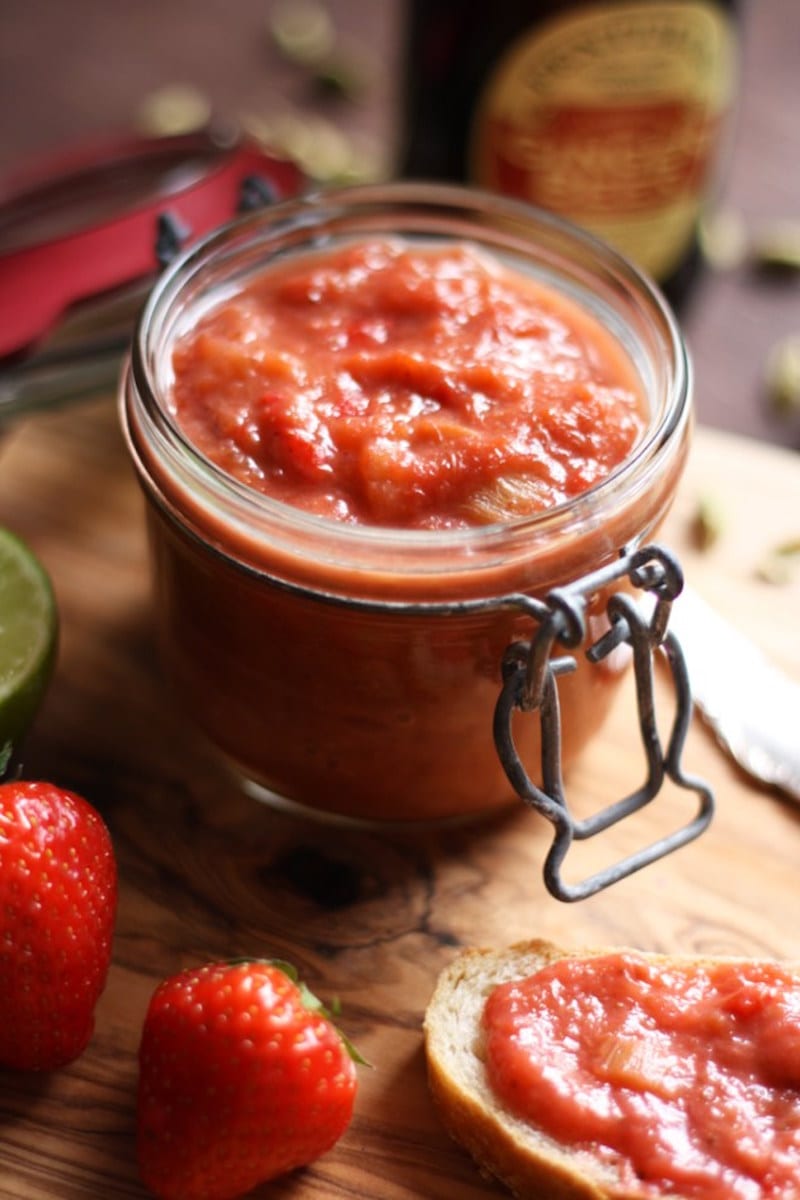 This rhubarb chutney is one of my creative attempts that ended up being my new favorite condiment! I mean, I've never used rhubarb in savory dishes and I can't say that I've ever made anything more creative than a rhubarb pie.
Rhubarb has huge health benefits: it improves your digestion, helps you to lose weight, optimizes your metabolism and keeps your skin healthy. It is packed with vitamins, minerals, and other nutrients that make it good for your body. Rhubarb contains vitamin K, vitamin C, B complex vitamins, as well as dietary fiber, protein, manganese, magnesium, calcium and potassium. It is rich in lutein, beta-carotene, and zeaxanthin. What not to love about rhubarb? Maybe only its leaves, because they aren't edible. But the stalks are so good for you! The season is not long, so make sure you use rhubarb in your cooking now, while it's still available. One more reason to make this chutney is that it also contains strawberries, ginger and apple cider vinegar, among other things, making it even more healthy and delicious!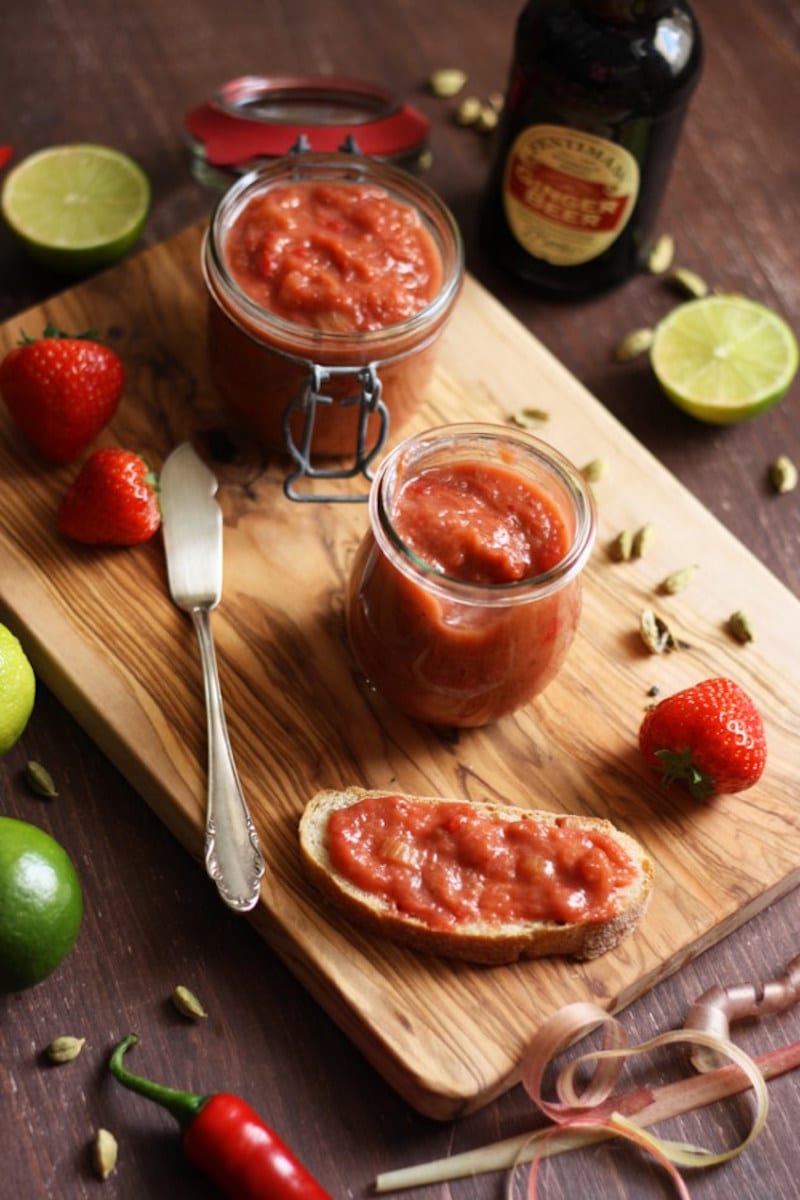 This rhubarb chutney is a perfect condiment for the upcoming grilling season. It's tangy and sweet with a spicy touch. You can use it as a condiment for anything grilled: any type of meat, poultry, fish or vegetables, as well as a spread for crusty bread, as a dip for crackers and chips or/and as an addition to your cheese plate. It's perfect with goat cheese and many other cheeses!

Ginger Beer Rhubarb Chutney
A little sweet, a little spicy, this versatile rhubarb chutney is perfect with grilled meats or as an appetizer spread with goat cheese.
Ingredients
1 tablespoon olive oil
1 small red onion, finely chopped
2 teaspoons minced ginger
1 clove garlic, minced
1 small red hot chili pepper (seeds removed if desired), finely chopped
6-7 green cardamom pods, seeds removed and ground
4-5 cloves, ground
a pinch of salt
juice of ½ lime
2 tablespoons apple cider vinegar
3 tablespoons brown sugar
5 medium-sized stalks rhubarb (leaves cut out), peeled and chopped
200 grams or 1½ cups strawberries, cut into quarters
freshly ground black pepper, to taste
Instructions
In a large skillet, heat olive oil over medium heat. Add finely chopped red onion to the skillet. Sautée for 1 minute, stirring occasionally, then add minced garlic and ginger and finely chopped red pepper. Sautée for 1 more minute, stirring occasionally, then add ground cardamom, cloves and a pinch of salt. Sautée for 1 more minute, stirring frequently. Add the lime juice and apple cider vinegar and bring to a boil. Add brown sugar and stir well until it dissolves.
Add the chopped rhubarb and reduce the heat. Cook uncovered until the rhubarb breaks down for a silky texture, or for not more than 4 minutes for a chunky consistency. Add the strawberries and cook until they just begin to soften, for about 2 more minutes. Season with salt and freshly ground black pepper to taste. Let cool and fill into clean/sterilized jars. Enjoy!
Notes
To thicken your chutney, cook it with a lid off, until the liquid evaporates. If it's too thick, just add a bit more lime juice. Refrigerate for 7-10 days. To store it longer, fill the chutney into sterilized jars (see the notes above for directions).