If you enjoy California wines, chances are you have had a bottle or two from the Los Carneros region that straddles Sonoma and Napa. Here are some lesser known facts about the foggy wine region:
Carneros means "sheep" in Spanish. If you visit the area, you will see herds of the animal grazing the lands.
Carneros is the only AVA in California that encompasses territory in both Napa and Sonoma valleys.
Carneros was the first wine region in California to be delineated based on climatological peculiarities that alter the wines as opposed to pure political boundaries.
Being close to the coast, most of the soil in Caneros is clay and loam. These soils are great at retaining water which is crucial when California is in a drought.
As a cool climate region with plenty of fog and even cooler nights, this area is great at producing varietals traditionally from Burgundy, such as Chardonnay and Pinot Noir.
Thanks to the climate and soil, Los Carneros wines are often described as 'juicy.'
To back up these Carneros facts, we checked in with Viansa, a winery in Sonoma makes wines that are perfect examples of the climate and the overall terrior. They truly excel at Chardonnay and Pinot Noir wines.
2013 Viansa Carneros Chardonnay: $45
Typical to the region, this wine contains a good amount of acidity that has been softened thanks to sic months of again in oak barrels. This medium-bodied white wine has notes of citrus, green apple and stone fruits on the nose that translate to fuller flavors of melon and buttery vanilla on the tongue. It finishes with warm baking spices and acidity to cap each sip off perfectly. Pair this wine with grilled salmon, a refreshing grilled chicken Caesar salad, or do like we did, and enjoy it with a bagel and smoked salmon brunch.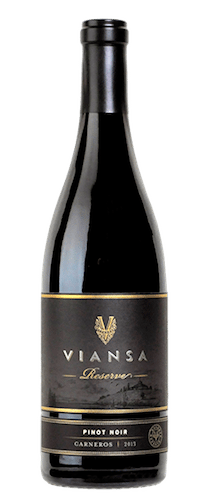 2013 Viansa Carneros Reserve Pinot Noir: $45
This wine is another iconic example of the region's Pinot Noirs. The first scents that hit the nose speak of warm coffee and ripe, red cherries. On the palate, the wine showcases a beautiful earthiness that is accented by some spicy fruitiness that finishes juicy with the presence of tannins. Pair this wine with pulled pork tacos or the braised beef dishes that are coming along with the fall season.