Now you can get the latest Honest Cooking food news, articles, recipes and stories – right in the sidebar of your own blog.
By Kalle Bergman
Meet the Honest Cooking widget for your food blog (or any other blog for that matter). The widget is actually a nifty little piece of javascript code that integrates automatically with your blog engine to serve deliciousness everywhere and anywhere.
Installing the widget is super simple. Just click on the image to the right – or click on this link. Both will take you to the widget page, where you can get and adapt the code for your own blog depending on the size of widget suits you best.
After you have copied the code, go to the backend of you blog and paste the code into a text widget that you have placed in your sidebar. Done! How simple is that? And now you can enjoy the latest food and wine news, recipes, articles and stories from across the globe – right in the sidebar of your own blog.
You can also just copy the piece of javascript code right below and paste it into a text widget on your blog. Good food doesn't get any easier than that!
<script type="text/javascript" src="http://cdn.widgetserver.com/syndication/subscriber/InsertWidget.js"></script><script type="text/javascript">if (WIDGETBOX) WIDGETBOX.renderWidget('738a97a5-b9c7-49c8-8dbf-dc6ab5bda5a5');</script><noscript>Get the <a href="http://www.widgetbox.com/widget/honest-cooking">Honest Cooking</a> widget and many other <a href="http://www.widgetbox.com/">great free widgets</a> at <a href="http://www.widgetbox.com">Widgetbox</a>! Not seeing a widget? (<a href="http://support.widgetbox.com/">More info</a>)</noscript>
HAPPY WIDGETING!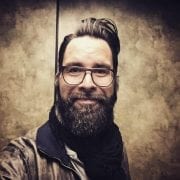 Kalle Bergman
Kalle Bergman is a food writer and media entrepreneur who is the founder of Honest Cooking. As a food writer, his writing has been regularly featured in publications like Gourmet, Los Angeles Times, Huffington Post and Serious Eats. He is obsessed with simple food, more often than not from his native Scandinavia.