Fudgy Port Wine Brownies with Ganache and Dried Cherries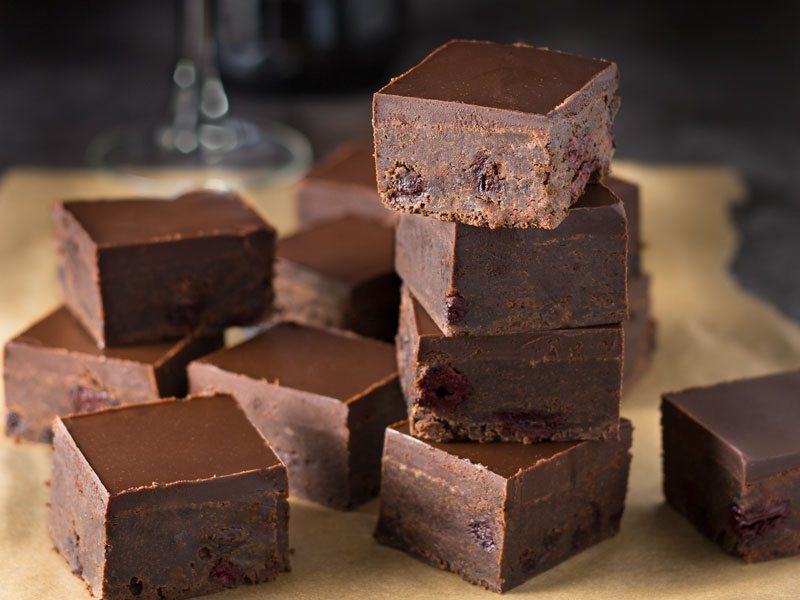 Chocolate and wine make such a great pairing, so why not combine them in a dessert? In these port wine brownies, I used the wine two ways.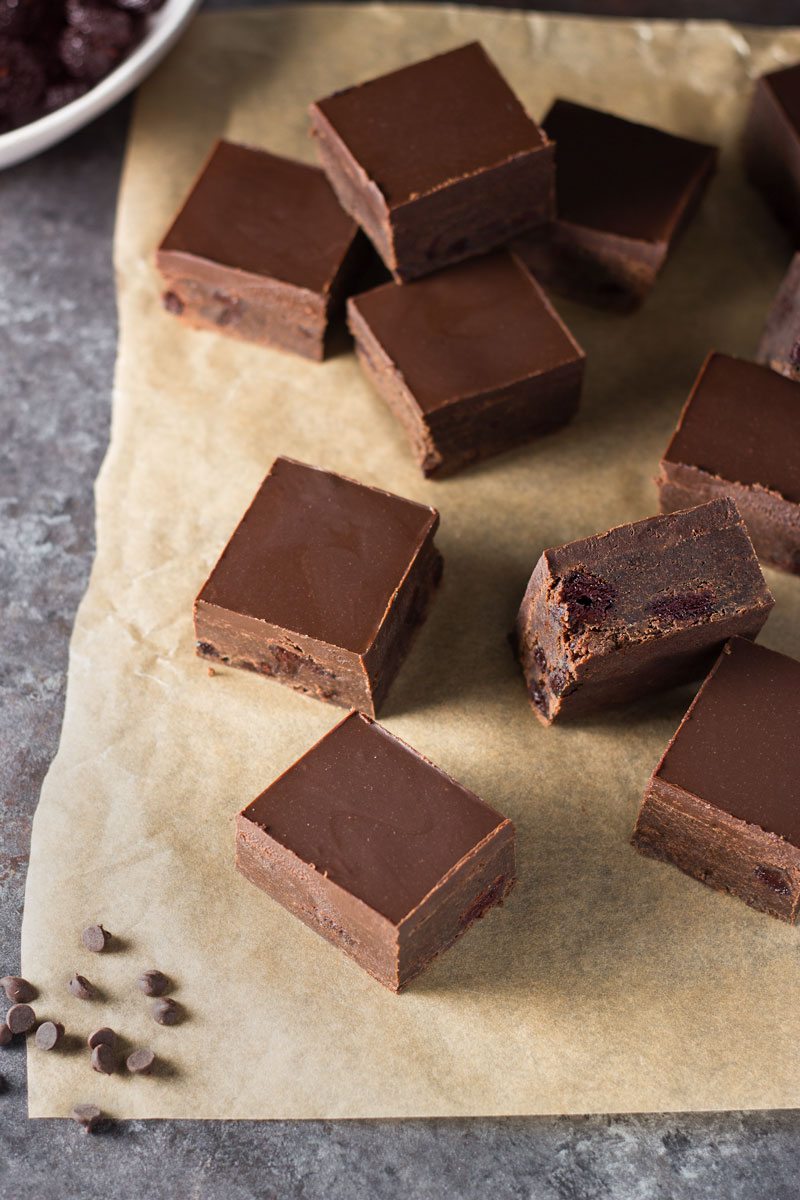 The first way the wine is used is in soaking the dried cherries. Who doesn't love a boozy cherry, especially in a brownie?! Next was in the ganache. I made a great syrupy reduction and stirred it straight into the chocolate and cream mixture.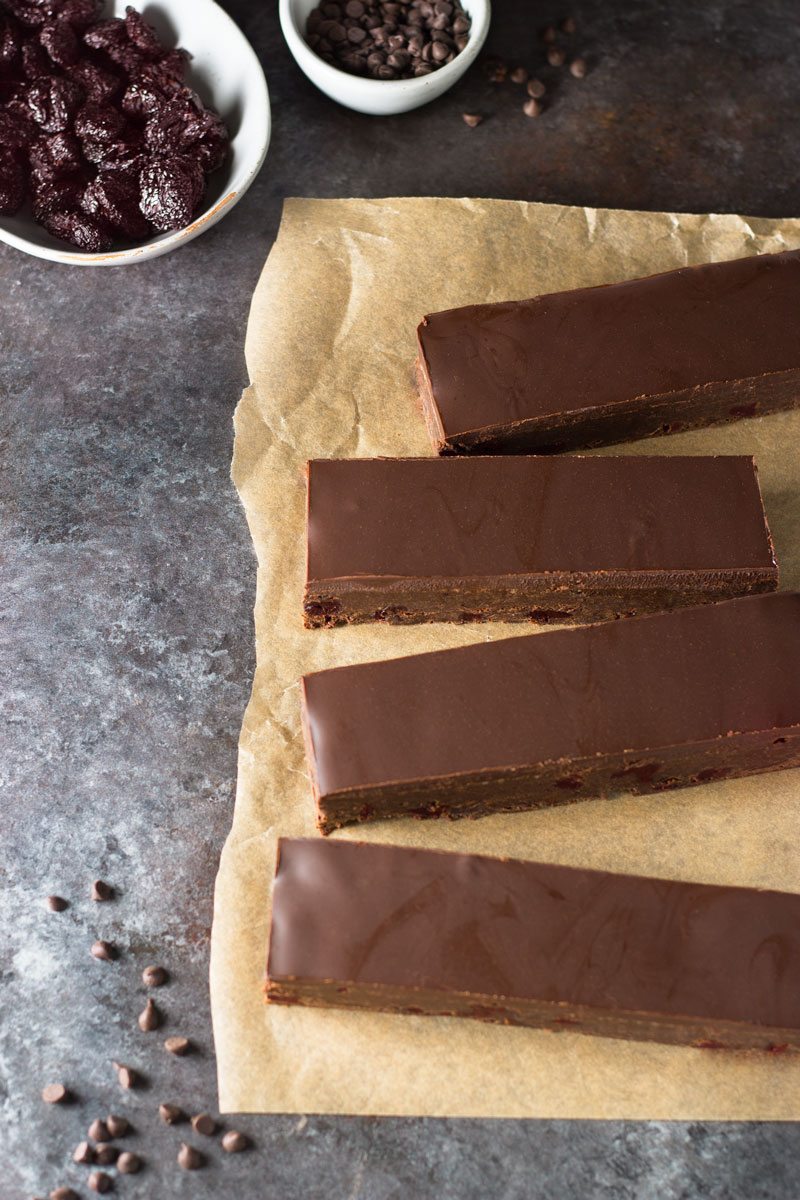 Most people wouldn't think to add dried fruit here, but the cherries are surprisingly delicious in these wine brownies. The cherries provide this wonderful sweet and acidic contrast, and great chewy texture.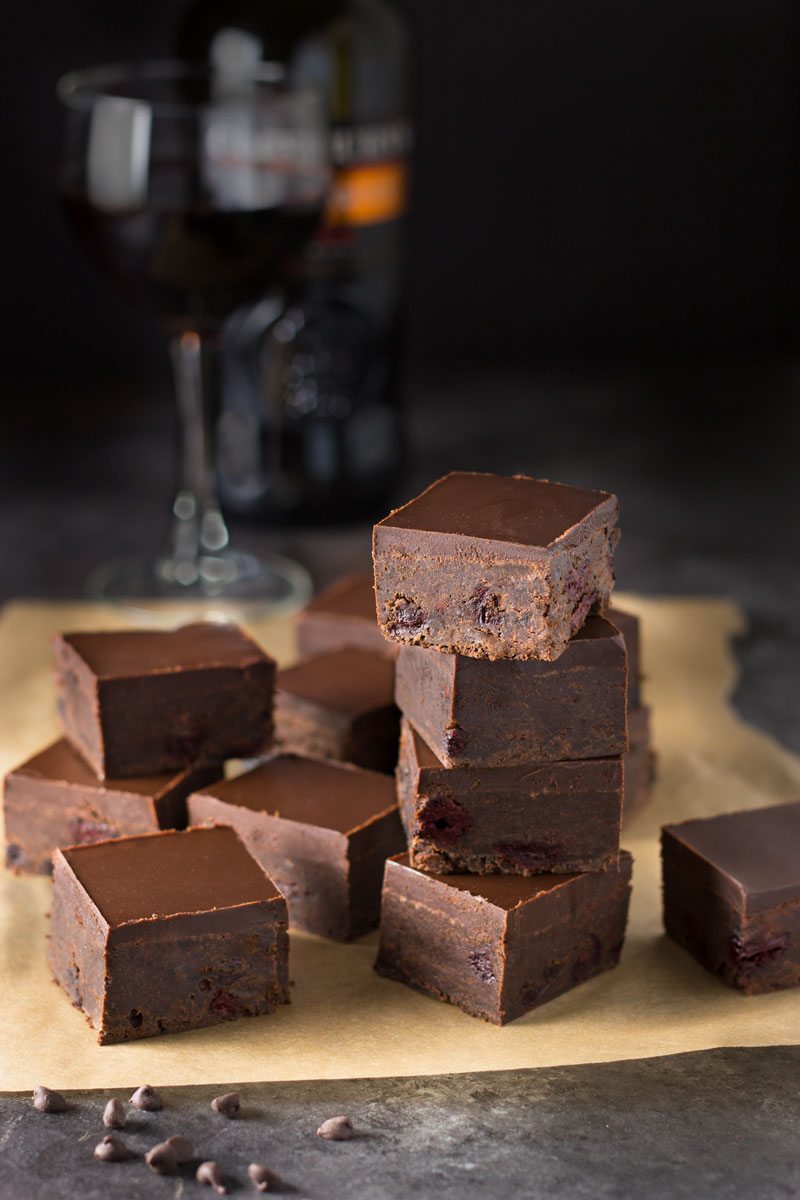 Now the ganache is truly "the icing on the cake." It's the perfect decadent touch to these rich wine brownies. The addition of the port wine reduction to the ganache gives it this interesting, fruity note that really makes it stand out.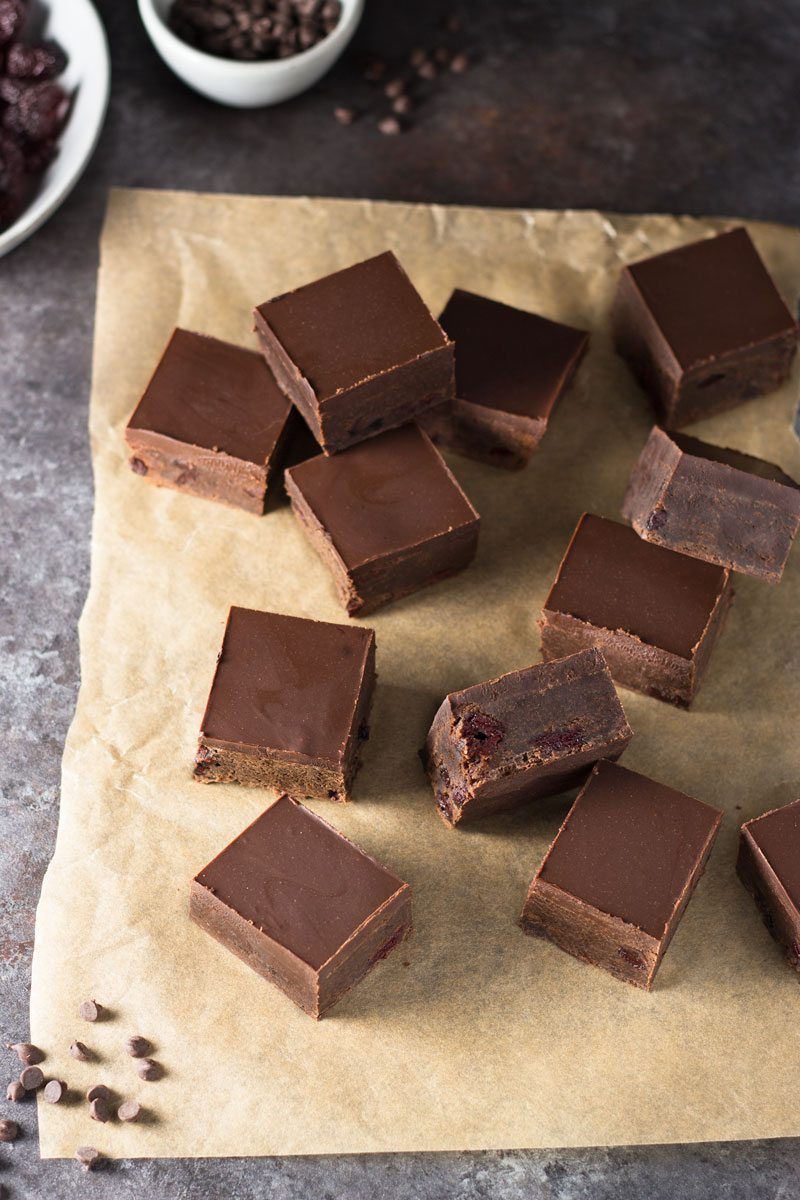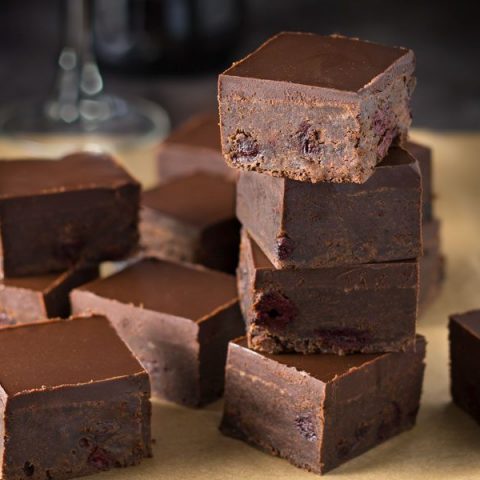 Fudgy Port Wine Brownies with Ganache & Dried Cherries
Sabrina Russo
These fudgy brownies are studded with port wine soaked dried cherries and topped with a luscious port wine ganache.
Ingredients
½

cup

dried cherries

coarsely chopped

1/3

cup

port wine

I used tawny port

1

stick cold

unsalted butter, cut into ½-inch pieces

5

oz

semisweet chocolate

finely chopped

1

tsp

vanilla extract

2/3

C

flour

2

T

cocoa powder

preferably Dutch processed

2

tsp

instant espresso powder

1/4

tsp

kosher salt

2

large eggs

3/4

C

sugar

½

C

heavy cream

6

oz

semisweet chocolate

finely chopped

Pinch

of kosher salt

½

cup

port wine
Instructions
Prepare pan: Preheat oven to 350°F. Grease an 8-inch square baking pan with butter, and line bottom and sides with parchment paper. Grease again.

Soak cherries: Place cut cherries and wine in a pan. Bring wine to a boil over medium high heat. Simmer about 3 minutes, remove from heat and allow to cool.

Melt chocolate: Bring 2 inches of water to a boil in a medium sauce pot. Reduce to a simmer. Place chocolate and butter in a bowl that's large enough to sit on the pot without making contact with the water. Place bowl on pot and stir frequently, until mixture is melted. Remove from heat, stir in vanilla and let cool slightly.

Make batter: Sift together flour, cocoa, espresso powder and salt in a small bowl. Using an electric mixer, beat eggs and sugar together over high speed until pale and creamy, about 1 ½-2 minutes. Stir in cooled chocolate mixture. Fold in dry ingredients until just combined. Stir in cherries and an unabsorbed wine.

Bake: Pour batter into prepared pan and spread evenly. Bake 20-30 minutes or until tester inserted into the center comes out mostly clean with a few moist crumbs attached. I baked mine for 23 minutes with a very fudgy result. Cool on wire rack for 10 minutes. Remove brownies from pan and cool directly on rack to room temperature. Do not remove parchment.

Make ganache: Bring cream to a simmer in a small pot over medium heat. Meanwhile, bring 2 inches of water to a boil in a medium sauce pot. Place chocolate in a bowl that's large enough to sit on the pot without making contact with the water. Place bowl on top of pot and shut off heat. After about 5 minutes, or when you notice bottom and edges of chocolate are melting, remove bowl from pot and stir. The chocolate should be completely melted. Slowly whisk in warm cream until combined. Add pinch of salt. While chocolate is melting, bring wine to a boil in a small pot and reduce to two tablespoons, 4-6 minutes. Stir reduced port into ganache mixture. Cool slightly.

Top and Serve: Place cooled brownies back into the cooled baking pan. Pour cooled ganache (should still be quite liquid) over brownies. Refrigerate for several hours or until ganache is completely set. Remove from pan, discard parchment paper and cut into 16 squares. Serve chilled or room temperature. Enjoy.
Sabrina Russo
My Three Seasons represents the 3 key factors that are most important to me in cooking. #1 Seasonal ingredients #2 Proper Seasoning (don't skimp on that salt!) #3 Cooking like a Seasoned chef (technique is everything). My name's Sabrina. I live in NYC. I'm a registered dietitian with professional cooking and food styling experience. Come cook with me.