Ever since Andy Ricker's PokPok touched down in New York City, the conversation surrounding Thai food has increasingly been one about "authenticity." Check out a spot that hits the nail on the head.
By Carly DeFilippo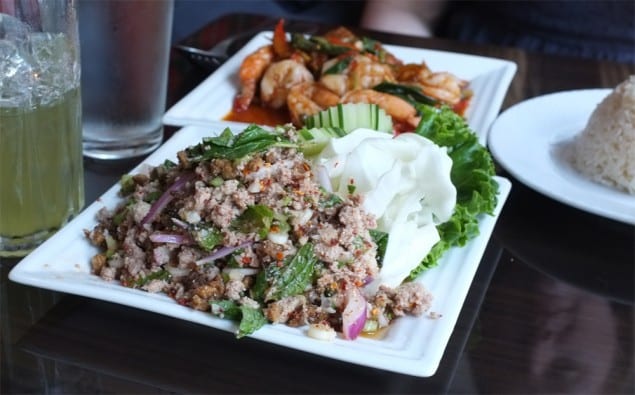 Ever since Andy Ricker's PokPok touched down in New York City, the conversation surrounding Thai food has increasingly been one about "authenticity." As with any cuisine, this concept is a heated and elusive one, all the harder to grasp if you've never personally traveled to Thailand. And yet there are restaurants where one can glimpse a certain freshness, an intensity of spice or uncompromising flavor that qualifies as "real" Thai, or at the very least, Thai that doesn't bow down to the desires of its customers.
On an unexpected stretch of Ninth Avenue in the thirties, I discovered my most recent glimpse of that defiant declaration— "this is Thai." At Larb Ubol, you're more likely to see customers eating fried whole fish than twirling a mountain of pad thai onto their fork. The spice is assertive; the Thai iced tea unapologetically sweet. The decor is just charming enough, but really, you're here for the food.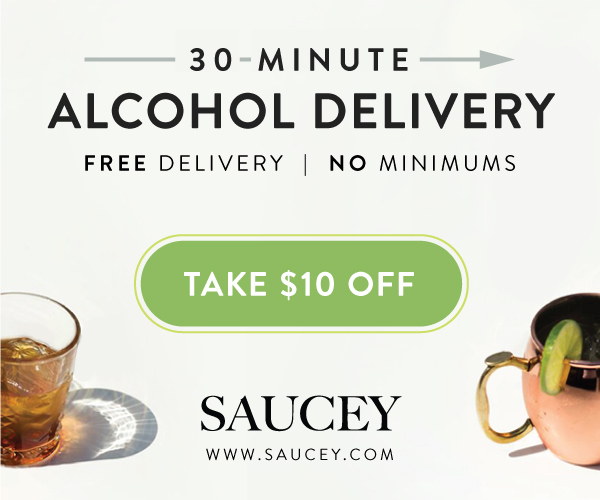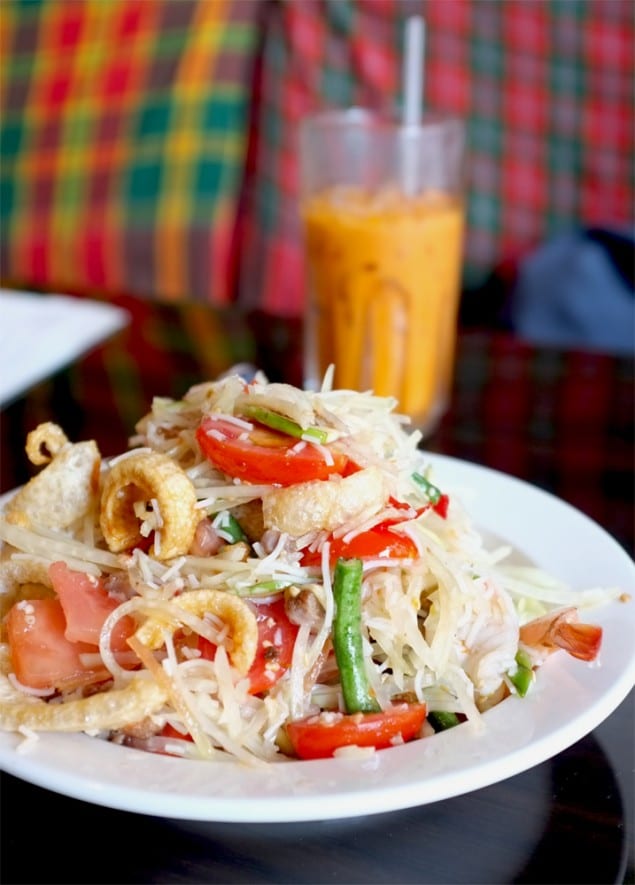 As a fan of green papaya salad, I was pleased to see that Larb Ubol offers several spins on the classic equation of shredded papaya with lime and crumbled peanuts. From pickled fish to Thai eggplant, dried shrimp, salted egg or long beans, the mix-ins range as widely as those at a frozen yogurt bar. The wide-ranging options applies to the restaurant's namesake "larb" as well, offering protein options from the common ground pork to mussels and even liver. Our waiter pointed us in the direction of papaya salad with "bbq pork" (chicharrones) and a crunchy duck larb—the latter of which he felt was "most authentic."
Waiting for these dishes—and our personal pick, a shrimp goong curry—we sipped on Thai tea. Served with the signature mix of sweetened condensed milk, it had us anticipating some spice, and boy was the heat coming.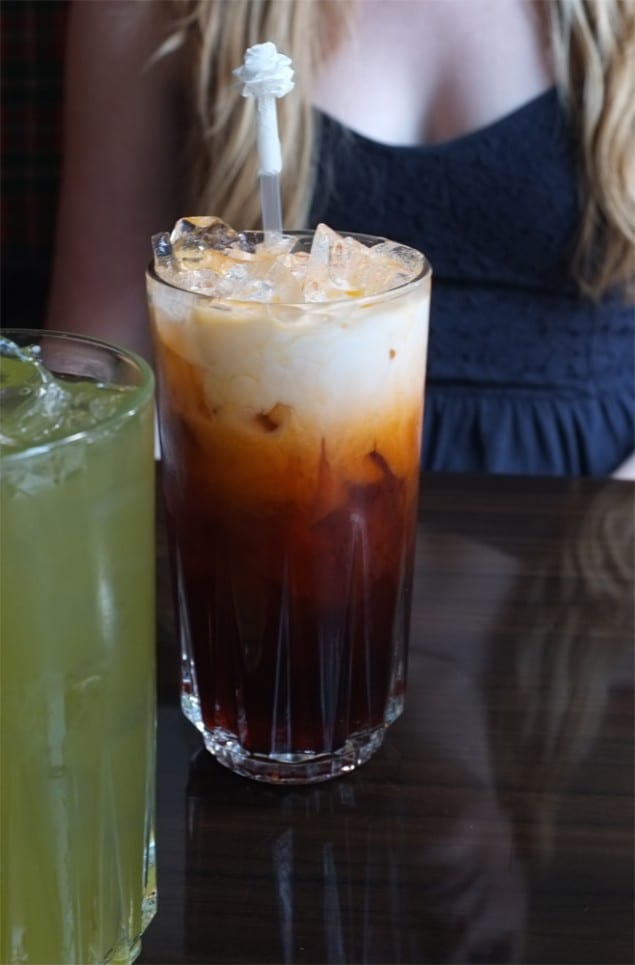 In a reversal of expectations, the curry was served first and was the most mild of the dishes. A tomato-based sauce flavored with basil and clusters of green peppercorn, it was deeply, addictively flavorful and the heat was, surprisingly, far from aggressive. Served with a side of Larb's must-have ginger rice, it was more complex and satisfying than the flavors often found in cream-based curries.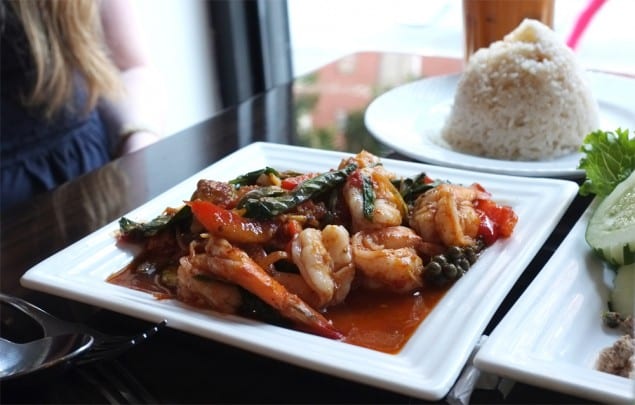 Then arrived the crunchy duck larb—which our server noted as the most authentic pick—offering just a touch more crunch and gristle than you'd get with the standard pork. It was gamey, a little funky and definitely packed enough heat for thrill-seeking fans of Thai food.
But the most unexpected twist was the green papaya salad, loaded with enough firepower to require its own personal iced tea. Far from the refreshing salad we know, it was a truly vibrant, no-holds-barred Thai dish. The chicharrones and long beans also amped up the texture profile with a layer of extra crunch.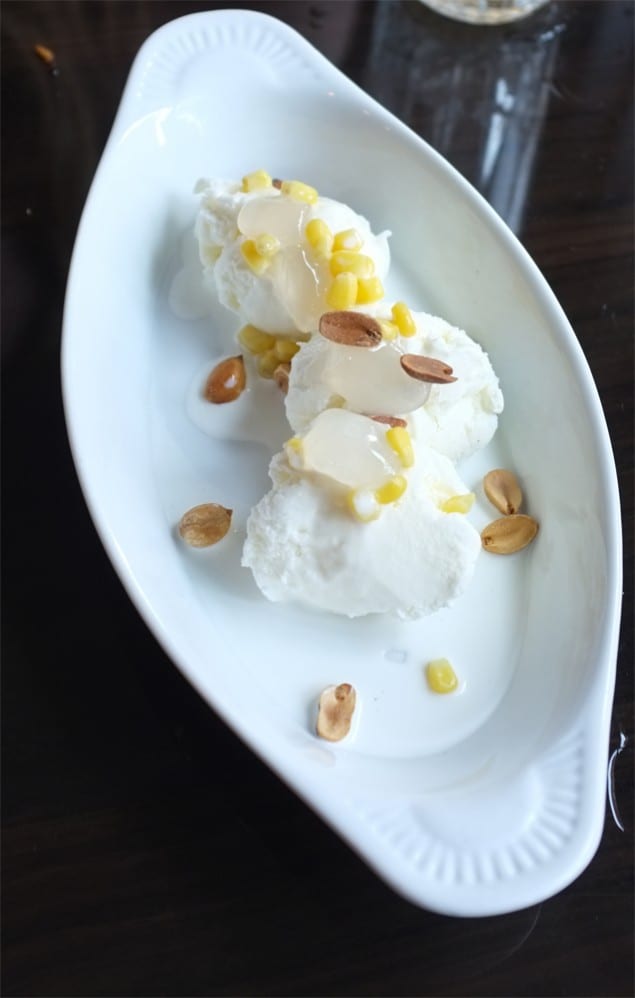 For dessert, we were craving something cool and creamy, and the coconut ice cream did just the trick. Paired with fresh, sweet corn and chewy jellies, it was a playful—but not overly sweet—take on the sundae.
Far be it for me to claim that I'm an authority on "authentic" Thai cuisine. But within our city limits, I can heartily recommend Larb Ubol to diners who crave more than your average pile of takeout noodles. Dive into the spice and don't forget the curries. Just remember you're going to need an extra order of that tea.
Larb Ubol
480 9th Ave
New York, NY
212-564-1822