At The Allison Inn, guests gather for dining, sustaining and savoring the beauty of Oregon's land, especially through food.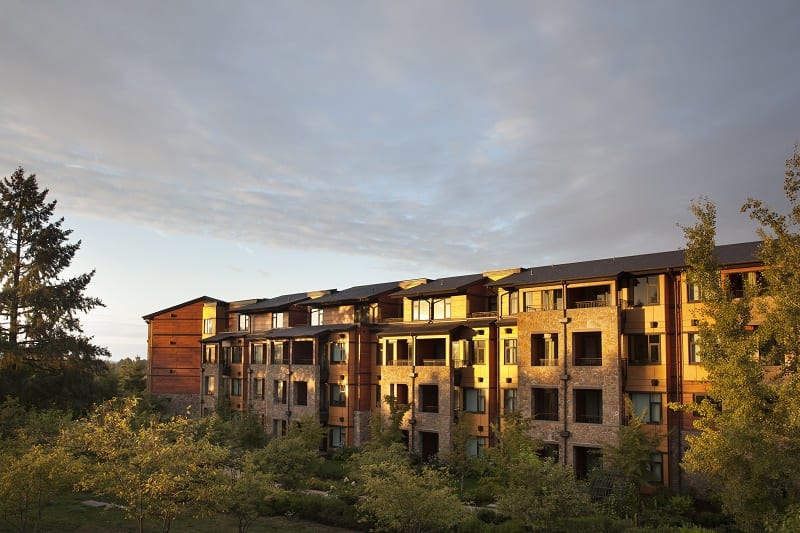 Located 45-minutes from Portland, in Willamette Valley, The Allison Inn and Spa naturally blends into the landscape with minimalist style, as it stands tall with the valleys' vast beauty of surrounding greenery. Executive Chef Sunny Jin, who finds solace and inspiration from this beauty, shows the landscape in the dishes presented in JORY, a garden-to-table Willamette Valley restaurant.
JORY, the resort's signature restaurant named for the soil that produces the state's famous pinot noir is where Chef Sunny Jin and his team create edible art. Sunny Jin leads the JORY team and brings the garden to table concept to an entirely new level. Fusing his award winning expertise with the help of the resort's Chef's Garden and passion for local sourcing and foraging.
Like our animal kin, foraging is the act of finding and gathering produce to delight in. Executive Chef Sunny Jin takes pride in his ability to forage, as he walks up the Allison's hills to gather figs, persimmons and other seasonal produce to experiment in his kitchen and later delight guests' palates.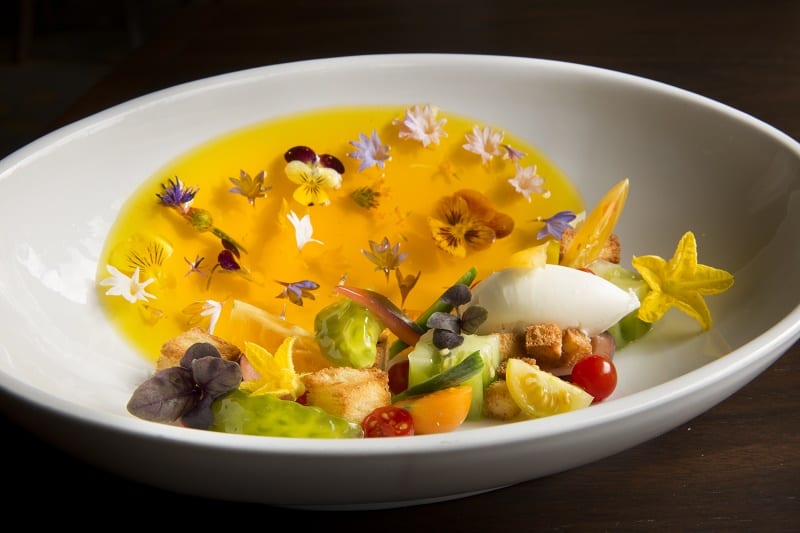 This is a chef who allows guests join him in his foraging adventures, similar to what he did with his mother as a child. It emphasizes how significant the connection between food and man are to him, because the face to face interactions he has with food is more intimate compared to what most of society's food encounters . Foraging allows guests to partake in, what he calls, his calming mechanism and it allows guests to relate to Chef Sunny Jin and his team in relation to connecting them with the food they enjoy biting into.
Either walking up the Willamette Valley hill or strolling minutes away at the Chef's Garden, JORY prides itself on using local resources. Chef Sunny Jin mentioned when he first started at JORY, the garden was smaller than what it is today. The Allison Inn & Spa Founder, Joan Austin, asked if it was enough for him, and the next day he was promised a bigger garden within two months. This has led him and the JORY team to making spectacular dishes because the ingredients are pure and basically part of the Allison family. Signaling another beautiful and significant part about the Allison culture is the open communication and inclusion of all people, from the guests to the line cooks.
An experience shared with both guest and the JORY team; foraging is an activity bringing guests and staff of the Allison together. Everyone will get their hands dirty to find spring ingredients like wild ginger, blossoms and buds, dandelions before washing them clean to enjoy in later in your exquisite foraged JORY meal. The key is to not over do foraging. If this occurs it will be hypocritical of their philosophy to respect and preserve the land.
Growing up in Minnesota, foraging was a constant part of Chef Sunny Jin's life. He shares a fond memory of foraging with both parents for ingredients such as ginseng, and local honey. This can be considered the spark for his culinary career. A young boy who was intrigued by pots and pans and cooking shows, Chef Sunny Jin's was destined to create edible authentic food.
Fortunate to get approximately 90 percent of JORY's ingredients within short distances from the resort, Chef Sunny Jin is able to take the JORY menu to "unimaginable heights". All year round, he features an out of this world burger on the menu and shares the recipe with us:
Print
Author:

Executive Chef Sunny Jin

Yield:

4

1

x
Category:

Burger, Sandwich

Cuisine:

American
For the Marinated and Grilled Onions
3/4 cup

red wine vinegar

1/2 cup

olive oil

1 tablespoon

sugar
zest of

1

lemon

2

sprigs each of thyme and mint

1

chile de arbol
salt and pepper

1

medium sized red onion (1/2" slices)

1

medium sized white onion (1/2" slices)
For the Pickled Red Onions
1/2 cup

sugar

1/2 cup

red wine vinegar

1 cup

water

1

sprig tarragon

1

bay leaf

2

large red onions (sliced thinly lengthwise)
For the Burger
2

pounds Wagyu cross-rib roast

2 teaspoons

sugar

2 teaspoons

salt

1 teaspoon

fresh cracked black pepper

1/2 cup

Pinot Noir

6

slices white cheddar (thick cut)

2 cups

Arugula

4

each Brioche buns
Instructions
For the Grilled Onions:
Mix together the marinade ingredients and onions and marinate onions overnight. Strain off the marinade and reserve. Grill onions until slightly charred.
Place grilled onions in a bowl and pour the marinade back over the onions. Cover tightly and set in a warm place allowing the onions to become tender. Serve warm.
For the Pickled Red Onions:
Combine all the ingredients except the onions in a pot and bring to a simmer until all ingredients are dissolved and infused.
Once dissolved, remove tarragon and bay leaf and pour the hot pickling liquid over the onions. Let rest for 45 minutes at room temperature, then strain and reserve for later.
For the Burger:
Cut Wagyu into one-inch pieces. Combine all other ingredients and whisk until sugar and salt are dissolved. Pour over the beef and toss. Let marinate for 4 hours.
Grind meat through the large die of a meat grinder, and then pass through a medium die. Form into 1/2 pound patties and place in refrigerator until firm.
Cook burgers on the grill to desired doneness. Place a thick slice of Beecher's Flagship Reserve cheese on the burger and let melt over the burger.
Grill the burger buns, then place a small handful of arugula on the bottom half of the bun. Next, place the burger on the bun and finish with a good amount of the pickled red onions.
This exceptional burger and other great menu items like his spin on a spring classic gazpacho can also be featured at the Chef Table. The Chef's Table is a private dining experience with a customized menu created by Executive Chef Sunny Jin. Here diners can enjoy a customized culinary meal with a view of the JORY team in action through a glass wall.
It is safe to say, locals and visitors of the valley fully appreciate Chef Sunny Jin's decision to join the JORY team after years cooking abroad in Spain and Australia. For the visitors who experienced the culinary works of Chef Sunny Jin and the Allison Inn and Spa Resort, they will undoubtedly have the desire to dig their heels into this beautiful foraging region of Oregon.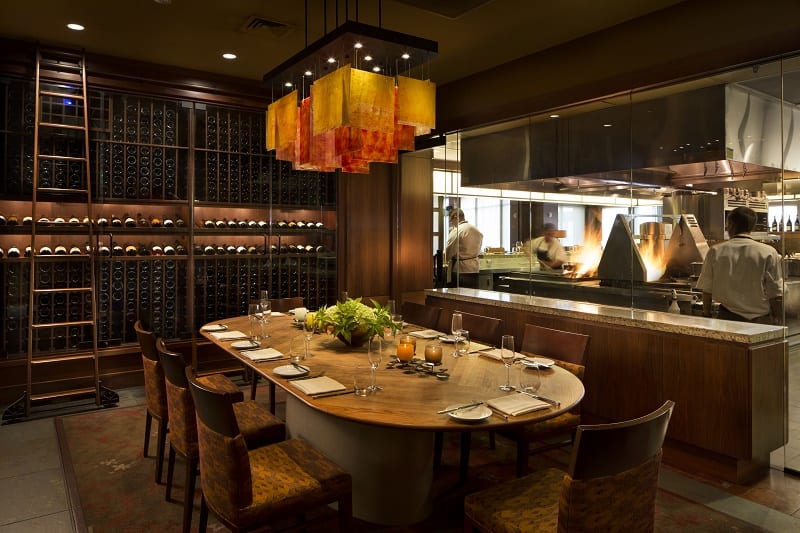 For more information on the The Allison Inn and Spa, a luxury Willamette Valley resort, the JORY restaurant and Chef Sunny Jin go to http://www.theallison.com/.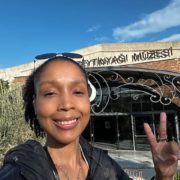 Alyssa Holder
Alyssa Holder is a writer specializing in food and travel topics since 2015.