A Foodies Guide to June Food Festivals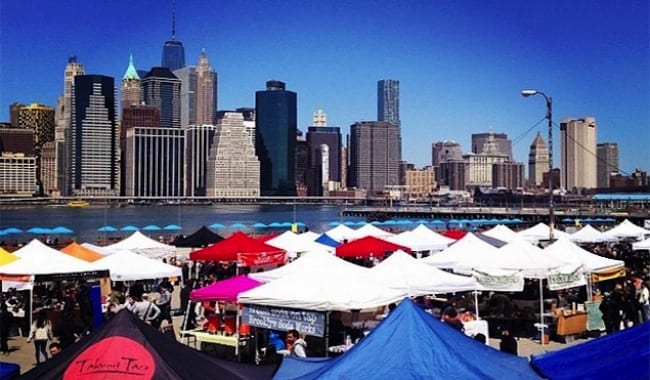 It's officially summer in New York City! The temperature is consistently over 70 degrees; April showers (that were supposed to stop in May) have ended; sidewalk cafes are in full force and people watching is now a full time occupation. For foodies summer in New York is a culinary dream. From street fairs selling summertime favorites to festivals honoring local eats the city's best restaurants, venders, and food trucks are in full force as they showcase their talents for locals and residents alike.
By Maya Dangerfield
In honor of the city's summertime love for all things food, Honest Cooking has curated a list of free food festivals, events, and fairs taking place in June 2014. From one day events like Day Life to weekend favorites like Smorgasburg we've compiled a comprehensive guide to the best food-centric events happening this month. June will be delicious.
Foodie and Culture Festivals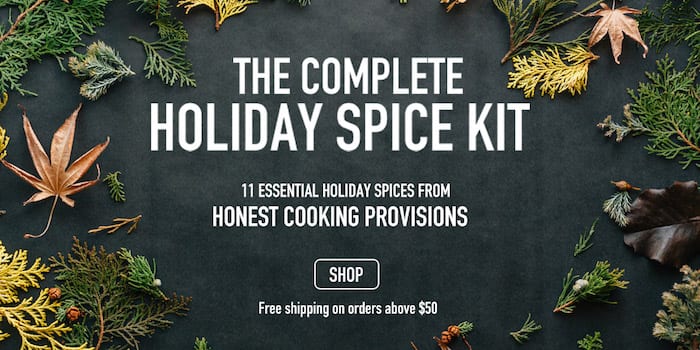 This three block event on Orchard Street is packed with live music, Bocce, and a dance tent. This year's venders include the beloved Souvlai GR, The Meatball Shop, and Brooklyn Taco. Sunday June 1st 2014. 12pm-5pm on Orchard Street between East Houston and Delancey.
Celebrating its 12th anniversary Drums Along the Hudson is a multicultural festival which is host to Manhattan's only open air pow wow. In addition to drumming performances and kid-friendly activities, the event will host an array of international food venders. Sunday June 1st 2014. 11am- 6pm in Inwood Hill Park.
Covering Third Avenue from 14th to 23rd street the Merchants Spring Fair will host over 300 venders in the nine block festival. From crafts to street food favorites the fair—in its 24th year—is one of the oldest in the city. Sunday June 1st 2014. 10am-6pm on Third Avenue from 14th street to 23rd street.
If you can stand crowds and slow moving tourists than trekking to this food festival may brighten an otherwise gloomy Monday. The event will host stands from 40 Time Square area restaurants like Bareburger, Le Rivage, and The House of Brews. Monday June 2nd  2014. 5pm-9pm on 46th street between Broadway and 9th Avenue.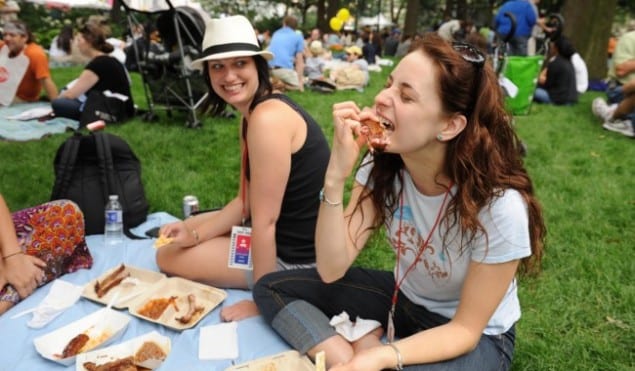 Big Apple Barbeque Block Party
Barbeque Lovers Rejoice! This two day festival is a barbeque heaven with heaping plates of pork, beef, and chicken for $9. Fast Passes and BigPiggin Passes are available for connoisseurs wishing to skip the lines. Saturday June 7th– Sunday 8th 2014. 11am-6pm in Madison Square Park.
Celebrating Chinatown's and the Lower East Side's shared Chinese and Jewish History this street fair is a cross cultural delight with food from both cultures.Sunday June 8th 2014. 12pm-4pm at the Museum at Eldridge Street.
Harlem's 3rd annual outdoor festival is back with a lineup of four festivals (May 25th, June 15th, August 2nd, and August 30th). The theme of June's festival is 'Father's Day Jam' so celebrate with dad to great music and an array of food stands. Sunday June 15th 2014. 12pm-6pm in Jackie Robinson Bandshell.  
Here's to you Brooklyn foodies! Celebrating its fortieth anniversary the Seventh Heaven Festival features an array of venders and local restaurants. Last year festival goers enjoyed goods from Crespella, Zito's Sandwich Shoppe and Sixpoint Brewery. Sunday June 15th 2014.  12pm-6pm on 7th Avenue between Flatbush Ave and 18th Street.
Have a craving for Swedish culture and food? Enjoy Midsummer with a festival, picnic, and an array of food stands crafting Swedish favorites. Friday June 20th 2014. 5-8pm in Robert F. Wagner Park.
The 20th annual PrideFest is the perfect location to cool down from the parade and refuel with delicious food and musical performances. Sunday June 29th 2014. 11am-6pm on Hudson Street from 14th to Abingdon Square.
Summer Favorites
These foodie-centric street fairs occur throughout the summer, so don't sweat if you missed a weekend to check out these reoccurring festivals.
This market is open 7 days a week from June 1st to August 1st 2014. Venders include Bangkok Bar,  Seoul Lee Korean BBQ, and Jicama: California Street Food. 11am-9pm in Greeley Square.
Open every weekend from April 26th to October 26th 2014, this Lower East Side staple is the home to popular venders like S'amore, Bunna Café, and Handsome Dan's. Saturdays and Sundays 11am-6pm on the Corner of Hester and Essex.
Open Saturdays from April to Thanksgiving 2014, Ft Green Flea is an outpost of the Brooklyn Flea circuit  whose enterprises include Smorgasburg, Williamsburg Flea, Park Slope P.S. 321, and Central Park Summer Stage.  Ft Green Flea is the Saturday home to craftsmen, artisans, and food venders like Red Hook Lobster Pound and Solber Pupusas. Saturdays 10am-5pm on 176 Lafayette (between Clermont and Vanderbilt Ave).
A foodie-favorite this outdoor festival takes place Saturdays in East River State Park and Sunday along Brooklyn Bridge Park Pier 5. Home to a hundred venders and local favorites like Brooklyn Soda Works,  Ramen Burger, and Girl Meets Whisk. Saturdays and Sundays 11am-6pm in East River State Park and Brooklyn Bridge Park Pier 5.
Home to venders, fishmongers, and local food artisans, the New Amsterdam Market is open nine dates from May to December 2014. Host to Bambino Fresh Ravioli, Pampered Cow/ Twin Maple Farm, and People's Pops this market and fair is a must-see. Saturday June 21st  2014 11am-5pm. Thursday June 26th 2014 7pm-10pm. Located in Newmarket Square (South Street between Beekman Street and Peck Slip).
Maya Dangerfield
A recovering teacher and editorial intern for Honest Cooking, Maya began her journalism career at Greatist.com. A food lover who never misses dessert, she is also a passionate sports enthusiast. Currently Maya freelances for FoodmakerMedia and copywrites for Techturized. Her writing has been published for Greatist.com, Shape.com, and The Washington Post.