Vignaioli Contra Soarda and da Pulierin: A Must-Visit for Foodies in Bassano del Grappa, Italy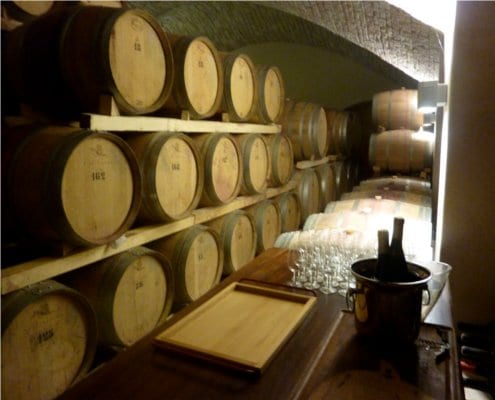 The eponymous digestif isn't the only reason for a foodie to visit Bassano del Grappa in Veneto, Italy.
By Kathy Bechtel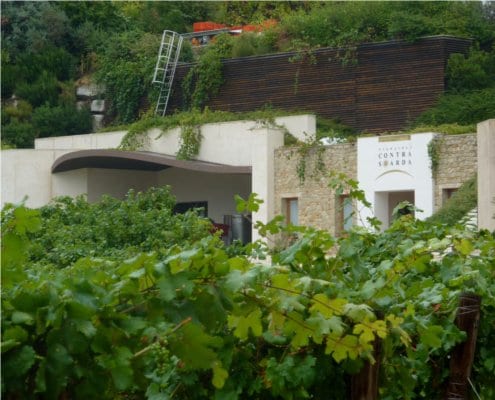 Bassano del Grappa is a lovely city located in the Veneto region of Northeast Italy, a short drive from Venice. Reputed to be the birthplace of grappa, the strong digestif (after-dinner drink) this region is famous (or infamous) for, Bassano del Grappa was originally known as Bassano Veneto. During World War I, nearby Monte Grappa was the site of some of the most terrible battles of the war, and the name was changed in 1928 to honor the soldiers killed there – over 12,000 Italian troops and over 10,000 Austrian-Hungarian troops never made it off the mountain. Ernest Hemingway spent time in Bassano when he served as an ambulance driver in the war, as related in his novel "A Farewell to Arms."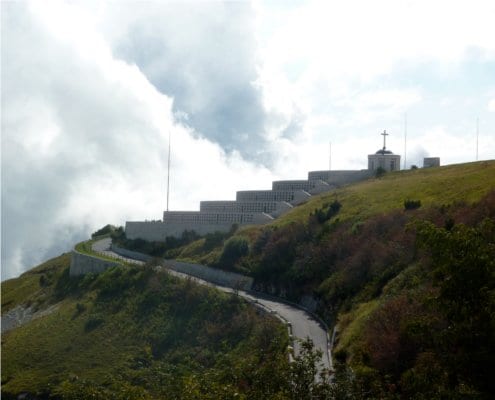 The most distinctive symbol of Bassano del Grappa is the Ponte degli Alpini, a wooden pontoon bridge designed by famed architect Andrea Palladio in 1569. Destroyed many times, most recently during World War II, the Alpine soldiers have always raised funds to ensure that it was rebuilt. During our visits to the town on our bike tours, we visit the bridge, enjoy an afternoon visiting this beautiful city, and sampling grappas at the distilleries of Nardini and Poli.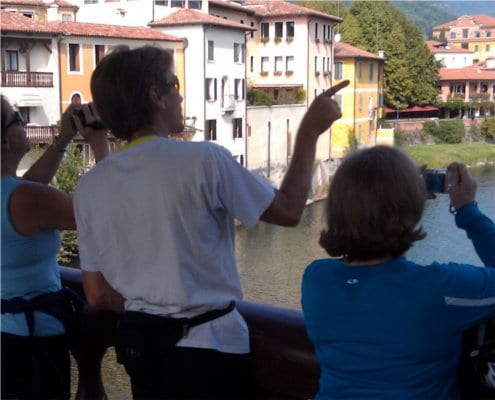 But grappa is not the only reason for a foodie to visit Bassano. Recently, I had the pleasure of an extended visit at Vignaioli Contra Soarda, just outside of Bassano. With numerous accolades by Slow Food, Gambero Rosso, Robert Parker and Vini d'Italia, this wine maker had been on my list to check out for some time. Unfortunately their wines are not found in any of my local wine stores, so I had yet to try them. My plan was to stop by in September, and fortunately, they found me just before my visit – Vivana Fontana, who heads up marketing for Contra Soarda, found me through my posts for Italiaoutdoors, and invited me to visit next time I was in the area. She didn't need to spend much time to convince me!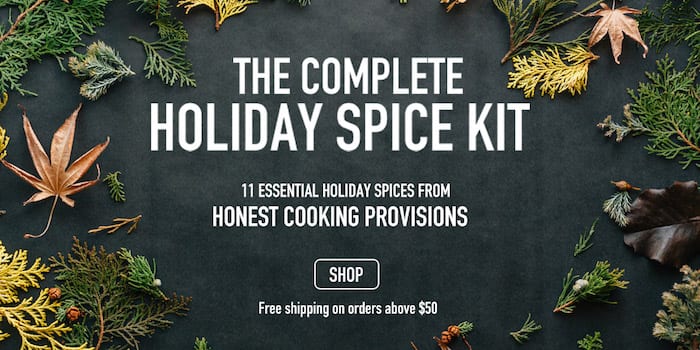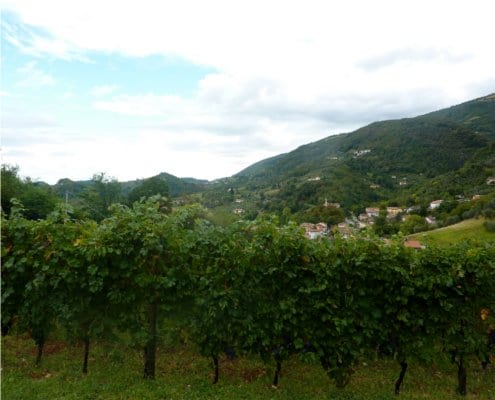 Contra Soarda's twelve hectares of vineyards here lie in the volcanic soil at the entry to the Valsugana valley; the surrounding mountains and the valley create strong thermal excursions between night and day, which provides an optimum environment for developing wines with intense aromas and wonderful maturity.
The vineyards here are fairly young, started in 1999 by Mirco and Gloria Gottardi. Their family history in the region, however, dates back much further. In 1904, Giovanna and Giovanni Gottardi opened their country farm near Bassano as a "frasca", offering simple food to passers-by. In the 60's, Beppa and Marcello Gottardi converted the frasca into a country trattoria, called "da Pulierin". In 1986, Gloria and Mirco took over da Pulierin, and oversaw its transformation into one of the most respected restaurants in the region, renowned for its traditional Bassano cuisine and its devotion to local products.
In 1999, Gloria and Mirco purchased the fields are now the vineyards of Vignaioli Contra Soarda, with the desire to produce their own wines and olive oils that truly reflect the traditions and terroir of their land. Today, they have a beautiful estate, with their vineyards, production facility, tasting rooms, and, as of last year, the new home of da Pulierin.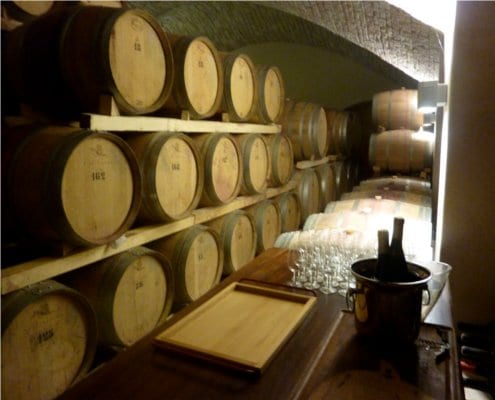 The cellar itself is quite amazing, an award winning structure designed by engineer and architect Henry Zilio. It is built into the hillside, to minimize environmental impact and blend into the land. Built with old wall techniques, a cave built inside the hill with the local stone, the style is reminiscent of Gaudi. The entire wine making operation is built to operate without pumps, with the grapes entering into the facility through the top of the structure, and gravity doing the work to move the grapes, and then the juice, through the wine making process. This cave within the hill location also makes controlling the temperature and humidity within extremely efficient.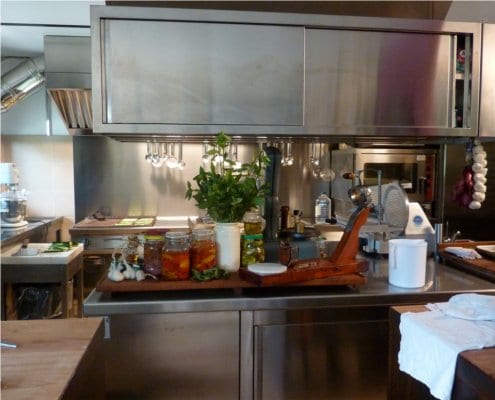 Vivana and Gloria gave me a tour of the caves, which are as lovely as they are functional. A tasting room is available for groups, with the proper lighting and environment for evaluating wines. After my tour of the cellar, Vivana offered to show me the restaurant and treat me to lunch, and an opportunity to taste some of their wines.
A small place, built in what was once the garage, da Pulierin also backs up into the hill on one side, with floor to ceiling windows on the other, offering a spectacular view of the vineyards. Gloria and Mirco continue to offer the best in local products, many of which are grown on their grounds there at Contra Soarda. They raise their own beef and grow produce on their estate.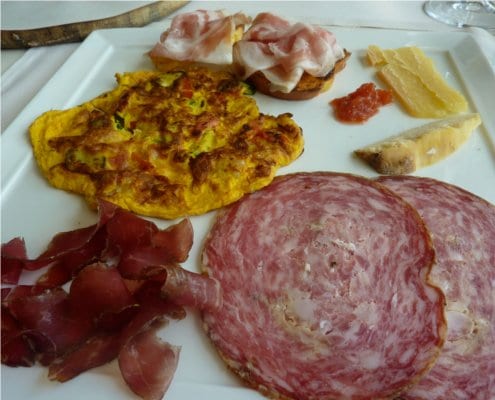 My lunch began with an antipasti of local cured meats and cheeses – salumi and prosciutto. To pair with this, our first wine was the Contra Soarda Il Pendio. This is a unique wine, a combination of 80% garganega, which has been barrique aged for 18 months, with 20% vespaiolo, which has been aged in steel for 12. Straw-yellow in color, the barrique flavor was pleasantly apparent to both the nose and mouth. Ripe and full, with a nice combination of fruit and floral, and a hint of spice.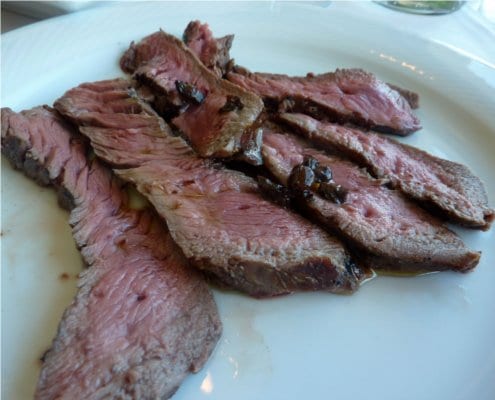 Our main entree was a real treat, their own beef and vegetables, both just simply grilled. The meat was quite tender, and drizzled with their own olive oil which has been flavored with dried grape seeds. This was paired with one of their top wines, Il Saggio, a wonderful blend of Carmenere (around %80), rounded out with the indigenous varietals Grupello and Marzemino. It is aged for 48 months in barriques and casks, with another 12 months in the bottle. A deep ruby red with hits of garnet, it has a very intense aroma of cherries and dark fruits. Medium bodied and long lived in the mouth, with flavors of smoke and spice, and light tannins.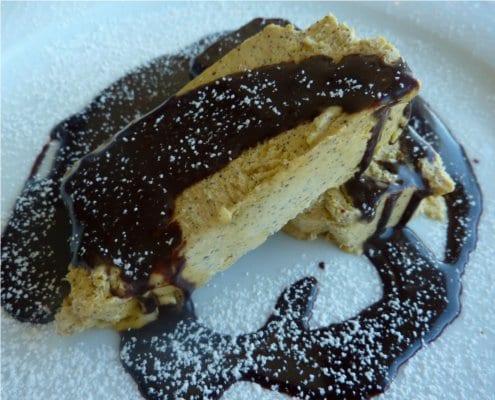 For dessert, I enjoyed a decadent coffe semifreddo with chocolate sauce, accompanied by the Contra Soarda Torcolato. Torcolato is the classic wine of the Breganze DOC. It is produced from pressing dried Vespaiola grapes which are hung ("torcolate") on strings from the wooden beams of the well-aired attics of farmhouses. As they dry, these grapes lose much of their water, concentrating the flavors and sugars. The grapes for the Contra Soarda Torcolato are semi-dried, and pressed in January. The wine is a deep golden yellow. This wine was scented with ripe and dried fruits – fig, in particular, and offered a nice acidity to balance the sweetness of the wine. It would also pair quite well with blue cheeses and foie gras.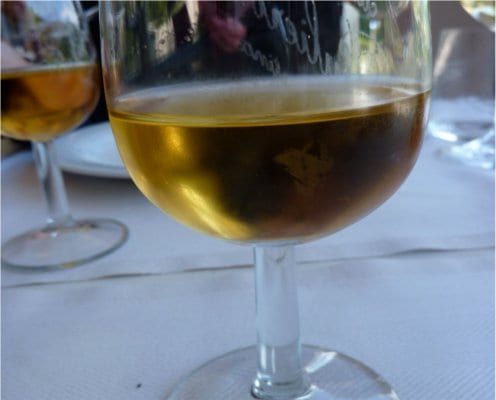 I enjoyed my visit, and would highly recommend a stop at Contra Soarda should you be in the area. And don't pass up any opportunity to sample their wonderful wines!
Kathy Bechtel
Kathy Bechtel's obsession with food and cooking began as a teenager. After years following a traditional career path as a telecommunications engineer, she left to attend culinary school and wine training, and is now combining her passions for food and wine, the outdoors, and travel as owner and Culinary Tour Director of Italiaoutdoors. In this role, Kathy leads small bicycle, skiing and walking tours that explore the authentic regional cuisines, local products and undiscovered wines of Northeastern Italy.