FOOD & WINE: Launch of "Chefs Make Change"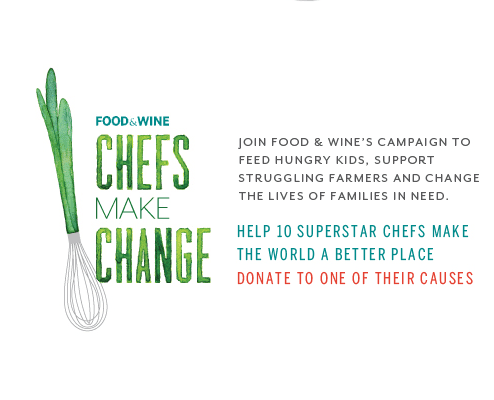 José Andrés, Dan Barber, Mario Batali, Rick Bayless, Cat Cora, Emeril Lagasse, Michel Nischan, Art Smith, Bill Telepan and Alice Waters join the coalition to support farmers, fight hunger, and help at-risk kids. Sounds like a great idea, so here's more on how to help out yourself.
By Marnely Rodriguez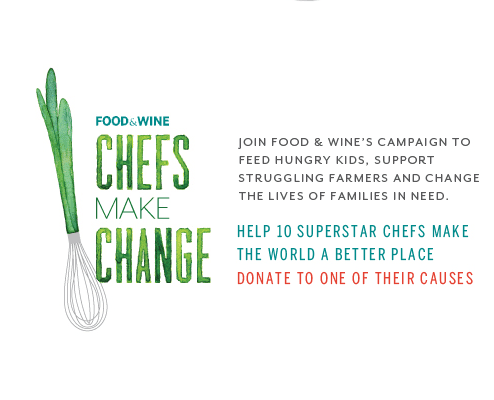 On January 10, 2012, FOOD & WINEannounced the launch of "Chefs Make Change" (CMC), a coalition of ten superstar chefs. CMC aims to raise one million dollars for the chefs' charities, an amount that represents approximately one dollar for each FOOD & WINE subscriber. "'Chefs Make Change' brings together ten amazing chefs in the belief that the power of ten is exponentially greater than the power of one," says FOOD & WINE Editor in Chief Dana Cowin.
The CMC campaign will be supported by a significant social media campaign driving people to the FOOD & WINE Facebook page, from which they can donate directly to any of the ten chefs' charities. Or, visit foodandwine.com/donate. The chefs will participate in Kitchen Insider chats on the Facebook page between January 10th and February 15th.On February 1st from 3:00pm-4:00pm EST, a Twitter party with the chefs and Dana Cowin @fwscout will take place on @fandw using hashtag #ChefsMakeChange. Anyone can join by following @fandw and #ChefsMakeChange.
The February 2012 issue of FOOD & WINE, on newsstands January 13th, will include interviews with the chefs about their charities along with delicious, healthy and affordable recipes inspired by each chef's cause. Dishes include Alice Waters's Hummus with Whole Wheat Flatbreads, Rick Bayless's Mushroom and Goat Cheese Tortas, and José Andrés's Garlicky Potatoes, Green Beans and Cauliflower.
"FOOD & WINE is always tracking trends in the food world, and one trend we've definitely noticed is chefs launching their own foundations to help people in need—kids, families, farmers, communities," says Cowin. "Our story in the February issue shares this trend with our readers and offers excellent recipes that are in sync with each chef's mission."
FOOD & WINE's "Chefs Make Change" Charities
José Andrés: World Central Kitchen Helps feed countries in crisis worldwide using sustainable cooking methods.
Dan Barber: Stone Barns Center for Food and Agriculture Trains young farmers to improve the way America eats and farms.
Mario Batali: Mario Batali Foundation Helps feed, protect, educate and empower children.
Rick Bayless: The Frontera Farmer Foundation Promotes small, sustainable farms serving the Chicago area by providing them with capital development grants.
Cat Cora: Chefs for Humanity Reduces hunger worldwide by supporting humanitarian relief and promoting nutrition education.
Emeril Lagasse: Emeril Lagasse Foundation Inspires underprivileged kids with the power and possibility of food.
Michel Nischan: Wholesome Wave Helps underserved communities become the heroes of a changed food system through personal choice.
Art Smith: Common Threads Teaches low-income children the importance of nutrition and physical well-being and fosters an appreciation of cultural diversity through after-school cooking programs.
Bill Telepan: Wellness in the Schools Inspires healthy eating and fitness as a way of life for public school students.
Alice Waters: The Edible Schoolyard Project Transforms the health and values of children by building a food curriculum for schools.
See Also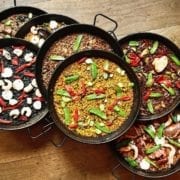 What the Superstar Chefs Say About "Chefs Make Change"
"For as long as I can remember, charitable work has been a part of my world. I'm thrilled that FOOD & WINE is recognizing the philanthropic efforts of chefs," says Mario Batali. "It's a testament to the work of far more than just ten of us; it reflects the charitable endeavors of so many in our industry."
"I'm honored to be part of this amazing coalition of chefs and grateful to FOOD & WINE for getting behind this powerful initiative. As my foundation marks 10 successful years of raising money for underserved children, I'm even more energized to raise awareness for all of these chefs charities and, most importantly, raise dollars that will create life-changing opportunities in a child's future," says Emeril Lagasse.
"It turns out that chefs (and anyone who cares about eating) are change agents. These causes, with FOOD & WINE's support, recognize this power and capitalize on it to ensure a delicious future," says Dan Barber.
"We as chefs are givers and pleasers by nature. There is something so gratifying in feeding people," says Art Smith. "We founded Common Threads after the shock of 9/11, which made us think about the importance of bringing children together and teaching them to celebrate different cultures. As a chef, I feel compelled and committed to support community efforts. Food is a common thread; we all love, speak and understand food. With the help of your donations, we can teach and empower more of today's youth across the nation."
Michel Nischan says, "I am honored to be part of such a distinguished group of culinary professionals and grateful to FOOD & WINE for its generous support of each of our important causes. At Wholesome Wave we are working tirelessly to ensure everyone has equal access to healthy, fresh and local foods, regardless of their income."
Honest Cooking thinks this sounds like a great cause – so head on over to their Facebook page and donate!
Marnely Rodriguez-Murray
Marnely Rodriguez-Murray is the author of the food blog Cooking with Books. A graduate of The Culinary Institute of America, she has worked as an Overnight Bread Baker in Colorado, a Chocolate Maker in Virginia as well as a Pastry Cook on the whimsical island of Martha's Vineyard, just to name a few. She currently resides on Martha's Vineyard with her chef-husband, where they are both on an endless search for Caribbean flavors, new culinary trends and gastronomic inspiration.