Ena Scheerstra with a mini guide to the shops and restaurants that are the places to experience in culinary Groningen.
by Ena Scheerstra
If you ask people about the Netherlands, they often will directly think about Amsterdam or the Hague (Den Haag). Although these are nice cities, there is much more to be seen in the Netherlands. For example my home city, Groningen. It is a wonderful base town for a trip to the Netherlands. It is a beautiful city, pleasantly filled with students, lots of historical buildings and a lively, friendly atmosphere. It has the Groninger Museum (art) and it is a really good shopping city. The Groninger countryside is beautiful as well. It is very diverse, with flat grass-land, peat, forest and small streams. There are many small, picturesque villages and many churches and museums to visit. And of course the Lauwersland, the Wadden sea and the wadden island Schiermonnikoog. Furthermore you're close to Assen, with the lovely Drents museum, and Leeuwarden, a nice shopping city with several museums and a historical city center. The Netherlands is a small country, so everything is quite close to each other. When staying in Groningen it is still easy to visit the big cities of Amsterdam or the Hague, or other nice regions of the Netherlands. Also, Groningen is quite close to Germany, so a trip to for example Bremen or the German wadden island Borkum belong to the possibilities.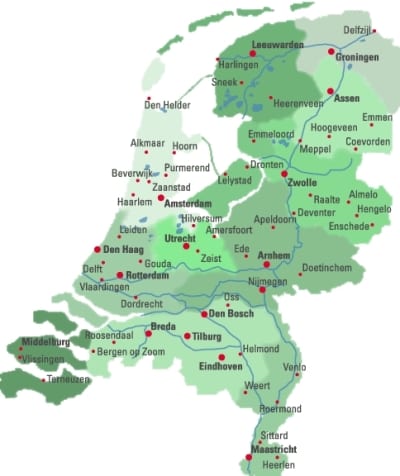 There are many lovely culinary places in Groningen, but some of those are more visible and focused on tourists than others. The following list consists of places that don't seem to stand out, but are actually outstanding, which I have discovered over the years. They are almost all local, unique shops, not part of the big, commercial shop chains. So by paying these businesses a visit, you sponsor the local economy and prevent the big chains from taking over everything. There are of course many more nice places in Groningen, but these are the ones that I keep going back to regularly. And please, locals that read this post, pitch in and leave your favourite place in the comments!
Kaashandel van der Ley
If you are looking for cheese, this is the place to be. The employees are very friendly and knowledgeable, they can advice about all their cheeses and help you with making your choice. Most of the time you can taste the cheese before buying it and their assortment of cheeses is really large. They have the traditional Dutch cheeses, also in farmhouse varieties, but also new types of Dutch cheese. Furthermore they have all kinds of foreign cheeses, soft and hard, different animal milks, soft ripened cheeses, washed rind cheeses and blue cheeses… generally about 400 different types. They also have some wines and other accompaniments. This is the only place where I buy my cheeses, and I am not the only one: most of the good restaurants of Groningen buy their cheese  here as well. Don't be tempted to buy cheese at the market place, you will get much better quality and service at van der Ley!
Kaashandel van der Ley | Oosterstraat 61-63 | 9711 NS Groningen | 050 3129331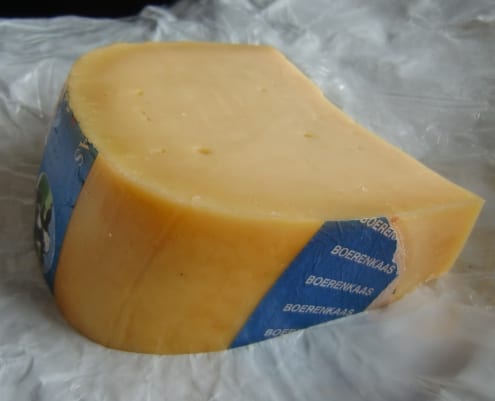 Fish Market
It can be very difficult to find high quality fresh fish around here. After several disappointments I've even stopped eating fish at all… until I was told about this shop. It is a lovely clean and fresh looking small shop and the smell is wonderful. It doesn't stink all fishy and decaying as the fish stands at the market often do, no, it has the most amazing fresh sea smell that you can image. All the fish, whole, filleted or prepared, look very good as well. They aim to sell high quality, fresh, sustainable fish with love and they succeed in that. Other than fresh and smoked fish, and shellfish, they sell bread with fish/fish salad, and the Dutch speciality "kibbeling" (battered and fried white fish) so they are a perfect place to get a snack as well.
Fish Market | Astraat 6 | 9718 CR Groningen | 050 2807610
Het Hanze Huis
No doubt you all know the following situation: unexpectedly you have a birthday party, you need a last minute hostess gift or there is another occasion for which you need a gift… but you don't know at all what this person would like. And of course you don't have the time to go on an extensive shopping mission. This shop always comes to the rescue! The Hanze Huis only sells products from manufacturers that already make quality produce for over 100 years and is based on the idea of the historic Hanseatic League, a commercial and defensive confederation of merchants and merchant cities (Groningen was one of these). The shop is very small and filled from top to bottom with interesting products. Coffee, tea, chocolate, sweets, syrups, but also vanilla, soap and sardines, but you never know what you will find exactly because they are always importing new products. All the products have exquisite packagings and gift boxes are available, which makes them extra suitable for gifts. And… this shop is also a perfect place when you want to treat yourself with a present!
Het Hanze Huis | A-kerkhof 2 | 9711 JB Groningen | 050 3188280
Kamphuis Kookgereedschap
Most cooking shops mainly sell gadgets. Things that look nice when you buy them, but never use again. Because in the end it is easier to just use a knife for everything, instead of a gadget of every ingredient. Or machines that promise perfect *insert whatever you want*, but in the end the work of digging out the machine from somewhere in the back of a cupboard seems too tedious, so you use the stove/oven/other standard equipment instead. This shop is something else. It actually sells things you need, like good knifes, pans, and other basic utensils and equipment. They also have espresso machines, stoves, ovens and kitchen machines. The chance is big that they have what you want and if not, they usually can order it for you. Also they always take the time to advice you about the thing, small or large, you want to buy. I love this shop for just looking around dreaming about kitchen machines and heavy pots and pans (for when I have a bigger kitchen), but also when I need something specific, for me this is the place to be.
Kamphuis Kookgereedschap | Brugstraat 34 | 9711 HZ Groningen | 050 3116800
Toscana ijssalon
Toscana is the place to be in North-East-Netherlands for delicious ice cream. The ice cream is centrally prepared and distributed to the different shops. There are two shops in Groningen, I always go to the one in the Folkingestraat because it is right in the city centre, where I do my weekend shopping. Furthermore the Folkingestraat is a very nice street with all kinds of interesting shops, it is fun to do some window-shopping while eating your ice cream. The Italian style ice cream is freshly prepared daily, without conservatives and with real fruit and honest ingredients. The most difficult thing of getting ice cream is choosing. There are so many different varieties! The standard flavours like vanilla and strawberry are always present, but there are also more adventurous flavours as lime-basil, liquorice and white currants. My favourite flavours are lemon, and yoghurt strawberry, because they are so nice and fresh, and all the different chocolate varieties, because I just love chocolate. Often ice cream is just sweet and you have to guess by the colour what taste it is, or it has a disgusting chemical flavour. At Toscana this is certainly not the case, all the flavours taste like the flavours they are. For example, tiramisu ice cream tastes exactly like a good tiramisu dessert. If there is a line (and on sunny days there certainly will be), be patient, its worth it!
Toscana ijssalon | Folkingestraat 47 | 9711 JV  Groningen | 050 3110068
Ariola
Another lovely place in the Folkingestraat, selling Italian specialties. It is a very small shop, filled completely with the most delicious food. The Italian owners import things like dried pasta, risotto rice and wine from Italy, but they also make many things like pesto, tapenade and fresh pasta in their open kitchen. It is very clear that it is a family business, the warm atmosphere in the shop enrobes everyone. Buy one of their spreads and a crusty bread, or an Italian boule with topping, and you have the perfect lunch!
Ariola | Folkingestraat 54 | 9711 JZ Groningen | 050 3181948
't Feithhuis
A café and restaurant, where you can have breakfast, coffee and cake, lunch, high tea, drinks and snacks, and diner. They aim to be honest and involved, and serve local, sustainable, fresh and high-quality food. I just love their cappuccino! There are other good coffee places in the city center (for example coffee company and coffee united), but this is the only place where I always get good cappuccino and good service. Their high tea's are fantastic and I like it a lot that they have a small one as well, so when you fancy a high tea you can take one without having to roll back home.  Their diner dishes are simple, but always have a nice twist, and are of high quality. The serving staff is very efficient and explain the dishes very well, but they are not intrusive. For lunch the prices are comparable with other places where you can sit and eat something, diner you can get cheaper somewhere else, but then you will miss the good quality food and service, it is certainly a value for money. Take in account that when it is busy, for example Saturday lunch time when everyone wants to eat at the same time, it can take a bit longer before a waiter comes to you and you get your food. Personally I never had this problem, but I've heard of other people that it does happen. 
Restaurant 't Feithhuis | Martinikerkhof 10 | 9712 JG Groningen | 050 3135335
Schimmelpenninck Huys
A hotel with many facilities in the middle of the city center. Although I can imagine that you need to sleep very deep when you spend the night there, because the Groningen city center is usually quite noisy at night. But I want to talk about their food facilities, which you can use also when you're not a hotel guest. They have three restaurants: de Parelvisser, a sea speciality restaurant, which is quite expensive/high end; Classique, a Mediterranean French classic restaurant, which is much more affordable; and Brasserie, which serves the same diner dishes as Classique. In the Brasserie you can also have breakfast, coffee and cake, lunch, high tea and drinks and snacks. They also have a bakery, the Burgundian Breadhouse (Bourgondisch Broodhuys) and La Bonbonniere, a chocolate atelier where they make their own bonbons, which are very tasty. The breakfast is a recommendation, it is a luxurious buffet with all the different delicious breads they make in their bakery, eggs, bacon, different kinds of meat and cheese, coffee/tea and juice. But with all those delicious things you may want to turn it into a brunch, and not have lunch….
Hotel Schimmelpenninck Huys | Oosterstraat 53 |9711 NR Groningen | 050 3189502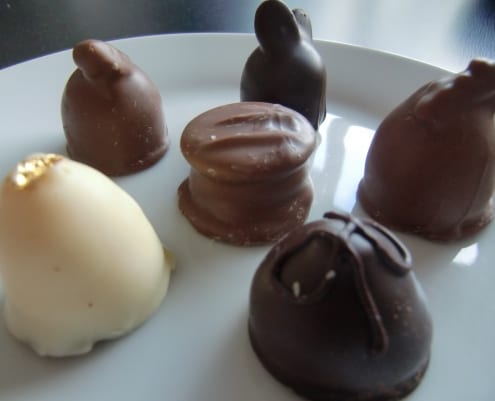 Nazar
Although Nazar is a Turkish supermarket and halal butcher, it also sells many other foreign products. These are mainly Arabic, but also products from other countries that you cannot find anywhere else. But the main reasons I come here quite regularly are their excellent assortment of lamb and their fresh herbs. Their lamb is affordable and of good quality, they have many different cuts and they give you an excellent advise. The people that work here are just so incredible kind and attentive!
Nazar | Nieuwe Ebbingestraat 137 | 9715 BA Groningen? | 050 5792121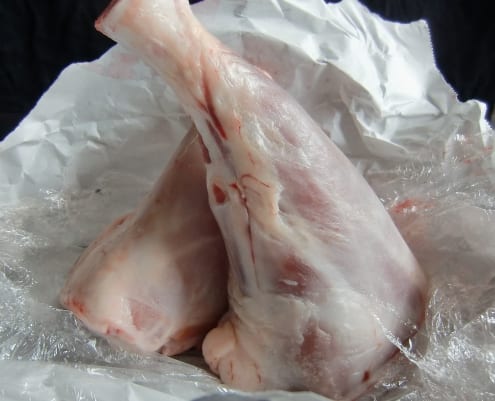 Amazing Oriental
This big Asian supermarket is a dream for all foodies. Their main business is selling Asian products, but they also have a nice range of cookware and other foreign products (for example American and Surinam). And it is always a surprise what they have, although I have been there now for many times, I always discover something new that I cannot get anywhere else. For example, Oriental stocks some nice baking supplies like cream of tartar and good flour (hard wheat) for pasta and Italian bread making, that I cannot get anywhere else. This is my go-to place for buying good quality spices cheap, also they have affordable fresh pepper, lemongrass, lime leaves, pandan leaves, etc, but also soy sauce and crupuk and spring roll wrappers…. everything you need to cook an Asian meal from scratch. I also love that they have a wide range of packaged curry pastes and spice mixtures to make something delicious in a short amount of time. I always have some of these on standby. It is a lovely place to wander around and discover new things, but a disadvantage is that some packages are only in Chinese/Japanese/Korean/other Asian language, and not all the staff speaks Dutch well, so it can take some time to get a good answer if you have a question. But don't let this keep you from discovering this lovely shop!
Amazing Oriental | Korreweg 51 | 9714 AB Groningen | 050 5776538
Ena Scheerstra
Ena Scheerstra has a lifelong love for food and cooking, starting to collect cookbooks at age 10. She spends most of her free time on cooking and everything food related. She is a strong believer of honest food, produced sustainable and sourced locally, and cultures her own vegetables on her balcony and in her small allotment. Her blog is very internationally orientated, reflecting the variety of food she cooks, but on Honest Cooking she is focusing on showing the world the wonders of Dutch food.