Sarah Kenney with a recipe for savory tartlets made with ricotta and pine nuts, plus a dreamy photo tour of Yvoire.
By Sarah Kenney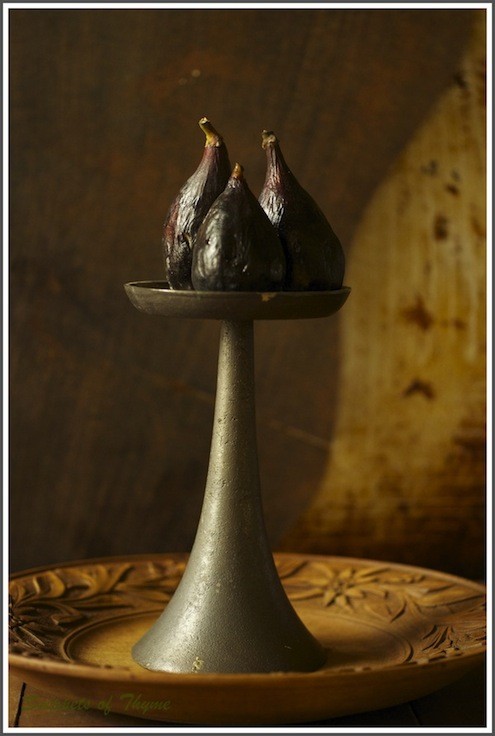 Growing up in southern Louisiana, figs were a pleasurable addition  to childhood sweets. Figs are such a beautiful fruit.  The deep purple hue is so captivating.  The juicy centers are a surprising contrast to the outside with their gentle color palette and myriads of tiny woven seeds.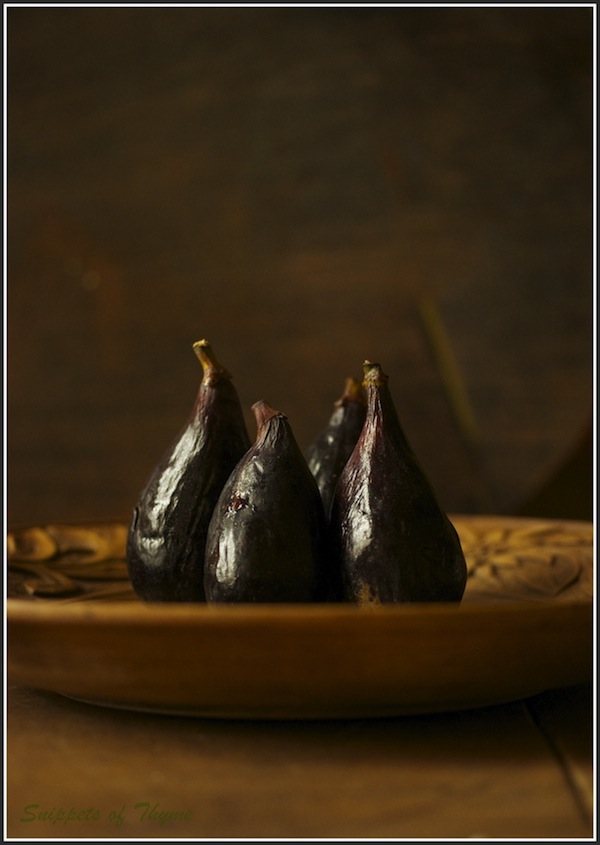 I've been seeing fig tartlet recipes quite a bit lately and thought I would indulge in these little beauties.  Interestingly, the recipe that I followed is not really a sweet dessert tartlet.  These could be considered more savory than sweet but there is a subtle sweetness.  They are a delicious option to that could accompany a light salad.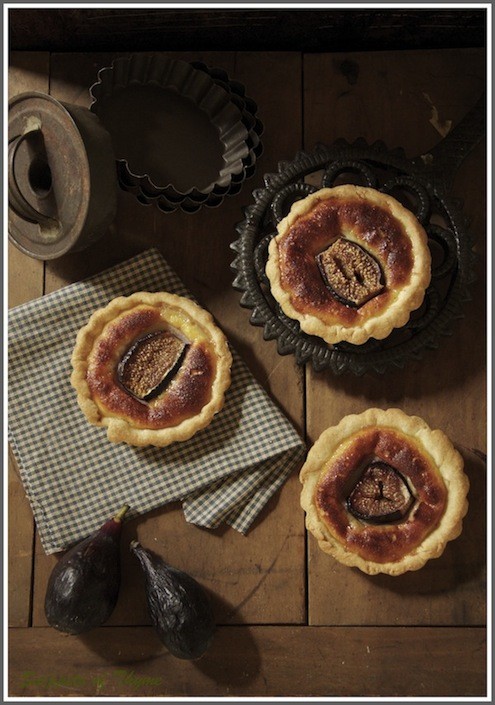 The filling for this slightly savory tart consists of ricotta cheese, sugar, 1 egg, and pine nuts.  The result was delicious, but different from a typical tartlet that I've had made with frangipane.  The flavors are subtle but the depth of taste is quite satisfying.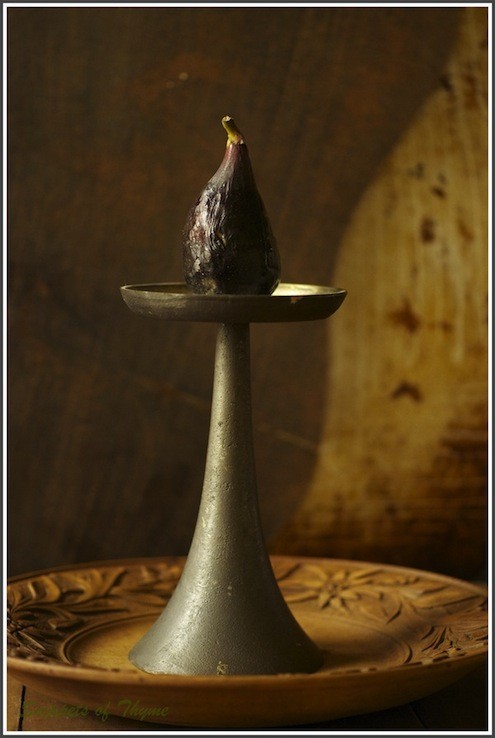 We've finally been  getting some relief from the sultry heat of the south.  Afternoon showers of rain are a welcome sight to everyone here and certainly to the parched earth that is ready to drink up and quench its thirst. The kids and I often choose a documentary in the afternoons, snuggle into our comfy chairs, and  listen to the patter of rain outside while learning about far away countries and cultures.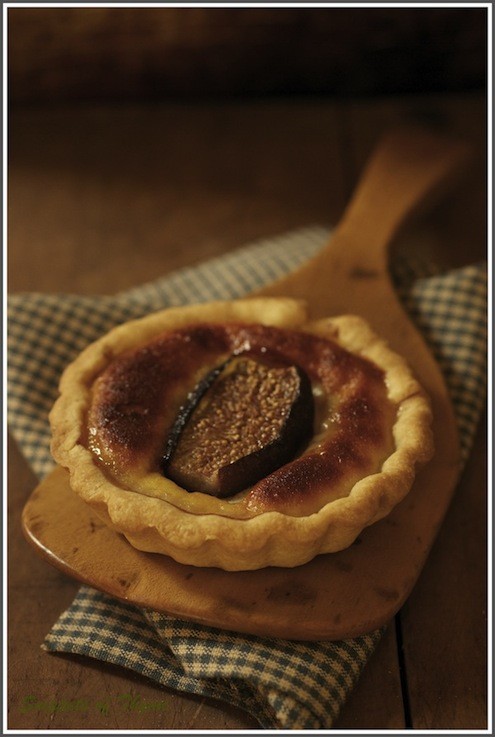 Speaking of far away places, we are dreaming again of whisking off to explore corners of the world.  We have several places in mind but until those tickets are purchased, I'm going to stay "mum".
What pushed me to blog about recipes that I make at home  was the experiences we had on a trip through Switzerland and France last fall.  The trip  was so incredible.  The sights and food enjoyed were so overwhelming to my senses that I needed an outlet to share my experiences.
So today, I invite you to join me on a magical journey through an idyllic little village in France that was one of the many highlights of our trip.  This journey begins in the petite little village of Yvoire, France.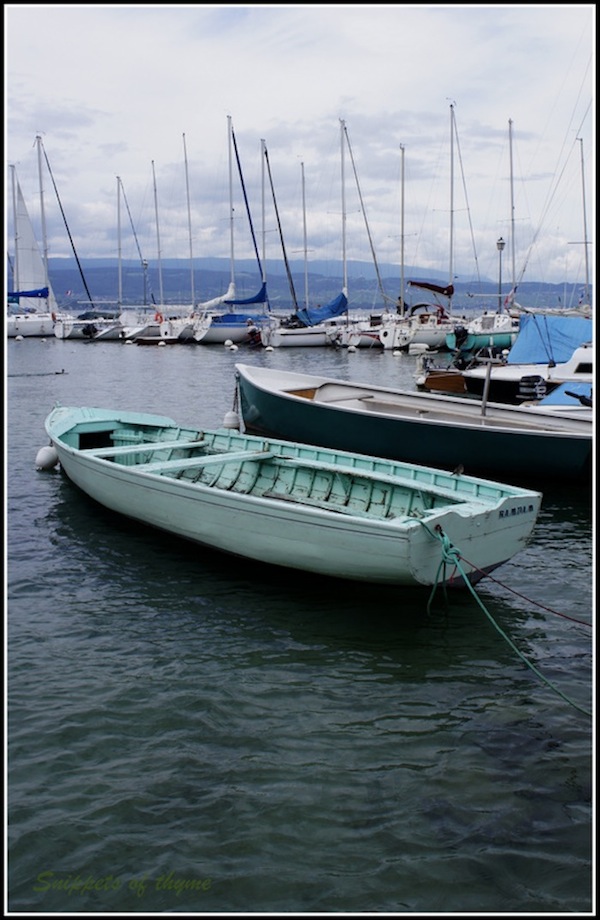 We landed in Geneva, Switzerland, rented  a car, and began driving east along the enchanting  southern coastline of Lake Geneva. About 35 minutes later, we rolled into this jewel of a french village right on the border of France and Switzerland.
Picture perfect? Check.
Delicious food options?  Check
Adorable shops and quaint restaurants? Check, check, check!!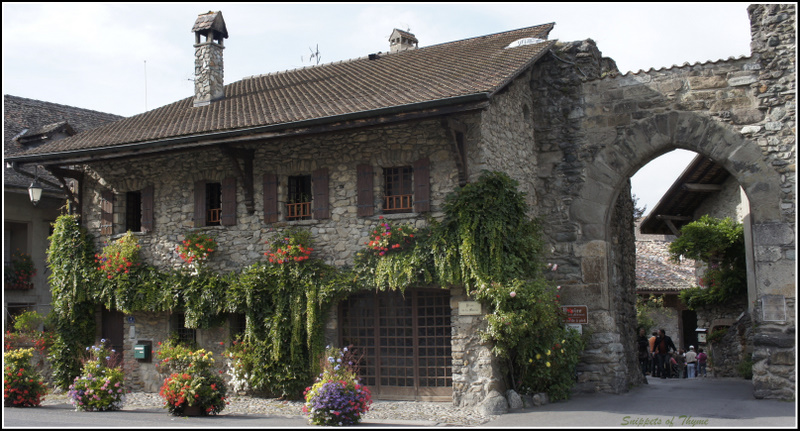 Patrick and I travelled to Yvoire when Madeleine was 1 year old.  We literally stumbled upon this little village, got out of the car, put Madeleine in her little backpack, and walked quietly through the cobblestoned streets. We were young and in awe over the beauty of the village.
Last year, we celebrated our 20th anniversary.  We vowed that someday we would return to Yvoire again.  Here we were now with our teen children.  Incredibly lovely and fortunate  to share this experience with them.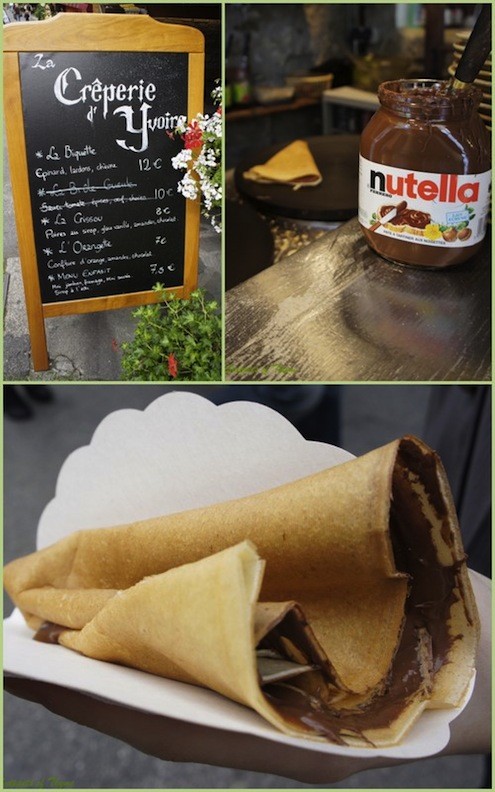 Little did we know how many delightful villages, towering castles, and winding country roads we would experience on this incredible journey.  This first stop in picturesque Yvoire was a dreamy appetizer to sights to come in the high mountains of Switzerland and then in the rolling hills of Provence.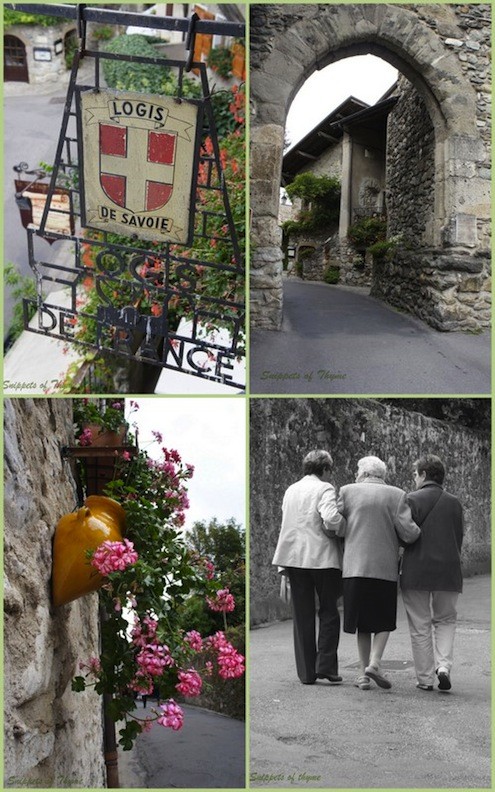 The rocking of the boats on the water, the flowers tumbling out of seemingly every crevice, and the beauty of the massive stone buildings is truly post card perfect.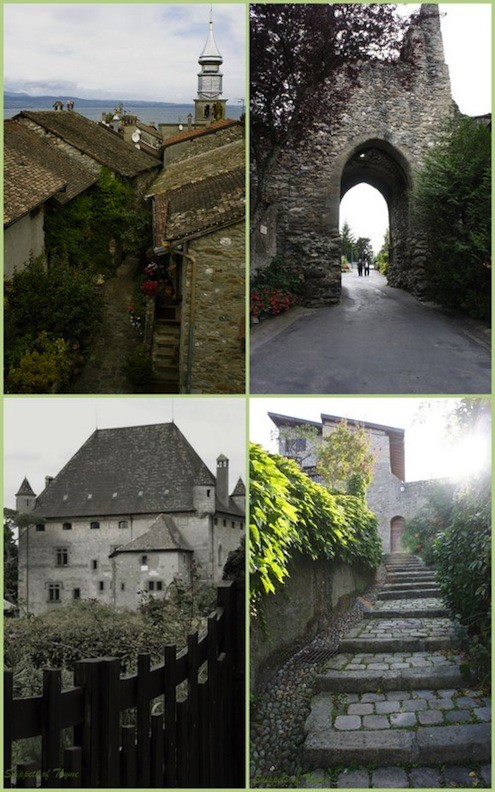 We walked up and down the narrow twisty stone paths, trying to dream of what it would be like to call this place home.  Do the people who live here see this beauty?  Do they take it for granted?  Where do they dream of visiting?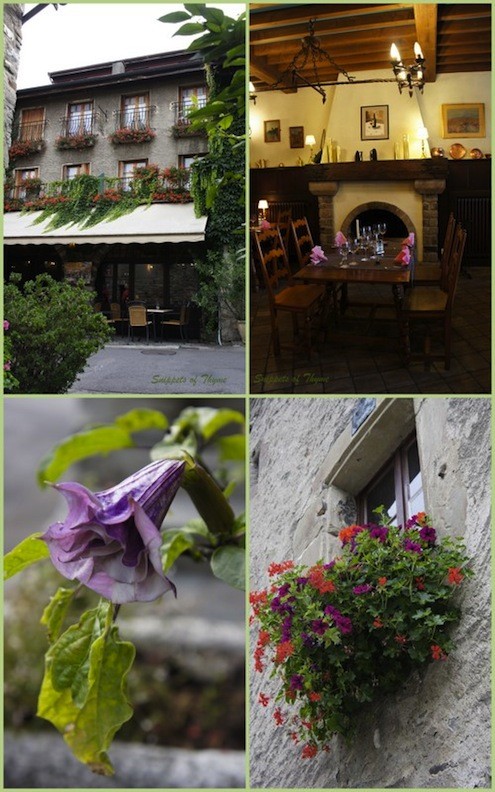 Our hotel was snuggled among baskets of cascading flowers and vines hanging from every window.  The inside was quaint and cozy with a huge stone fire place crackling away to warm up guests from the impending chill of the lake winds.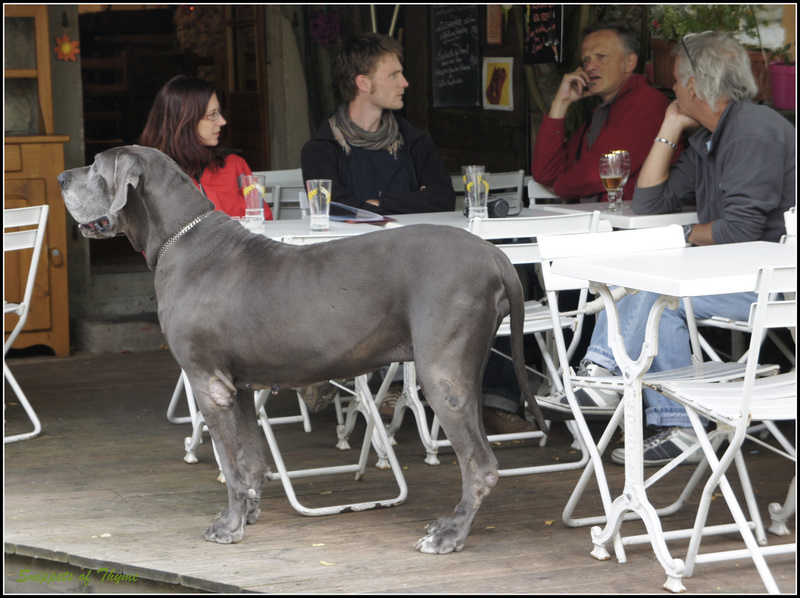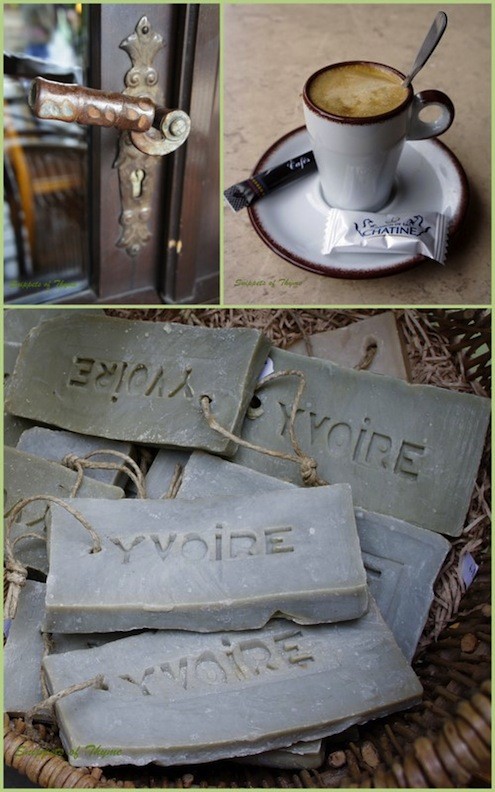 The kids went up to our rooms to relax and Patrick and I decided to soak it all in on the sweet terrance that opened up from the hotel restaurant and sip on lovely little cups of espresso.
"Can you believe we are back again in this enchanting village?"  I asked Patrick, with my eyes misting over, and filled with thankfulness for this second experience here.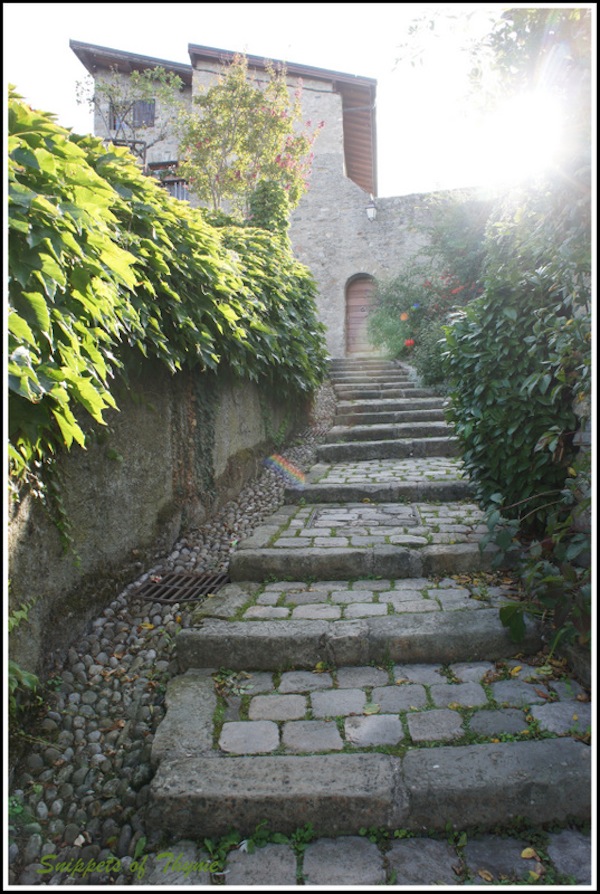 We walked, just the two of us, hand in hand through tiny paths and in and out of tiny shops.  We were quiet.  Yvoire is about soaking in the beauty and calm of this tucked away little village.  We didn't need any words. We just walked and walked.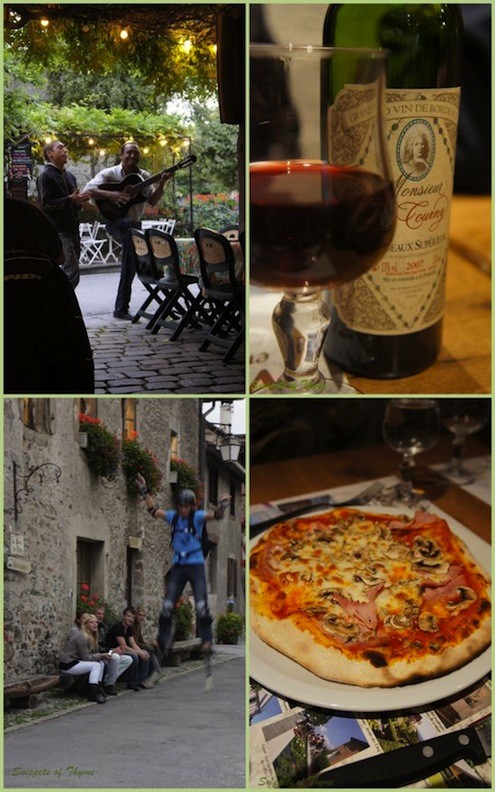 We had passed a tiny little pizza restaurant earlier and the smell enticed us to return.  We picked up the kids from the inn. They were thrilled that their first meal was going to be – pizza!
The first few hours in Yvoire couldn't have been dreamier.  The little pizza restaurant was warm and inviting.  The doors were all open to the street as soft breezes swept through the village.  The pizza was delicious – crispy crust and toppings flavored just right.
We opened our first demi bottle of heady French Bordeaux wine.  A singing duo from Peru strolled by playing haunting tunes of Peruvian music.  We sat back and just tried to take in all of this beautiful atmosphere.
A few minutes later, lost in our reverie (and a bit jet lagged), a young man comes bounding into our view right outside the restaurant (pictured above).  He was quite animated and showing off these attachments he strapped to his legs that allowed him to spring high up in the air.  What a sight!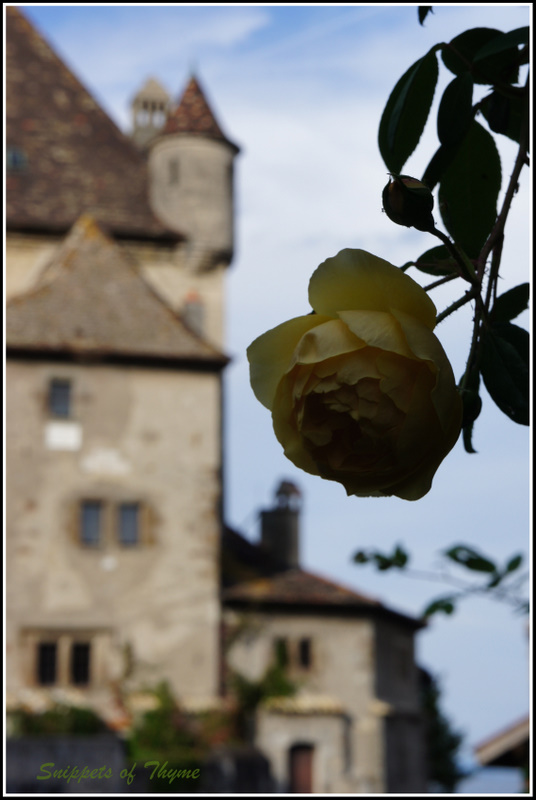 This final photo below is the view right outside of our window at sunrise the next morning.  Patrick and the kids were still sleeping.  I could feel the wonderful chill in the morning air.  I crept to the window, opened it wide and breathed in the morning sunrise.  The vines clinging to the rooftops were tinged with hues of red and orange signaling the start of the fall season. Gorgeous.
Why do I love to travel so much?  Sights, smells, and sounds that exist like in this tiny little hamlet of Yvoire are why.  They beckon me to come and soak up their atmosphere of beauty, history, culture, and food.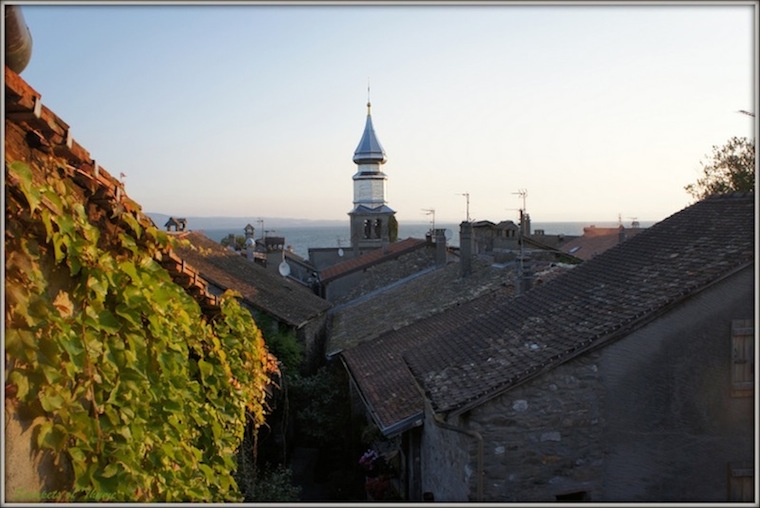 Fig Tartlets with Ricotta Cheese and Pine Nuts
Savory tartlets made with ricotta and pine nuts - adapted from Down Under Blog.
Ingredients
For The Filling
¼ cup (110g) ricotta cheese
1 egg
4 cup (40g caster sugar) (Snippet's Notes: I just take regular sugar and run it through the blender to make it fine)
Handful of pine nuts
3 figs, halved
For the crust:
1¾ cup (250g) flour
2 teaspoons honey
2 Tbsp water
1 stick (125g) butter at room temperature and diced
1 pinch of salt
Instructions
Prepare the short crust pastry and let it rest for an hour in the fridge.
Preheat oven to 400°F. Roll out pastry on dusted flour surface and press into tart pans.
Prick the bottom of the pastry.
In a bowl mix together egg, ricotta and sugar.
Add pine nuts and stir.
Pour equally batter in tart pans (3/4 filled).
Top with a half fig. Bake for 30 minutes or until nicely golden on top.
Remove from oven, turn out from tart pan and let cool on a wire rack.
Sarah Kenney
Sarah is an adventurous food photographer and writer who has moved six times with her family from the U.S. to Wales, Japan and back. They are affectionately known as "The Rolling Stones". She is a passionate chef who thinks that their experiences living in Louisiana, Michigan, New York, Missouri, Kansas, and now Texas culminate in shared meals and tales around the table as her family experiences each regions offerings of cuisine and culture. Texas is her current stop and good food and good times are a passion of this southern state. She writes about her foodie adventures in her blog "Snippets of Thyme".