Festive Cheese Board with Cranberry Pear Mostarda and Citrus Olives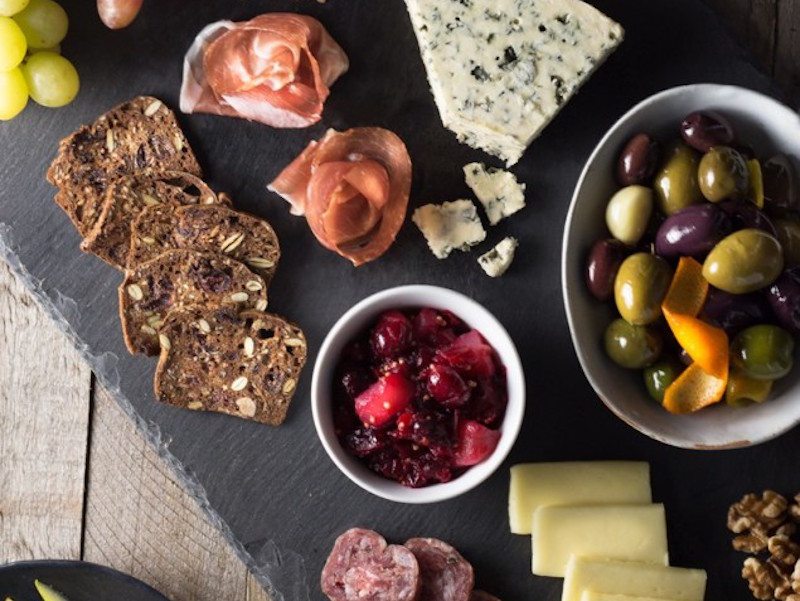 PARTNER POST- Create the perfect holiday cheese board spread with Castello's selection of expertly crafted cheeses. It's sure to bring extra joy to this wonderful time of the year. Find inspiration here.
Create a festive holiday cheese board with a sweet and tart cranberry pear mostarda and brightly flavored citrus-marinated olives.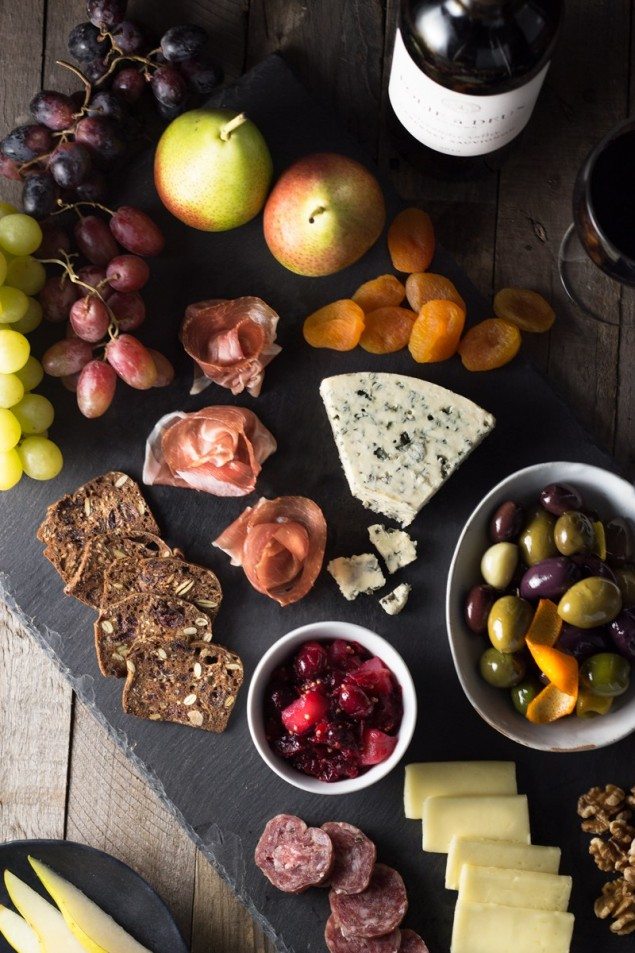 Cheese boards are amazing for holiday entertaining. Whether they're used as an appetizer course before the main meal or as the star of the show for your wine and cheese party, they're perfect for feeding a crowd. It actually doesn't take as much effort as it looks either. That's always a good thing too.
I like to use a combination of cheese, meat, fruit, nuts and crackers for my cheese board. My Cranberry Pear Mostarda and Citrus Marinated Olives are the perfect accompaniments to my winter-themed spread. In this case, wine is the obvious beverage of choice.
Now, the cheese is clearly of utmost importance in a cheese board. I used two delicious varieties from Castello. My first choice was their extra creamy Danish Blue Cheese. It's luscious with a delightful tang and so smooth, you can practically spread it on the crackers. I also chose their creamy Havarti. This is a milder variety, which is soft yet firm enough to hold its shape when sliced. This cheese is so rich and addictive that I'll have to refrain from sharing how much I ate in one sitting. It's that good.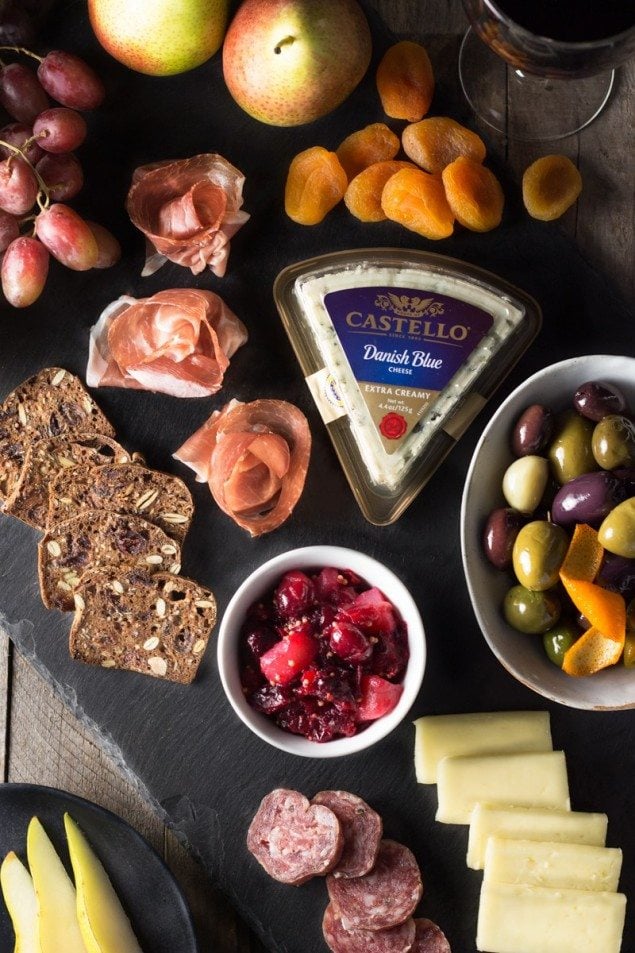 Now you can't have a cheese board without the perfect vehicle to consume the cheese. That's where the crackers come in. I was lucky enough to have the opportunity to try a number of varieties of Lesley Stowe Raincoast Crisp Crackers and Veggie Flats. Two of my favorites are the Cranberry and Hazelnut Crackers (depicted on the cheese board) and the Rosemary Raisin Pecan Crackers (box depicted a few photographs down). The hearty texture and interesting flavor combinations make these crackers unique and extremely satisfying.
The meat is something you can completely leave out, but I can't resist a little prosciutto and soppressata here and there. And meat and cheese were just kind of made for each other. Don't you think? To lighten things up or at least to add something a little more on the healthy side, which also happens to pair perfectly with cheese, I added grapes, pears, dried apricots and walnuts to my board. The combinations are endless, but starting with what's in season is usually a good choice.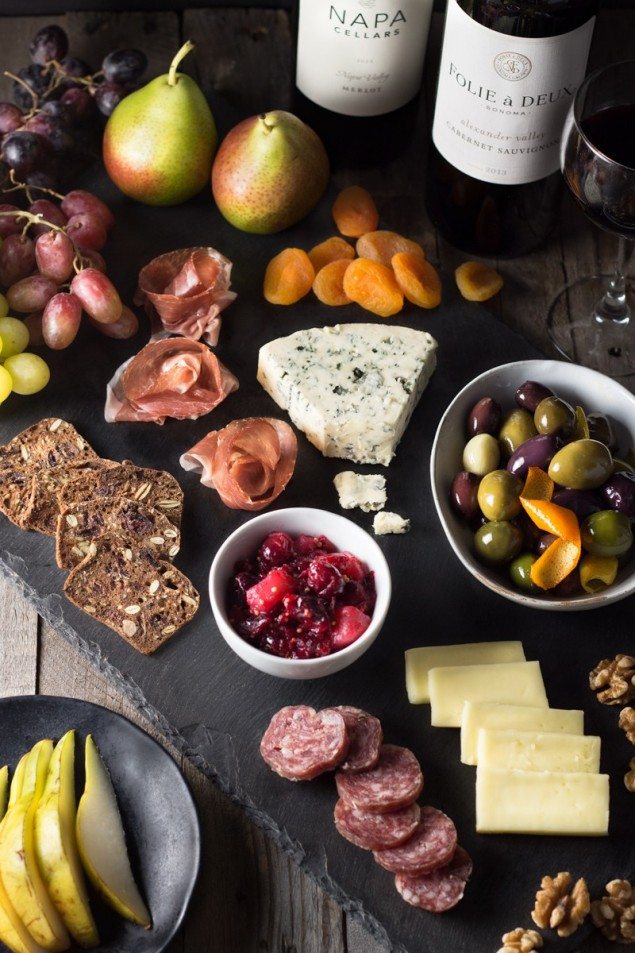 Cranberries are also still in season through the winter, so as an accompaniment I made a Cranberry-Pear Mostarda. A mostarda is an Italian condiment typically made with a combination of fruits, wine or vinegar, sugar and a mustard component, whether it be the seeds, an oil extract or mustard itself. The result is a sweet and tangy spread with a little bit of a kick to it. Mostarda pairs wonderfully with meats and cheeses, which makes it a wonderful compliment to a cheese board. If you happen to make my Cranberry Pear Mostarda and have leftovers, it's also amazing with cooked meat, such as turkey (no brainer there), roast pork or even braised beef.
I can't forget about the olives either. I never knew until recently how easy it is to make your own marinated olives! I went the citrus route with lemon and orange zest, plus a little bay leaf and garlic for extra flavor. They are so good and so simple to prepare. I'm actually thinking the extra olives are going to go into a weeknight pasta dish soon. Using the flavored oil in the pasta would be absolutely perfect.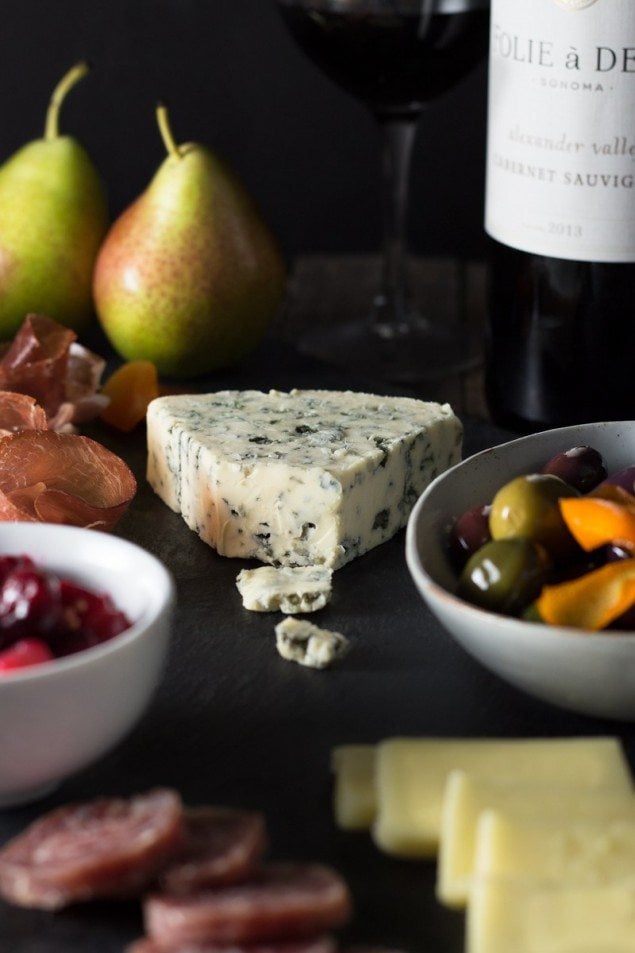 Looking for more cheese board spreads and inspiration? Try this butternut squash and cranberry recipe. It's perfect on a crostini with blue cheese!
Last and certainly not least is the wine. I've tasted an amazing selection from Folie a Deux and Napa Cellars. Folie a Deux's Cabernet Sauvignon might be my favorite, but it's impossible to chose! The Napa Cellars Merlot and Folie a Deux Pinot Noir are also wonderful with this cheese board spread. And then there's Napa Cellars Chardonnay, a fine choice for cooking the mostarda. I'm a huge lover of wine. Could you tell?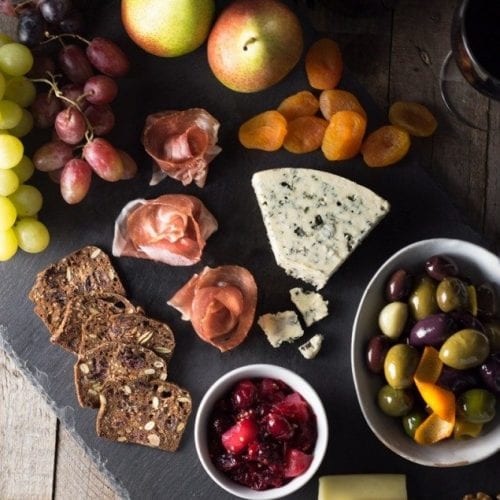 Sabrina Russo
Ingredients
For Cranberry Pear Mostarda
½

C

dry white wine

such as Napa Cellars Chardonnay

½

C

sugar

1-3

inch

strip of orange zest*

1

inch

fresh ginger

peeled and sliced

1

cinnamon stick

3

whole cloves

1

T

yellow mustard seeds

1

tsp

dry mustard

1

pinch

salt

1

pear

firm yet ripe, peeled and cut into ½ inch pieces

12

oz

fresh cranberries
For Citrus Marinated Olives
2

C

mixed

brined olives, strained

½

C

extra virgin olive oil

2

bay leaves

2

cloves

garlic

whole, peeled

Strips of zest from half a lemon*

Strips of zest from half an orange*
Other Cheese Board Ingredients
Castello cheeses

such as Danish Blue and Creamy Havarti

Lesley Stowe Raincoast crackers

such as cranberry hazelnut

Folie a Deux wine

such as Cabernet Sauvignon

Cured meat

such as prosciutto di parma and soppressata

Fresh and dried fruits

such as grapes, pears and apricots

Nuts

such as walnuts
Instructions
For the mostarda, combine wine and sugar in a medium sized pot. Wrap zest, ginger, cinnamon and cloves in a cheesecloth and add to pot. Stir in mustard seeds and dry mustard. Bring mixture to a boil, stirring occasionally. Reduce heat to medium and stir in pear and cranberries. Simmer for about 10-15 minutes or until fruit is softened and juices have thickened. Remove from pot and cool to room temperature. Discard cheesecloth and its contents. Refrigerate until ready to use.

For the olives, warm oil in a small pot with bay leaves, garlic and zests until mixture comes to a light simmer. Transfer to a bowl and stir in olives. Cool to room temperature and refrigerate. Remove from fridge 1-2 hours before serving so olive oil is not solidified.

For the cheeseboard, arrange cheeses, meats, fruits and nuts in clusters around the board. Place mostarda and olives in bowls and add to board. Serve with wine. Enjoy.
Notes
Strips of lemon and orange zest used in above recipes refer to wide (~1 inch thick) strips made by using a vegetable peeler.
Sabrina Russo
My Three Seasons represents the 3 key factors that are most important to me in cooking. #1 Seasonal ingredients #2 Proper Seasoning (don't skimp on that salt!) #3 Cooking like a Seasoned chef (technique is everything). My name's Sabrina. I live in NYC. I'm a registered dietitian with professional cooking and food styling experience. Come cook with me.