Riccardo Costa once again ventures into the world of Italian food in NYC. This time, he visits Felice 83 on the Upper East Side.
By Riccardo Costa – Photos by Felice 83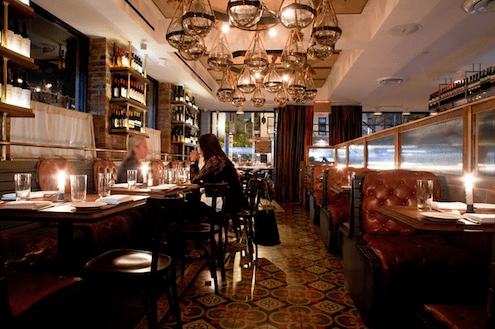 Celebrating the one year anniversary of Felice 83, I took part in a raffle where the prize was a full dinner for 4 people. I never won anything in my life, but that dinner I had at Felice 83 was certainly a winner.
The atmosphere there  takes you back in time. It feels like a classy Tuscan Italian restaurant of days gone by. I went with 3 friends, all foodies with hypercritical palates. After all, if you go to a restaurant that you've never been to before, those are the perfect people to take with you.
We were nicely greeted by the restaurant manager Michael who suggested for us an excellent Sauvignon Blanc by Fattoria Sardi. The wine was fruity, fresh and light at the same time. It would go nicely with a pasta dish or I could also see it with a tasty meat plate as well. For starters we ordered gnocco fritto, a fried bread that is typical of Modena city, along with cured meats, fresh soft cheese and bite size arancini. On top of that we added Tortino di Melanzane (baked eggplant with fresh ricotta cheese) and grilled octopus. I used to make "gnocco fritto" from time to time, although in NY it's hard to find the perfectly milled 00 flour. I have to say Felice did quite a good job in making theirs. A secret to making this fried dish is keeping it light. It sounds like a paradox, I know, but gnocco fritto is supposed to be soft and not greasy. It goes well with soft cheeses (but not hard ones at all) and prosciutto or mortadella. I really enjoyed the baked eggplant. It wasn't bitter or chewy but nicely done and not over cooked which is common for eggplant because it retains oil inside.
As a main course I chose grigliata di pesce, a mix of different grilled seafood and fish. With buttery scallops, wild calamari and a branzino fillet perfectly cooked and not dry or boney that dish turned out to be a quite pleasing. Now when you deal with this kind of fresh fish quality, you only need maybe a squeeze of lemon. Any other sauce would overwhelm the delicate taste of the fish. Sometimes simpler is better. My friends ordered Milanesine di pollo, a lightly breaded and pan fried medallion of organic chicken. That's something I'd never order because I'm always afraid it'll be just fried chicken. Well I was wrong. They serve it just as they do in Italy. Free-range chicken breasts of the best quality with a thin layer of breading are gently fried in olive oil. It's served with a sauce of anchovies, lemon juice and parsley that enhance the flavor of the chicken. I know you'd never imagine that anchovies would help here, but it actually works perfectly and elevates the taste beyond that of simply fried chicken.
Dulcis in Fundo: the marvelous chocolate mousse cake in the shape of a dome is an example of high patisserie that is hard to find in a restaurant. With melted chocolate outside and custard inside, this combination of flavors is enough to make the Greek Gods jealous. Well, after all, this is an Italian Restaurant and we don't believe in such dieties. Maybe, just perhaps one, the chef in the kitchen.  
Felice 83
Website
1593 1ST AVENUE (AT 83RD STREET)
NEW YORK, NY 10028
PHONE: 212-249-4080
INFO@FELICE83.COM