Review – enFuso Smoked Infused Oil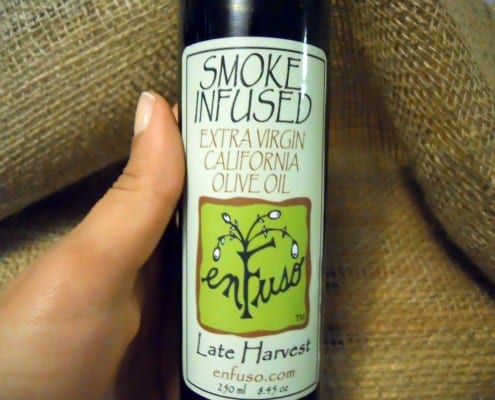 Marnely Rodriguez tries out the new enFuso Smoked Infused Oil and finds it a great addition to the kitchen counter.
By Marnely Rodriguez
Most olive oils are one of either: plain and simple or infused with herbs. As cooks, we're always craving for more; more quality, more flavor varieties. This is where enFuso Smoked Infused Olive Oil comes in. When I received a bottle of it in my mail, I was more than excited to try it out and couldn't wait until I got home, trying a drop of it on my finger. Not only does the smoke infusion comes out, but the undertones of fruity olives as well. I needed to get home and create something… anything with this oil.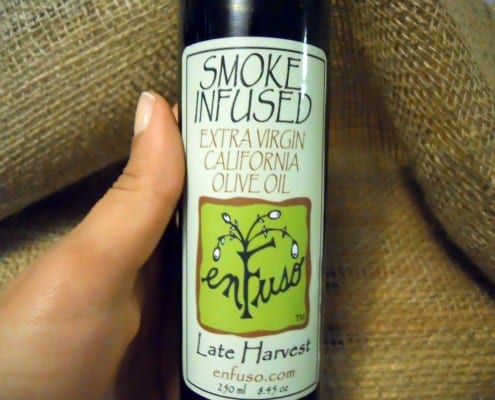 When I did use this oil, I mostly used it as a flavor enhancer to my dinner dishes: drizzling over Lemon-Brown Butter Pasta to give it that unqiue smokiness you wouldn't except; whisking it into Ranch dressing and tossing it over shredded purple cabbage for a bright and crispy salad, with traditional Ranch flavors and the addition of smoke. We even baked with it, adding it to our cornbread recipe which made it seem like if the corn had been smoked, which added a nice "charred" taste to the bread and paired itself well with whatever the soup of the week was at our house.
One of the best things about enFuso Smoked Infused Oil olives are harvested in the Capay Valley, in Northern California, where a group of farmers are slowly, but surely, growing to have quite a reputation for their intensely flavored produce. Not very far, in the neighborhood of Los Alamitos, the Yee Family had developed a slight smoking addiction, and not the cigarette kind. They were perfecting their smoking techniques on different oils, with a variety of wood chips. They've joined forces with farmers of the Capay Valley and are now developing what is now the bottle on my kitchen counter top, enFuso Olive Oil.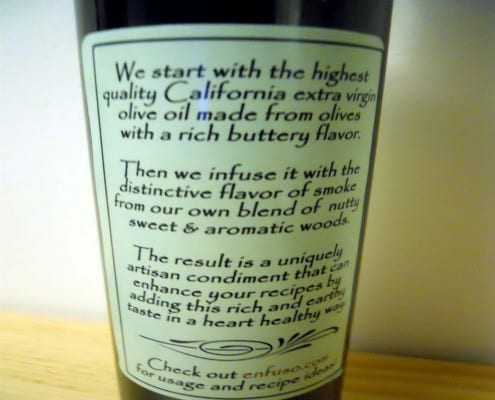 Here are some uses that the company recommends for their oil (but you can definitely let your creative juices flow and even add it to your baked goods!):
Think Italian: drip on cheesey pasta bake, add to your marinara sauce or drizzle on pizza.
Eat More Veggies: use for dipping your steamed artichoke.
Ocean Fresh: brush on your grilled fish, such as salmon or halibut.
Start Snackin': sprinkle over your popcorn, and toss in some grated Parmesan cheese for an amazing snack.
Definitely a great addition to your kitchen counter,
enFuso olive oil
has brought a ton of flavor to my cooking and baking lately, and I'd recommend this as a great house warming gift or for the avid foodie to start their new year's with a touch of smokiness!
Marnely Rodriguez-Murray
Marnely Rodriguez-Murray is the author of the food blog Cooking with Books. A graduate of The Culinary Institute of America, she has worked as an Overnight Bread Baker in Colorado, a Chocolate Maker in Virginia as well as a Pastry Cook on the whimsical island of Martha's Vineyard, just to name a few. She currently resides on Martha's Vineyard with her chef-husband, where they are both on an endless search for Caribbean flavors, new culinary trends and gastronomic inspiration.