The Locanda al Gambero Rosso in the Emilia Romagna region of Italy is one of those places that can't be duplicated elsewhere.
Text And Photo By Judith Klinger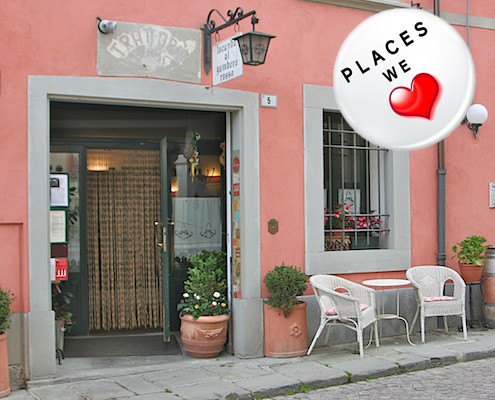 Some food is universal, and some food can only be eaten in the one place in the world where it is grown.  The Locanda al Gambero Rosso in the Emilia Romagna region of Italy is just such a place.
It's a genteel restaurant in a world that is forgetting the charms of genteel. The welcome is always sincere, the setting is casual, the service is five star impeccable, but you go for the food. We went this weekend because it's springtime and that means Moreno will be foraging for wild greens in the steep hills that ring the town; and Giuliana will be in the kitchen working her magic.
This restaurant is so tied to the seasons and to the region, that the idea of Guiliana leaving Italy and 'interpreting' her recipes with foreign ingredients would be like having the plumber come to fix your shoes.
We also go for the long chats with Moreno about history and culinary heritage. He is a treasure trove of knowledge about food that comes from the area. On this visit, he apologized for being known as a "Romagna' restaurant, because until Mussolini's time, his town of San Piero di Bagno was in Tuscany. Mussolini moved the border because he preferred to be known as coming from the rural, peasant stock of Romagna. Moreno feels more aligned with Tuscan heritage and still bristles that the boundary was moved. Frankly, I think the restaurant belongs exclusively to the area around San Piero di Bagno and that Florence and its aristocracy are a long way away.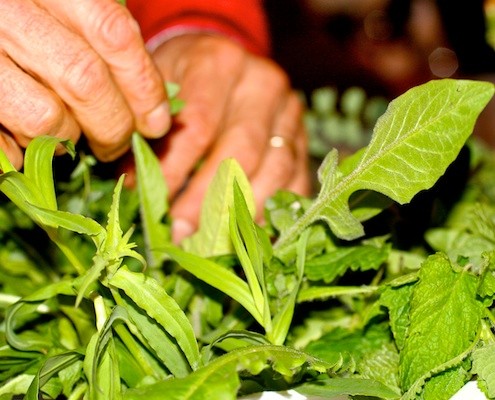 Meanwhile, as we were talking, the food began arriving. A tiny triangle of lightly crisped polenta that when you bit into it, liquid, molten polenta oozed out onto your tongue. A crepe thin cannelloni is filled with a puree of the greens that grow profusely in the woods and that Moreno had picked that morning.  All accompanied by a crisp local white wine that Paolo, Moreno's son-in-law and the restaurant's sommelier,  assured us we absolutely needed to try. As usual, Paolo was right. His speciality is seeking out small vineyard local wines.
My absolute favorite dish is a deep, dark, green soup made from the same foraged greens. It somehow tastes wild and incredibly elegant at the same time. Tucked away on the side of a plate, barely noticed, was a roasted zucchini blossom that had been stuffed with fresh ricotta and the prugnoli mushroom. I felt that I had to share it, but I can't say it was given freely.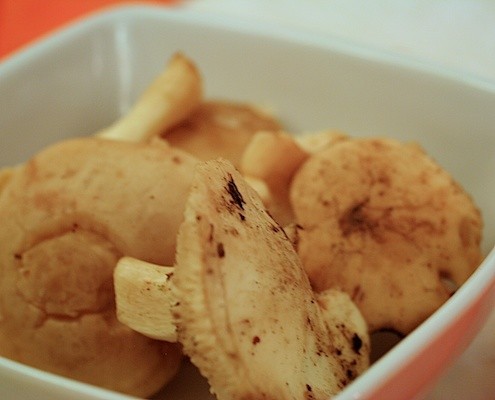 Nona's meatballs that are poached in broth, never fried, arrive at the table and they are served with a smear of heavenly scented pureed potatoes and a little herb flan. Moreno explained, the combination is always served this way, because Nona was thrifty and put all three dishes into the oven at the same time.
Dessert was dedicated to the strawberries that are abundant right now. A flan topped with a strawberry gelle` was nestled next to a strawberry gelato that was strawberry flavor to the tenth degree.
This is the most respectful restaurant that you will encounter. They honor the traditional way that the recipes were prepared, they acknowledge the scarcity and poverty that shaped this cuisine, and then elevate the preparations to make dishes that have a well placed whisk in modern cuisine.
We always go home extremely satisfied. The only problem with Locanda al Gambero Rosso is that you have to come to Italy to enjoy it. There is simply no place quite like it!
Locanda al Gambero Rosso
via G. Verdi, 5 – 47021
Bagno di Romagna
loc. S. Piero (FC) –
tel e fax +39 0543 903405
Judith Klinger
Judith Klinger is a culinary events producer, former Director of Operations for the International Association of Culinary Professionals. Judith and her husband, Jeff Albucher are the creators of Aroma Cucina, an Italian lifestyle blog. She is the author of Cooking Simply The Italian Way.