Many Manhattanites never make it east of Tompkin's Square Park, but Edi & the Wolf embraces its unconventional locale.
By Carly DeFilippo – Photos by Liz Barclay
Whenever someone mentions Austrian food, it conjures up memories of a particularly greasy, over-priced piece of fried meat I once ate in Vienna.  So when I heard (repeated) raves about Edi & the Wolf, the off-the-beaten-path outpost of the new Austrian movement, my curiosity was matched with skepticism, to say the least.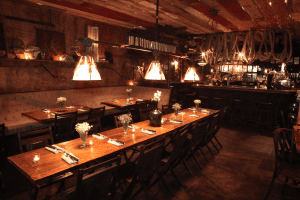 Many Manhattanites never make it east of Tompkin's Square Park, but Edi & the Wolf embraces its unconventional locale.  There's no neon lighting or signage to speak of – only a ramshackle wheelchair-ramp-meets-outhouse entryway – but the curious will be generously rewarded for wandering beyond this mysterious, woodsy facade.
Inside, a candle-lit tavern awaits you, the sudden materialization of a romantic, rural fantasy you never even knew you had. Despite the predominant communal table at the center of the room, the set-up is so intimate, so lush with idyllic tchotchkes, that the couple kissing in the corner booth seems almost planted there for effect. Once you get past the sensual scenery and finally focus on filling your plate, you'll notice that the menu does not rest on the ambiance's laurels. This is "elevated Austrian", though not over-complicated (there will be no kimchi or caviar or other exotic, unnecessary ingredients). The food is clean, refined – every flavor and texture serves a specific purpose.
Our server suggested a bottle of Riesling (Riesling Alsegg 2009, Mayer am Pfarrplatz, Wien), a wonderful example of the crisp, dryer side of the oft-dismissed-as-too-sweet varietal.  With robust stone fruit flavors, a slight tang of pineapple and an overall mineral quality, I found it refreshing but not overly summery – a wine that could certainly stand up to food.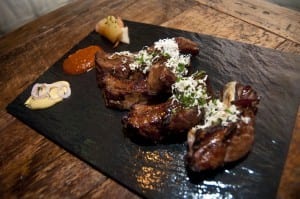 For a starter, we ordered the Baby-Back Ribs.  Served with smooth, spicy pretzel honey and a tomato/horseradish sauce, these pork ribs in no way resembled the sauce-laden, sinewy cuts of childhood summer picnics. Tender like stew meat, but without the imposed juice of a full braise, they fell off the bone with a full-bodied flavor that needed no sauce (though dip we did – that mustard was addictive!).
We then opted to share a main course of spätzle, daurade & wiener schnitzel, swapping plates and shifting tea lights, a manual lazy-susan of Austrian fare. The spätzle was topped with crisp arugula and fried onion shavings (so thin that I mistook them for cheese crisps). The dish included brussel sprouts, asparagus and wild mushrooms, which added a pleasant earthy flavor to this perfectly creamy (but not overly rich) pasta dish.
The daurade was a master class in fish cookery – pan-fried, moist, flaky fish in an almost crust-like encasing. Served over a mellow celery root puree and bitter broccoli rabe, the dish was dotted with – what I considered the star of the plate – a quintessential cluster of caramelized carrots (not too sweet and still al dente).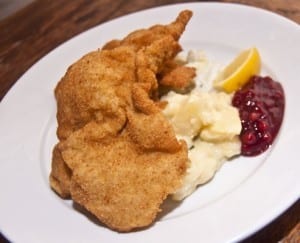 As for the wiener schnitzel, I know when to say I was wrong. Far from the dregs of the oil-sweating veal and breadcrumbs I encountered on that first fateful trip to Vienna, this veal was crisp and relatively light – so bereft of grease in fact, that (if it weren't for the fat-infused flavor) one might guess it was baked. Furthermore, Edi's schnitzel was the most balanced plate I can recall eating for some time. Cool cucumber and dill, tangy lingonberry jam married sweet, creamy and savory with the crunch of fried meat – accompanied by a smooth, slightly acidic potato salad, an unexpected, refreshing touch.
Chefs Eduard Frauneder and Wolfgang Ban have imbued even the heartiest Viennese recipes with a weightless elegance that will surprise both the schnitzel-savant and the new-Austrian-newbie.  The quality of the food is so good, in fact, that the exceptional romance and whimsy of Edi & the Wolf's interior almost seems unnecessary, and thus, all the more delightful.
Edi & the Wolf
102 Avenue C, New York, NY
(212) 598-1040