Eating the Melbourne Pizza Festival 2013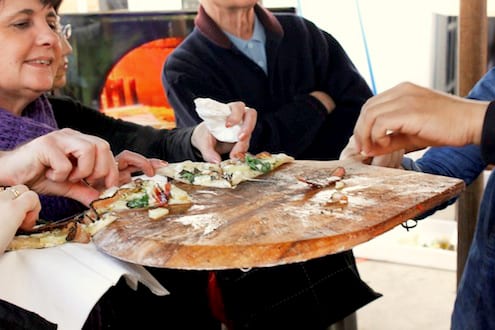 Melbourne has a surprisingly large Italian population, so a pizza festival here is bound to be serious.
By Elspeth Velten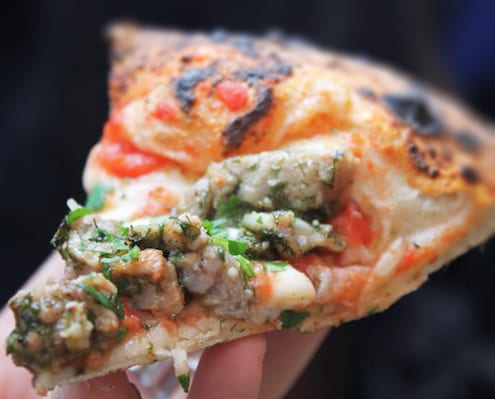 When I read about the closing party of the Melbourne Pizza Festival, I knew I had to go. I haven't really been in Melbourne long enough yet to be familiar with all of the master pizza makers slinging pies at the event, thus, it was the perfect way to get a taste of each. Melbourne has a surprisingly large Italian population, so a pizza festival here is bound to be serious.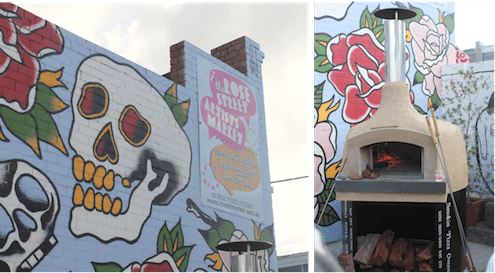 I was excited to secure a press pass to the sold out event and tried to limit my intake in the days leading up to the party to make sure I was good and hungry when the day arrived. NOT, but I should have. I dragged my partner Charlie along to the Rose St. Artists Market on Sunday afternoon to hold pizza slices while I took pics of them (he didn't end up doing that.)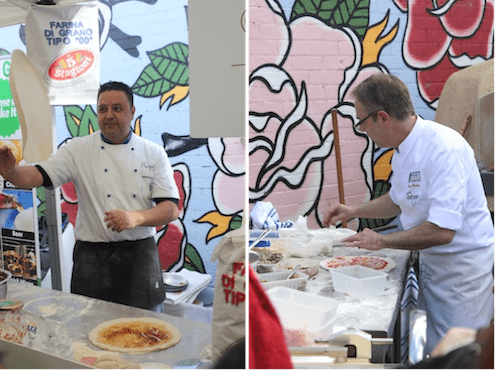 When we arrived around 12:30, we were met with crowds. Pizzas were being made by Cantina Centrale and Scoozi in wood burning ovens on two opposite ends of the tent, and it was almost impossible to squeeze into the crowd and vie against others for a coveted slice. It was quickly becoming a test of human nature and I was worried that I'd be writing on my blog about failed food events. HOWEVER, in just a little bit, things seemed to smooth out — a third oven opened up, the crowd thinned out a bit, and the servers bearing fresh pies were instructed to move out to the center of the tent to allow eaters outside of the crowds to get slices. Things calmed down, and I actually got to try some really awesome pizza.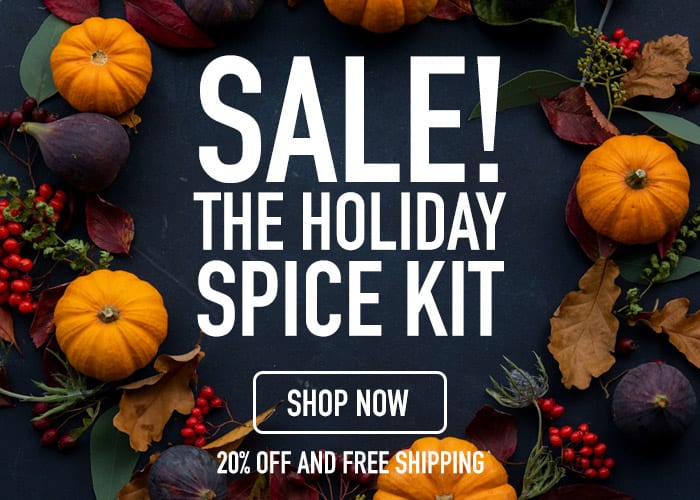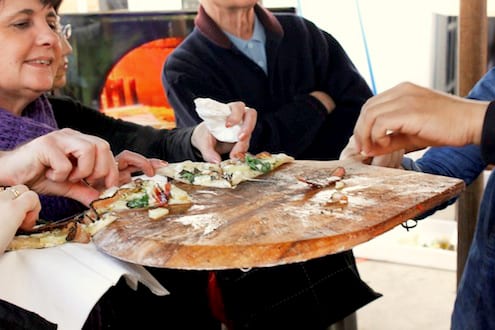 Empty pizza peels were a common scene. As soon as a fresh pie was sliced up, eaters swooped in like vultures. Quick fingers and pizza grabbing reflexes became your key to surviving in a world of Darwin's rules. You really had to be on your game here. WHICH I WAS.
Our first slice of the day (above) also happened to be the only slice we tried from Scoozi. Their Napoletana crust had a thin bottom but was bordered by a fluffy outer crust. Topped with crumbly sausage and fresh herbs: we were instantly in pursuit of our next slice. We'd had a taste of the blood, and were ready for more. Like sharks, you know? They always attack twice. Australia has sharks.
Unfortunately, the crowd at Scoozi proved too overwhelming for us so we moved over to Cantina Centrale of Mont Albert, where we experienced great success in our pizza acquiring efforts. Alessandro D'Auria manned the oven and served up some great pizza Italiana.

Cantina produces a thicker crust, and at the event, pies were often topped with fresh tomatoes, delicious sliced meat, fresh basil or chicory. I didn't get a bite of Charlie's chicory slice, but he heralded it as one of his favorites of our time at the event.
Next up at the same oven was Ladro. These guys worked together to produce my favorite slices of the day.
Ladro used truffle oil, potatoes, speck, chili peppers, rosemary and lots of fresh basil. I mean, look at that crispy, salty speck, above. Seriously good ingredients here. Their tomato based slice, below, came out piping hot AND with fresh red chiles, and I thought I may have burnt the top of my mouth for good. I bounced back, however, and my ultimate favorite slice became one of the more simple ones of the day: mozzarella and taleggio cheeses (I think,) basil and truffle oil.
Ladro specializes in pizza Romana which has a thin and crispy crust. That made it easier to really focus on the flavors from the toppings.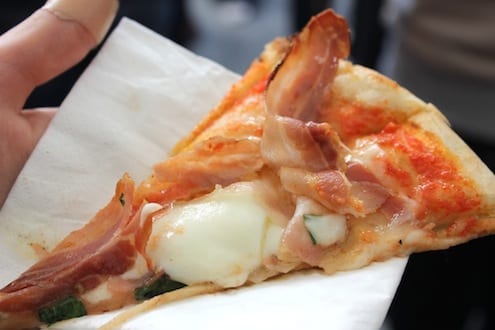 My last slice came from Supermaxi, hailing from North Fitzroy, who used lots of meat on their Romana thin crust pies. His crust wasn't as thin and crispy as Ladro's, but how could you complain about this meaty, cheesy goodness? I think they used thinly sliced pancetta.
I definitely think the event could have been handled differently — they could have done better in a larger space with one or two more ovens — but I'm sure financing a day like this is a challenge. Other things were a bit weird too though, like, holding an all-you-can-eat food event but providing no drinks in the price. It would have been nice to at least provide water free of charge to the eaters. Maybe I missed it somehow? Beer, wine and other drinks were on sale at the restaurant on the corner.
We left around 2:30 and unfortunately didn't get to try anywhere near all of the talented pizza chefs cooking at the event. But, I did get to eat a lot more by volume than I expected at the start, and certainly got to try some of Melbourne's best pizzas. I'd definitely like to see more from Ladro and Cantina Centrale, and maybe in a few months time I'll be familiar with more of Melbourne's best pizza makers. One can only hope!
Elspeth Velten
Elspeth is a contributing writer at Honest Cooking. She is based in New York, but her love for food and travel continues to lead to adventures all around the globe. Elspeth regularly shares her experiences on her food blog, To Stay or to Go? Her happy place is among green curries and fruit smoothies in Thailand.