In the second of a two-part series Reena Pastakia shares some of the best places to eat in Canary Wharf.
By Reena Pastakia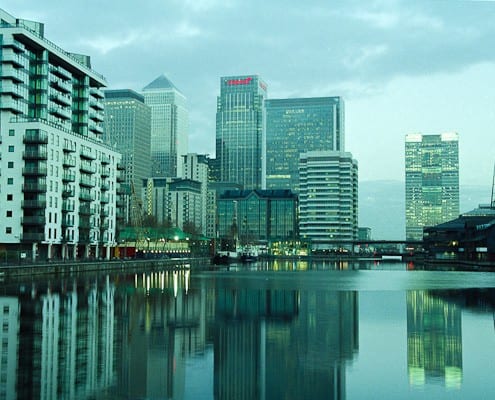 If you are visiting London on business there is a high probability that you will be visiting one of the two financial districts: the City of London or Canary Wharf.  In the second installment of a two-part series Reena Pastakia shares some of the best eating options in Canary Wharf.
Canary Wharf is one of London's two main financial centres but it was only in 1991 that the first of the offices were built and so, unlike the City, it has a modern (read sterile) atmosphere.  The combination of the demographic and the high rents result in the majority of eateries being designed with the worker in mind and aiming for speed of service over quality of food.  Having said that, there are some gems to be found.
For superb Japanese inspired cocktails and excellent contemporary Japanese cuisine, try Roka.  The quality of the food is high and this is reflected in the prices but order items from the robata grill and you won't begrudge the money.  If the weather is good, ask for space on the terrace and enjoy the Roka experience al fresco with great views over the Wharf.
Next door is Wahaca, the Mexican street food restaurant founded by former MasterChef winner Thomasina Miers.  The marinated grilled chicken and pork pibil are both highlights but the seasonally changing street food selection is great for sharing with colleagues.  If you don't have time to eat in, Wahaca's Mobile Mexican Street Kitchen in Canada Square Park serves a range of burritos, tacos and salads that will delight your taste buds as you munch at your desk.
During the summer, in nearby Wood Wharf, there is a monthly Lunch Market with stalls from around the world including Peru and Argentina serving options as diverse as spicy chorizo, Sicilian arancini and steaks.  The food is of a good standard resulting in long queues, so arrive by 11.30 am if you actually want to eat your lunch before your lunch hour is over.
Alternatively, If you are in the mood for meze take the short walk to South Quay and visit the Hazev Café and Deli.  They have ample indoor and outdoor seating and serve hot and cold meze, omelettes, strong Turkish coffee and a variety of baklava.  The sutlac (Turkish rice pudding) is flavoured with orange blossom water and is recommended.
If you are in the mood for a great chargrilled steak reserve a table at Goodman. It is a pricey option but there are occasional bargainous lunch deals (2 courses (including steak and chips) for £18).  A cheaper option is the Steak Bar in the Waitrose supermarket.  Set at the back of the shop, it is almost possible to forget that you are eating in a supermarket.  The steak and service are good and if you are in the mood for a bottle of wine they are happy for you to buy one in store to drink while you eat charging a reasonable corkage fee of £7.50.
Also in Waitrose is the Espresso Bar which serves excellent pastries and a good flat white – especially if the talented Magda is preparing your coffee. It's an espresso bar in the Italian style with no seats but space to lean against the counter while you sip your shot of single origin espresso.  For possibly the best coffee in the Wharf however, head to Taylor Street Baristas.  It's a snug space with only a few seats but the staff are passionate and the coffee is smooth.
There are numerous options to satisfy your sweet tooth including creamy gelato at Zaza, fat-free frozen yogurt at Yoo Moo and fantastic cakes at Paul.  Paul's macarons are nothing to phone home about but Le Fraisier is an exquisite melt-in-the-mouth sponge cake with fresh strawberries and vanilla mouse all covered with a decadent pistachio marzipan.
After work, I suggest you venture away from the busy, soulless pubs in the centre of Canary Wharf; Ten minute's walk to the east is The Gun, an eighteenth century pub with great views of the river from the rear balcony.   Older still, and a short walk in the opposite direction, is The Grapes, built in 1583 and reputedly a favourite of Charles Dickens.  Simple British food, a range of ales and a friendly dog make this riverside pub one of the best places for a pint of beer near the Wharf.  That said, if you are staying overnight I strongly suggest you leave the Wharf (the Jubilee Line can get you straight to the heart of the West End within twenty minutes) and use your expense allowance to try one or more of London's other foodie highlights.
Read the first part of this series here.
Reena Pastakia
Reena grew up thinking Indian cooking was a dark art where the quantities of spices required in each dish were innately known to a chosen few. It was only after she married an Englishman with a voracious appetite for Indian food that she started phoning home for cooking tips. She started her blog (coconutraita.com) in an attempt to document her family's recipes and make Indian cooking accessible to all.