East Village, New York – Global Gastropub Brunch at The Toucan and the Lion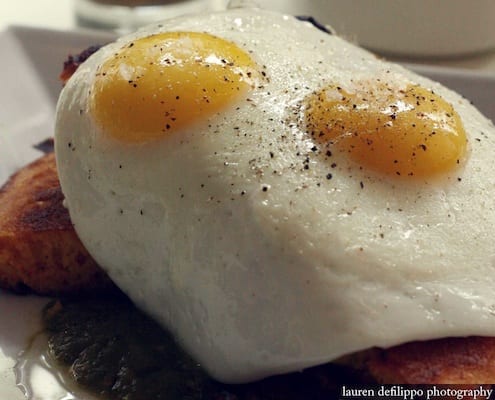 No long lines, no excessive day-drinking – just good food in a cozy, tranquil environment.
By Carly DeFilippo – Photos by Lauren DeFilippo
For as long as I can remember, breakfast has been my least favorite meal. I used to eat my mother's leftovers – everything from carrot cake to reheated chili – for breakfast on the weekends. It was a culinary victory over the practical constraints of weekday morning sustenance. So, in theory, I always have appreciated the transitional meal of brunch, which made it socially acceptable for me to eat savory while my friends and family opted for sweet. Unfortunately, many restaurants seem to miss the brunch boat, simply serving both breakfast and lunch options, rather than embracing the creativity of this fusional meal. Among the few restaurants that I feel "do it right", an increasing number are asian-influenced, like the East Village's The Toucan and the Lion.
The first unusual aspect of the Toucan is its comfortable, design-y ambiance. It feels more like eating in your very chic friend's kitchen than a hip new restaurant.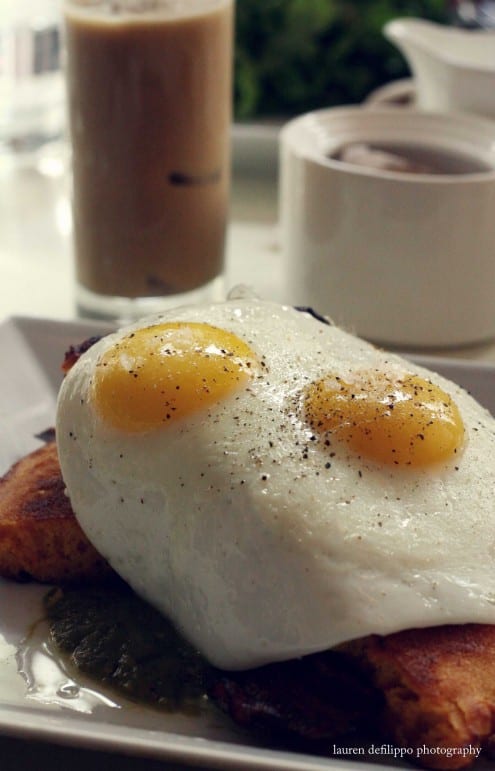 Feet swinging over the cozy carpet (when was the last time a restaurant had carpet?), we perused the menu of reinvented classics. The Lion Stack, a duo of corn pancakes served with sunny side up eggs, bacon and salsa verde had instant savory draw. The golden-brown cakes were perfect – both crumbly and moist – with a mild sweetness that balanced out the dish's bolder flavors.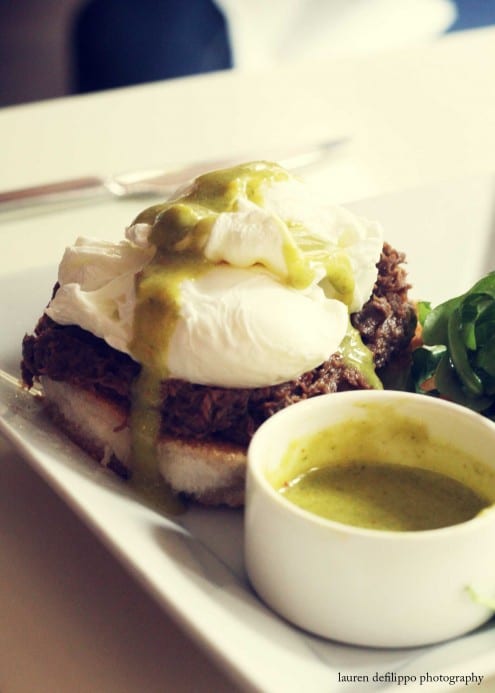 The short rib benedict was a heavier spin on this already-rich breakfast classic. It lacked the spices and acid of my favorite asian meat dishes, but was still a filling, comforting choice. On the other hand, the seemingly unexciting Huevo Burrito turned out to be outstanding. Spicy and veggie-centric, it did not succumb to the dry or sloppy, wet extremes of other breakfast burritos. Rather, it neatly satisfied from the first bite to the last.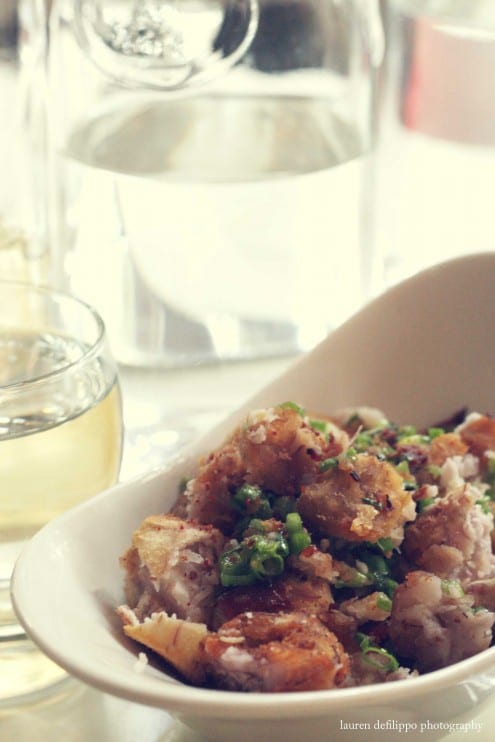 The one must-order dish on the menu, however, was the taro hash. Lighter and less greasy than your typical morning potatoes, this cilantro-topped, spiced dish inspired audible raves from multiple tables in the restaurant. (We literally negotiated who would nab the last bite.)
Even if the Toucan isn't the absolute "best" brunch I've tried in New York, it certainly is one I'll return to again. If only because – innovative cuisine aside – it was an unusually hype-free weekend meal. No long lines, no excessive day-drinking – just good food in a cozy, tranquil environment.
The Toucan and the Lion
342 E 6th Street, New York
212.375.8989
Carly DeFilippo
Carly is a Contributing Writer at Honest Cooking. Though the first line of her college application essay was "I love tunafish," it wasn't until she pursued graduate studies in Paris that she ever considered a future in food. Based in Manhattan, Carly is a freelance writer and the co-founder of Cognoscenti Creative, a boutique branding agency dedicated to establishing artisans as influencers.