We actually like to be quite labor-less on Labor Day. If you do too, celebrate the three-day weekend and the unofficial end of summer with these easy ribs.
This recipe for Easy Fall-off-the-Bone Ribs is deeeeelicioius! A simple spice mix combining both sweet and spicy components are blended together; the ribs are massaged with the spices and baked for a bit. After, they are brushed with your favourite barbecue sauce and grilled. Then, all that's left to do is dig in!
I've made this recipe a bazillion times before now and I was always thinking that I have to share it with you guys. By the time they were done, I'd just want to dig in – so sorry 'bout that (hope you'll forgive me ? ).
Wait no longer, I tells ya! The spice blend is simply a bunch of spices you probably have on hand in your pantry (oregano, paprika, brown sugar, cayenne and good stuff like that)- nothing complicated. I do use a fair bit of cayenne pepper (cause you know this chicka likes it spicy, but you can use less if you like (or not at all)).
Oh, don't forget those napkins cause you're gonna need 'em. But, I say when you are eating something like ribs, the messier the better….that just means it tastes extra yummy.
I usually serve these ribs with veggie kabobs and corn (cause the veggies totally cancel out the calories in the ribs – yeah right), but potato salad or pasta salad would be pretty sweet too.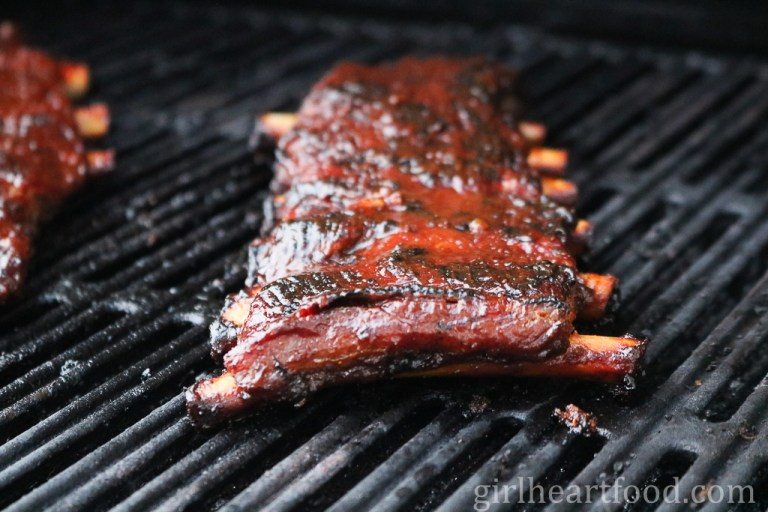 Dawn
I love food A LOT so I blog about it! There's always something delicious cooking in the kitchen and I'm always wondering what to make next. On girlheartfood.com, you will find a range of recipes from healthy to indulgent. There's something for everyone!