The famous Brazilian wine maker turns 80 and celebrates with a limited edition blend.
By Suzie Castello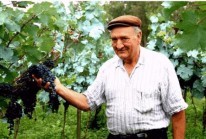 To commemorate their founder's 8oth birthday, Dom Candido winery is releasing a limited edition vintage.  The specially labeled and numbered bottles are a blend of tannat, marselan and merlot.
The Dom Candido winery, best known for their merlot and sparkling wines, produces estate vintages many of which have won international prizes.  The founder, Candido Valduga, is well know for the individual attention he gives visitors to his winery in Bento Gonçalves, the heart of the Brazilian wine country.
Dom Candido wines are available through Wines of Brazil or through the winery..  The commemorative bottles are available for a limited time only through the winery.
Suzie Castello
Suzie Castello is an American writer living and raising a family in a small town in the mountains just outside Rio de Janeiro. She writes about finding ways to cook, with the regional ingredients, dishes that tell her life story, from childhood in the States to travels abroad, and anything new discovered along the way. She is also the Editor of Da Minha Cozinha, a Portuguese-language blog about honest home-cooking.