Christina Soong-Kroeger and her mother dined as guests of Collingrove Homestead in Barossa Valley.
By Christina Soong-Kroeger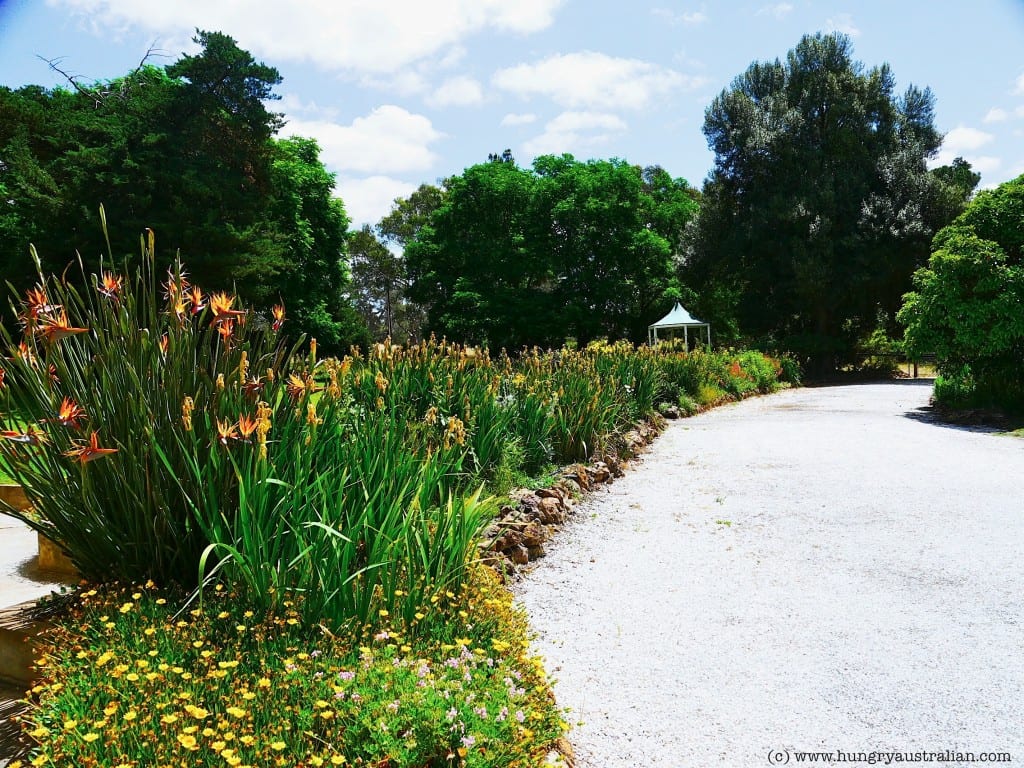 I'm secretly day-dreaming about moving my family to the Barossa Valley, Australia's most famous wine region.
If we were living in the Barossa Valley we would enjoy single lane traffic, tree-lined streets, fresh air, and peace and quiet. There'd be room to move. Room to breathe. We could have chooks. A huge vegetable patch. We could live off the fat of our land.
And we'd have award winning wineries, restaurants and B&Bs as our neighbours. We could do the food and wine trail on foot, okay, maybe bikes.

I think we'd be happy there.
One couple I could ask for advice on the move would be Andrew and Marcia Frost, who run Collingrove Homestead in Angaston, along with Marcia's brother, Zac Riemersma, who is Chef there.
A National Trust of South Australia property, Collingrove Homestead was built in 1856 as the home of the Angas family, a prominent pastoral family with interests in sheep and cattle. By the 1880s the Angas family was fabulously wealthy, owning nearly 15 million acres, or about a third of South Australia. Generation after generation lived at Collingrove Homestead for around 120 years until it was bequeathed to the National Trust in 1976 by Ronald Angas.
Today Collingrove Homestead is a restaurant, B&B, function centre (specialising in weddings) and museum, housing many of the original and fascinating items of the era, thanks to the long-sighted support of Don Dunstan, South Australia's much loved Premier in the 60s and 70s.
I have decided to invite my mum to come along with me today. She helps us so much and it's high time we showed her how much we appreciate her. It'll be a great chance for some mother-daughter bonding.
During the 90 minute drive to Collingrove we pass the time talking. She tells me that:
My dad doesn't like visting my house because it's untidiness stresses him out;
My brother is much more sensible. Apparently I "wear people out";
My headstrong five year old needs to be set limits otherwise she will become a teenage delinquent;
My toddler is still too skinny and she wakes up at night worried about how underweight he is; and
My husband is feeling neglected and I need to prioritise him and my family. "You're the CEO of the house, Christina," she tells me.
What fun we are having!
Luckily we arrive at Collingrove Homestead before any serious damage is done to the car or my psyche.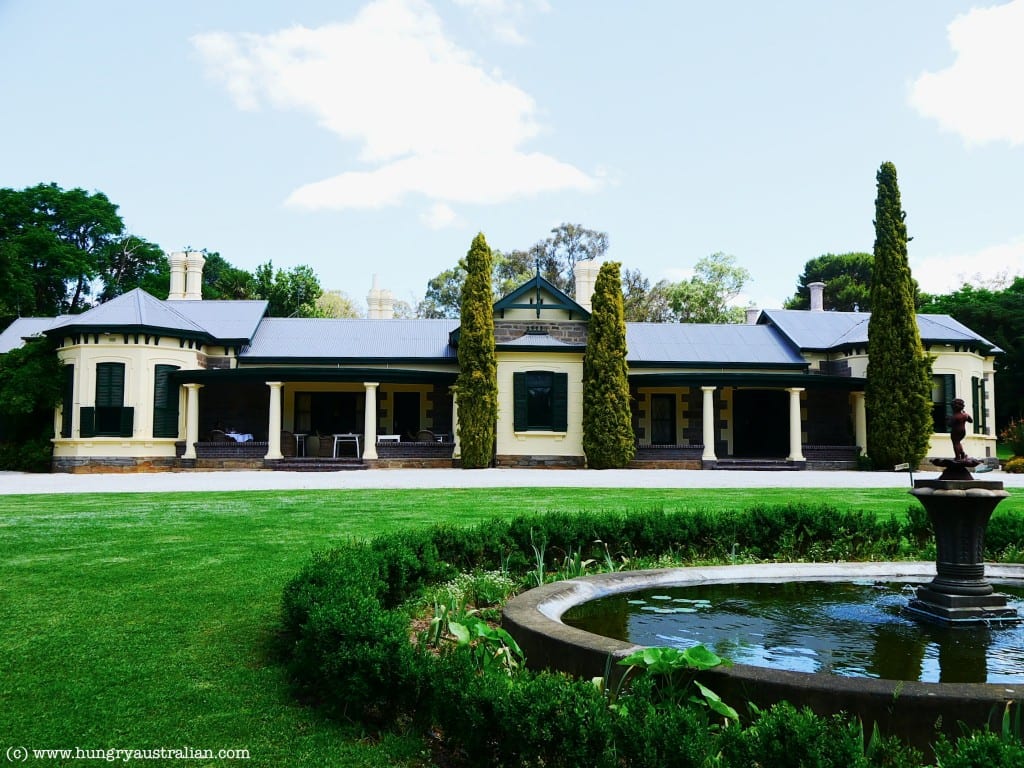 Instantly, I relax. There are mature trees everywhere, towering majestically above us. The emerald lawn is neatly cut. It's peaceful. The wind blows through the trees, creating a hypnotic, wave-like movement in the leaves.
We round the buildings onto the crushed white marble stone front drive. Following $250,000 worth of restoration work, Collingrove Homestead stands before us, immaculate and serene.
We enter the gloomy hallway and make ourselves known to Zac and Marcia. As I've been too busy to eat breakfast we decide to start lunch straight away, and then explore the homestead afterwards.
It's a beautiful day so Marcia suggests that we have lunch on the verandah. This is the view from our table.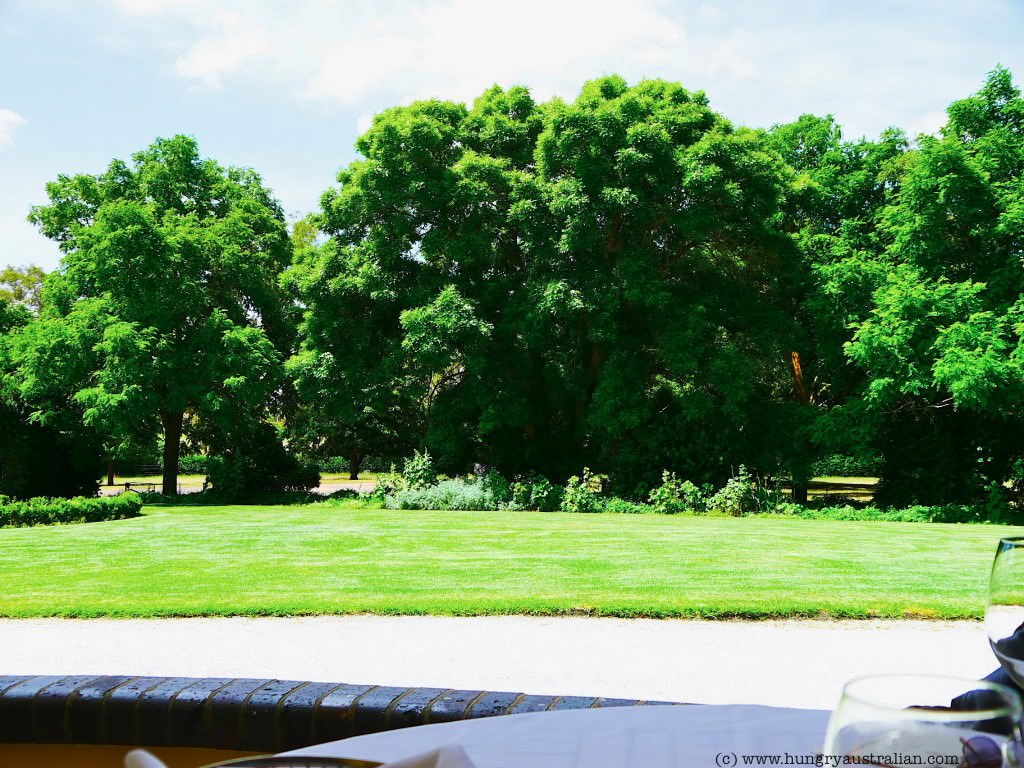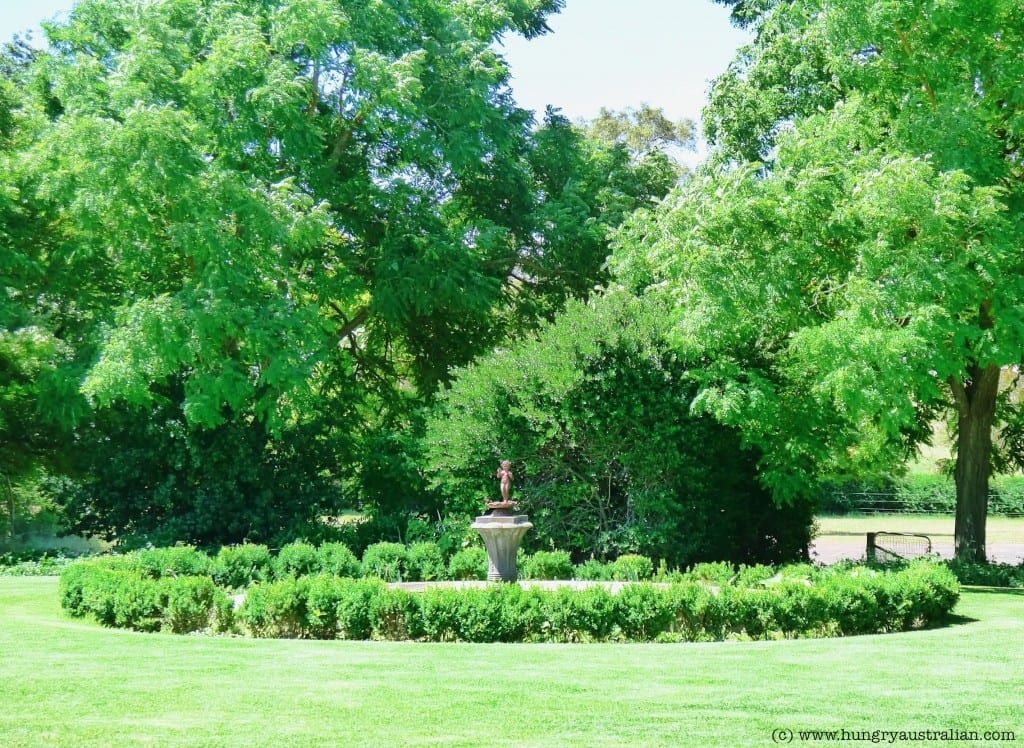 As we sit at our table on the verandah, I feel like I've stepped back in time. I should be wearing a white linen dress and a daring hat. Sophisticated party goers should be sprinkled amongst the grounds, throwing their heads back with laughter and holding sparkling cocktails in crystal glasses. This would be an amazing venue for a wedding.
We peruse the menus. It's short but sweet. Marcia tells us that they can accommodate any special dietary needs if people let them know of their requirements when booking.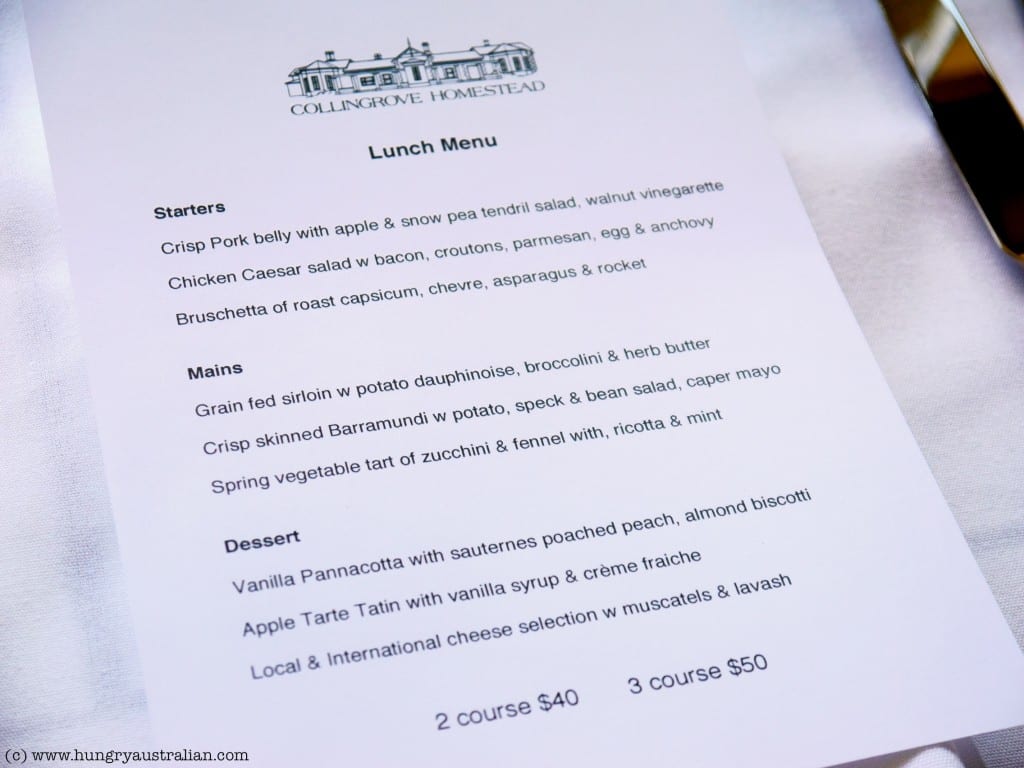 We order, and then settle back to enjoy ourselves. My mother is happily relaying news and gossip about mutual acquaintances.
Marcia and Andrew originally ran Collingrove for two years back in the late 90s. Marcia was a property manager and Andrew was in IT when they saw an advertisement for the lease on Collingrove in the newspaper. Deciding they were up for a vine change, they bought the property and managed it for two years. They then decided they wanted to have kids so they sold up and took jobs back in Adelaide, South Australia's capital.
Around the middle of last year they saw that the lease on Collingrove had come up again. Now their kids were a little older they decided they could manage Collingrove as a part-time business, focusing on lunches and dinners, B&B and wedding functions.
"One of the hooks was that they had just repainted and given it a whole lift," says Andrew. So the family moved up to the Barossa earlier this year and launched the new-look Collingrove in April.
Our drinks and bread arrive. I've ordered the Yalumba Rogers & Rufus Rosé 2010. It's crisp and fresh, and the colour is just so lovely.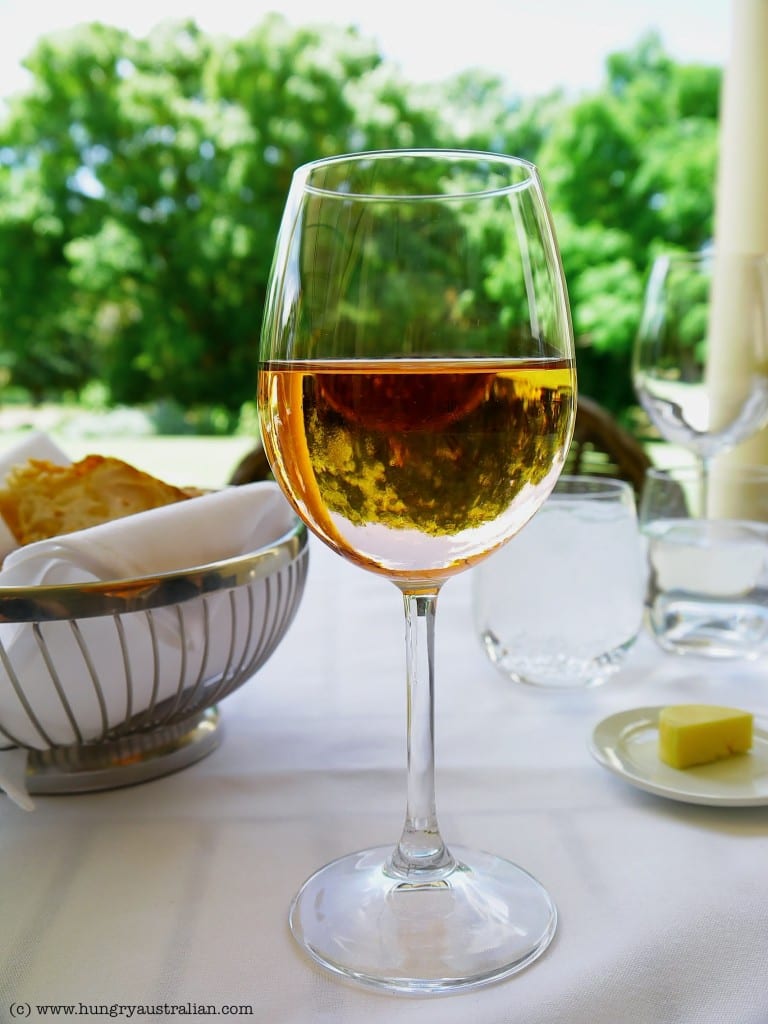 Zac sourced the bread from Elini at the Barossa's Farmers Market and it's sensational – the best bread I've eaten in a long time. It has a beautifully crisp crust and is incredibly flavoursome. If you're a bread lover I advise you to go to the next Barossa's Farmer's Market and buy as much of this bread as you can transport. If you have a friend with a trailer then that would be the best option.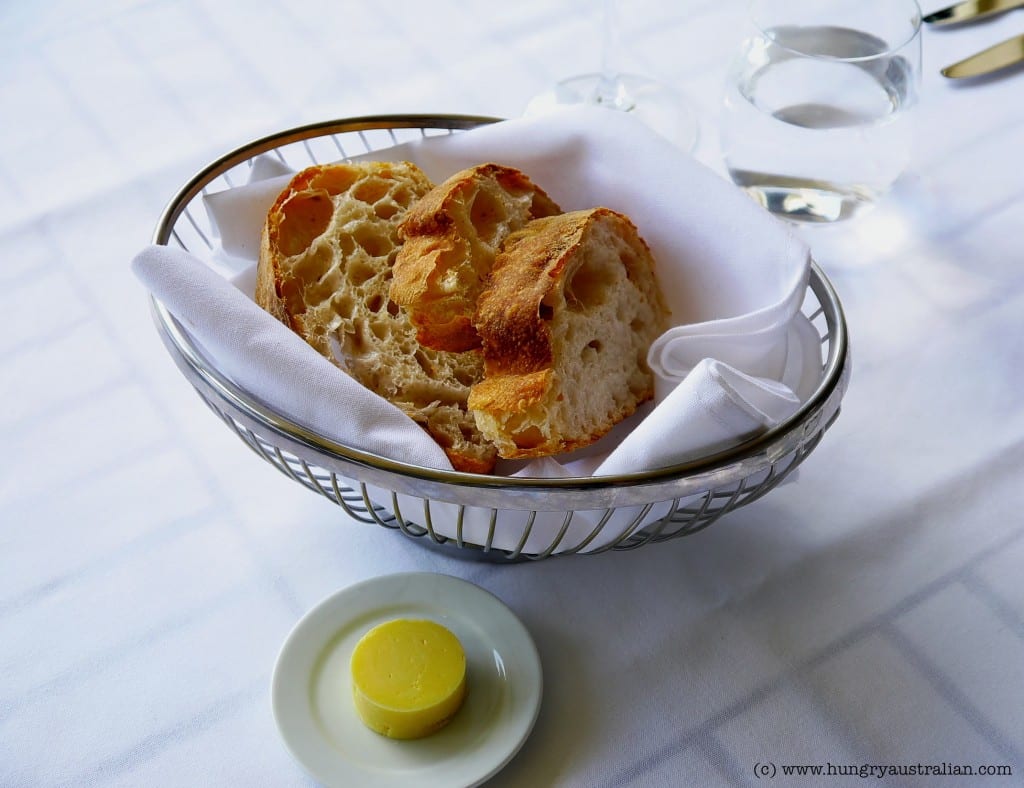 Our first course is served by Emma, helping out for the day. I've ordered the pork belly while my mother has chosen the chicken salad. We eat half of each dish, and then swop plates so we can try each other's food.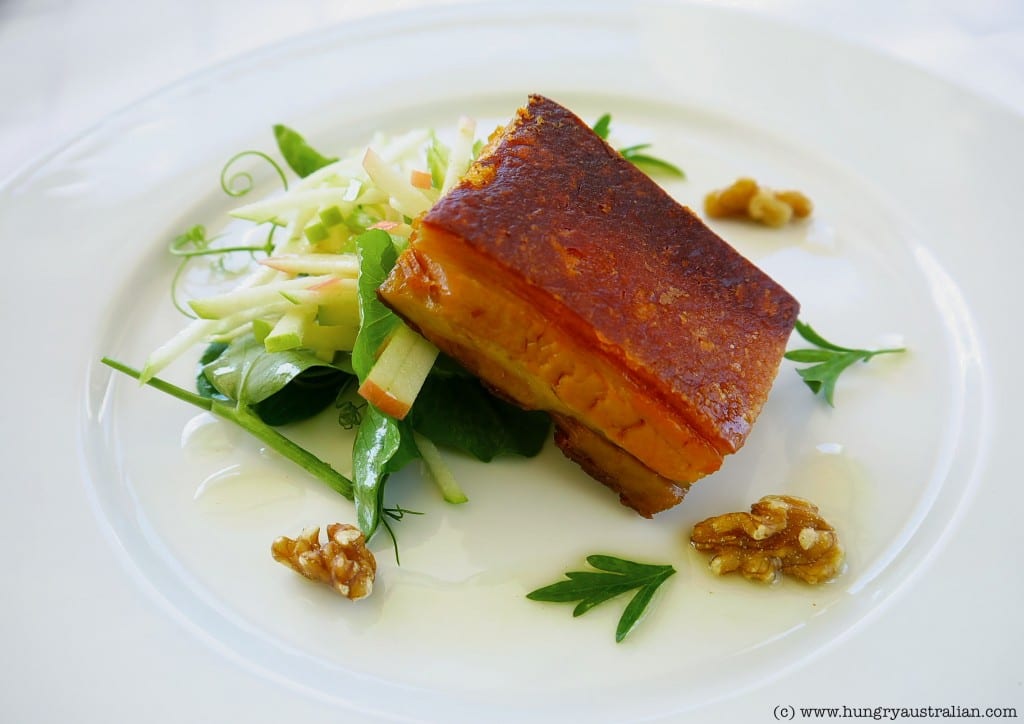 The pork belly (from a local producer) is beautifully moist, falling apart with a mere nudge of my knife. The lightly dressed snow pea shoot, apple and walnut salad provides a welcome contrast to the richness of the meat. I'm chewing silently, dreamily.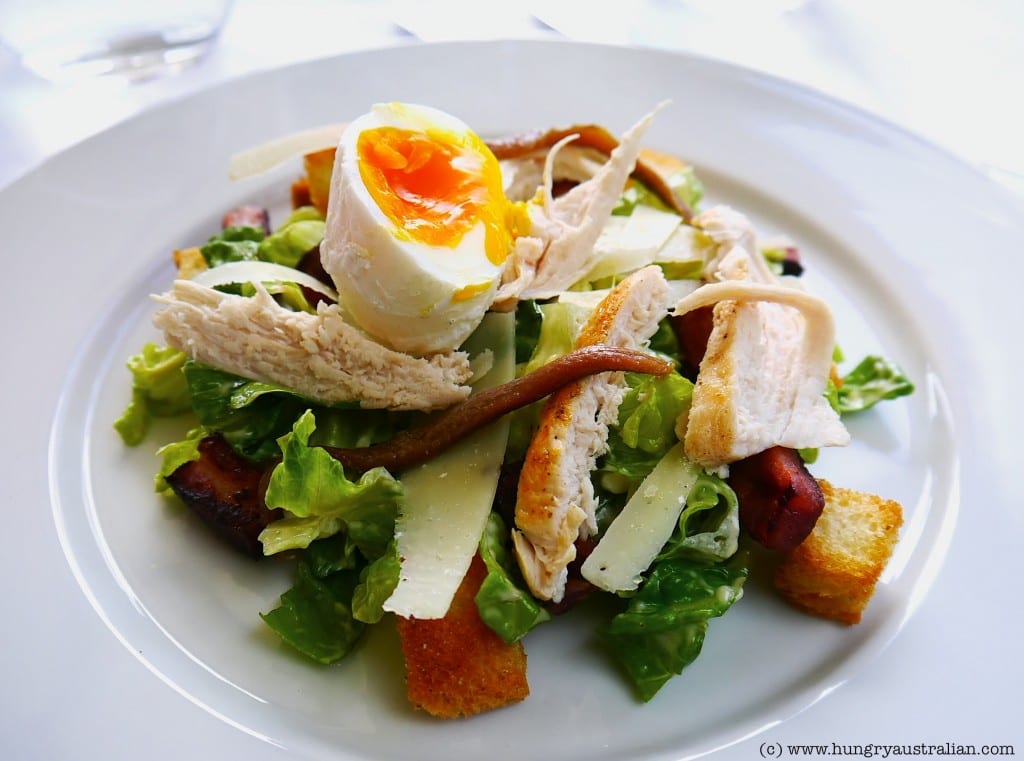 The chicken Caesar salad has been executed with confidence and flair. Fat chunks of hand-cut bacon have been pan-fried to provide flavour and texture, while half a golden-hued chicken's egg (from the Collingrove hens) nestles lazily on top. I've had an irrational dislike to Caesar salad in the past due to a bad experience with an ex (not half as exciting as it sounds), but Zac's version has won me over.
Next up are our main dishes. We've chosen the steak, cooked medium, and the barramundi.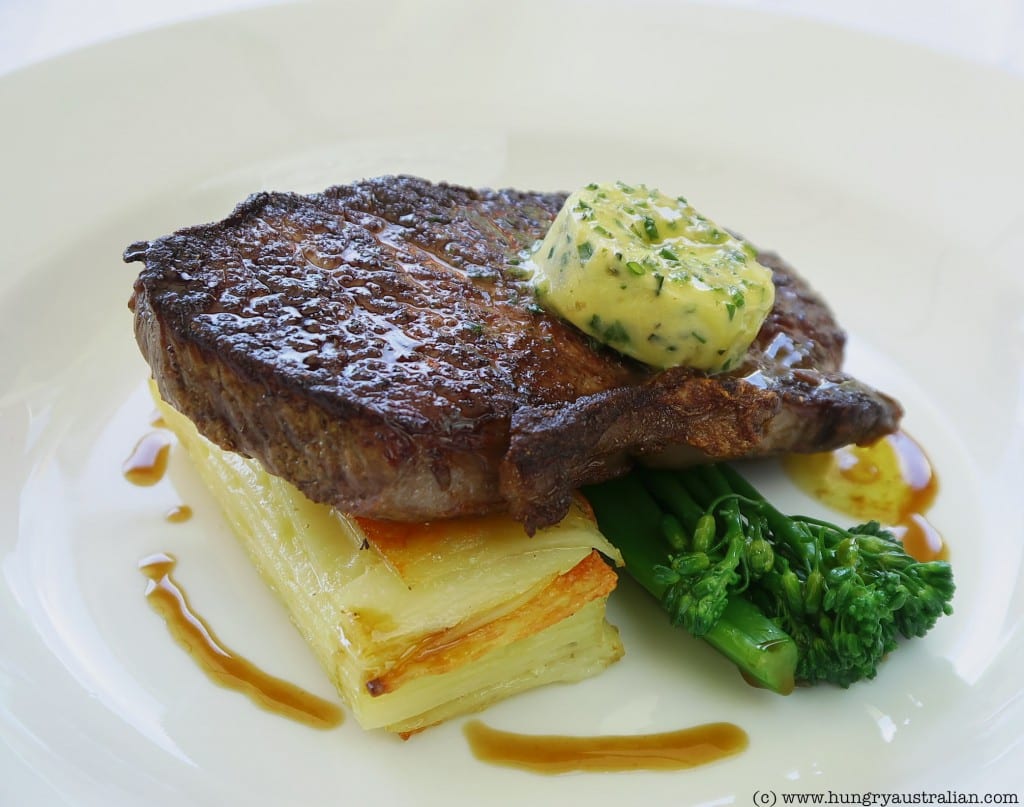 The steak is full of flavour and expertly cooked, charred on the outside and nicely pink inside. The herbed butter is sensational and I instantly resolve to freeze my own batch at home so I'm ready to rumble whenever a steak craving beckons. The elegant potatoes Dauphonaise and brocollini round at the meal nicely.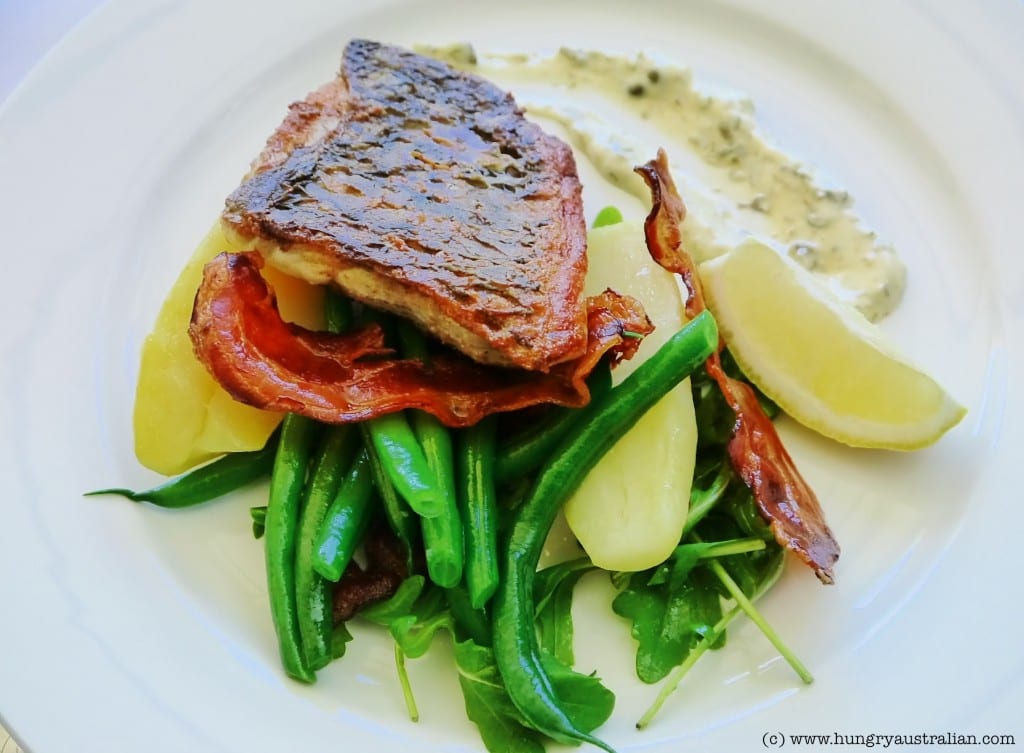 The Northern Territory line-caught barramundi is accompanied by some beautiful green beans, potatoes and fried bacon. After the steak, pork belly and bacon pieces in the chicken Caesar salad I can't eat any more meat so I leave the bacon and concentrate on the fish. The skin is beautifully crisp and the flesh tender and moist.
For dessert we have ordered the panna cotta and the apple Tart Tatin.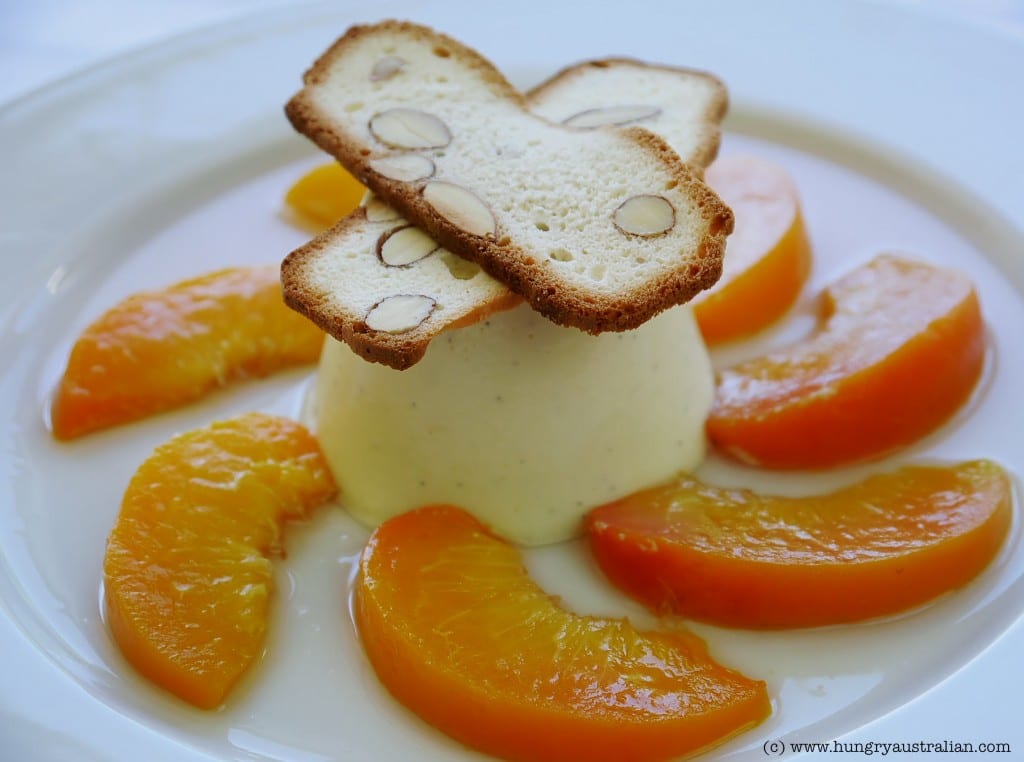 The vanilla panna cotta is quite mild in flavour, so the lovely Sauterned peaches hit the strong note here. Simply stewed, they're a welcome reminder that Summer is just around the corner. I wish I could tell you what the almond biscotti was like but my mother snaffled both pieces up before I had a chance to try it.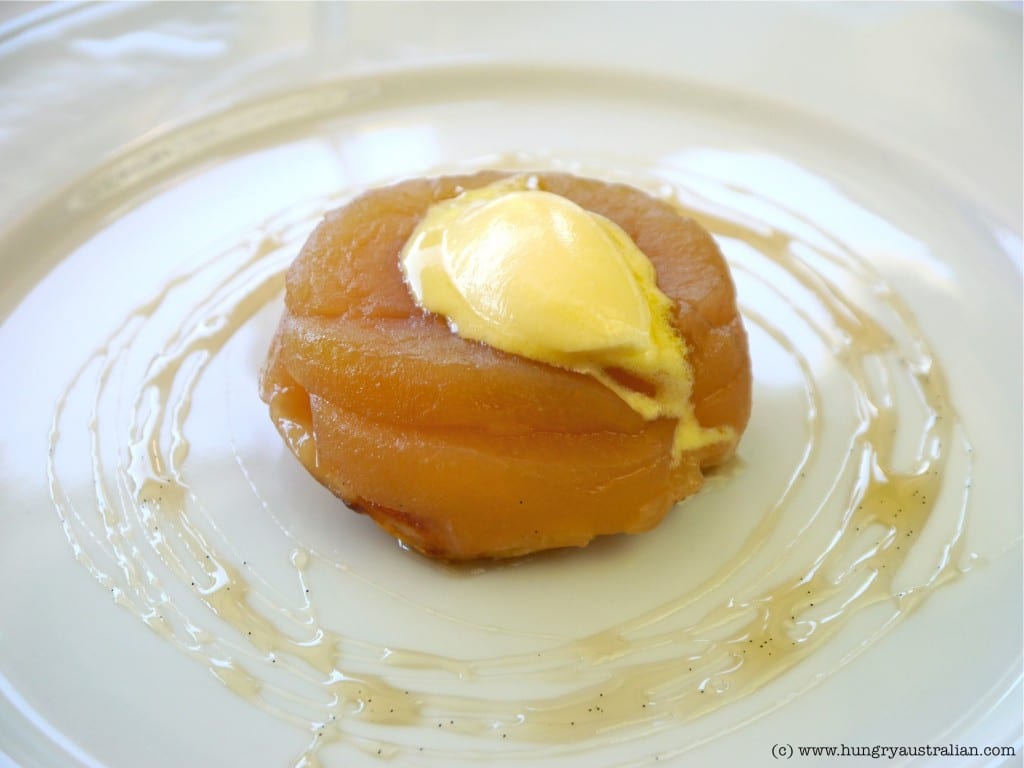 The Tart Tatin was an individual portion of the classic French dessert, enlivened with vanilla bean syrup and crème fraiche. I have quite a sweet tooth (my mother ate a block of Cadbury chocolate every day she was pregnant with me) so would have preferred vanilla ice cream rather than crème fraiche. But those with less sweet palates would have found this to be just right.
After lunch, I visit Zac in the kitchen.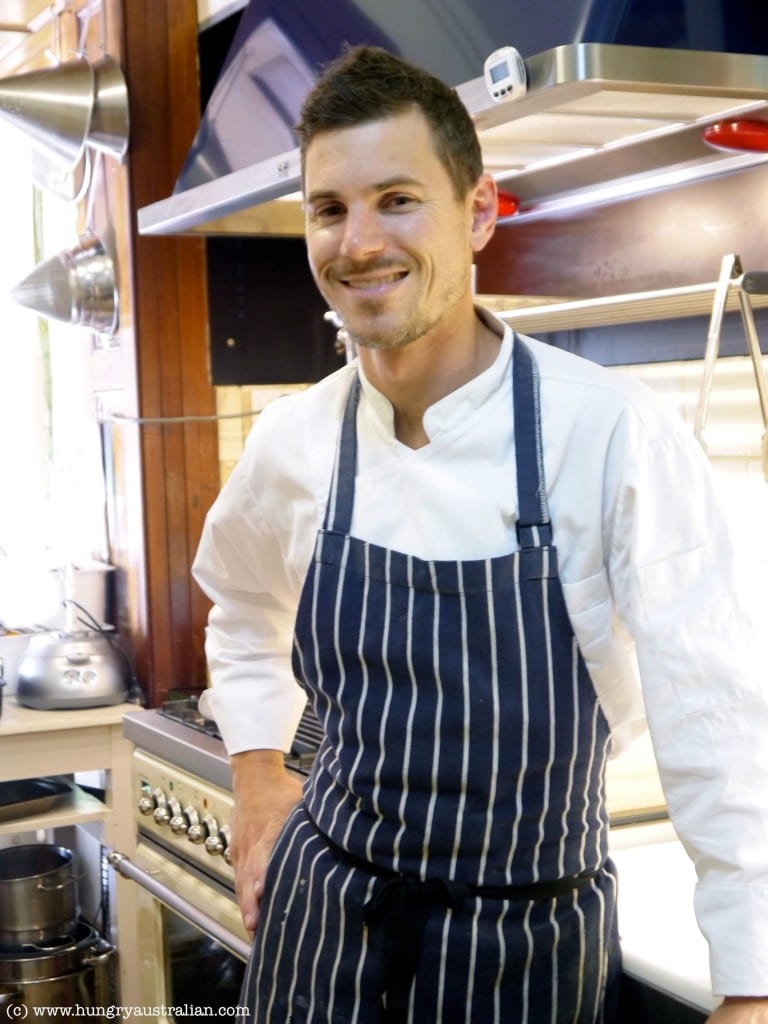 Zac studied his apprenticeship at Soho restaurant in Melbourne Street, North Adelaide, at the time Modern Australian Restaurant of the Year. Afterwards, he went on to work at To Relish on King William Road, Hyde Park, before a stint at The Manse. Last summer he spent a few months time cheffing at a beachside restaurant called Les Canetons (The Ducklings) in the French village of Cavalier, situated between St Tropez and Toulon. Apparently Carla Bruni has a summer house there so the quiet village was enlivened with paparazzi and helicopters while she and the President were visiting.
At Collingrove, Zac enjoys playing with regional and seasonal produce. "One of my favourite things is heading into the farmer markets and seeing what's just come in," he says. "From years of working in the Adelaide Central Market (at The Smelly Cheese Shop) I have all the right connections there, too."
Sadly, it's now time to go as my mother and I both have evening events back in the city. So we say our goodbyes and leave.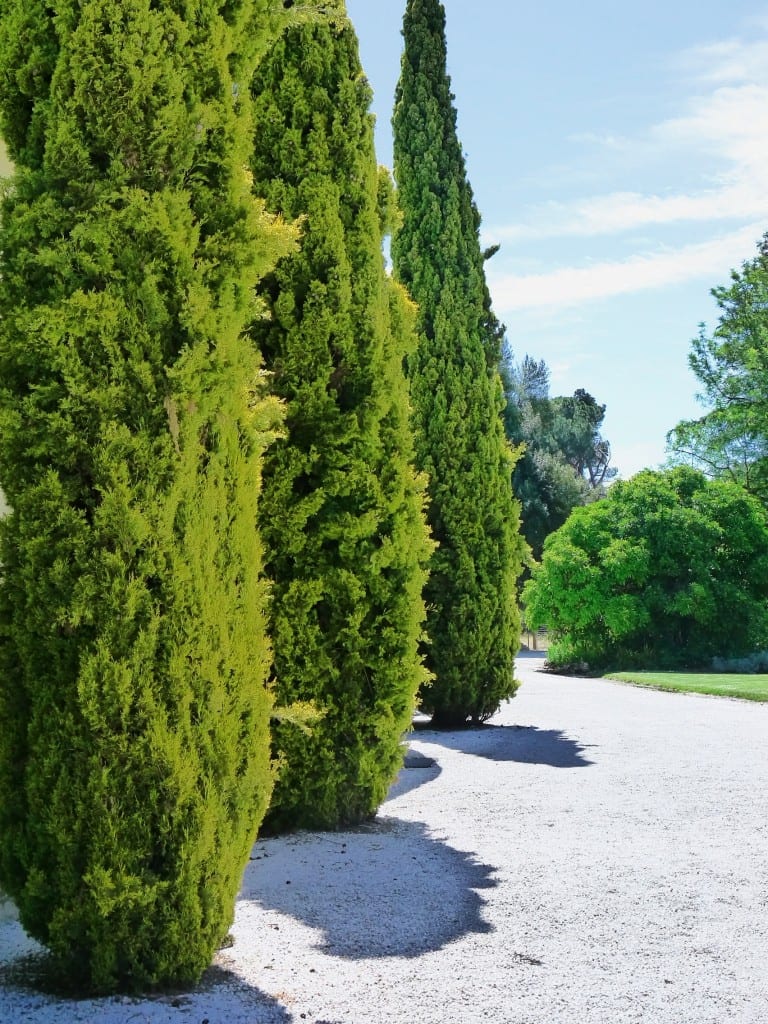 On the drive back to Adelaide, I am struck again by the sheer beauty of the Barossa Valley. The vineyards stretch far over the gently rolling hills in neat rows of green and brown. Massive bales of golden hay lie dotted here and there in harvested fields, like giant sushi rolls. The late afternoon sun is warm on my skin and I have to keep shifting in my seat to keep the drowsiness at bay.
I suddenly realise that this meal is the first time my mother and I have eaten together by ourselves for a very long time as we're usually surrounded by family. Now my kids may be delightful and very nice to have around but they are not conducive to a relaxed dining experience. Quite the contrary. At family dinners my mother and I usually end up bristling with tension about their table manners, the mess they make, and how little my impatient toddler eats.
So today's lunch has been a lovely change for us. Between the drive and the lunch, I almost feel like I've had a mini-break, and my mum seems more relaxed, too.
During the drive home, we talk about all kinds of things, including:

1) Our plans for Christmas Day;
2) My parent's upcoming cruise holiday;
3) My blog;
4) How to influence your husband; and
5) All the funny things my kids have recently said, done or eaten.
At one point, she starts to chastise me again and I start laughing. I can't help myself. She'll never change and she'll never stop, so I just have to accept her as she is. That's what you do when you love someone, isn't it?
My laughter stops her in middle of her admonishment. And the next minute, she is laughing, too, not understanding why, but wanting to share in the moment.
Collingrove Homestead
Angaston Road, Angaston, South Australia 5353
Restaurant: dinner on Friday & Saturday and lunch on Saturday & Sunday. Bookings essential.
Museum & Devonshire Tea: Tuesday to Sunday 12-4pm
Bed & Breakfast: seven days
Functions (specialising in weddings): please contact Marcia or Andrew for more information
Tel: +618 (0) 8564 2061
Email: info@collingrovehomestead.com.au