SPONSORED POST: From Dijon Originale mustard to Cornichons, Maille has a rich heritage starting in 1747 that honors tradition. Check out these easy one-pan brunch recipes that pack great flavor, thanks to Maille. PLUS, be sure to enter for a chance to win their epic brunch makeover giveaway.
Dijon-Roasted Cauliflower and Broccoli with Bacon is a one-pan dish bursting with flavor and ready in 15 minutes, this recipe is perfect for your spring and summer brunches.
Maille Brunch Makeover Giveaway!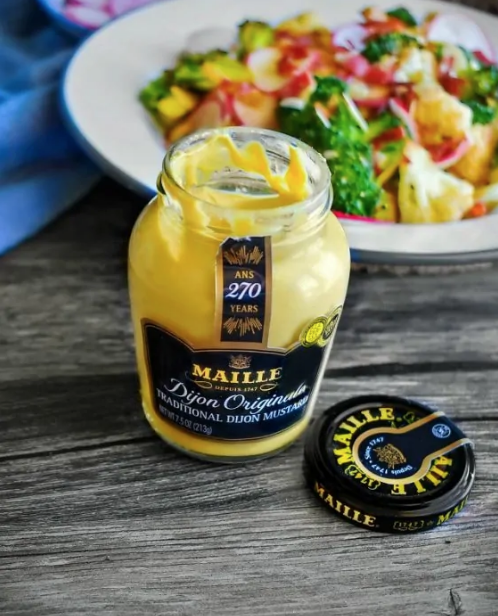 Spring is finally here and we are loving the California lush green surroundings, in other words, a perfect time to host Spring-Summer Brunches with your loved ones.
This also means our local markets are filled with nature's luscious bounty and I'm soooo ready to make our Brunch favorite Dijon Roasted Broccoli, Cauliflower & Bacon.
One bite of this and you'll be craving it more and more…..Guessing What's the Big Secret to Those Flavors?
It's Maille !!! Seriously, this one spoon of golden, creamy Maille Dijon Originale takes your everyday dishes to a whole new level of Deliciousness.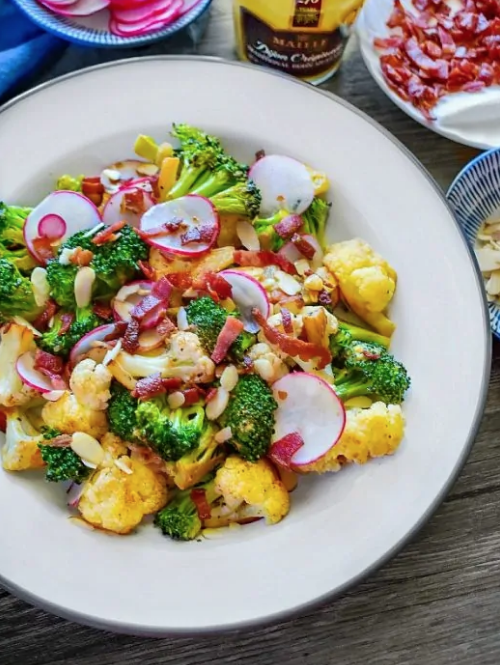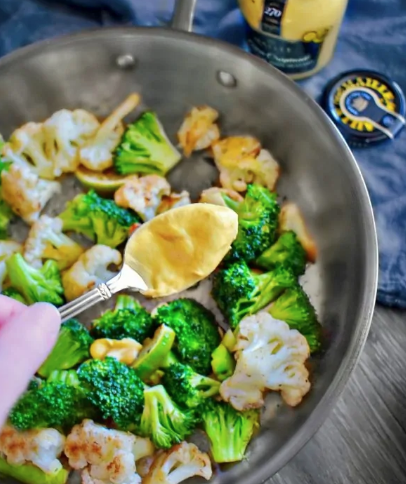 If you thought mustard's were just a pairing, try adding it as a recipe ingredient and see the difference…so much flavor with just a spoonful of Maille.
Okay, now that you know the "Secret Ingredient", let's talk ingredients and more.
Ingredients for the Dijon-Roasted Cauliflower and Broccoli with Bacon
We start with the freshest and organic veggies like Broccoli, Cauliflower and I'm also including Radish and Limes.
Bacon, we are going light and using turkey bacon, but pick whichever you love.
Then we need the Maille Dijon Originale (Trust me, this is Gold)
Some Lemon Seasoning
Almonds – to add a crunchy topping and it goes amazingly with the dish.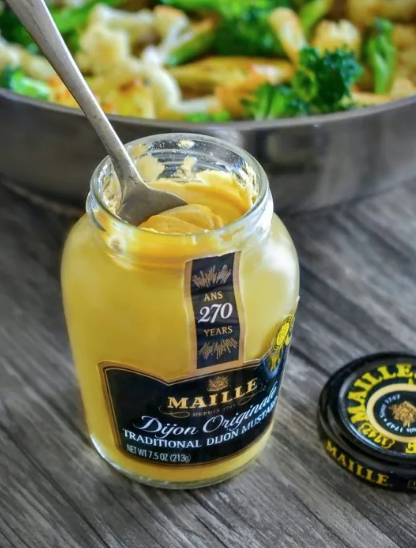 Once you got everything, simply chop the veggies into bite-size pieces and also chop the turkey.
It cannot get simpler than this for a brunch recipe that can feed 4 or 20 people in minutes.
So, another Pro-tip, whenever cooking with bacon, always saute the bacon first and then use the same pan to cook the rest of the ingredients
This adds such a nice smokey flavor to the veggies.
Then finally add the Maille Maille Dijon Originale, add the bacon and saute everything for 2 minutes.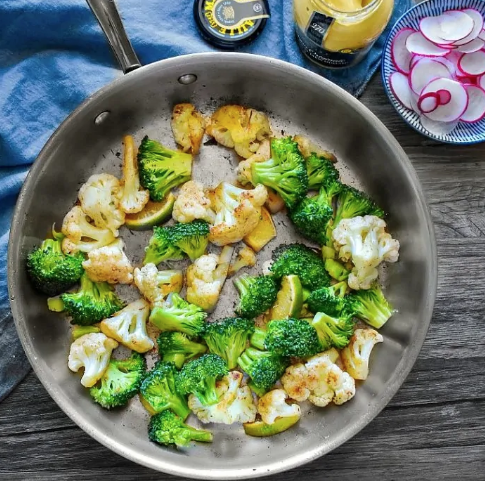 Then you finally mix the chopped radish and almonds and that it, the Dijon Roasted Broccoli, Cauliflower & Bacon ready.
Such a simple recipe, but absolutely flavorful and elegant for all your brunches/lunches or even picnic needs.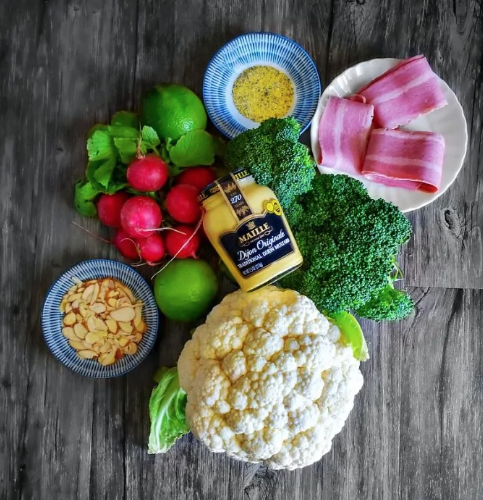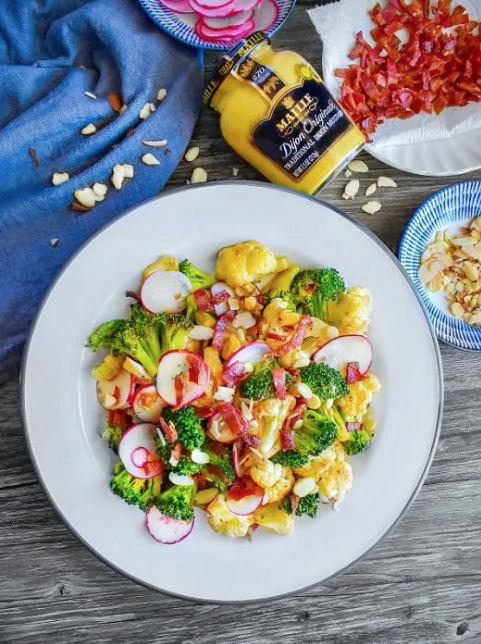 So, this spring season, surprise your family/friends or even work colleague with this delicious Dijon-Roasted Cauliflower and Broccoli with Bacon.
Now, the fun doesn't end here, as Maille has so many other options to choose from for all your likings:
Maille Dijon Originale
Maille Old Style
Maille Honey Dijon
Maille Horseradish
Maille Rich Country
Maille cornichons
They are perfect to get any of your party started.
While we enjoy this deliciousness, there's more exciting news below, as Maille is also hosting a $500 Brunch Makeover!
Check the details below, Enter the Giveaway and I Hope You Win ? Be sure to enter the giveaway!
Maille Brunch Makeover Giveaway!


Dijon-Roasted Cauliflower and Broccoli with Bacon
Recipe Type:
Main, Side, Brunch
Ingredients
3 Tbsp Maille Dijon Originale Mustard
1 Broccoli head - cut into bite-size pieces
1 Cauliflower head - cut into bite-size pieces
8 Slices Bacon - chopped into bite size. (I'm using turkey, but any bacon can be used)
8-9 Radish - sliced thinly
2 Limes - sliced
1 Tsp Lemon Seasoning
1 Tsp Salt - use as per taste
¼ Cup Slivered Almonds
2 Tbsp Olive Oil - for sauteing the bacon and roasting the veggies
Instructions
Heat a large pan and add 1 tsp oil.
Add the chopped bacon and saute till nicely brown and cooked. Takes about 2 minutes.
Once cooked, transfer the bacon to a clean plate for later use.
Heat the same pan, add remaining oil.
Add the chopped broccoli cauliflower and lemon seasoning.
Roast them for 3-4 minutes until they are 80% cooked (you want that slight crunch to remain).
Now, add the Maille Dijon Originale Mustard, cooked bacon, sliced lime and saute everything together.
Cook this on medium for a minute and then turn off the heat.
Add the sliced radish and slivered almonds.
Lightly mix everything using a fork (this prevent the veggies from mushing).
Transfer to a serving platter and enjoy.