Celebrating Christmas in San Francisco? Have a traditional Bay Area meal of Dungeness crab, Sourdough Bread, and Caesar Salad!
By Laura Rothman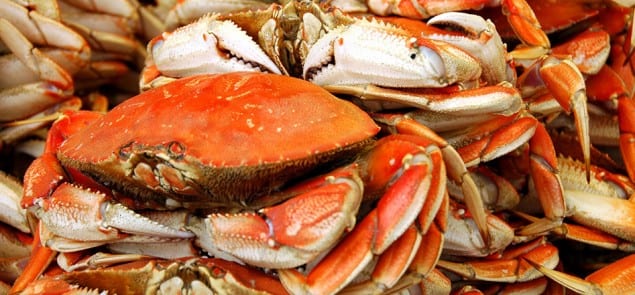 Photo courtesy of http://colettes.com/dungeness_crab.php
Wintertime in San Francisco is, for lack of a better word, temperate.  Rarely will the temperatures drop below 50°F making ice skating next to palm trees a quintessentially San Francisco experience.   When Christmas rolls around, it is only to be expected that a traditional San Francisco dinner would not involve a ham, potatoes, figgy pudding, or stuffing.  It may seem odd to throw aside the typical Christmas dinner in favor of something a little unusual, but serving crab is festive in its own way. 
Crab is a food you eat with your hands, special utensils, and plenty of napkins.  Over the course of a Christmas dinner, you might even find that the best way to get crabmeat out of a leg is a simple crush and suck! (crush the leg, and suck out the meat) Eating crab with a crowd is entertaining, joyous, and lively; the way a holiday should be.
December 1st marks the commencement of Dungeness crab season in California. Its succulent, rich meat and winter season make it an ideal Christmas food.  Just as Tamales or Lefse have places at Christmas tables across the country, Dungeness crab is an integral component of a San Francisco Christmas dinner.  But you can't just have crab! Traditional accompaniments to the crustacean are Caesar Salad and Sourdough Bread.
While there are many ways to prepare crab, the best (and simplest) method is to boil the crab and serve with clarified butter.  Give everyone a claw cracker and plenty of napkins. Enjoy!
Laura Rothman
Laura Rothman is a San Francisco native with an appetite that rivals that of the Ancient Romans. She has cooked in restaurants, sampled copious amounts of coffee, and has traveled far and wide across the continents. Along with a zeal for food and travel, Laura has a love of the written word. She majored in English at Kenyon College in Ohio and is rarely found without a book or magazine nearby.