Can David Lynch really brew a cup of coffee that would satisfy Special Agent Dale Cooper?
By Bill Walsh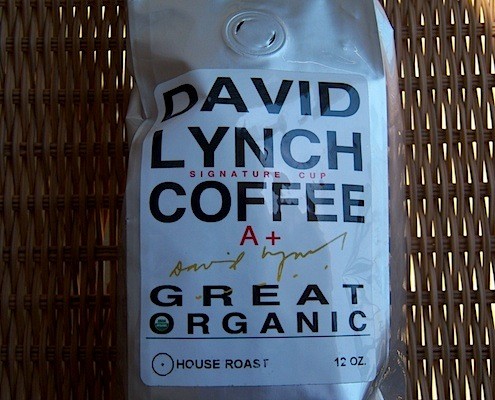 Subject: David Lynch
Coffee Mugged: House Roast
Rating: 4+ [see key]
A lot of times people in the entertainment biz branch into different areas, like David Lynch. While I can't say I've experienced many of his films or projects (I saw part of the Elephant Man), I have experienced his coffee. Distributed through Java Distribution, his brand of coffee is marketed as a fair trade, organic and delicious (and a portion going to the American Film Institute).
When they sent me out some beans to try and give some feedback, I was hesitant of coffee relayed through the same company that distributes Allegro Coffee. But I kept my opinions to the subconscious and sampled the coffee via french press, drip and siphon.
The drip produced a cup relaying roasted almond, caramel, smoked pork, pineapple, nutella and a light/medium body.The french press delivered a brew with cashew, almond, pear, pineapple, sage, cinnamon and vanilla all amidst a light to medium body.
The siphon also held a similar body with more notes of honey, caramel, roasted cashew and cinnamon. Overall, the coffee held no notes of bitterness and was delightfully fresh.
Bill Walsh
Bill Walsh is a contributing writer at Honest Cooking and the fanatic behind the acclaimed Pure Coffee Blog. He gains his inspiration from God, family and coffee, and loves to take each of them on the road as frequently as possible for a solid adventure.