Dark Chocolate Chunk Brownies with Tamarind Salted Caramel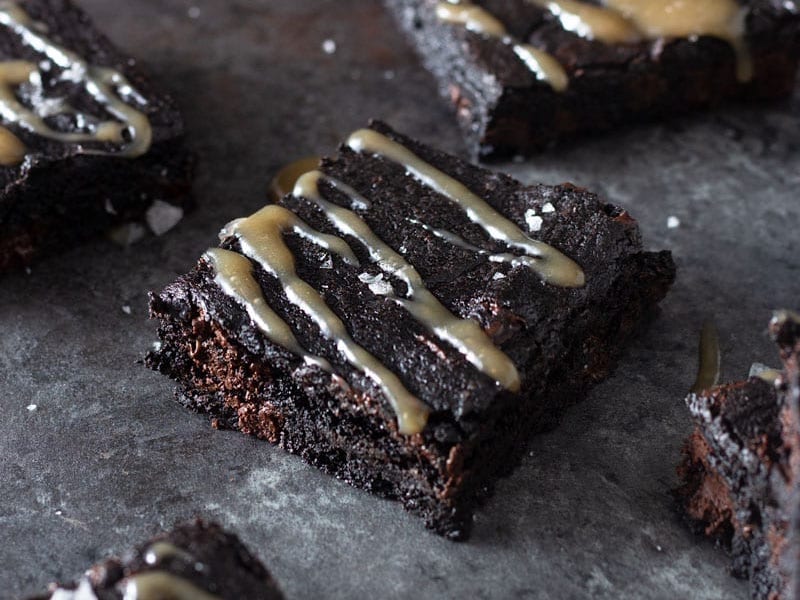 My Extra Dark Chocolate Chunk Brownies with Tamarind Salted Caramel are a decadent, unique twist on the classic brownie with caramel sauce.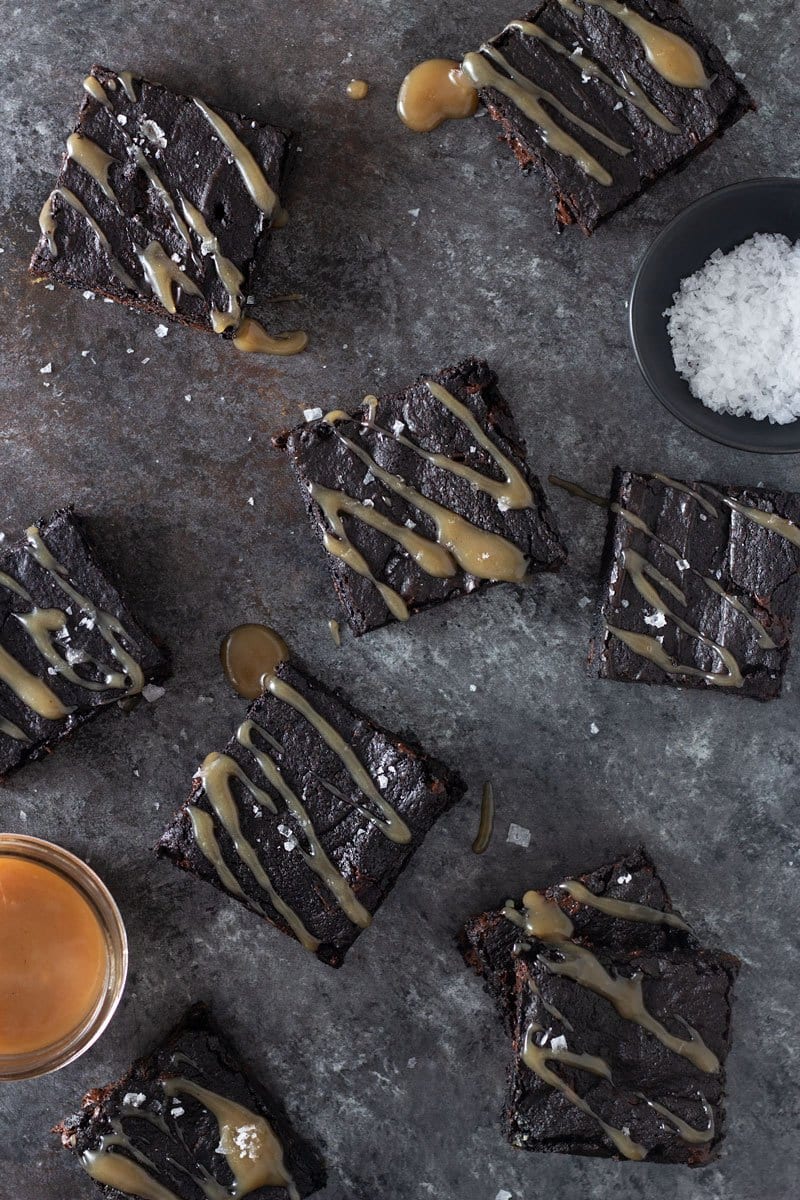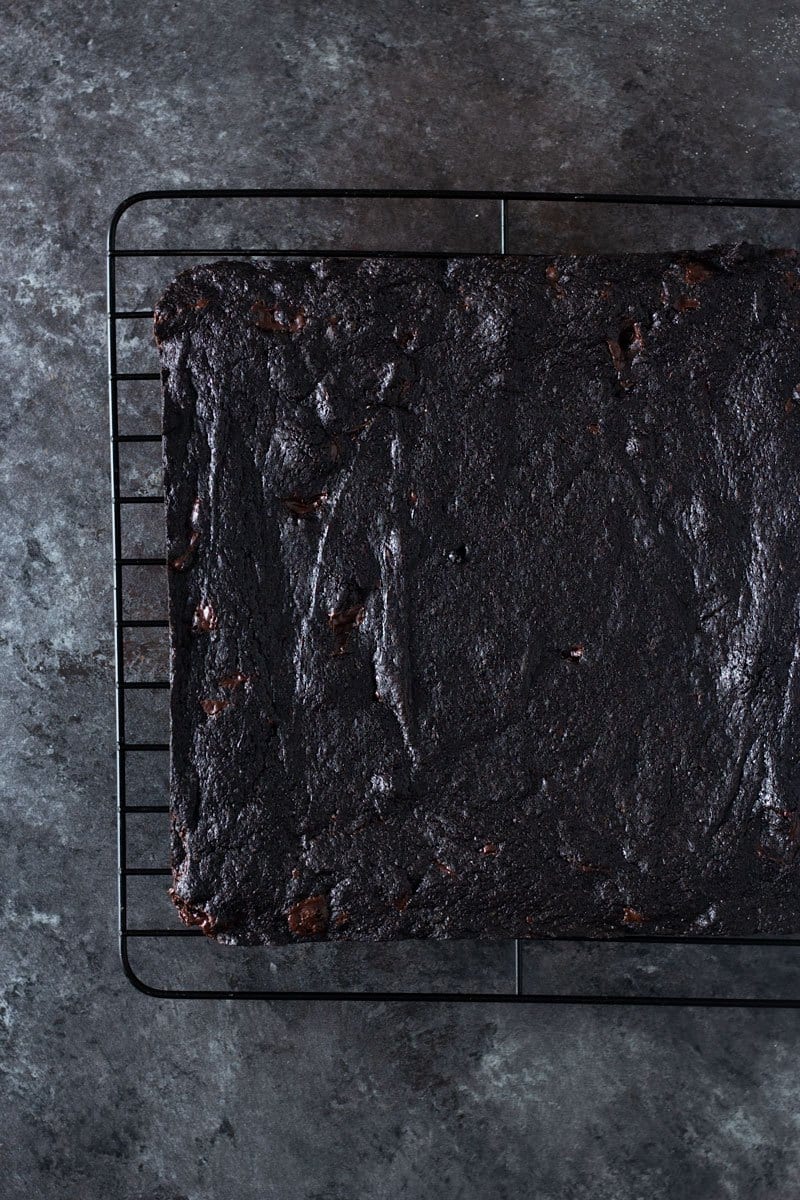 My inspiration for these chocolate chunk brownies was actually an episode of Master Chef. One of the chefs made a chocolate cake with tamarind salted caramel and a pepita brittle. I already had in mind I wanted to make a version of brownies with salted caramel sauce, and hence this recipe was born. I wish I could take credit for the tamarind caramel, but I'm happy enough just to spread the idea. It's completely in the vein of a miso caramel, which I saw quite a few times on blogs here and there in the past year.
Oh by the way, if you're not familiar with tamarind, it's a pod-like fruit with a sour pulp inside. Tamarind paste is sold in the Asian section of many grocery stores.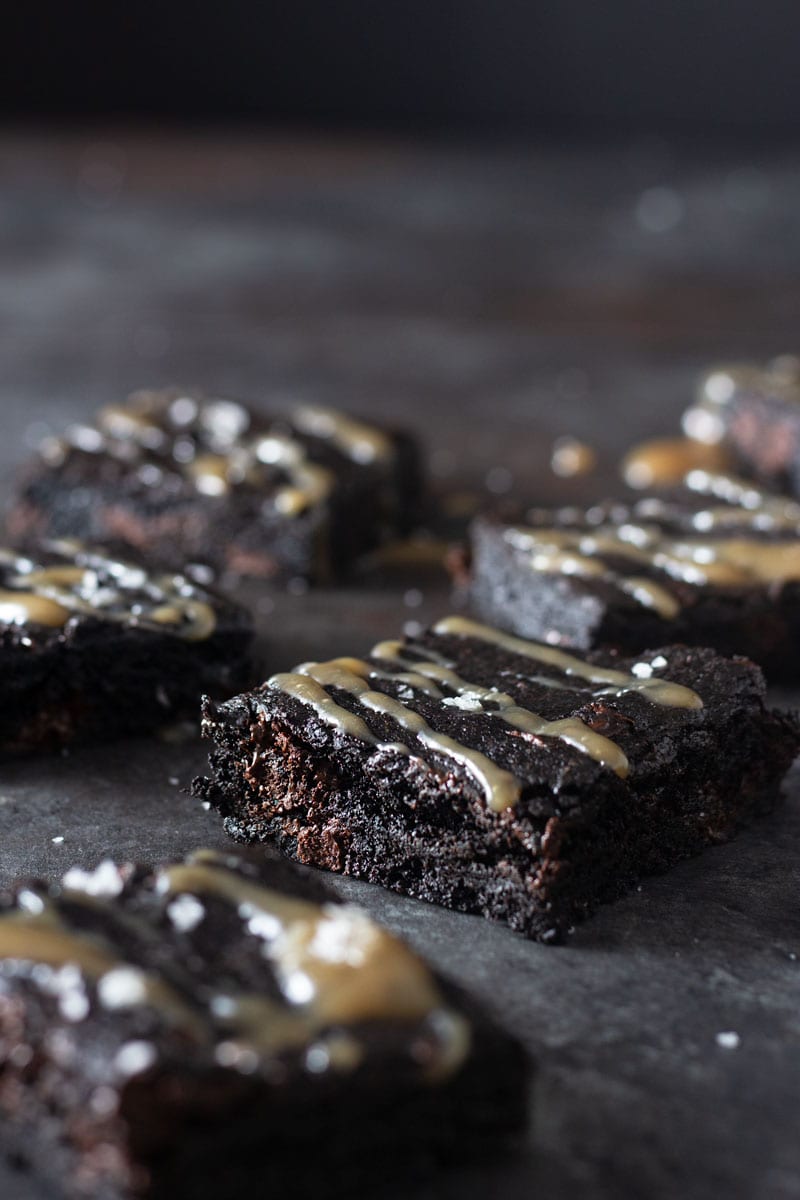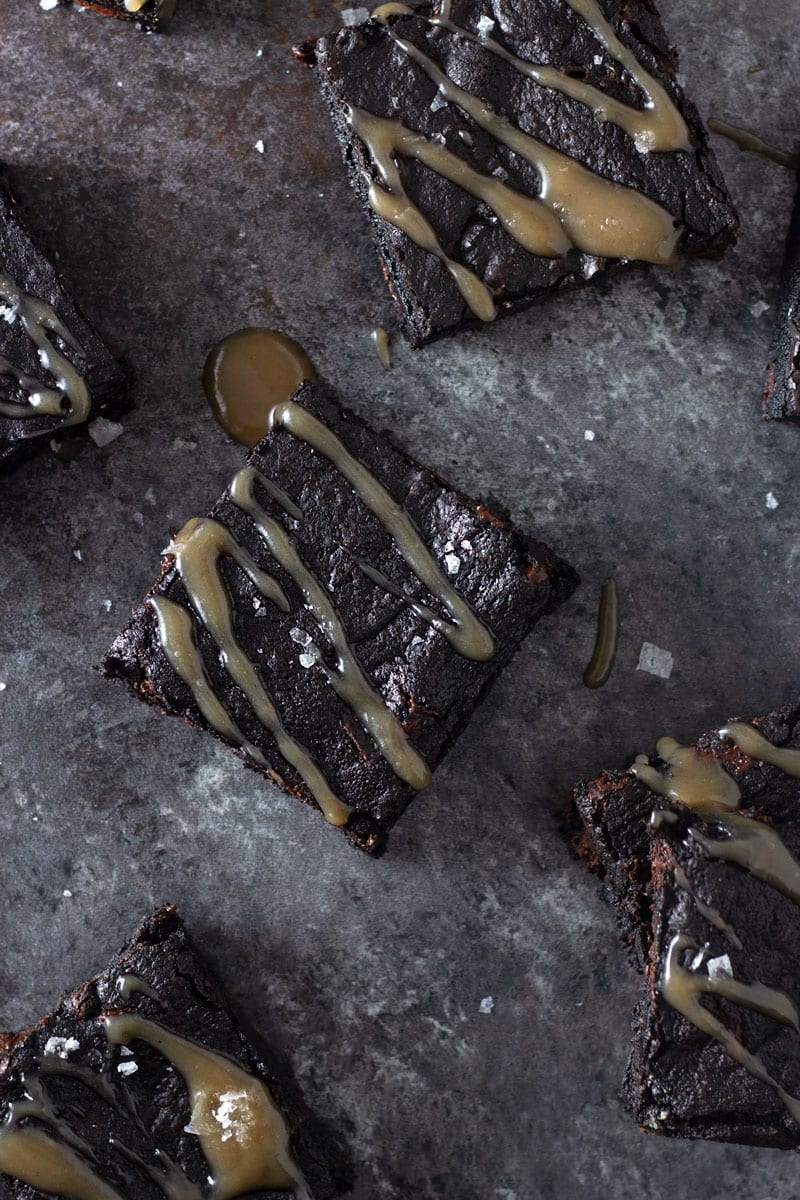 I used some black cocoa in this brownie recipe for an extra rich flavor, but all dutch process cocoa or even natural cocoa would also work well. I chopped up some dark chocolate and added it to the batter for texture and contrast.
Now, everyone knows brownies with salted caramel sauce are delicious. The reason I really like this recipe is because the rich, deeply chocolate brownies are perfectly complimented by my slightly sour salted caramel sauce. The acidity from the tamarind helps cut through that richness. A little maldon salt on top is a great finishing touch. A scoop of vanilla ice cream would not hurt either. I would know…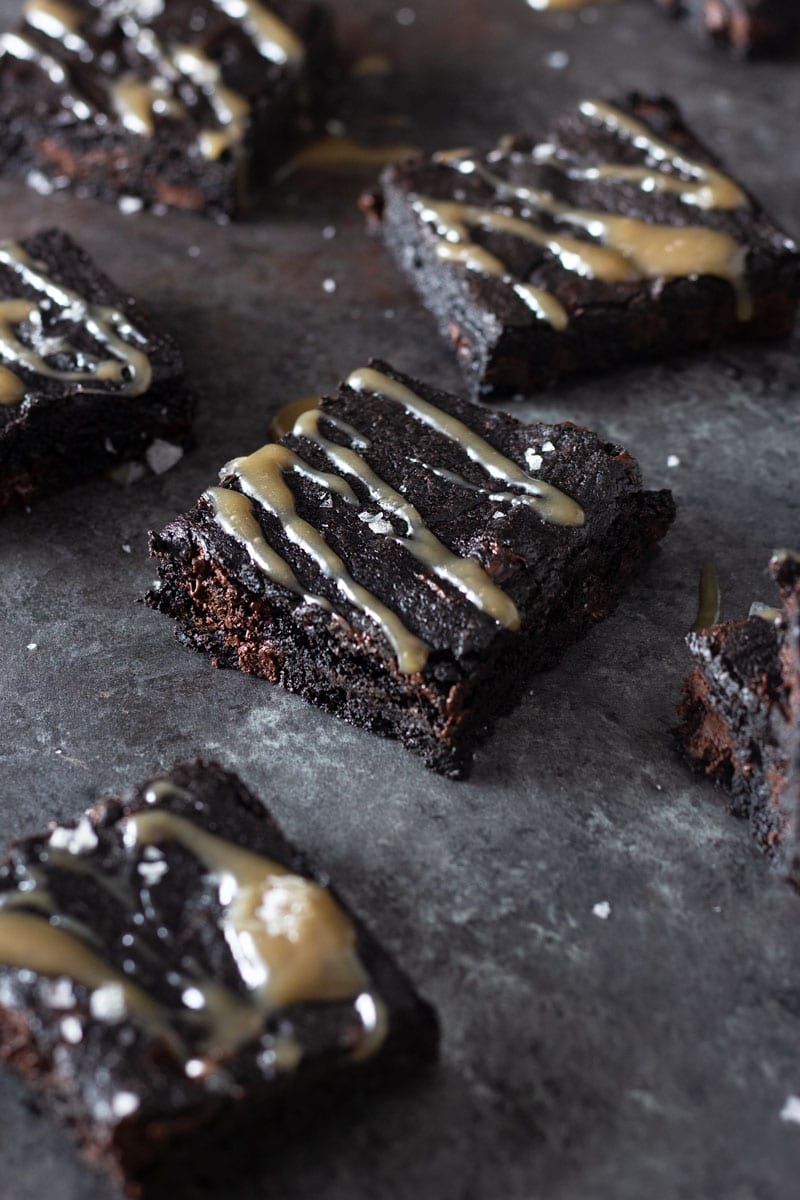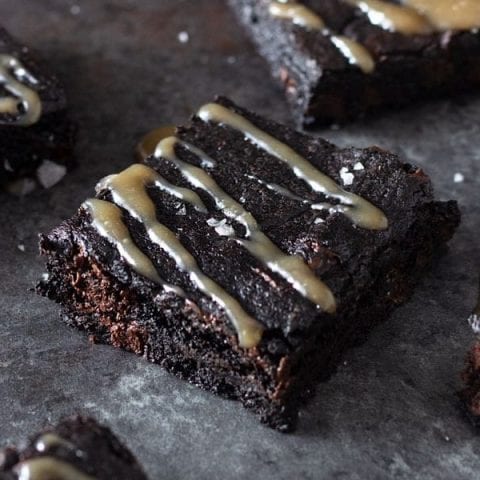 Dark Chocolate Chunk Brownies with Tamarind Salted Caramel
Sabrina Russo
These dark chocolate chunk brownies are slathered with tamarind salted caramel for a sweet and tangy contrast. Finish it off with a sprinkle of maldon salt.
Ingredients
1 ¼

cup

granulated sugar

½

cup

+ 2 tbsp Dutch process cocoa

2

tbsp

black cocoa

or more Dutch process

¾

tsp

kosher salt

½

cup

1 stick unsalted butter, melted, plus more for pan

2

large eggs

1

tsp

vanilla extract

1/3

cup

all-purpose flour

5

oz

1 cup roughly chopped dark chocolate

1

cup

sugar

6

tbsp

unsalted butter

at room temperature

½

cup

heavy cream

at room temperature

1

tbsp

tamarind paste

1

tsp

kosher salt

Maldon salt or fleur de sel

for sprinkling
Instructions
Prep: Butter an 8x8 inch baking pan, line with parchment overhanging on edges and butter again. Preheat oven to 350°F.

Mix sugar + cocoa: Shift together sugar, cocoas and salt in a large bowl.

Add wet ingredients: Stream in butter while whisking until incorporated. Whisk in eggs one at a time until fully incorporated. Stir in vanilla.

Add flour + chocolate: Whisk in flour in 2-3 additions until combined. Do not overmix. Fold in chocolate chunks.

Bake: Transfer batter to prepared pan and bake on center rack for 25-30 minutes or until the temperature of the center of the brownies registers 185-190°F. If you insert a toothpick into the center, it should have a few moist crumbs attached.

Cool: Cool in pan for 15 minutes. Lift out of pan by parchment paper and transfer to a wire rack to cool completely.

Caramelize sugar: While brownies cook, start the caramel sauce. Add sugar plus ¼ cup of water to a heavy bottomed sauce pot. Stir to combine, making sure there is no sugar on the sides of the pan. Warm mixture over medium heat. Check to make sure sugar is completely dissolved before mixtures comes up a boil, adjusting heat as needed. I placed a small amount of sugar syrup into a spoon and rubbed it between my fingers to test if the sugar was dissolved. You may increase heat slightly at this point to bring to boil. When sugar syrup starts to boil, wash down sides of pot several times by dipping a pastry brush into water and running it along the inner edges of the pan. This will wash any sugar down into the caramel and prevent crystals from forming. Do NOT stir caramel at this stage. Continue to cook as water evaporates and sugar begins to caramelize.

Finish caramel: When sugar becomes an amber color and reaches 350-360°F, remove from heat and whisk in butter and cream. Stir in tamarind paste and salt. Transfer to a bowl and cool to room temperature.

Serve: Cut brownies into squares. Top with caramel sauce and a sprinkle of maldon salt. Enjoy.
Sabrina Russo
My Three Seasons represents the 3 key factors that are most important to me in cooking. #1 Seasonal ingredients #2 Proper Seasoning (don't skimp on that salt!) #3 Cooking like a Seasoned chef (technique is everything). My name's Sabrina. I live in NYC. I'm a registered dietitian with professional cooking and food styling experience. Come cook with me.