Dallas, Texas – Marquee Grill and Chef Tre Wilcox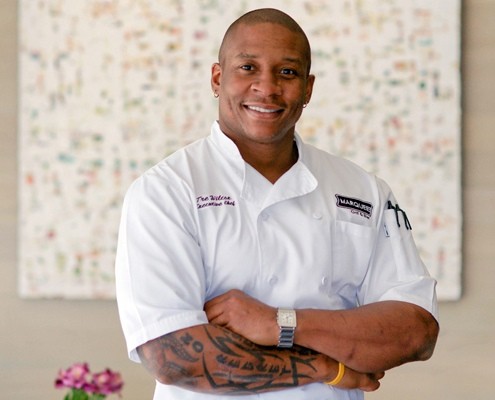 Joy Zhang sits down with chef Tre Wilcox of the Marquee Grill in Dallas to talk food and fitness.
By Joy Zhang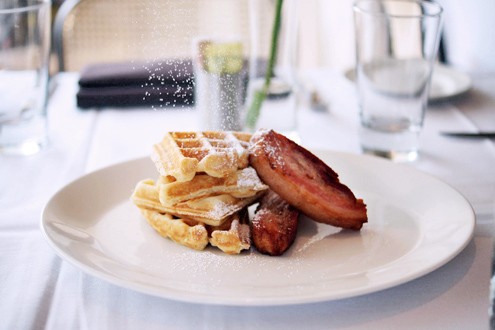 Tre Wilcox is serious when it comes to food.  His fearless attitude in the kitchen has lead him to creating his ultimate masterpiece: Marquee Grill – an innovative twist on Modern American Cuisine.  This week I had the opportunity to interview Chef Wilcox and check out his "Bacon" and Waffles – a house cured pork belly served alongside a stack of buttermilk waffles and drizzled with a huckleberry maple syrup.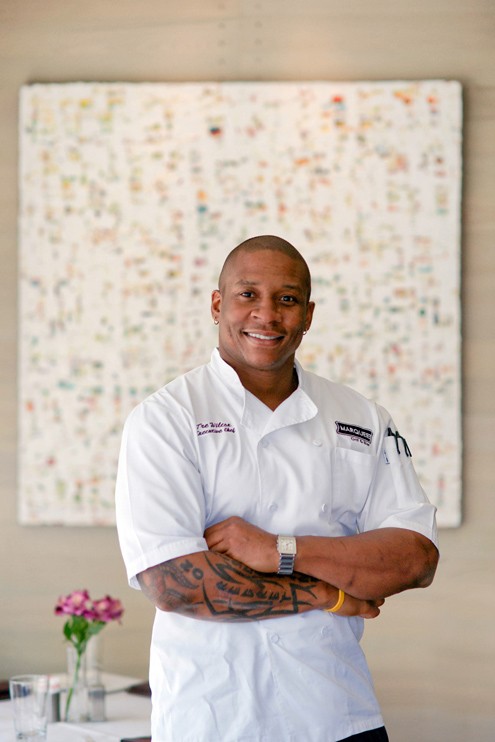 Located right beside the Village Theatre in Highland Park Village, Marquee Grill offers a breathtaking dining experience with their modern 1930s Art Deco architecture and décor.  During dinner service, The Chef's Table is the place to be: you get an up close and personal experience in watching Chef Wilcox in action, while observing the grace and execution of a beautifully orchestrated kitchen.  Feel free to switch seats throughout dinner as every seat offers its own unique point of view.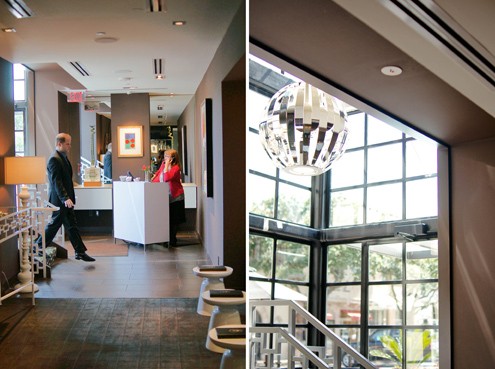 Wilcox, originally from Duncanville TX, knew he wanted to be a chef from a young age.  Coming from a military background, Tre's determination and discipline quickly brought him success in his field.  To this day, he still finds time in his busy schedule to lift weights and stay in shape – "Working out is a stress reliever for me, it keeps me fit."  Chef Wilcox keeps his big guns fired up both in the gym and the kitchen, his ink of determination lets you know he's serious when it comes to food.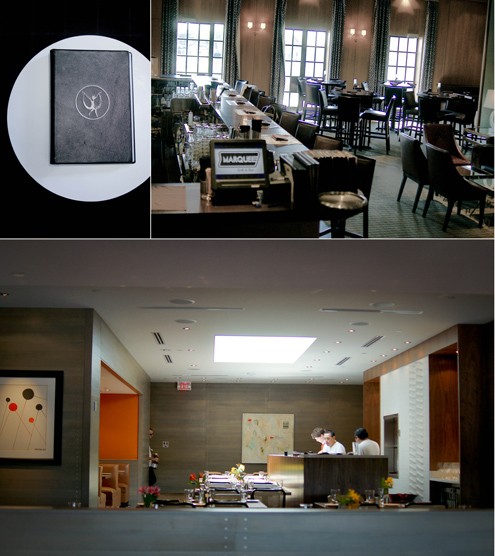 Having worked under Kent Rathburn for over 7 years at Abacus, Chef Wilcox attributes Rathburn as one of his most influential teachers – opening his eyes to avant garde and molecular techniques.  When asked what the most important thing he learned from Chef Rathburn was, he smiled and replied – "To be humble."   
"Cooking is like painting – I use the plate as my canvas to create my masterpiece through colors, textures and flavors with my ingredients."   It's no wonder that Wilcox was a favorite contender on Bravo's award winning series: Top Chef All-Stars.  I promised to limit myself to ONE Top Chef question during the interview, it was hard to break it down to one but I had to know what his favorite challenge was.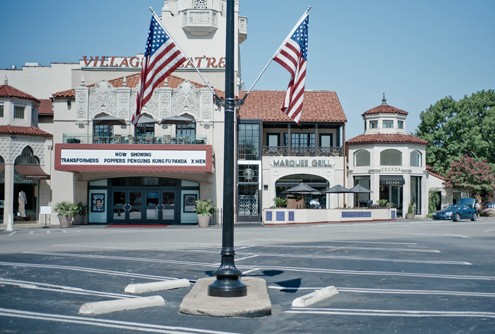 " The No Utensils challenge where the chefs must create a midnight snack for children that must be eaten without using utensils. It was a hard challenge but it was a lot of fun.  I also loved the fishing challenge.  It was different since there was more fishing than cooking, it was hard work reeling in those big fish.  It was crazy but I loved it."   
Be sure to visit Chef Wilcox at Marquee Grill where he serves up delicious brunch items like the Jumbo Lump Crab Risotto or the Crispy Duck Spring Rolls every Sunday from 10:30 am-3:00 pm.  They also have a wonderful lounge area on the second floor where you can enjoy cocktails and desserts– I have my eye on the Banana Mascarpone Trifle with Espresso Lady Fingers.
Marquee Grill
32 Highland Park Village
Dallas, TX 75205
USA
Phone (214) 522-6035
Email reservations@marqueegrill.com
Joy Zhang
A 25 year-old free-lance photographer, home-chef and writer from Dallas, Texas, Joy finds inspiration for her photography and recipes through music, art and nature. Her work has been featured on Elle Girl Korea and Gourmet Live. Join her culinary adventures through her kitchen and discover fresh, simple and delicious recipes.