Suzie Castello with some valuable Parisian tips for the traveling foodie family.
By Suzie Castello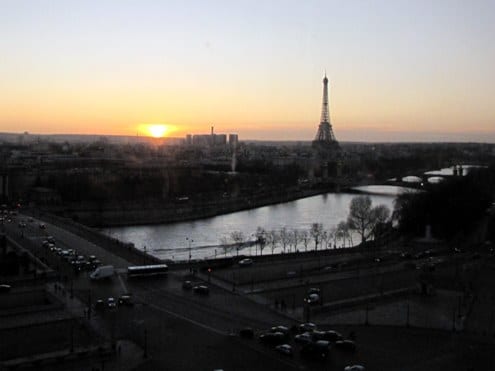 I recently got back from a week in Paris with my kids.  Even at the adventure-loving ages of 10 and 11, Paris can be daunting, especially in the cold of December.  They embraced the challenge of exploring the City of Light with their imaginations fueled by history and art, and their tummies full of macarons and pain au chocolat. As a parent, I learned a few things during the trip. Here are a few tips for those traveling with kids in Paris.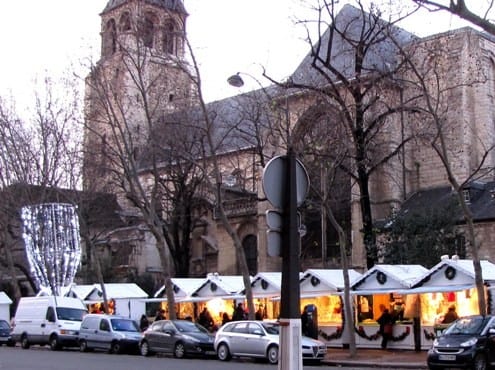 Holiday Fun: In December, Paris puts on a show for Christmas.  Shop windows are decorated, streets are lit and the marchés de Noël, fairs selling crafts and seasonal treats like hot chocolate and mulled wine, are set up all over town.  Open air ice-skating rinks are open at the Eiffel Tower and the Hôtel de Ville.  The department stores such as Galleries Lafayette and Au Printemps on Boulevard Haussmann have animated window displays.  Here is a link for more December fun in Paris.
Go to the Bakery: Eating on a trip can be a challenge for any kid, not to mention navigating menus in French.  Keep your kids' energy levels up by visiting the boulangeries.  They will enjoy the displays of baked delights, and it sure is easier for a little one to order by pointing at what he wants to eat.  On this trip, if anyone got cranky, it was time for a croissant.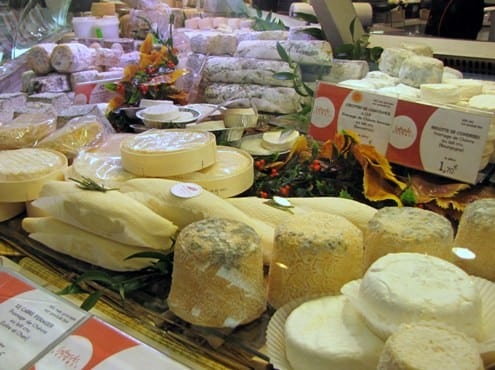 Wander through the Marchés:  Go to the open air food markets to take in the glory of French ingredients through all the senses.  Here is a list of the marchés by neighborhood.  Again, it is a great place for kids to point at something they'd like to eat.
If the weather doesn't want to help, another great place to point and taste is the Gourmet store at Galleries Lafayette where a whole floor is dedicated to food.  I recommend this for kids because everything is so beautifully displayed. Little ones will find it easy to discover something new and delicious.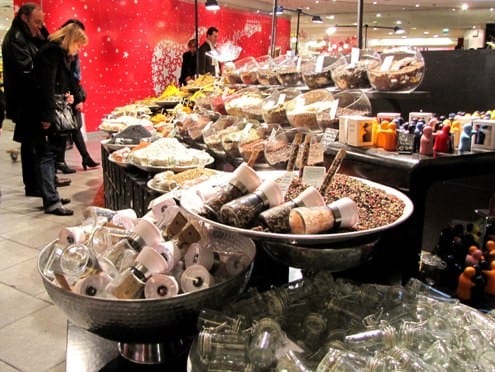 An outing to the market doesn't have to be a luxury shopping spree.  My kids had a ball discovering the neighborhood Carrefour.  They were fascinated by all the differences in simple things like juice boxes and yogurt, resulting in a couple of really nice picnics in our hotel room.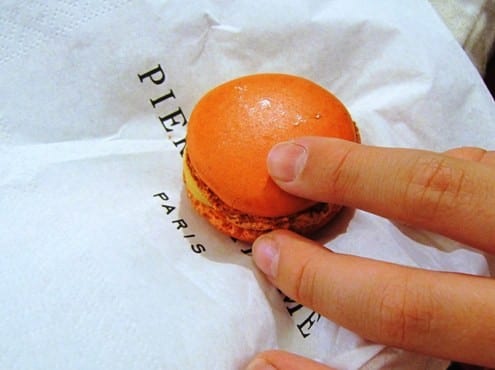 Compare Macarons: A few times during the trip I would suggest visiting a certain church, monument or museum.  My travel weary partners would groan a little, not sure if their patience could stand another Rodin sculpture.  I would then pull from up my sleeve, but "but there's a Ladurée nearby."  "I'm in.  Let's see if there as good as Pierre Herme's."  The offering of macarons or a good chocolate shop would always help me in navigating from one sight to another.  Here are some links for patisseries with exquisite macarons:  Pierre Herme, Ladurée, Dalloyau, Sadaharu Aoki.  For more about my kids' adventures with macarons see the Honest Cooking story Awaken the Gourmet Within.
Ride a Carrousel:  There are carrousels all over Paris, mostly near historic monuments.  The whole family can get a little more enjoyment out of visiting the Tuileries or the Eiffel Tower by riding a Carrousel.  There are carrousels all over the city including at the Eiffel Tower, the Hôtel de Ville, the Tuileries and Luxemburg Gardens. Even thought it's a "baby ride", my kids thoroughly enjoyed seeing Paris spinning around them.
Ride the Ferris Wheel even if your not a Kid:  The ferris wheel at Place de la Concorde is amazing!  On our late-afternoon ride we were treated to an astonishing view of the Tuilleries Gardens as they spill out from the Louvre, the Eiffel Tower silhouetted against the setting sun, and the lights of Paris sparkling to life.  Don't worry about the cold. Each car is enclosed in glass.  The ride was well worth the 20 euros for the 3 of us, and there was no line!
Don't be afraid to take them to the museum:  Museums can be a bit of a challenge.  The natural urge to touch and point and sit must be overcome, and how hard is that for a child?  The Louvre and the Musée d'Orsay can be  overwhelming because of their size, the crowds and the lines.  Smaller museums are often much more enjoyable.
How do you enjoy the Louvre with your kids?  I recommend researching before hand to discover what tey are interested in seeing and limit your visit to seeing those things.  My son spent a great deal of the school year learning about ancient Egypt so he got a kick out of seeing the even the minor works in the Louvre's ancient Egyptian art exhibit.  He also enjoyed annoying the heck out of his sister who was jealous about not yet having studied the subject in school.
She however found the Museum of Medieval Art at the Hôtel de Cluny fascinating once she started looking at the exhibits through her lense of Harry Potter knowledge.  We found a chest that once must have held the real Mad-eye Moody, Helga Hufflepuff's cup, some rings that could have belonged to Salazar Slytherin and tapestries that belong in the Gryffindor common room.  The objects of the collection, beyond their extraordinary beauty and historic importance, soon held a certain extra magic for us.  If you decide to take your kids to the Cluny, challenge them to find the knight riding a chicken.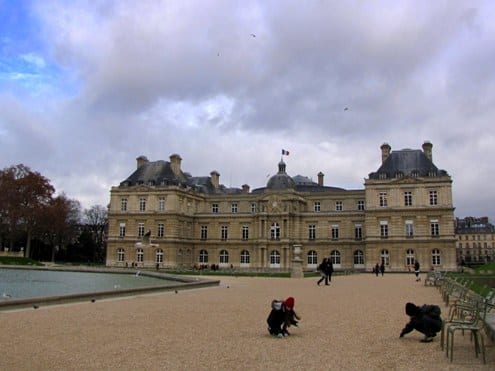 Parks and Playgrounds:  Take them out to run around.  Even on a blustery and drizzly December afternoon, my kids ran the length of the Tuilleries Gardens imitating their favorite Olympic long-jumpers across its many puddles.  Here is a list of Paris' beautiful parks.  Check for park hours during the different parts of the year.  For instance, we found that La Villette wasn't worth the trip because many its parks were closed for the winter.
Kid-friendly Restaurants:  My kids really liked eating at the Pizzeria Del Arte on the corner of Blvds. St. Germain and St. Michel.  They have a very reasonably priced kids' menu with a choice of pasta, drink and a dessert.  They loved the lasagna and  fondant de chocolate with vanilla ice cream.  Del Arte couldn't be in a better location, near the Cluny, a bunch of movie theaters and the Odeon Metro stop.  They also enjoyed Chez Janou near Place des Vosges where they were served a giant bowl of chocolate mousse from which to help themselves.

Suzie Castello
Suzie Castello is an American writer living and raising a family in a small town in the mountains just outside Rio de Janeiro. She writes about finding ways to cook, with the regional ingredients, dishes that tell her life story, from childhood in the States to travels abroad, and anything new discovered along the way. She is also the Editor of Da Minha Cozinha, a Portuguese-language blog about honest home-cooking.