A Bite of Britain: Crowned Coronation Chicken for Diamond Jubilee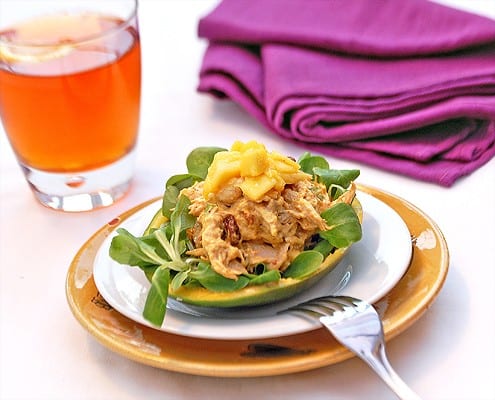 Coronation Chicken is a dish that was created by Rosemary Hume for Queen Elizabeth's coronation in 1953.
By Ruby Moukli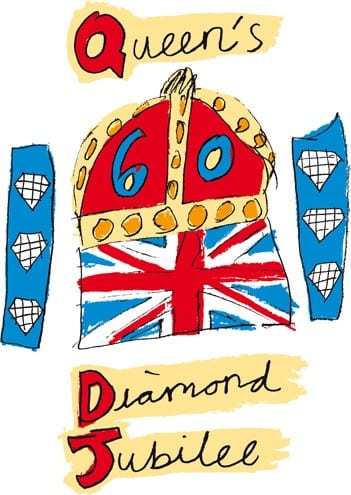 With the Queen's Diamond Jubilee (marking 60 years of her reign) being celebrated all over Britain this weekend, pseudo-royal recipes abound. Sunday and Monday will see us all street party-hopping and undoubtedly sampling countless Victoria Sponges, Queen's Drop Scones and Coronation Chicken, all while swilling Pimm's cocktails.
Coronation Chicken is a dish that was created by Rosemary Hume for Queen Elizabeth's coronation in 1953. The curry-like (but not so curry-like so as to offend any less-adventurous tastebuds) concoction consisted of poached and shredded chicken in a delicate, nutty sauce served with rice. It bore little or no resemblance to the bright yellow sandwich filler seen today in every deli in Britain.
Of course, I wasn't around in 1953 and, even if I were, I doubt my fleeting friendship with Liz would have qualified me for inclusion on the guest list. My experience with Coronation Chicken has therefore been confined to the more common (in both senses of the word) variety. This seems to usually be made of shredded chicken, mayonnaise, curry powder and raisins, stuffed into sandwiches or baked potatoes (called 'jacket' potatoes here and a national lunchtime craze). In fact it's so common that I'd never bothered to make it at home.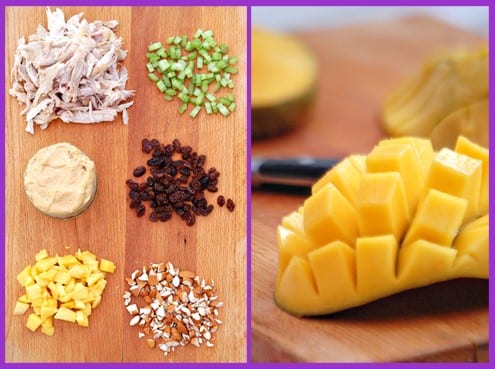 When I finally set myself the task, I was daunted by the recipes I found online. They all seemed to be re-hashes of the original, more elegant, version. No, no, no! That dish has since evolved (or regressed) and it was the contemporary, mass consumption, recipe I was after. The cheap 'n cheerful, orangey-yellow lunchtime treat that is so uniquely British. And it had to be easy – because I'm lazy. I quickly realized that, short of canvassing the sandwich shops asking for their recipes, I was on my own.
My version uses leftover roasted chicken and lots of fruit and nuts. I cut the mayonnaise with crème fraîche and added turmeric, mainly for colour. I know you'll think I'm just boasting, but it truly was scrumptious. I thought, too late, of adding grated fresh coconut (had some in the fridge) but I'd already done the photos and didn't feel like re-shooting them. Did I mention how lazy I am?
Another challenge was deciding how to serve this. Having recently jump-started my neglected low-carb diet, neither sandwiches nor potatoes were options. I could have thrown it onto Ryvita, but at the last minute had a light bulb moment. I lined an empty half of mango skin with a nest of lamb's lettuce and piled it high with the chicken. Finally, I 'crowned' it with more fresh mango. A golden crown for a coronation dish just seems appropriate, don't you think?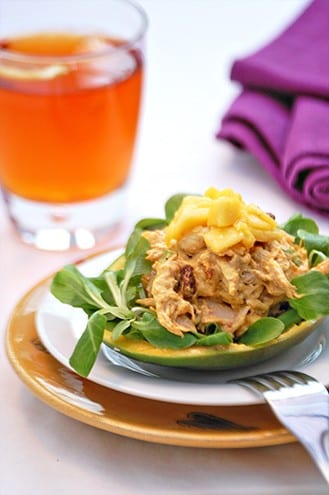 A Bite of Britain: Crowned Coronation Chicken
Ingredients
2 Tbsp light mayonnaise
2 Tbsp low-fat crème fraîche (or Greek-style yogurt)
2 tsp chutney (mango or similar)
½ tsp mild curry powder
½ tsp turmeric
Pinch of salt
2 cups (about 300 g) cooked and shredded chicken
1 medium stalk of celery, diced
Half a mango, finely diced
Handful of raisins
Handful of chopped almonds
To serve: A large handful of lamb's lettuce and a spoonful of fresh diced mango to garnish.
Instructions
In a large bowl, mix the mayonnaise, crème fraîche and chutney, then add the spices.
Add in all the other ingredients, toss until coated and serve on a bed of the lettuce, garnished with more mango.
Notes
1. I think I mentioned (twice) above that I'm a lazy cook. I will never poach a chicken especially for this recipe, as is suggested by the original recipe creator and her followers. But I will make this every time I have leftover chicken from a roast or rotisserie. If you haven't any leftover, and are lazy like me, then go buy some cooked chicken at the store. 2. To get the mango flesh out without damaging the skin (if you'd like to use it as I did above) cut along the pit so you get two large halves, then gently score the flesh in a hash pattern without piercing the skin. Invert them so the squares stick out (see photo above) and just cut them off. 3. There are so many things I could have put in here. I mentioned fresh coconut, but also apples, dried apricots and even coriander/cilantro (which I actually would never use since I hate it). Make it your own by putting in what you love and leaving out what you don't. 4. The inclusion of all those fruits, nuts and celery made this more of a salad than simply a sandwich filler (although my son has it in a sandwich in his school lunch today). If you're not a carbophobe, you could add cooked pasta or rice to the mix, and make a cold salad of it to serve at your next picnic or BBQ.
Ruby Rasa
Curious about her British mother's seemingly bizarre love of cheese & onion sandwiches, Ruby moved to England and discovered an island full of people eating them. She now lives among them, works as a freelance writer and photographer and yes, occasionally enjoys a good cheese & onion.