Crispy Togarashi Chicken and Sriracha Aioli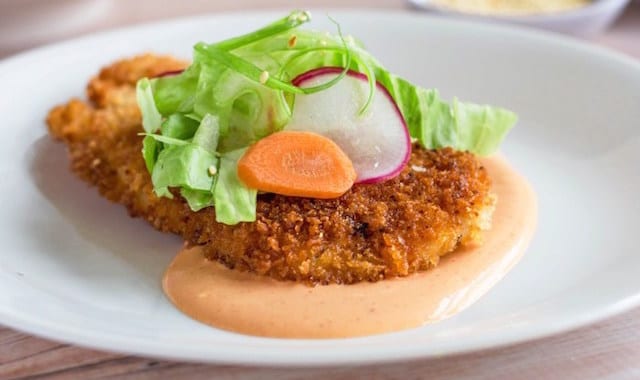 Crispy chicken is inspired by Italian Chicken Milanese, but given and Asian kick with togarashi spices and a delicious aioli sauce.
By Sabrina Russo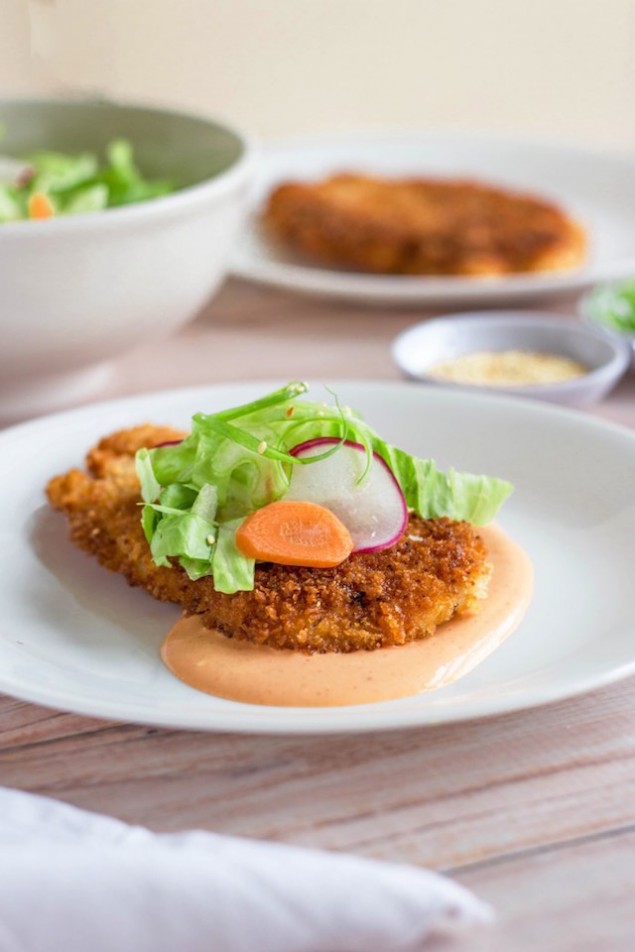 This is my Asian take on Chicken Milanese. The star ingredient in these breaded cutlets is a Japanese spice blend called shichimi togarashi, which includes red chili pepper, Japanese pepper (sansho), orange peel, sesame seeds, hemp seed, ginger and seaweed (nori). Sriracha mayo kicks up the spice level even more, while the salad with lemon-soy dressing adds texture and acidity to cut the fat in this dish. I suggest doubling or tripling the recipe and making a sandwich with leftovers.

Crispy Togarashi Chicken and Sriracha Aioli
Crispy chicken is inspired by Italian Chicken Milanese, but given and Asian kick with togarashi spices and a delicious aioli sauce.
Ingredients
For chicken
2 boneless, skinless chicken breast halves, pounded ⅜ inch thick
¼ C flour
1 egg, beaten
½ C panko breadcrumbs
1 ½ tsp shichimi togarashi
Kosher salt and fresh cracked pepper
Vegetable oil, for frying
For sriracha mayo
For salad
2C romaine lettuce, thinly sliced
1 radish, shaved on mandolin
½ celery stalk, shaved on mandolin
½ medium carrot, shaved on mandolin
1 broccoli stem, cut into matchsticks (optional)
Scallions, very thinly sliced, for garnish
1T toasted sesame seeds, for topping
Dressing
Instructions
Prepare breading station. Place flour and breadcrumbs on separate plates and egg into a bowl. Season each component generously with salt and pepper. Add togarashi to the breadcrumbs. Season both sides of chicken generously with salt and pepper. Coat chicken on both sides with flour, shaking off any excess. Dip into egg wash and then coat with breadcrumbs, making sure to use one hand for the flour and breadcrumbs, and the other hand for the egg.
Place chicken on a plate and allow to sit at room temperature for at least 15 minutes or up to 30-60 minutes. You can also prepare chicken in advance and allow it to sit in the fridge for several hours. Just make sure that the chicken is at room temperature for 20-60 minutes before cooking.
After breading the chicken, prepare the mayo, salad dressing and scallions. For the sriracha mayo, whisk together all ingredients in a bowl. Season with salt, if needed. For the salad, whisk together the vinegar, lemon juice, soy sauce and sugar in a small bowl. Slowly stream in the oils, whisking constantly. Season with salt and pepper. For scallions, place a number of thinly sliced strands (1 scallion should be enough) into a small bowl of ice water until ready to use. They should curl up and become more rigid as they absorb some of the water.
Heat a large sauté over medium heat. Coat pan in a ¼ inch of oil. Shallow fry chicken cutlets for 2-3 minutes per side, or until cooked through and golden brown. Season lightly with salt after removing from pan. Drain on paper towels or a wire rack.
Dress the vegetables lightly with a portion of the dressing. For serving, spread sriracha mayo on plate using the back of a large spoon. Place chicken on an angle over the sauce. Top with salad, a drizzle of additional dressing, scallions and sesame seeds. Enjoy.
Sabrina Russo
My Three Seasons represents the 3 key factors that are most important to me in cooking. #1 Seasonal ingredients #2 Proper Seasoning (don't skimp on that salt!) #3 Cooking like a Seasoned chef (technique is everything). My name's Sabrina. I live in NYC. I'm a registered dietitian with professional cooking and food styling experience. Come cook with me.