These Crispy Prosciutto, Goat Cheese and squash crostini are a delicious appetizer with caramelized, roasted squash, creamy cheese and salty prosciutto. Top things off with crunchy walnuts for great texture.
This Roasted Acorn Squash Crostini with Crispy Prosciutto and Goat Cheese is one delicious two (maybe three) bite app! Acorn squash is diced and roasted until golden brown and slightly caramelized. A generous spread of creamy goat cheese is the base and crispy prosciutto and walnuts give some delicious flavour and texture. Perfect for upcoming holiday parties!
You may be wondering what type of berries are in my pics. They are dogberries that grow on the dogberry tree. These trees are quite popular in Newfoundland and can be found all throughout the Province this time of year. Dogberries are hard to miss because of their beautiful red colour.
The colour of these berries is so vibrant, I couldn't resist using them in my pics for these seasonally inspired crostini! After that, I made a lovely centre piece for my kitchen table….that is as crafty as I get, lol
Some people make jams or wine from the berries, but I would not recommend eating them raw. However, my father did. The day that I made these Roasted Acorn Squash Crostini, my parents popped by. I wanted them to try the crostini. I had my back turned for .5 seconds and dad had eaten a dogberry.
'Hmmmm……whatever that was, it was really hard….kinda spicy.'
Mom and I looked at each other, wide eyed.
'Dad, they aren't for eating!'
Jokingly, he said his tongue was getting numb.
In all seriousness, though, I don't think it's a bad thing to eat dogberries, it's just not recommended. They are quite bitter raw (as dad found out the hard way).
They say (whoever they are) that if dogberries are plentiful this time of year, then the winter will be rough (aka a lot of snow). And we have a lot of dogberries this year. A lot. Beautiful to look at but, please, no snow!!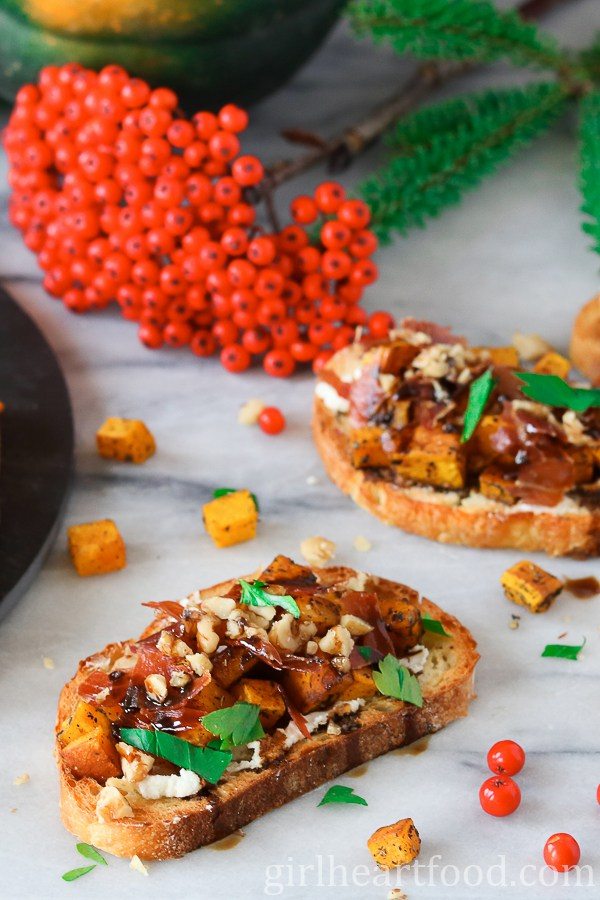 These crostini are best enjoyed right away, but I'm sure that won't be a problem!
Crostinis are one of my favourite things to eat and perfect for this time of year when entertaining. If you want to some more awesome recipes, check out my Roasted Strawberry Crostini and Chanterelle Mushroom Crostini. Bread, good cheese and some quality toppings – there is no going wrong, am I right?
Click here for the recipe.
Dawn
I love food A LOT so I blog about it! There's always something delicious cooking in the kitchen and I'm always wondering what to make next. On girlheartfood.com, you will find a range of recipes from healthy to indulgent. There's something for everyone!