Crispy Baked Gnocchi with Zesty Lemon and Peas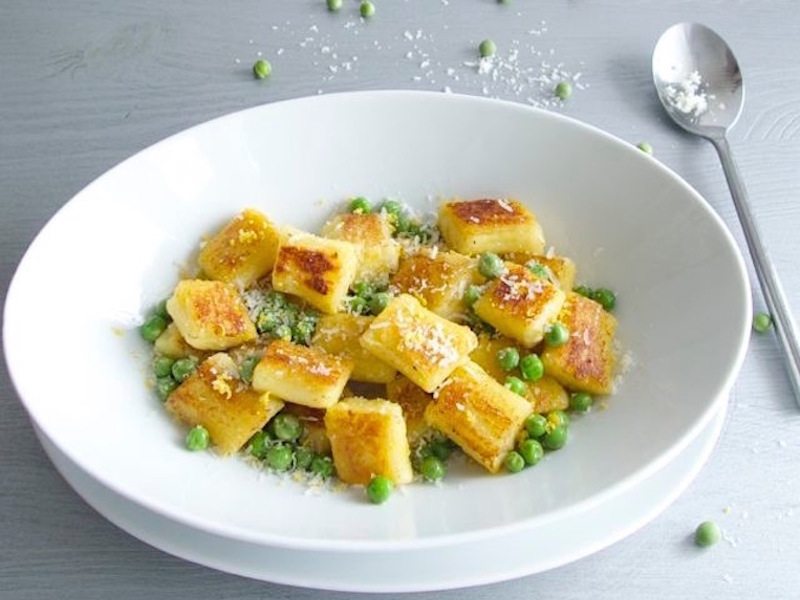 After boiling, the gnocchi is baked in butter until browned. Then back to the oven with peas and finished with lemon zest and parmesan for a delightful dish.
Gnocchi… Gnocki… Ggnochi… Nyohkkee…
Do you know that feeling when you want to order something in a restaurant, but you're not sure how to pronounce what you want to eat? So you just give the waiter a few different options of articulation, hoping that the right one will be amongst those, meanwhile giving him your best apologetic smile because you feel kind of stupid for not knowing how to order without making an idiot of yourself.
Or am I really the only one who does this?
I've learned now that gnocchi, is pronounced as nyohkkee. But that doesn't really matter (maybe unless you're ordering in Italy). All that's important is that you're enjoying your food!
After being boiled, this gnocchi is baked in butter until browned on the outside. Return to the oven with peas and then finish with lemon zest and parmesan for a buttery and delightful dish with a hint of crisp.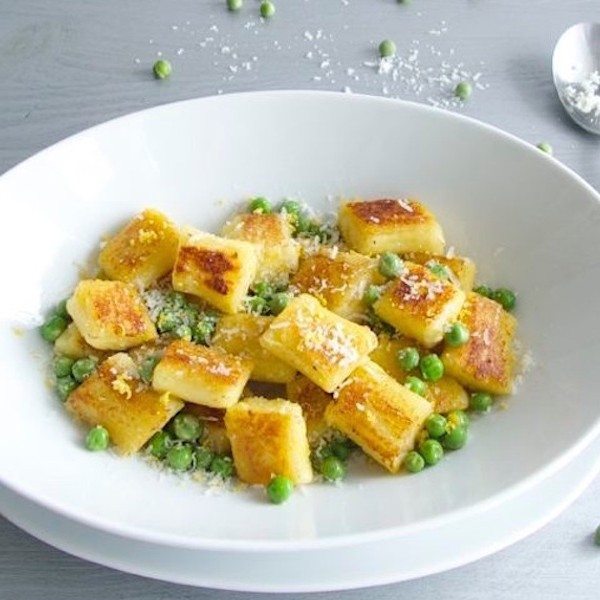 Eva Lambooij
Ingredients
600

gr

21 oz entire potatoes (NOT peeled! If water soaks the potato you'll get very heavy gnocchi)

1

big egg yolk

60

gr

5/8 cup flour

Salt

150

gr

1 cup fresh peas

1

tbsp

lemon zest

2

tbsp

grated parmesan

Butter

to bake in

Salt & pepper
Instructions
Bring a big pan of water to a boil

Add the potatoes and boil until tender and ready to puree (but don't wait until they're falling apart)

Drain the potatoes and let cool off a bit before peeling off the skin

Purée the potatoes while still warm

Leave to cool

After the purée has cooled down, add the yolk and the flour

Season with salt

Form a dough, try to do this quickly, don't overwork the dough

Dust your workspace with flour and form long 'sausages' of the dough

Use a sharp knife to cut them in pieces of about 2 cm (1 inch)

Bring a big pan of water to a boil, add some salt and cook small portions of the gnocchi

Once they come up to the surface, they're done (Such a cool moment!)

Take them out and keep them in a bowl

Heat a bit of butter in a pan and bake small portions of gnocchi until brown

Finally, add the fresh peas and bake them for 2 minutes

Season with salt & pepper

Top with lemon zest and parmesan cheese
Notes
Too much gnocchi? No problem, freeze them uncooked on a pice of baking paper. Once they're frozen, you can place them in an airtight container of plastic bag in your fridge. If you freeze them in a container without freezing them separately first, you'll end up with purée after you defrost them (I learned this the hard way)
Eva Lambooij
Eva blogs on www.evainthekitchen.com and writes for Dutch the Magazine. Eva is Dutch and lives in both Paris, France as Utrecht, the Netherlands. Cooking for the people she loves is what makes her happy. On her blog she shares her favourite recipes, along with her favourite restaurants in Paris. She believes food should be enjoyed and although she loves cooking, her recipes don't require a full chefs training, nor 25 ingredients. Cooking is fun, so she encourages you to experiment, don't be afraid of making mistakes in the kitchen (because frankly, we all do). Who know's what you'll come up with. Bon appétit!