Creamy Burrata with Minty Pea Pesto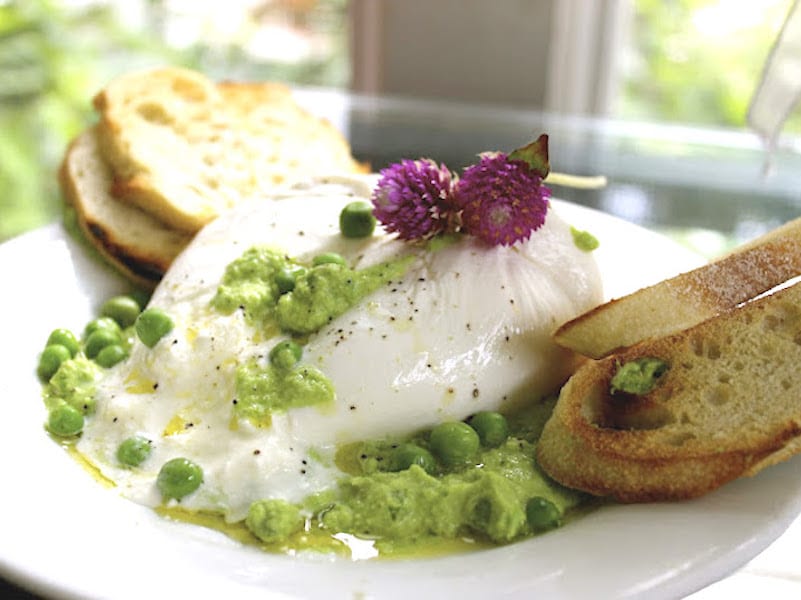 Creamy Burrata with Minty Pea Pesto is a melange of textures, flavors and colors. Once you cut into the creamy interior of the cheese, you'll be mesmerized.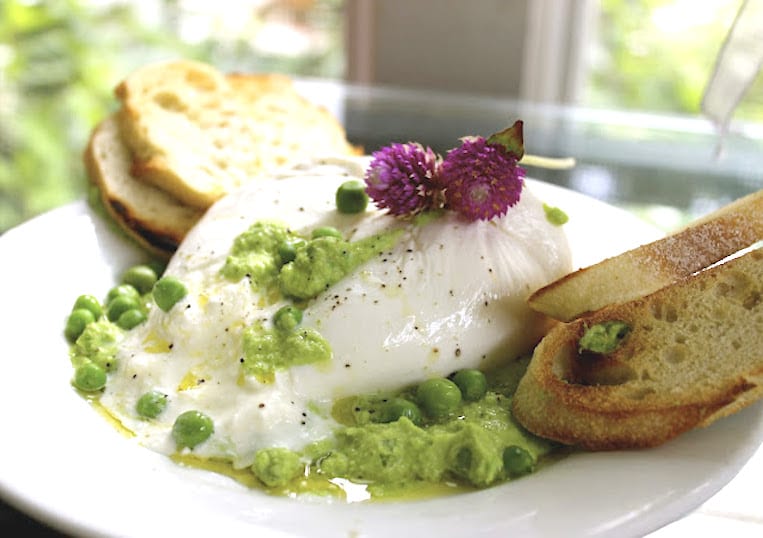 While dining out on Boston's Atlantic Wharf, we recently sampled a cool and creamy burrata appetizer and were instantly inspired to feature the delectable cheese. For anyone unfamiliar with burrata, it's a mild, buffalo milk cheese from Puglia, similar to the ever popular fresh mozzarella but filled with cream. It means "buttered" in Italian which is only appropriate when you cut into the outer shell to reveal a creamy, oozy interior. While in Boston, we enjoyed balls of burrata with a chilled pea puree, and opted to merge these ingredients into a burrata, pea and mint pesto bruschetta. The cascading cheese spread atop toasted baguette slices is the perfect alfresco appetizer. The creamy pool swirls with the vibrant green pesto and the pea polka dots just dance off the platter.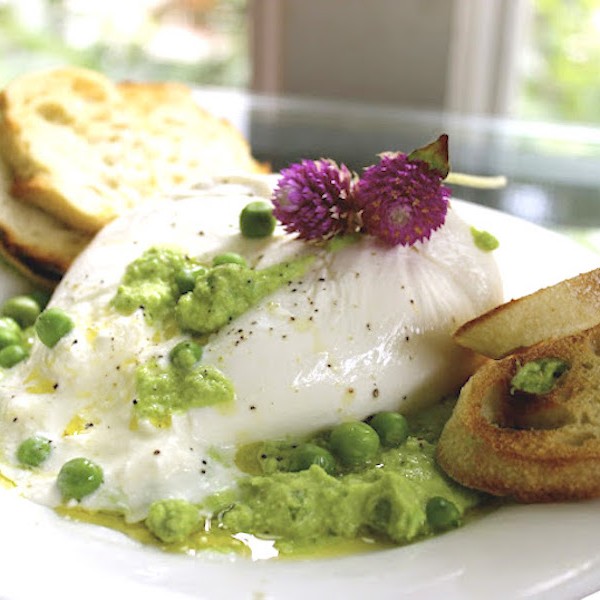 Kara and Marni Powers
Ingredients
1

baguette cut into ¼-inch slices

EVOO

8

oz.

burrata ball

2

c

fresh peas

plus an extra ¼ c

1

clove

garlic

1/3

c

pine nuts

juice of 1/2 a lemon

1/3

c

Parmigiano Reggiano cheese

2

T

chopped fresh mint

1/3

c

EVOO

salt and pepper throughout
Instructions
Preheat oven or grill to 350 degrees Fahrenheit.

Brush both sides of the sliced baguette with EVOO and set on top a grill or in an oven until golden brown, about 3-5 minutes per side.

Meanwhile, submerge the peas in boiling water for 2 minutes. Drain and let cool. Add the 2 cups of peas, garlic, pine nuts, lemon, Parmigiano Reggiano and mint to a food processor and puree until coarse. Stream in the EVOO until smooth (add more EVOO if not smooth enough). Season with salt and pepper.

Spoon a pool of the pea puree onto a serving place. Top with with the burrata cheese ball. Pour over more pea pesto, a drizzle of EVOO and salt and pepper. Garnish with the 1/4 cup of peas and any flowers you may have in your garden. Serve spread atop the toasted baguette.
Kara and Marni Powers
Kara and Marni Powers are twin sister cooks, dining and blogging their way through Boston's North End and beyond. They see the act of cooking and entertaining as a form of creative expression, an art that encourages the mixing of flavors, spices, techniques and stories. Their interest in cooking dates back to their Greek grandmother's open-arms approach, letting them taste her savory creations like her famous spanakopita. Kara and Marni's fascination with food and culture continued during their travels abroad in Europe where they saw firsthand the limitlessness of cooking.