SPONSORED POST: From Dijon Originale mustard to Cornichons, Maille has a rich heritage starting in 1747 that honors tradition. Check out these easy recipes that pack great flavor, thanks to Maille. BONUS: Maille is giving away a one year's supply of their delicious products! Be sure to enter below.
A comforting vegetarian white bean casserole with a savory crumb topping.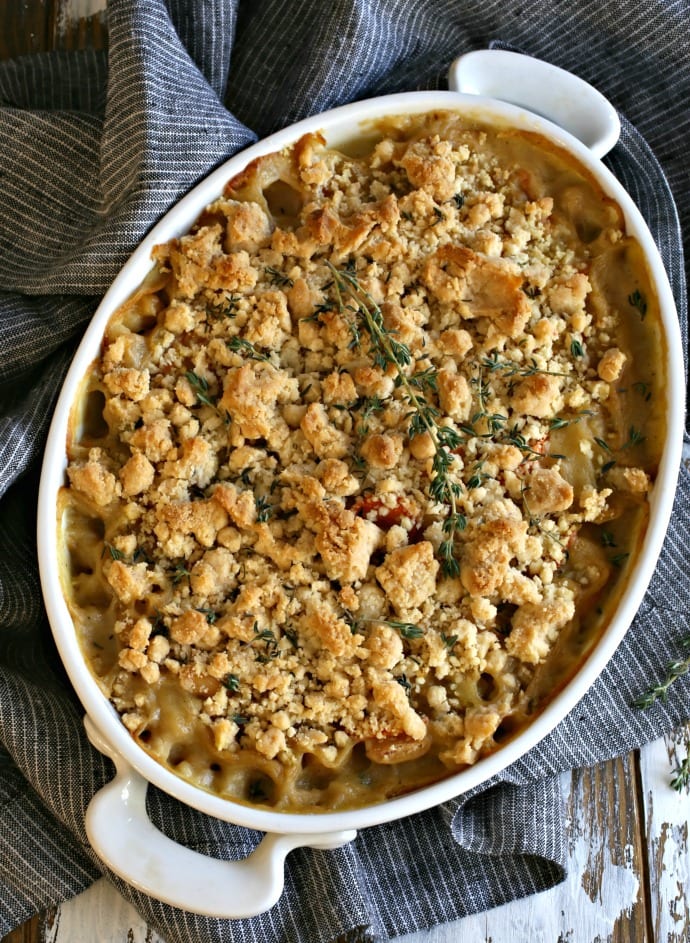 Year's Supply of Maille Giveaway!

I hesitated slightly to call this dish a cassoulet because the original is a French casserole that includes white beans, duck confit as well as other meats and is slow cooked for days in a special earthenware pot. But if we can get past that, my version is way easier to make and ridiculously delicious.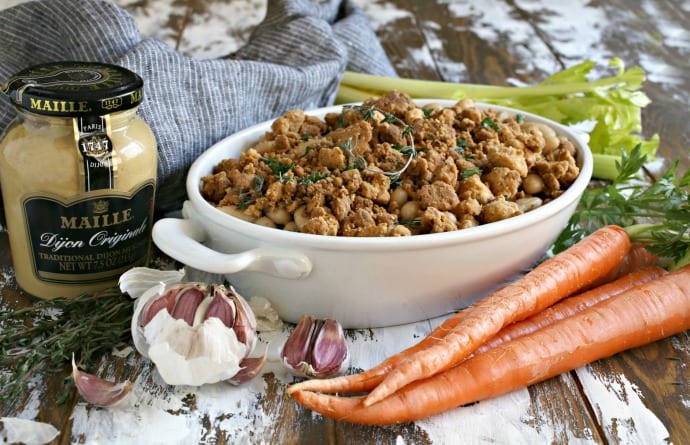 That being said, mine is not the only version of a vegetarian cassoulet but, since I was already taking liberties, I made a few more changes that resulted in lots of extra flavor. In fact, I had leftovers for days and never got tired of them.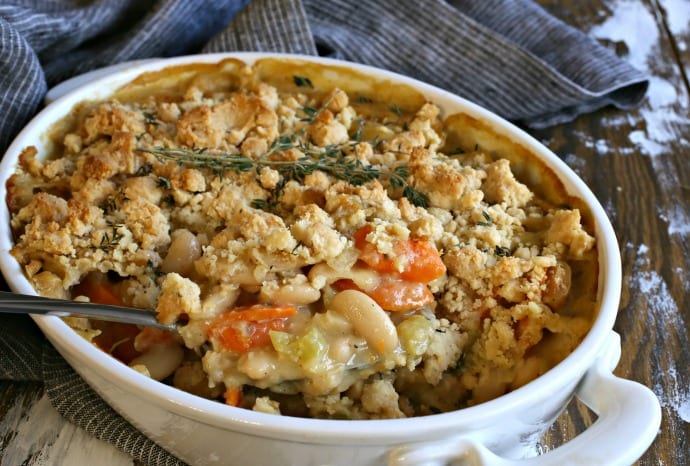 Often it only takes one or two extra ingredients to take a dish from good to great. Maille Original Dijon Mustard is one of those magic ingredients for me. A spoonful in the sauce and another in the crumb topping added a layer of rich flavor. And yes, a savory crumb topping! Most recipes call for garlicky breadcrumbs but I don't know anyone who can keep their hands off fresh baked, buttery crumbs. Or is it just in my house that crumb toppings mysteriously disappear? Ha! Enjoy.

Cozy Vegetarian White Bean Cassoulet
Ingredients
Filling:
2 Tablespoons olive oil
1 Tablespoon butter
1 Onion, peeled and diced
4 Carrots, peeled and sliced
3 Stalks celery, diced
2 Cloves garlic, peeled and minced
3 Tablespoons all-purpose flour
2 Cups vegetable stock
2 Cans (approximately 15 oz. each) white beans, rinsed and drained
½ Teaspoon salt
¼ Teaspoon black pepper
1 Teaspoon Maille Original Dijon Mustard
1 Bay leaf
Small handful of fresh thyme
¼ Cup Parmesan cheese
Crumb Topping:
4 Tablespoons unsalted butter, melted
1 Teaspoon Maille Original Dijon Mustard
2 Tablespoons Parmesan cheese
¼ Teaspoon salt
¾ Cup all-purpose flour
Instructions
Add the olive oil and butter to a large deep skillet or braising pan. Add the onions and cook for about 10 minutes, on medium heat, until they become translucent.
Add the carrots and celery and continue cooking for another 10 minutes until they begin to soften.
Stir in the garlic and cook for an additional minute.
Stir in the flour and cook for a couple of minutes then pour in the stock.
Stir in the beans, salt, pepper, mustard, bay leaf and thyme. Cover, reduce the heat to low and cook for about 20 minutes. Stir in the cheese and mash some of the beans with a potato masher.
Pre-heat the oven to 400 degrees and transfer to bean mixture to a casserole dish (optional).
In a bowl, combine the melted butter, mustard, cheese, salt and butter. Using your hands, form clumps of the dough and scatter over the bean mixture. Bake for 30 - 40 minutes or until the crumb topping begins to lightly brown.