Natalie McLaury considers herself a bit of a hoarder when it comes to magazines. Never one to pass up a good deal on a subscription, it's to the point where she now finds herself receiving a magazine in the mail several times a week. Most of the time, she rips out pages of recipes but fails to actually create the recipe in her kitchen. Not anymore! Join Natalie as she cooks the magazines.
By Natalie McLaury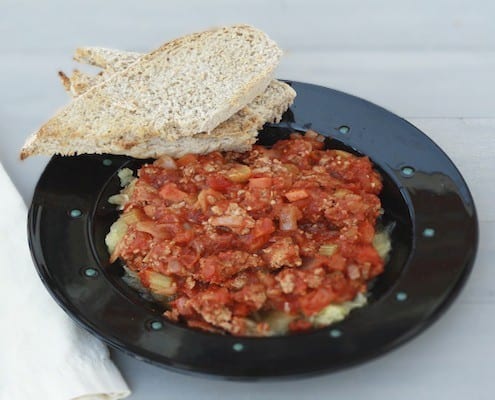 Have you tried spaghetti squash yet? The squash that peels off in strands, much like spaghetti?! My husband Ryan loves the stuff, so I do pick them up from time to time to serve in place of rice or pasta, or to make Greek stuffed spaghetti squash.However, because spaghetti squash seems to be less popular than other squashes, it's rare that I come across a recipe featuring it. When I saw this recipe for turkey bolognese with spaghetti squash in Martha Stewart's Everyday Food magazine,  I knew I had to try it!
As the title suggests, it is easy. I actually threw the sauce together one night AFTER dinner (while roasting the squash), so that when we got home the next evening I'd only have to reheat to get dinner on the table. Time management at its finest! For consisting of such basic ingredients, I was impressed by how flavorful this was. Ground turkey makes it lower in fat than traditional bolognese sauce, yet it still felt hearty and meaty, likely to convert any 'beef-only' fans.
Do you have a favorite use for spaghetti squash? Do share!
Quick Turkey Bolognese with Spaghetti Squash
Spaghetti with Meat Sauce made Light--thanks to Spaghetti Squash instead of Noodles!
Recipe Type:
entree, dinner, main
Ingredients
3 bacon slices, cut into ½-inch pieces
2 tbsp extra virgin olive oil
1 medium yellow onion, diced small
2 large carrots, diced small
3 stalks of celery, diced small
3 cloves garlic, minced
1 lb ground turkey breast
28 oz can crushed tomatoes
red pepper flakes
coarse salt and ground pepper
6 cups roasted spaghetti squash
grated Parmesan cheese, for serving
Instructions
To roast the spaghetti squash, cut in half lengthwise and place, cut side down, on a rimmed baking sheet lined with aluminum foil. Roast at 400F for 35-45 minutes, until squash is tender and can be scraped out of the peel with a fork. Remove strands of squash with a fork and place in a large bowl. Set aside.
In a large nonstick skillet, cook bacon over medium until crisp (about 8 minutes). Remove bacon with a slotted spoon and place on paper towels to drain. Add 1 tbsp of oil to the skillet. Add onion, carrot, celery, and garlic, cooking until vegetables are tender (about 15 minutes). Remove vegetables and place in a bowl.
Add additional 1 tbsp olive oil to the pan with the turkey. Cook, breaking up meat with a wooden spoon, until almost cooked through (about 5 minutes). Add bacon, vegetables, tomatoes, and a pinch of red pepper flakes to skillet. Bring mixture to a skillet and continue to cook until turkey is cooked through and sauce is thickened (about 5 minutes). Season with salt and pepper.
Serve sauce over spaghetti squash and sprinkle with Parmesan.
Notes
from Everyday Food Jan/Feb 2012