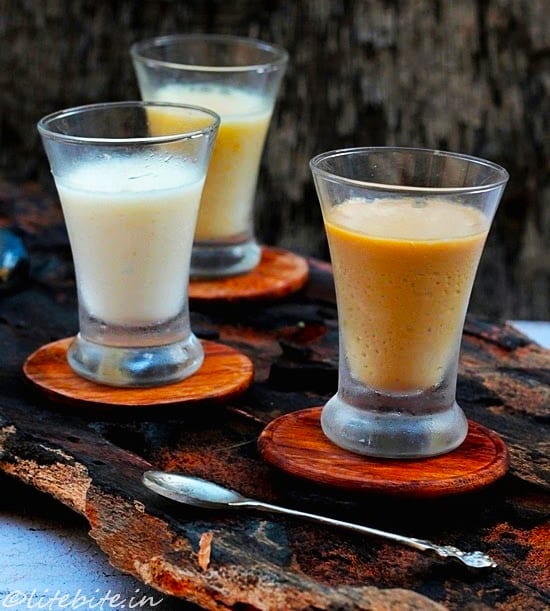 You can use gelatin in place of the agar powder. Because either will make the dessert firmer the longer the panna cotta sits, reduce the amount if you are making dessert ahead of time.
By Sanjeeta Kk

Coffee Panna Cotta
You can use gelatin in place of the agar powder. Because either will make the dessert firmer the longer the panna cotta sits, reduce the amount if you are making dessert ahead of time.
Ingredients
2 cups Soy milk
4 tbsp. sugar
1 tbsp. instant coffee powder
2 tsp. agar powder
2 tbsp. caramel sauce (optional)
Instructions
Heat soy milk to lukewarm temperature, add sugar and agar-agar powder in it. Let it stand for ten minutes.
Add coffee powder in the cool panna cotta mixture and mix well.
Pour the mixture in small ramekins, bowls or glasses and refrigerate to set for about 4-5 hours.
If you want to invert the Panna Cotta and serve in a separate dish, grease the ramekins slightly with oil before setting it in refrigerator. Run a sharp knife around the edged and invert the ramekin on to a plate.
To make caramel, heat 2 tbsp. suagr directly in a hot pan till it turns golden brown in colour. Pour a few drops of warm water to make it runny. Pour this caramel over the coffee Panna cotta on each individual serving bowl before serving.
Sanjeeta Kk
Sanjeeta kk is the author of food blog 'Lite Bite' which features vegetarian recipes. Her quest for egg free baking and healthy cooking is extensively shared though all her recipes. She likes to share stories behind the origin of her recipes which are easy and accessible. Homemade, unprocessed and healthy food is what she strives for each day. She defines food as nostalgic, comforting & an important factor to connect with people and make community